There are few foods better than a rich and tasty blondie (coming from a pregnant woman). These soft and gooey low carb cream cheese blondies are the perfect keto treat. Made from wholesome ingredients, and with only 4 grams of net carbs you can feel confident this indulgent blondie won't send you on a blood sugar roller coaster.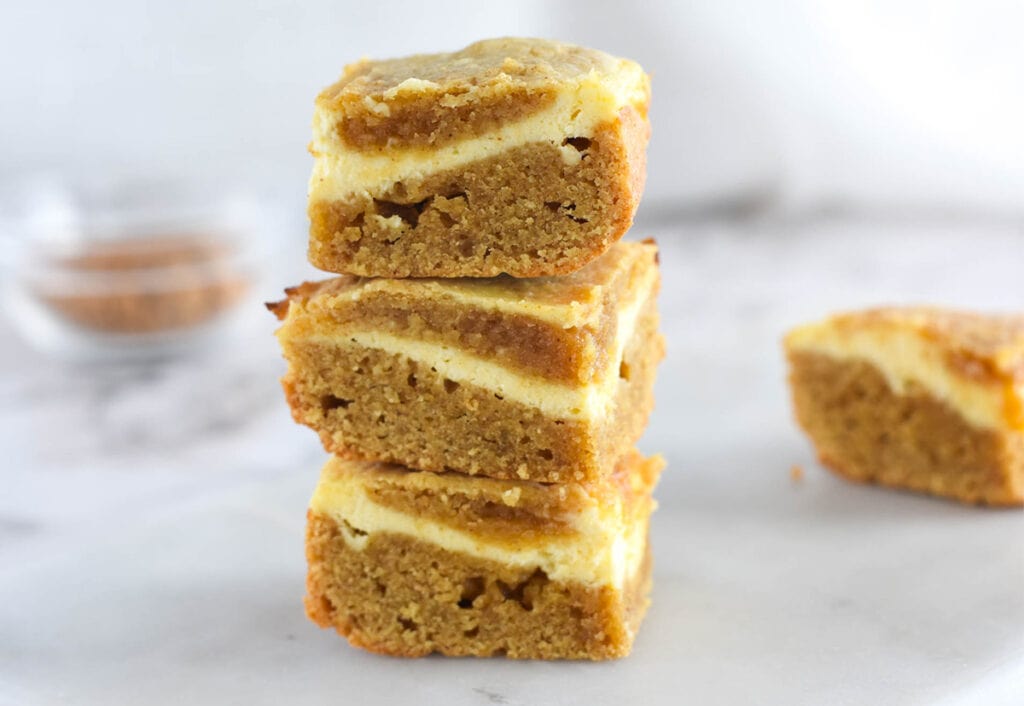 Jump to:
I am not really a chocolate person. Although, I wouldn't think of turning down a good quality chocolate bar or delicious chocolate malt cake prepared by my mother in law from an old family recipe, chocolate is usually not my first choice.
I am much more of a vanilla and caramel kind of woman. Plain vanilla ice cream over decadent chocolate is my abnormal request. Sugary white cake or spice cake with cream cheese frosting are my preferred desserts. And, when it comes to blondie vs. brownie, I choose blondie every time.
What Makes This Recipe Keto
I make a very similar paleo blondie recipe in which I use coconut sugar and skip the cream cheese. In effort to make this recipe lower in carbohydrate I removed the coconut sugar and replaced with low glycemic alternatives.
Most the other ingredients are the same since almond butter, coconut flour, almond flour, grass fed butter and eggs can all be included in low carb treats. To make this treat even better, I added a cream cheese swirl because one of the best things about keto is cream cheese. Am I right?
This recipe has 194 calories and 4 grams of net carbs for each rich and decadent blondie.
Ingredient Substitutions
Almond Butter - Almond butter is neutral flavored and lower in carbohydrate than a lot of other nut butters. Peanut butter would give a very distinct flavor to these blondies, which would not necessarily be a bad thing. Cashew butter would work well but has more carbohydrate. Sunflower butter would likely work but, like peanut butter, sunflower butter has a distinct flavor.
Maple Extract - This is to add some caramel-y goodness to these blondies without extra carbs. You could substitute vanilla extract for an easy swap.
Golden Monk Fruit and Erythritol Blend - If you can't find golden erythritol, you could use regular granulated erythritol plus 2-3 tsp of molasses. I order the sweeteners I used in this recipe from Amazon.
Pyure Granulated Stevia - You could substitute with Truvia or another granulated sweetener that measures 2:1 (2x sweeter than sugar). I like to use the combination of sweeteners in this recipe because too much erythritol causes a cooling sensation that can off putting.
Almond Flour - This is my preferred flour for this recipe and I do not recommend substitutions.
Butter - Although the butter does add some, well, buttery-ness to the recipe you could substitute coconut oil and the results would still be good. We just depend on the butter to support the blondie flavor.
Equipment
No fancy equipment needed for this recipe! Here is what I used:
You could probably get away with just using a whisk, but for the whipping the cream cheese an electric hand mixer will sure make things easier. If you want to try the whisk only route I would advise softening the cream cheese before starting.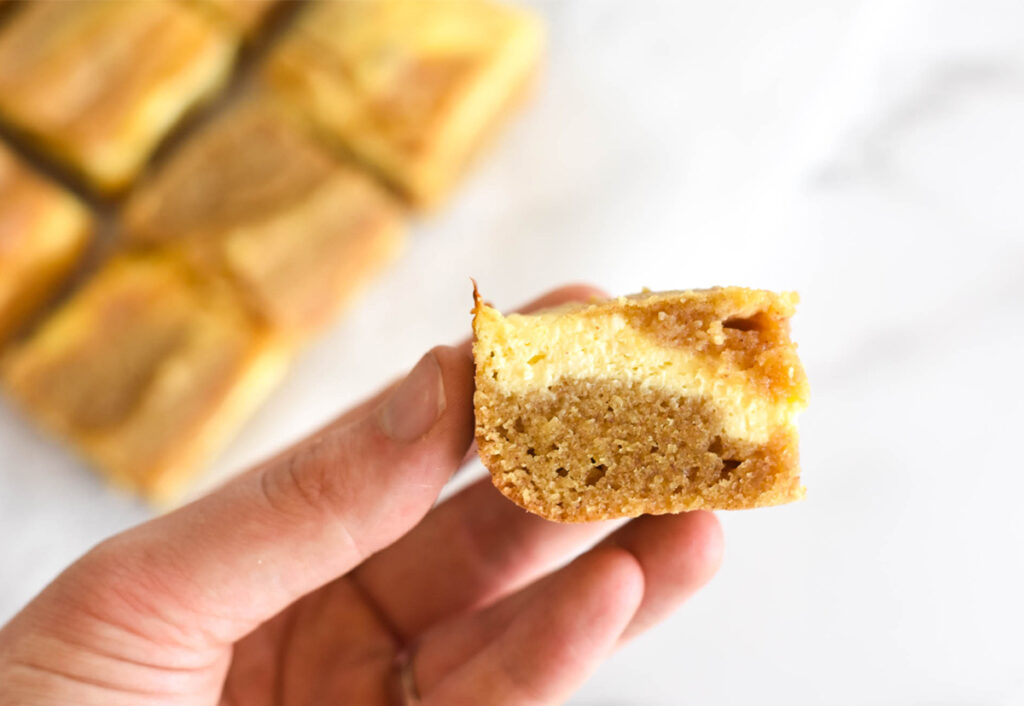 Storing and Freezing
Store in the fridge for up to 5 days. I prefer to wrap in foil because they do not get soggy, but you can also store in an airtight container.
To freeze, cut blondies and individually wrap them with wax paper or plastic wrap and then place in an airtight container. Store for up to 1 month in the freezer. Just thaw to enjoy. Heat in the microwave if desired.
Recipe Tips
I like Trader Joe's Raw Almond Butter to use for baking because it is drippy and mixes well without warming. If you use a thicker almond butter you may need to heat it in the microwave for 30 seconds to makes it easier to scoop and whisk.
When you remove the blondies from the oven, poke with a toothpick to see if the batter has cooked through. Poke the center. You might have some gooey cream cheese on the toothpick but should not have gooey batter.
Cool entirely before cutting. The cream cheese layer is similar to cheese cake in the sense that it has to set. Allowing it an hour to cool and set will yield firmer blondies.
Related Recipes
Did you try these Keto Cream Cheese Blondies? Leave me a comment and a rating below, I would love to hear what you think!
📖 Recipe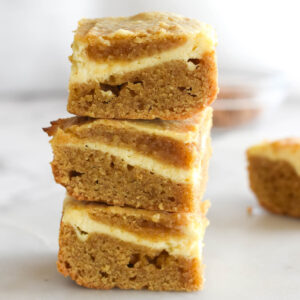 Keto Cream Cheese Blondies
These sweet and decadent keto cream cheese blondies are the perfect low carb treat for the whole family.
Equipment
8 x 8 glass baking dish

Mixing bowl

Whisk

Spatula

Parchment paper

Electric hand mixer
Instructions
Preheat the oven to 350 degrees.

Line an 8 x 8 baking dish with parchment paper and spray dish with cooking spray.

Using an electric hand mixer, whip together 2 tbsp granulated stevia with cream cheese. Add egg and maple extract. Mix until smooth. Set aside.

Soften almond butter and melt butter in microwave. Whisk together in a separate bowl.

In a large mixing bowl, beat eggs with sweeteners with hand mixer. Add maple extract, baking powder, salt and flours. Mix until there are no lumps.

Fold almond butter and butter mixture into the large mixing bowl with the rest of the blondie ingredients. Mix well.

Using half of the blondie batter, spread into the lined baking dish with a spatula. Top with cream cheese filling, spread evenly. Dollop the rest of the blondie batter on top of the cream cheese. Swirl together with spatula.

Place dish in preheated oven and bake for 30-35 minutes. The cream cheese can still be a little gooey because it will set in the fridge but the blondie mixture should be mostly set. Check the oven after 30 minutes and assess if it needs an extra 5.

Remove from the oven and allow to cool for about 5 minutes on the counter. Place in fridge uncovered for at least an hour. This will allow the cream cheese to set.

Once the blondies are set, cut into 16 squares and enjoy. Store in the fridge in an airtight container for up to 5 days.
Notes
The cooling time allows the blondies to set properly. If you're impatient you can shorten the cooling time, they just might be a bit gooey.
If a gooey texture is what you're looking for, you can pull out of the oven a little early when it still has some jiggle. You will need to let them cool long enough for the cream cheese to set so they can be cut.
Wrap in tin foil and store in the fridge for up to 5 days.
Nutrition
Serving:
1
Blondie
Calories:
180
kcal
Carbohydrates:
5
g
Protein:
6
g
Fat:
16
g
Saturated Fat:
4
g
Cholesterol:
57
mg
Sodium:
152
mg
Potassium:
97
mg
Fiber:
2
g
Sugar:
1
g
Vitamin A:
250
IU
Vitamin C:
1
mg
Calcium:
74
mg
Iron:
1
mg