If y'all know me, you know that I am a fan of pumpkin. I don't have that basic, surface-level relationship that most people have with pumpkin (and pumpkin flavored coffee drinks) that springs up when the leaves begin to change, and then dissolves with the seasons. My love for pumpkin is deeply rooted and intrinsic. I am the girl who eats pureed pumpkin for dessert... in July. The same girl who ate pumpkin so frequently that I literally turned orange from all the beta-carotene (For that story check out my Paleo Pumpkin Pie Chia Pudding recipe!). So, yes... I really do love pumpkin. And, I promise all my die-hard pumpkin fans, this Keto Pumpkin Bread will not disappoint.

A Certain Type of Warmth
We recently moved to Texas from Washington state. Moving across the country has been challenging, but not in all the ways I had expected. I had expected stark differences and complicated emotions. I expected that I would miss my family and friends, and trees, and craft coffee. I expected that I would miss familiarity, and rain, and berry picking, and green grass. I guess, what I didn't expect were the subtle challenges.
I don't miss "home" everyday, until all of a sudden I realize that I am not home. It comes in waves, really.  It hits me when I am daydreaming. I catch myself visualizing the places that are as much me as my eyes, or my cackle of a laugh when someone says something actually funny. It hits me on hard days too, when I just want to hide somewhere safe and familiar. You don't build a home or make a home, home is a feeling that just happens when you grow into a space and it becomes you.
A place that warms you from the inside out, that to me is home.
The feeling of home is not quite tangible but yet somehow, when these thoughts roll in, it feels palpable. Relentless. All-encompassing. Warm. A place is really just a shell without emotions and memories tied to it. I will be going about my life here just fine and then it hits me all at once, like a gust of wind out of nowhere, powerful and completely unexpected. It knocks me a little off-kilter and then, suddenly, I remember what the warmth of being somewhere homey and familiar feels like, and I crave that so strongly.
Autumn has been uniquely difficult for me. Much of my identity is tied to the changing of seasons. This sounds strange to say, but my sanity and mental clarity has always been rooted in long trail runs in cool weather when the leaves are changing, or in the early days of spring when winter is melting away and the woods are coming alive again. The changing of seasons is truly my favorite time of the year.
Here in south Texas there isn't much of a shift in season, and I have found myself missing brisk mornings, mixed shades of oranges and reds, and going apple picking in September. This year I have been finding a lot of pleasure in using cinnamon and cloves to create the illusion of warmth (even though we still have our AC running), and adding little touches around our home to make it feel like Fall here.
For some reason, my emotions tied to the feeling of being home are somehow ignited by the idea of Fall and the sense of warmth it creates. Developing this Keto Pumpkin Bread recipe to share with you all has certainly been joyful (and, a little bit of a selfish experience) because it contributes to so many pleasant smells and warm Fall feelings.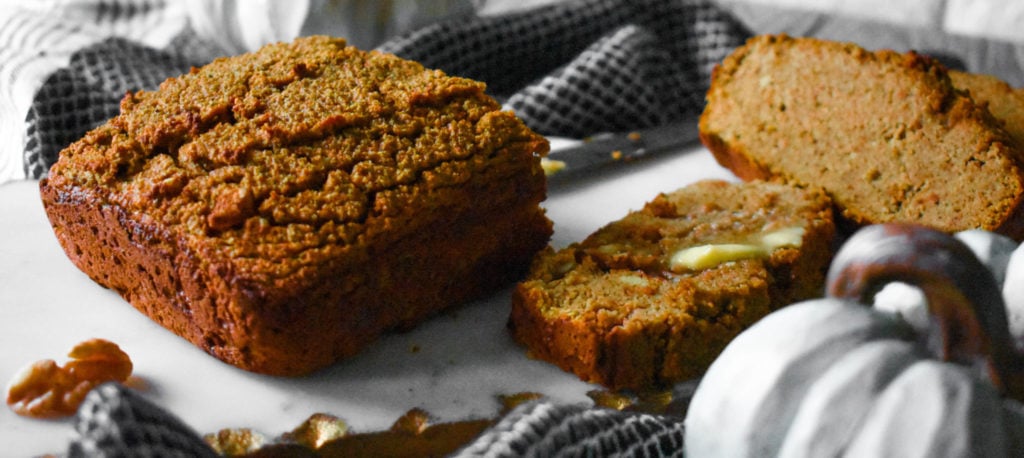 What is better than pumpkin bread? Paleo Keto Pumpkin Bread.
The Pumpkin bread that you buy from almost any bakery or restaurant, or any pumpkin bread you make from a package, are going to have three main offenders: gluten, vegetable oil and plenty of sugar.
Coconut Flour
This Keto Pumpkin Bread is, of course, gluten free. Coconut flour is far superior to wheat flour or even gluten-free grain flours, because it does not create an inflammatory response in the gut. Coconut flour is generally well tolerated by most people, and has almost no glycemic effect. This flour is made from ground coconut meat, making it damn near a whole food regardless of being labeled as a flour.
Healthy Fat
The next superior aspect of this recipe is the healthy fat sources. One of the biggest antagonists to health in the Standard American Diet is the high prevalence of vegetable oils. In this Keto Pumpkin Bread you will find none of those. By switching to healthy, less-inflammatory oils like avocado, olive and coconut oil, you are going to improve your lipid profile and reduce systemic inflammation. Polyunsaturated fats are something you should try to actively avoid, even in your holiday treats when possible.
Low Carbohydrate
The other notable feature is the carb content of this pumpkin bread. Low carb diet or not, loading up with sugar is not ideal. Perpetual blood sugar swings and blood sugar elevation can put you at risk for diabetes, weight gain, high blood pressure, heart disease and hormonal dysregulation.
This bread has an almost non-existent effect on blood sugar. The ghee, coconut flour, stevia and fiber make this an extremely low-glycemic treat. Less effect on blood sugar means that your body is less inclined to create an hormone response that triggers fat storage. For this reason, it is also extremely satisfying. No blood sugar swings here, just steady energy making this bread appropriate for breakfast, snack or dessert.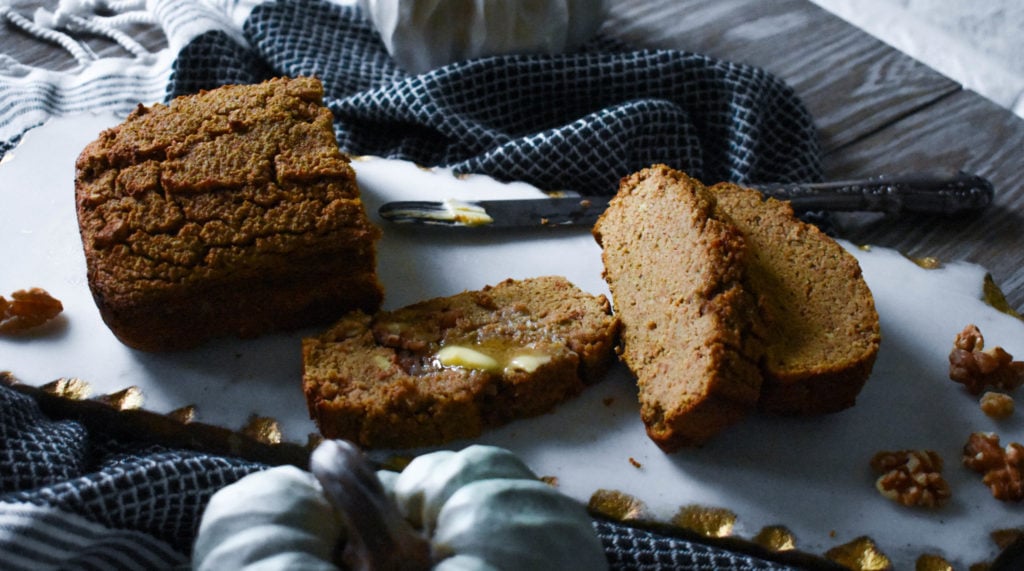 Paleo Keto Pumpkin Bread
Warm spices and wholesome ingredients make this paleo, keto pumpkin bread a healthy choice that is incredible satisfying, and oh so good for you. This pumpkin bread is everything good in the world.
Ingredients
6

organic eggs

1 1/3

cup

pumpkin puree

3/4

cup

coconut flour

1/2

tsp

baking soda

1/2

tsp

baking powder

1

tsp

nutmeg

1

tsp

ginger powder

1

tsp

allspice`

`

2

tsp

cinnamon

1

tbsp

pumpkin pie spice

3-4

tbsp.

Truvia

or to taste

1/2

tsp

sea salt

6

tbsp

grass-fed ghee or butter

melted

1/4

cup

crushed walnuts

optional
Instructions
In a large bowl, whisked eggs together.

Add pumpkin to bowl, whisk until smooth. Add spices, baking powder, and baking soda. Whisk everything until well combine.

Add melted butter to mixture, and add walnuts. Whisk until smooth.

Spread all ingredients in bread pan with a spatula. Bake for 45-55 minutes.
Notes
You could use coconut oil in place of ghee, but ghee or butter is recommended.
I like my bread sweet so I use about 4 tbsp. of truvia. You could use less or more depending on your preferred sweetness. If using Swerve or other erythritol than you would want to double the amount because it is less sweet. Always start with less and taste the batter but remember it will taste slightly  less sweet when cooked.