For all my pumpkin lovers out there, this one is for you! This Keto Pumpkin Bread is delightfully low in carbohydrate and high in fall pumpkin flavor. Tasty, satisfying and still healthy enough to be enjoyed for breakfast without making you feel like garbage.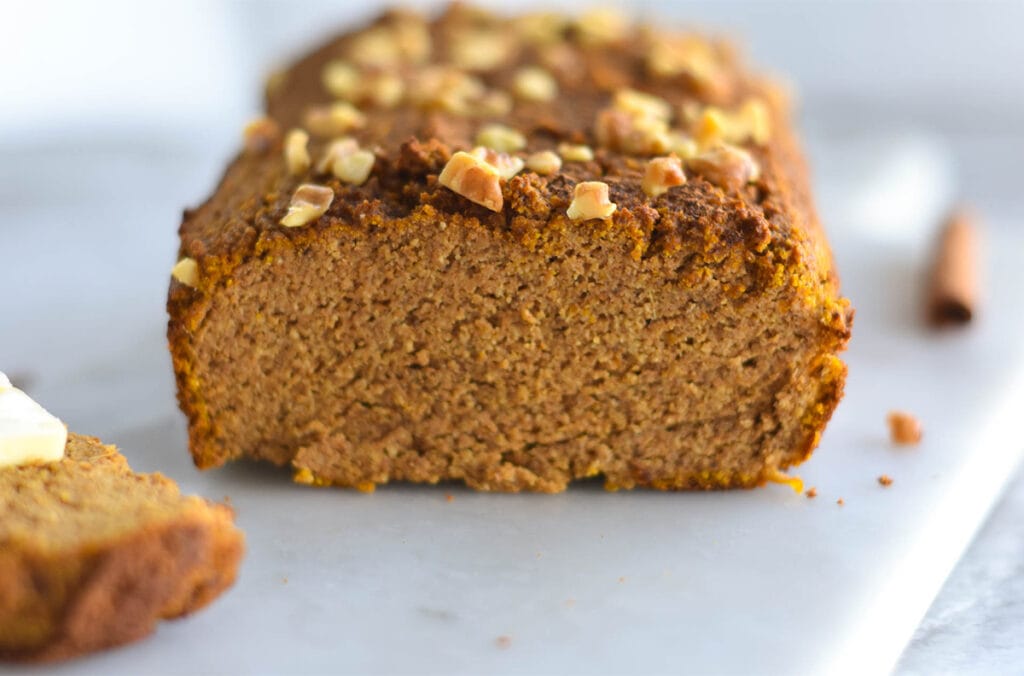 Jump to:
If y'all know me, you know that I am a fan of pumpkin. I don't have that basic, surface-level relationship that most people have with pumpkin that springs up when the leaves begin to change and then dissolves with the seasons. My love for pumpkin is deeply rooted and intrinsic.
I am the girl who eats pureed pumpkin for dessert... in July. The same girl who ate pumpkin so frequently that I literally turned orange from all the beta-carotene. So, yes, I really do love pumpkin. And, I promise all my die-hard pumpkin fans, this Keto Pumpkin Bread will not disappoint.
We recently moved to Texas from Washington state. Moving across the country has been challenging, but not in all the ways I had expected.
I had expected stark differences. Missing my family family and friends, old growth forests and craft coffee were a given. I expected that I would miss familiarity, and rain, and berry picking, and green grass. What I didn't expect were the subtle challenges.
I don't miss "home" everyday, until all of a sudden I realize that I am not home. You don't build a home or make a home. Home is a feeling that just happens when you grow into a space and it becomes you. A place that warms you from the inside out, that, to me, is home.
Autumn has been uniquely difficult for me. Much of my identity is tied to the changing of seasons.
My sanity and mental clarity has always been rooted in long trail runs in cool weather when the leaves are changing. Or, in the early days of spring when winter is melting away and the woods are coming alive again. The changing of seasons is truly my favorite time of the year.
Here in south Texas there isn't much of a shift in season. I have found myself missing brisk mornings more than anything.
This year I have been finding a lot of pleasure in using cinnamon and cloves to create the illusion of warmth (even though we still have our AC running). And, adding little touches around our home to make it feel like Fall here.
For some reason, my emotions tied to the feeling of being home are somehow ignited by the idea of Fall and the sense of warmth it creates.
Developing this pumpkin bread recipe to share with you all has certainly been joyful (and, a little bit of a selfish experience) because it contributes to so many pleasant smells and warm Fall feelings.
What Makes This Recipe Healthier?
The pumpkin bread that you buy from almost any bakery, restaurant, or store are almost inevitably going to have three main offenders: gluten, vegetable oil and plenty of sugar.
Gluten Free
This keto and paleo pumpkin bread is, of course, gluten free. Coconut flour is far superior to wheat flour or even gluten-free grain flours, because it does not create an inflammatory response in the gut.
Coconut flour is generally well tolerated by most people, and has almost no glycemic effect. This flour is made from ground coconut meat, making it damn near a whole food regardless of being labeled as a flour.
Healthy Fats
Another superior aspect of this recipe is the healthy fat sources. One of the biggest antagonists to health in the Standard American Diet is the high prevalence of vegetable oils. In this recipe you will find none of those. Polyunsaturated fats are something you should try to actively avoid, even in your holiday treats when making them at home!
Low Carbohydrate
The other notable feature is the carb content of this bread. One slice has only 6 g of net carbs!
Low carb diet or not, loading up with sugar is not ideal. Perpetual blood sugar swings and blood sugar elevation can put you at risk for diabetes, weight gain, high blood pressure, heart disease and hormonal dysregulation.
This bread has an almost non-existent effect on my blood sugar. The butter, coconut flour, stevia and fiber make this an extremely low-glycemic treat. These ingredients also my it extremely satisfying. No blood sugar swings here, just steady energy making this bread appropriate for breakfast, snack or dessert.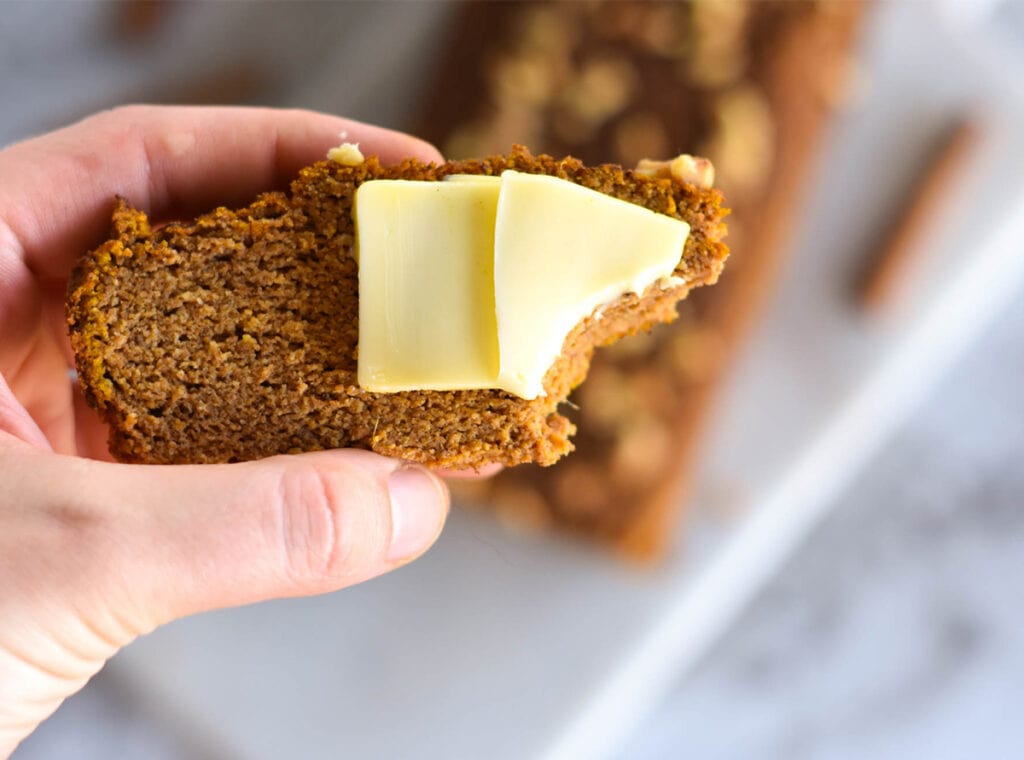 Is Pumpkin Keto?
Yes! Pumpkin can be totally appropriate for a keto diet. Although pumpkin would be considered a carbohydrate, it is low in effective or net carbs. This means that a portion of the carbohydrate in pumpkin comes from fiber and can not actually be turned into glucose.
In ½ cup of pumpkin, there are 10 grams of carbs and 3 grams of fiber. This makes a total net carb count of 7 grams. When added as part of a recipe, pumpkin won't add a significant amount of effective carbs per serving.
One hearty slice of this keto pumpkin bread has 6 net grams of carbohydrate. This is well within the 25 grams of net carbs most people aim for on keto.
Can I Use Fresh Pumpkin In This Recipe?
Absolutely! Just roast and puree the pumpkin as you would for pumpkin pie and then measure out 1 + ⅓ cup of pumpkin puree for this recipe.
How To Make Your Own Pumpkin Puree
Time needed: 1 hour and 10 minutes.
Simple steps for making your own pumpkin puree.
Preheat oven to 400 degrees F.
Cut pie pumpkin in half and remove seeds.

You'll wants to use a 4-5 lb pumpkin. Cut in half, vertically. You can break off the stem if it helps the pumpkin lie flat. Scoop out the seeds with a spoon.

Place face down on a baking sheet in the oven.

Once oven is preheated, place pumpkin open side down on a baking sheet. Line with foil for easier clean up.

Cook for 45-60 minutes.

Cook until the skin is soft and indents when poked. The flesh should pull away easily from the skin using a fork.

Scrape out the insides.

Allow to cool. Then use a spoon to scrape out the insides. Transfer the flesh of the pumpkin to a blender and blend until smooth.
How To Store Pumpkin Bread
The best way to store pumpkin bread is in the fridge wrapped in tin foil or parchment paper. Because the pumpkin puree holds a lot of moisture, plastic bags are not ideal if being kept in the fridge. This bread should hold up for at least 5 days in the fridge.
Freezing the pumpkin bread is another option! You can wrap the bread in parchment paper and then place in a ziploc bag. Allow the bread to cool before freezing and storing. You can store the bread slice or whole. If you prefer sliced, you may want to use parchment paper to separate the slices so you can pull them out individually.
When you are ready to enjoy, just thaw it in the loaf fridge. Use the microwave to reheat if desired.
Substitutions
Pumpkin - You could swapped canned pureed sweet potato or butternut squash for something a little different. Usually canned pureed butternut squash has a little more water in it, so you might need to add another tbsp of coconut flour to get the consistency right. The sweet potato puree should be a 1:1 swap for the pumpkin.
Butter - If you don't include butter in your diet, you could use coconut oil or ghee. I prefer grass-fed butter in this recipe, but i understand not everyone can tolerate it.
Eggs - No swap here. These are a must. Flax or chia seed eggs will not work.
Stevia Erythritol Blend - You could substitute any sweetener you like. I like Pyure or Truvia because they don't have the cooling effect that eyrthritol alone has. If you don't mind a little extra carbohydrate, you can sweeten with coconut sugar. You will need to adjust sweetness to taste. I would be a little cautious of using liquid sweeteners because they will add additional moisture to the recipe.
Spices - You could use two tbsp total of pumpkin pie spice if you don't have the other spices and are in a pinch.
Related Recipes
Did you make this Keto Pumpkin Bread recipe? If so, I would love to hear how it worked. Leave a comment and a rating below!
📖 Recipe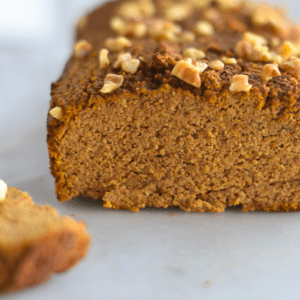 Paleo Keto Pumpkin Bread
Warm spices and wholesome ingredients make this paleo, keto pumpkin bread a healthy choice that is incredible satisfying, and oh so good for you. This pumpkin bread is everything good in the world.
Equipment
Bread pan

Mixing bowl

Spatula
Instructions
In a large bowl, whisked eggs together.

Add pumpkin to bowl, whisk until smooth. Add coconut flour, spices, baking powder, and baking soda. Whisk everything until well combine.

Add melted butter to mixture, and add walnuts. Whisk until smooth.

Cut a piece of parchment paper to line the bottom of the bread pan and then spray the pan with coconut oil cooking spray.

Spread all ingredients in bread pan with a spatula. Bake for 50 minutes. Poke with a toothpick to make sure the bread is cooked. If it comes out clean it should be good!
Notes
**Sub coconut oil for butter if dairy free. Butter is preferred if you tolerate butter.
I use about 4 tbsp. of truvia. You could use less or more depending on your preferred sweetness. If using Swerve or other erythritol than you would want to use more because it is less sweet. Always start with less and taste the batter but remember it will taste slightly  less sweet when cooked.
Nutrition
Serving:
1
slice
Calories:
191
kcal
Carbohydrates:
12
g
Protein:
6
g
Fat:
14
g
Saturated Fat:
5
g
Cholesterol:
123
mg
Sodium:
427
mg
Potassium:
139
mg
Fiber:
6
g
Sugar:
2
g
Vitamin A:
6909
IU
Vitamin C:
2
mg
Calcium:
62
mg
Iron:
2
mg