Getting sweet potato fries crispy in the oven is the ultimate hat trick. This recipe does just that. These baked paleo sweet potato fries are easy, crispy and so flavorful. They are Whole30 compliant and can be made AIP complaint as well, not to mention 100% kid friendly.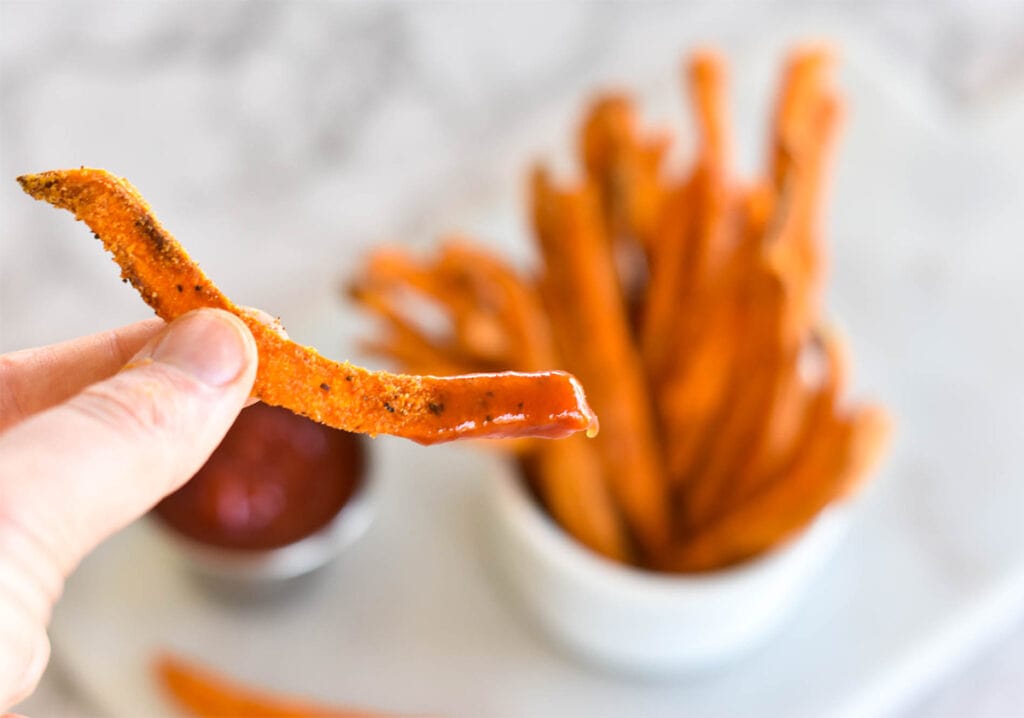 Jump to:
Are Sweet Potato Fries Healthy?
Healthy is a pretty subjective word and can mean different things to different people. In general, I think most people can consider sweet potatoes a health promoting food. Generally speaking, they are a good carb source because they are loaded with micronutrients and contain fiber.
For 100 grams of sweet potato there is 315% DV of vitamin A, 21% DV of vitamin C, 10% of B6 and 4% of magnesium and iron. Additionally, you will find 230 mg of potassium and almost 3 grams of fiber per 100 grams of this bright orange tuber.
It is fair to say that sweet potato fries you get from a restaurant are going to be less nutritious. This is mostly related to the ingredients added to the potatoes. The sweet potato itself will still have most of the vitamins and minerals listed above. You can expect that some of the fat soluble vitamins might leach out during the frying process.
Restaurant sweet potatoes fries can have a gluten-containing breading, anticaking agents or other unnecessary ingredients. To boot, these fries are usually cooked in a vat of vegetable oil which can be very inflammatory, especially when exposed to high temperatures.
Cooking your fries at home is always a good bet. In this recipe, we will use a healthy monounsaturated oil that is safe at higher heats (avocado oil) and tapioca starch to help get the fries crispy.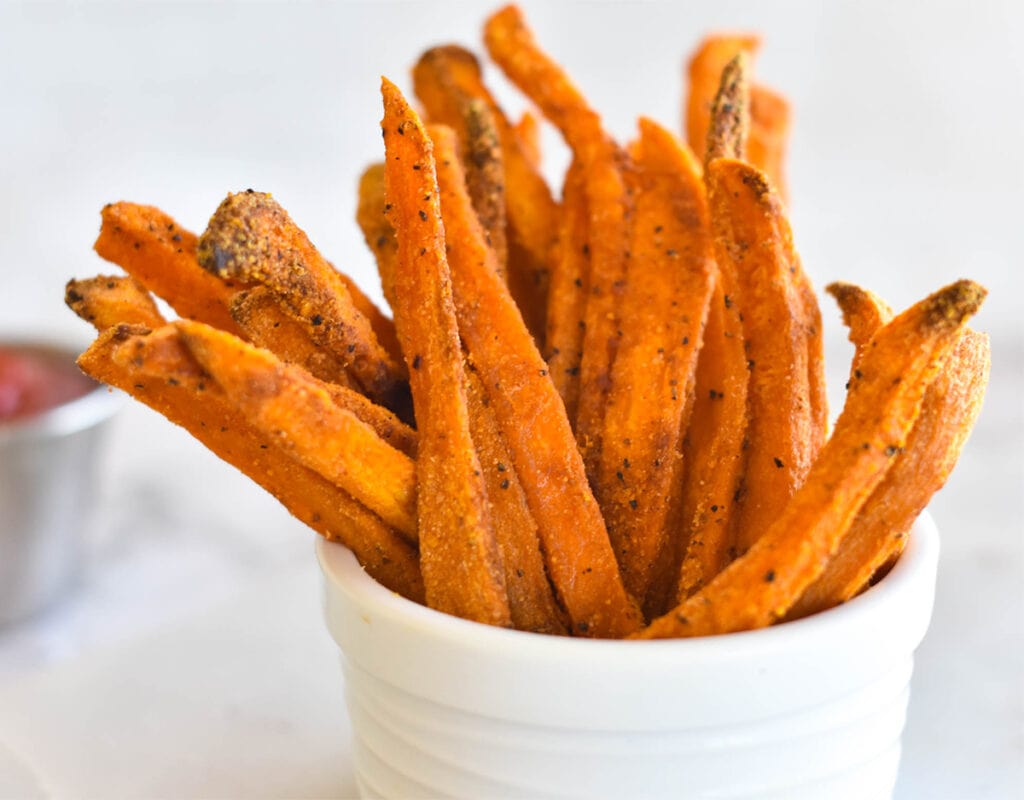 Non-Toxic Sheet Pans
Getting rid of toxic cookware is a project. I feel you. But, it is so important!
I personally can't afford to throw out every questionable piece of cookware we own. Though I wish I could! My strategy is to continue to use the items I have been gifted or bought years ago before I became concerned with household toxins. When I notice even slight damage to the cooking surface that is when I opt to toss it and replace it.
I am currently using these aluminum baking sheets. I like them and they work well, but I almost exclusively use them with parchment paper to prevent aluminum from leaching into my food.
Stainless steel pans often have the same concern because many of them are treated with aluminum to improve performance. You can find uncoated stainless steel sheet pans too which are reasonably priced. My next sheet pan purchase will be unglazed stone ware or uncoated stainless steel.
Differences In Baking Sheets
Cooking time will vary based on the type of cooking surface you use! I use an aluminum sheet pan in this recipe. Consider your cooking surface and adjust the cooking time if needed.
Nonstick
Nonstick baking sheets are usually the most common. They tend to heat up quickly which can yield shorter cooktimes or overcooked food. The finish also plays a role. Darker finishes will bake foods darker, and lighter finishes will bake lighter.
Watch for peeling and damage to the non-stick coating. This may indicate unwanted toxins leaching in to your meal.
Aluminum
Aluminum sheet pans bake evenly since the metal conducts heat well. Thicker aluminum can hold heat better than thinner ones. This will keep food warmer longer once removed from the oven and might result in a small amount of carry over cooking. Highly acidic foods can cause leaching if the aluminum is uncoated. This is why I would generally use parchment paper or a silicone tray liner.
Silver Stainless Steel
As mentioned above, some stainless steel pans will have an aluminum coating and some will not. Stainless steel is a poor conductor of heat and will take longer than a solid aluminum pain to heat up. It will stay hotter longer, so there may also be some carry over cooking if the food is left on the pan. An aluminum coated pan will cook comparably to the aluminum pan but might take a few minutes longer to reach temperature.
Black Steel
Black steel baking sheets are thick and heavy and need to be seasoned before and after every use like a cast iron skillet. Since black steel is a good heat conductor, foods bake evenly but also very dark. This should be reserved for dark and crisp foods. The pan may require a light oiling to prevent sticking.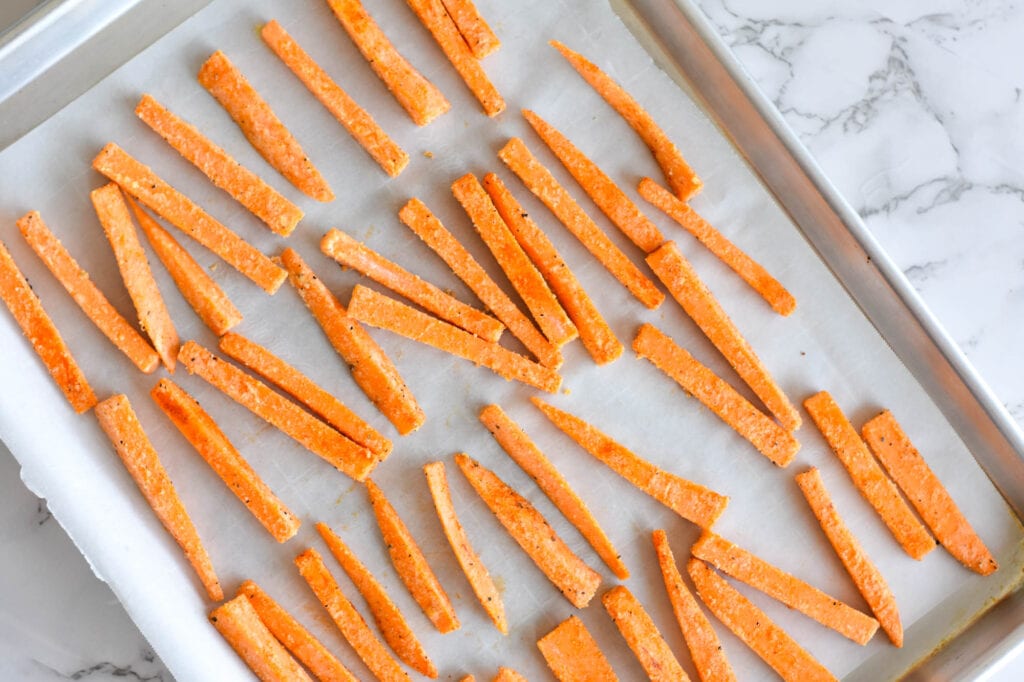 How To Make This Recipe AIP Compliant
This recipe can easily be made appropriate for an autoimmune protocol diet. You will just want to omit the black pepper (berry based spice) and the paprika (nightshade). You can just use the garlic and salt to flavor your chips or substitute your favorite AIP-friendly seasoning. A little cinnamon is a nice addition and AIP compliant.
Here are some printable guides for the AIP diet. These guides can help you navigate what foods to include or avoid during the elimination phase of the diet.
How To Get Sweet Potato Fries Crispy In The Oven
Getting the perfect baked paleo sweet potato fries is an art form. Cornstarch commonly used in non-paleo versions, which can yield okay results. Here are my tips for getting your sweet potatoes crispy every time.
Time needed: 45 minutes.
How To Get Crispy Sweet Potato Fries In The Oven
Cut fries to about ¼ inch thickness.

A thin fry will have an easier time getting crispy.

Use parchment paper to line the baking sheet.

This not only helps to absorb a little moisture making the result crispier, but it will speed up the clean up. I am all for easy!

Cook the fries at 425 degrees F.

I have found this to be the ideal temp to cook sweet potatoes fries and most roasted veggies when I want them to get crisp. Anything lower will result in longer cooking times and more soggy fries.

Toss the fries in tapioca starch before baking.

I add the fries and oil to a Ziploc bag and shake it up. Then I add the tapioca starch and spices. This helps absorb moisture and give a crisp exterior.

Space the fries out evenly and don't let them touch.

If you are makign a large batch of fries you may need to use two sheet pans. It is important for the fries to have enough room. If they overlap they can get soggy. No one wants a soggy fry.

Cook for 40-45 minutes, flipping halfway through.

You'll want to flip your fries at about 20 minutes, making sure to keep them from touching each other. Check the oven at 35 minutes, do a taste test and assess if you need an extra 5-10 minutes. This will vary based on your oven and type of pan.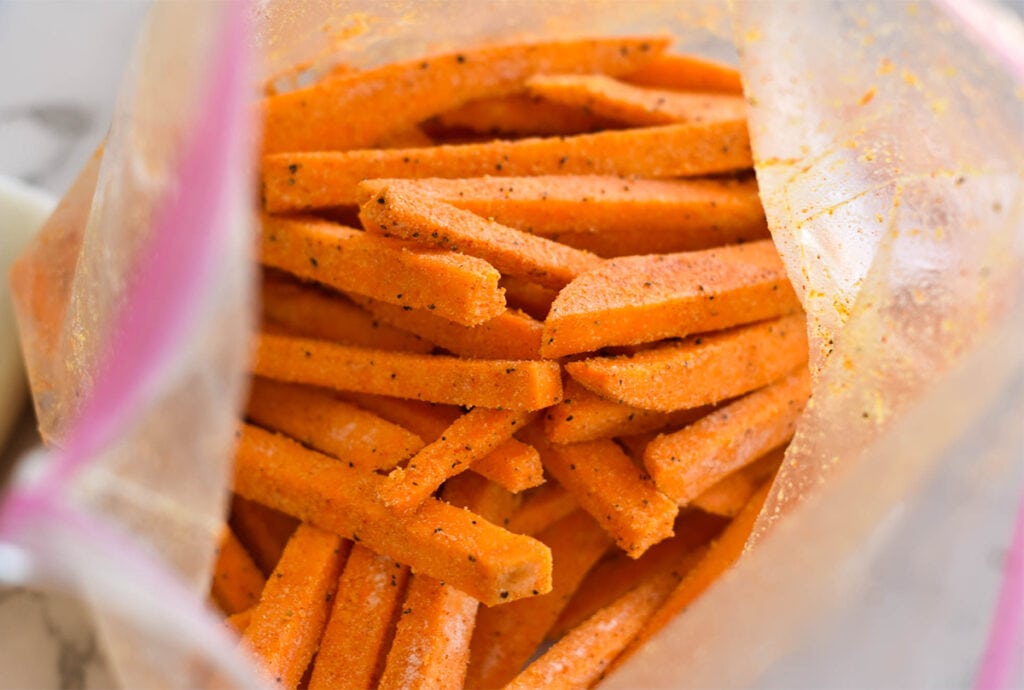 Substitutions
Tapioca Starch - I have used cassava flour which has worked well in this recipe. It tastes a little grittier and doesn't get quite as crispy. Arrowroot flour might also work but I have not tested this. Cornstarch is usually the go to for all my non-paleo friends out there and would work just fine in this recipe.
Avocado Oil - Any neutral cooking oil will work, but I prefer avocado oil because it has a higher smoke point than most other oils and we are cooking these fries at 425 degrees F.
Spices - Garlic, black pepper, salt and paprika make a classic flavor combo but you want spice these up as much as you want. Cater this one to your personal preference and dietary needs. If you are following an autoimmune protocol you will want to omit the black pepper and paprika.
Serving Suggestions
Did you try these crispy baked paleo sweet potato fries? If so, leave a comment and a rating below. I would love to hear how they worked out!
📖 Recipe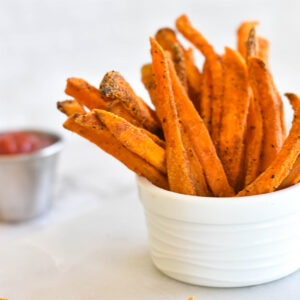 Crispy Baked Paleo Sweet Potato Fries
The perfect sweet potatoes fries are an art form. These Crispy Paleo Baked Sweet Potato Fries are everything you have been looking.
Equipment
Sheet pan

Parchment paper

Spatula

Plastic zipper bag
Instructions
Preheat the oven to 425 degrees F.

Line a baking sheet with parchment paper.

Peel and slice the sweet potato. You want thinner, long fries. They should be about ¼ inch wide.

In a large Ziploc bag, add sliced sweet potatoes and tapioca starch. Zip the bag and shake until everything is covered.

Add the oil to bag. Zip the bag and shake until everything is coated.

Add the salt and spices, zip and shake again.

Lay fries on lined pan in a single layer. Try to prevent the fries from touching each other. This will help ensure crispiness. Place in oven for 40-45 minutes.

Flip halfway through cooking. Check the fries after 35 minutes. If they are still soft continue to cook. Cook times can vary based on oven and type of pan your are using. For my oven and aluminum pan I usually have to cook the fries for a full 45 minutes.

Remove from oven and serve immediately.
Nutrition
Serving:
1
serving
Calories:
221
kcal
Carbohydrates:
32
g
Protein:
2
g
Fat:
9
g
Saturated Fat:
1
g
Sodium:
453
mg
Potassium:
393
mg
Fiber:
4
g
Sugar:
5
g
Vitamin A:
16740
IU
Vitamin C:
3
mg
Calcium:
50
mg
Iron:
1
mg