This rich and buttery recipe for Keto Shortbread Cookies is fool-proof. With just 1g of net carbs per cookie and all that classic shortbread flavor, no one will know these cookies are low carb and gluten-free.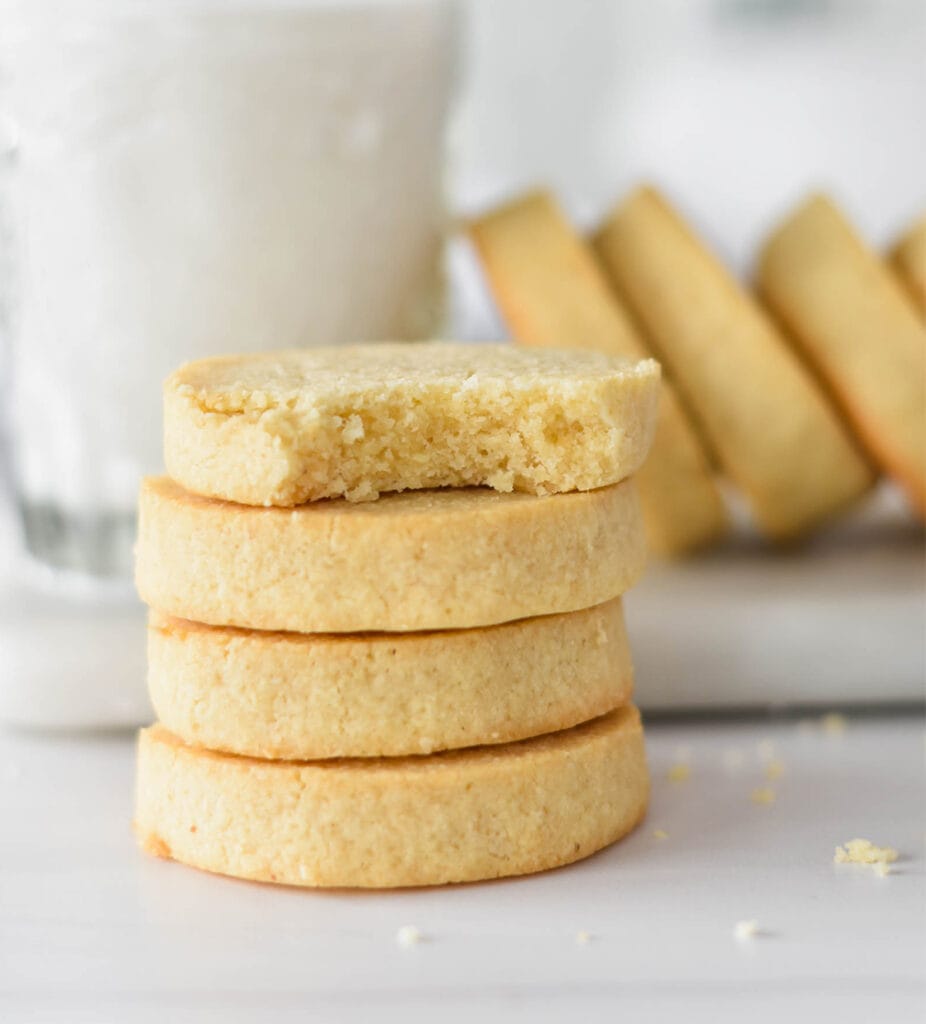 Jump to:
Shortbread cookies are one of my favorites. I love the combination of sweet and salty, and the flakey, buttery texture really seals it for me.
These cookies are so tasty you will hardly know that they are better for you. Made from wholesome ingredients, these keto shortbread cookies are seriously low in carb yet taste sweet and authentic.
This recipe is super simple with just 8 ingredients, no baking powder or eggs required. If you are like me and have gluten free baking flours on hand like almond flour and coconut flour, this can be one of those recipes you whip up in a pinch. On days the kids are complaining about having nothing to do or nothing to snack on, this recipe is a great one to lean on.
How To Make Keto Shortbread Cookies
1. Cream the butter and sweetener.
Using a handheld electric mixer, cream your butter and erythritol together in a mixing bowl until it's fluffy and light in color. Make sure your butter has softened on the counter for at least 30 minutes before using. Do not melt the butter!
2. Beat in other ingredients.
Beat in the vanilla and almond extract, salt and stevia. Then add the almond and coconut flour.
3. Roll dough into a cylinder with 1 ½ inch diameter.
Scrape the sides of the mixing bowl with a spatula and then use your hands to form a dough ball. Place dough ball on a piece of parchment paper. Using the parchment paper roll the dough up and down to create a cylinder or log shape. The log should be about 1 ½ inch in diameter.
4. Cool the dough.
Place the dough log in the freezer for 10 minutes to allow it to firm up.
5. Slice the dough.
Slice the shortbread dough in to ¼ to ⅓ inch pieces. Place cookies on a baking sheet lined with parchment paper.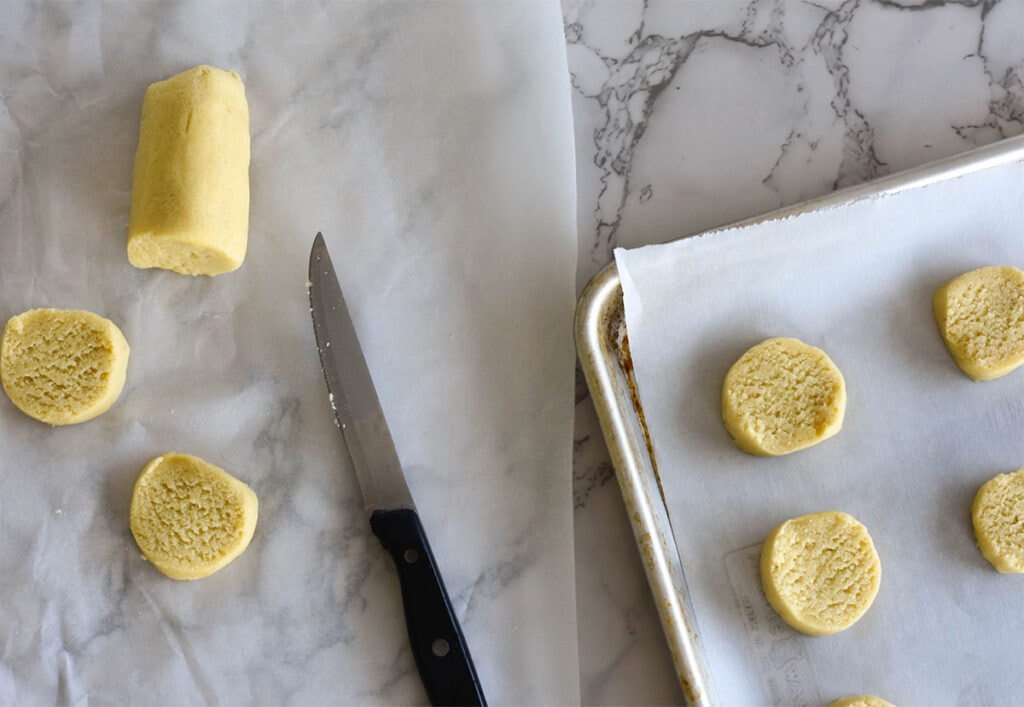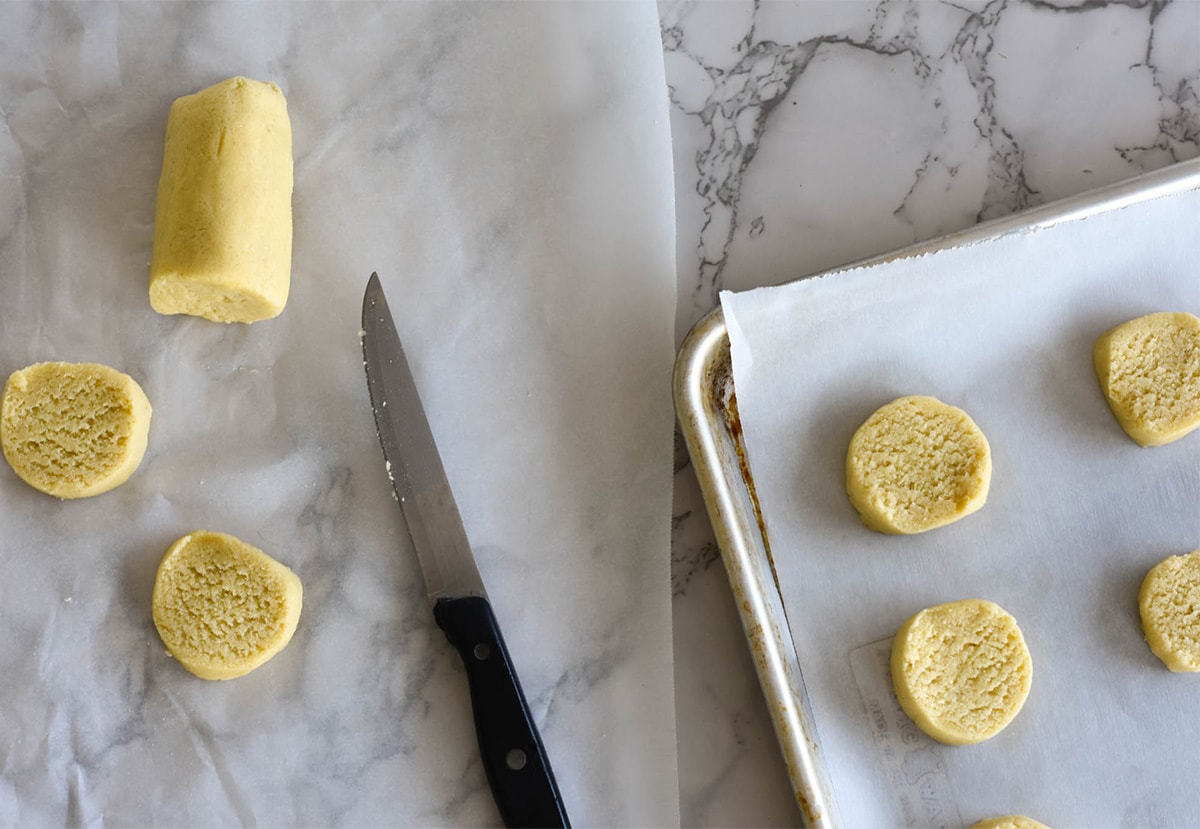 6. Bake the cookies!
Bake for 10-12 minutes at 350 degrees F or until edges turn lightly golden brown. Remove from the oven and allow to cool completely before handling.
Can I Freeze Shortbread Cookie Dough?
This cookie dough can be frozen. Just roll the dough into a cylinder and wrap in parchment paper or plastic wrap and store in a Ziploc freezer bag until ready to use.
Thaw for 15 minutes at room temperature or until dough is soft enough to cut. Slice the cookies into ¼ inch rounds and bake as directed in the recipe. I don't recommend freezing for longer than a month for best quality or refreezing once dough has been thawed.
You can also freeze the cooked cookies for a low carb treat anytime!
Can I Eat Raw Cookie Dough?
For this low carb almond flour cookie recipe, yes! The beauty of these shortbread cookies is that they are egg free, which means the dough is edible even uncooked.
Shortbread cookie dough was one of my favorite things to make as a child because it was so simple and didn't require any eggs making it the perfect sneaky little snack. We always had butter, flour and sugar on hand at home growing up so it was an easy 90's-kid treat.
How Long Do These Cookies Last?
Store these low carb shortbread cookies in an airtight container and they will maintain quality for at least 1 week, if they don't get eaten before then.
Extend the shelf life by popping the container in to a the freezer!
Can I Use Different Sweeteners?
Of course! Everyone has there own preference in terms of low carb sweeteners. However, I highly recommend the combination of granulated erythritol and English Toffee Sweet Drops in this recipe. Combined these two sweeteners work really well together and leave no after taste as some people detect with stevia or cooling effect as you would expect with erythritol.
If not following a low card diet, you can sweeten to taste using sugar. As an estimate, I think ⅓ cup would likely do the trick.
Equipment Needed
Recipe Tips
Add the right amount of salt.
I used salted butter and still added ¼ tsp of salt. This is a preference thing. I like my keto shortbread sweet and slightly salty. I would advise you to taste the dough before adding the salt if you are sensitive to salt.
Allow the dough to become firm in the freezer before slicing.
Allowing the dough to set in the freezer before slicing will help ensure cute round cookies. If you don't care too much about the aesthetics and you're just in it for the cookies, you can skip this step.
Add the almond extract.
I listed the almond extract as optional in this recipe. The recipe would be good without it, but I really enjoy it in these cookies and recommend adding it if you have it!
Don't skip creaming the butter and erythritol together.
This allows small pockets of air to form in the butter which prevent the sweetener and butter from melting too quickly. This gives the cookies their soft, shortbread crumble.
Soften butter before use.
Pull from the fridge at least 30 minutes before baking. Do not use melted butter! Melted butter will cause the dough to fall apart.
Use Loose and Level Scoops
When measuring the ingredients, it is important not to use rounded scoops, especially with the coconut flour. If your coconut flour is rounded or packed the dough will be too dry and not hold together properly.
Looking For Some Other Great Keto Recipes?
Did you try these Keto Shortbread Cookies? I would love to see your creations! Take a photo and tag me on Instagram or leave a photo comment on Pinterest.
Feel free to leave a comment and a rating below. Feedback is always appreciated! 😊
📖 Recipe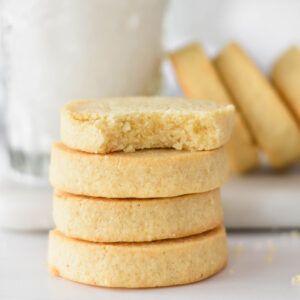 Keto Shortbread Cookies
These keto shortbread cookies are rich, buttery and so easy to make.
Equipment
Electric hand mixer

Mixing bowl

Spatula

Baking sheet

Knife

Parchment paper

Measuring cups and spoons
Instructions
Preheat the oven to 350 degrees.

Beat softened butter in a mixing bowl with a handheld electric mixer. Add erythritol and continue to beat until evenly incorporated.

Add remaining ingredients to bowl with butter. Beat using mixer until dough forms. Dough should be relatively crumbly but easily form a dough when pressed together.

Lay out a piece of parchment paper. Scrape the dough from the sides of the bowl. Form a dough ball with hands and place in the center of the parchment paper. Roll the dough with the parchment paper to form a cylinder with about 1 ½ inch diameter. Place dough in the freezer to cool for 5-10 minutes.

Bring out dough and begin cutting in about ¼ inch slices.

Line baking sheet with parchment paper and evenly place each slice on the parchment paper. Dough will not spread out so they can be placed close together.

Place in the oven and bake for 10-12 minutes or until edges turn golden brown.

Remove from the oven and allow to cool completely before handling.
Notes
When measuring the ingredients, it is important not to use rounded scoops, especially with the coconut flour. If your coconut flour is rounded or packed the dough will be too dry and not hold together properly.
** If you do not like stevia, feel free to sweetened to taste with 100% erythritol! 
Nutrition
Serving:
1
cookie
Calories:
106
kcal
Carbohydrates:
3
g
Protein:
2
g
Fat:
10
g
Saturated Fat:
4
g
Cholesterol:
14
mg
Sodium:
81
mg
Fiber:
2
g
Sugar:
1
g
Vitamin A:
158
IU
Calcium:
21
mg
Iron:
1
mg