This soul-soothing and flavorful Paleo Chicken "Noodle" Soup is rich in micronutrients and makes the perfecting warming meal as weather gets cooler and flu season approaches.
With fresh herbs and real hearty pieces of chicken breast, this gluten-free and dairy-free soup can beat out any canned competitor. It is Whole30-complaint and can easily be made AIP.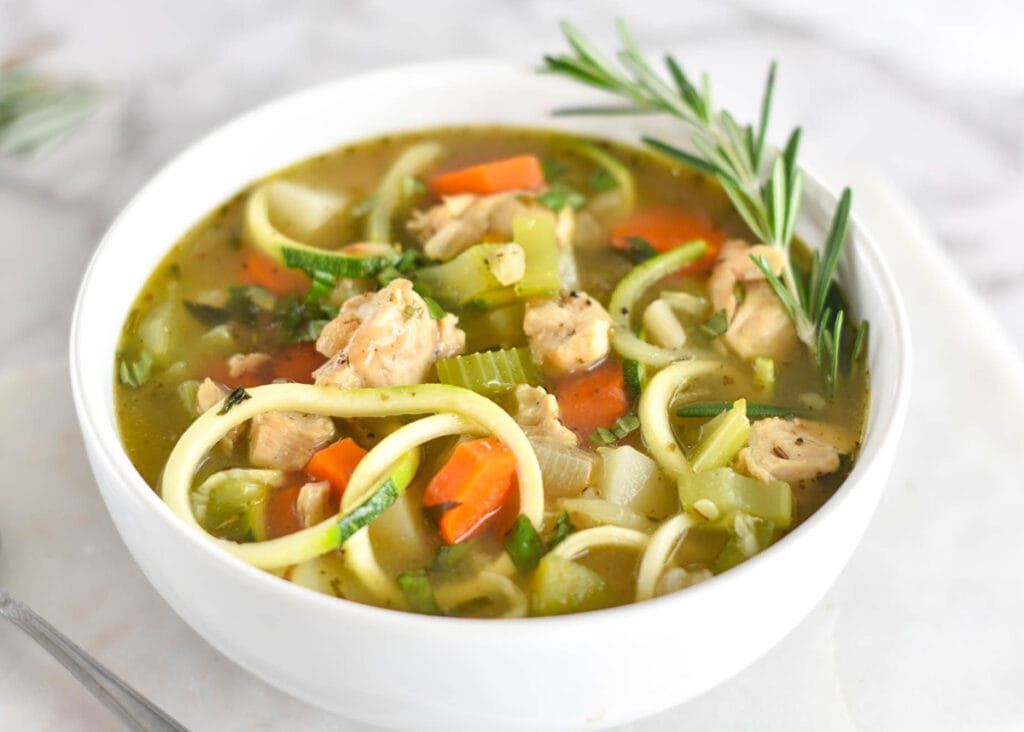 Jump to:
A hot bowl of chicken noodle soup is hard to beat on a cold day. This paleo version is no exception. There is something so warming about a flavorful broth filled with tasty herbs, hearty veggies and protein.
This soup uses zucchini noodles in place of traditional noodles for a nutritional boost! If you replace the potatoes with cauliflower rice, this soup would also be appropriate for those following a low carb or keto way of eating. A much healthier way to get a satisfying noodle-slurp on.
What Makes A Good Chicken Soup?
This is my absolute favorite way to make the chicken soup.
I like to start by chopping the onions and garlic and cook them down in the stock pot with a little oil. Then I add the chicken, salt and spices.
After the chicken starts to cook, I add a little arrowroot powder and a tad more oil to make something like a faux roux (just a little backwards). This allows the flavor to develop which makes both the broth and the chicken more flavorful and seals in all the goodness.
Another important factor is the quality of the broth. I always use bone broth because you get the added benefits of collagen and additional amino acids. Plus it always tastes so much better! I like to use Kettle & Fire Chicken Bone Broth, but homemade chicken stock would also be great!
Using fresh veggies really makes the difference as well. I find that relying too heavily on frozen vegetables can lead to soggy soup components. It is important to have a variety of textures in the soup. You want tender chicken, slightly crunchy celery and soft potatoes. The "zoodles" should be added close to the end because they don't need long to cook.
Can Chicken Soup Actually Help You Get Over A Cold?
I am a big advocate of soup for people who are suffering from almost any acute illness, not even just the common cold. While some may feel this is an old wives tale, there are many reasons why a good quality soup can actually support your immune system and your healing.
Gut Health
Using bone broth in soup can support your gut health. Commonly, people in the US do not get a lot of collagen in their diets Collagen is mostly found in the skins and bones of animals, which people don't normally consume.
Collagen, along with several valuable amino acids (glycine, proline, arginine, and glutamine) present in the skin and bones can help to protect the lining of the GI tract and other sift tissues in the body. You can also get these components from a well prepared bone broth.
Why is your gut health so important? Your GI tract is the seat of your immune system. Nearly 70% of the immune system is located in the gut. When your tight junctions, a type of junction that lines the epithelial wall, are not sealing properly they can let in undigested food particles, bacteria and viruses.
Micronutrients
While a can of Campbell's chicken noodle soup may not have an abundance of vitamins and mineral, this soup surely does. Making homemade soup allows you to add richly colored vegetables and herbs which can support your micronutrient intake.
By cooking these nutrient-dense foods in broth and then drinking the broth, you are ensuring that the vitamins and minerals that would otherwise be leached during the cooking process are locked in. Drinking the broth is so important, that is why is pays to spend the time to make a flavorful broth base!
Digestion
Usually when you are sick, your digestion is off in one way or another. One thing that can help ease digestion is eating soft cooked meats and well cooked vegetables. Soup is naturally one of the easier things to digest because it is already partially broken down.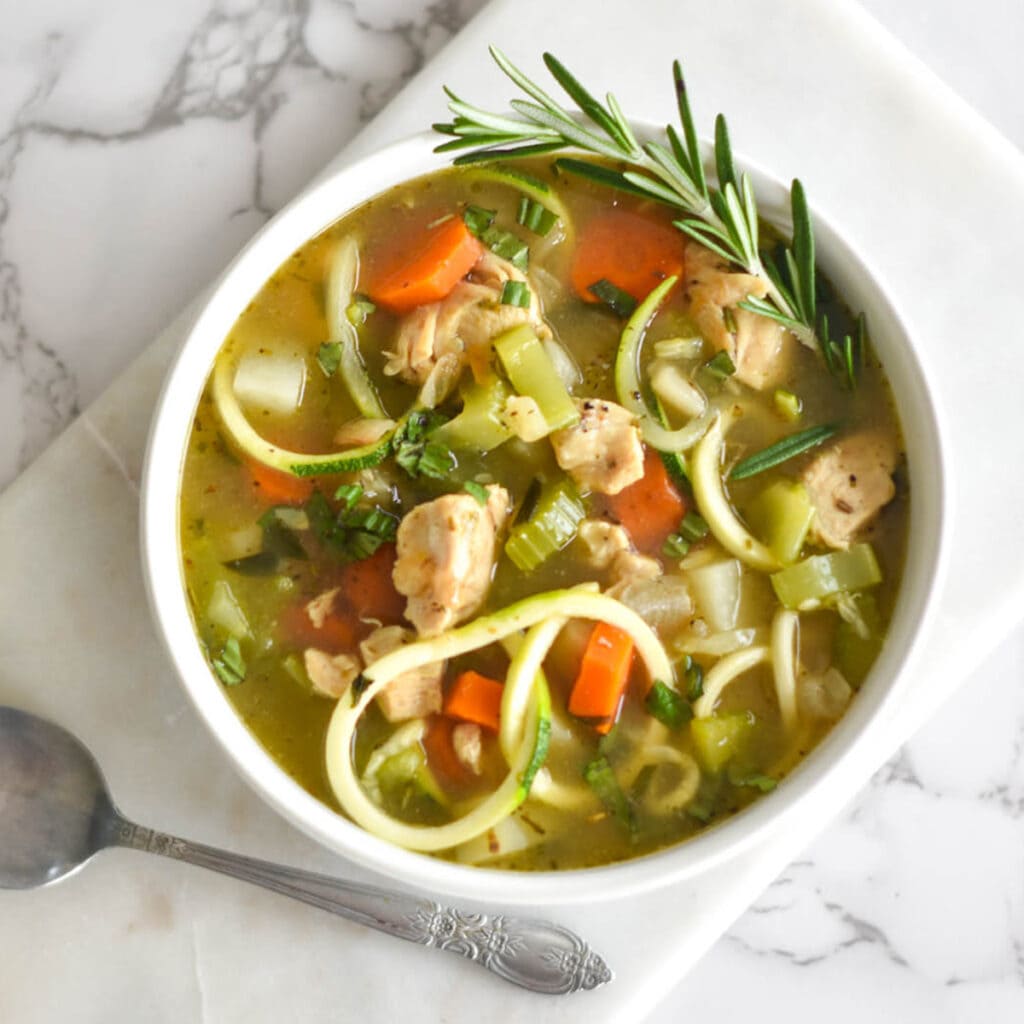 How To Make This Soup AIP Complaint
Most of the ingredients in this soup are complaint for the autoimmune paleo protocol. The things that will need to be swapped are the potatoes (nightshades) which can be replaced with sweet potatoes, and the black pepper (berry based spice). Instead of black pepper you could add a pinch of turmeric or ginger for a light kick.
Are Potatoes Paleo?
This is a hotly debated topics and I have discussed this on several different recipes. Really, the choice whether to include potatoes in your paleo lifestyle is largely individual. If you don't have issues with nightshades or carb tolerance issues, I think adding in potatoes is generally fine for most people.
If you don't choose to eat potatoes, you could always substitute white or regular sweet potatoes. Those would also be very delicious in this recipe. For a lower carb approach, you could throw in some cauliflower rice or roasted cauliflower florets.
If you are curious about this topic, I wrote more on it here: Are Potatoes Paleo?
Equipment Needed
You will need a standard stock pot, a knife, cutting board and ladle. Beyond basic kitchen items, you will also need a spiralizer to make the zucchini noodles.
Any spiralizer will do the trick but I cannot say enough good things about the Kitchenaid Spiralizer attachment. It is kind of pricey, but after years of using the plastic crank versions I will never go back. If you have a Kitchenaid mixer I would highly recommend this option for anyone on the fence.
Another option would be to buy pre-cut zucchini noodles. I would advise against using frozen "zoodles" as they probably won't hold up well in the soup, but honestly I don't have a ton of experience using frozen veggie noodles so use your best judgement.
Recipe Tips
Don't skip building the soup base! It is important to cook the onions and garlic down and then add the chicken and seasonings. Adding the arrowroot powder helps to seal in the flavor. The first couple steps in this recipe are necessary to make the perfect soup.
Tapioca starch can be used in place of arrowroot powder. You could also substitute cornstarch for a non-paleo alternative.
The chicken does not need to be entirely cooked before adding the broth. It will continue to cook when the veggies are added. Although, it should be mostly cooked to avoid food safety concerns.
Salt to taste. I start with ½ tsp. and adjust if I feel it needs more.
Don't skip the fresh herbs! Fresh herbs do wonders for a soup. The more the tastier, in my opinion.
Storing This Recipe
This soup can be stored safely for at least 5 days in the fridge in an airtight container.
This recipe is also freezer friendly. Freeze in an airtight container for up to 1 month. Just pull and thaw in the fridge. The veggies tend to get a little softer with the freezing and thawing process but it is still quite tasty!
Related Recipes
Did you try this Paleo Chicken "Noodle" Soup? I would love to see your creations! Take a photo and tag me on Instagram or leave a photo comment on Pinterest.
Feel free to leave a comment and a rating below. Feedback is always appreciated! 😊
📖 Recipe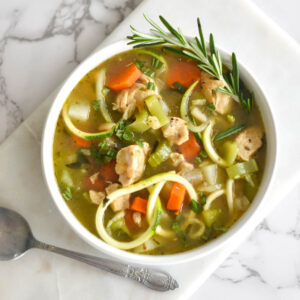 Paleo Chicken Noddle Soup
This soul soothing paleo chicken noodle soup is loaded with nutrients and packed full of flavor.
Equipment
Stock Pot

Spiralizer

Ladle

Knife

Cutting board
Ingredients
1

lb

Chicken breast tenderloins

3

tbsp

Avocado oil

1

Yellow onion

4

cloves

Garlic

½ to 1

tsp

Pink Himalayan salt

Add more to taste if needed (depends on how salty your broth is)

1

tsp

Black pepper (omit for AIP)

1

tsp

Dried oregano

1

tsp

Garlic powder

¼

cup

Fresh basil

Finely chopped

2

tbsp

Fresh rosemary

Finely chopped

2

tbsp

Arrowroot powder

1

Russet potato (sweet potato for AIP)

Large

3

Carrots

4

Stalks of celery

4

cups

Chicken bone broth

2

Zucchini

Medium
Instructions
Add 2 tbsp of avocado oil to a stock pan over medium heat.

Begin peeling and dicing the onion and garlic. Add the onion to the oil. Allow to cook until it begins to caramelize and then add the garlic.

Dice the chicken tenderloins into about ½ inch pieces. Add to the pot with onion and garlic.

Add the salt, herbs and spices to the pan. Stir and allow the chicken to finish browning. Try to avoid overcooking chicken.

Add the arrowroot powder and the last tbsp of avocado oil. Stir.

Peel and dice the carrots and potato. Dice the celery. Add to the pot and cover with broth.

While the veggies are cooking, spiralize the zucchini. Set the zucchini aside.

After veggies are mostly cooked (about 10-15 minutes) add the zucchini noodles and cook for another 5 minutes.
Notes
The first steps in this recipe with cooking the onion, chicken and herbs together really helps with flavor development. Don't shortcut.
Nutrition
Serving:
1
cup
Calories:
173
kcal
Carbohydrates:
13
g
Protein:
14
g
Fat:
7
g
Saturated Fat:
1
g
Cholesterol:
36
mg
Sodium:
665
mg
Potassium:
652
mg
Fiber:
2
g
Sugar:
3
g
Vitamin A:
4000
IU
Vitamin C:
22
mg
Calcium:
38
mg
Iron:
1
mg