Pecan Sandies are a much loved cookie from my childhood. It is hard to be beat the flavor and texture of butter pecan. These Keto Pecan Sandies are everything you would want them to be, rich buttery shortbread, tasty pecans and crumbly texture with the perfect mouthfeel. You won't even believe this recipe is low carb and gluten-free.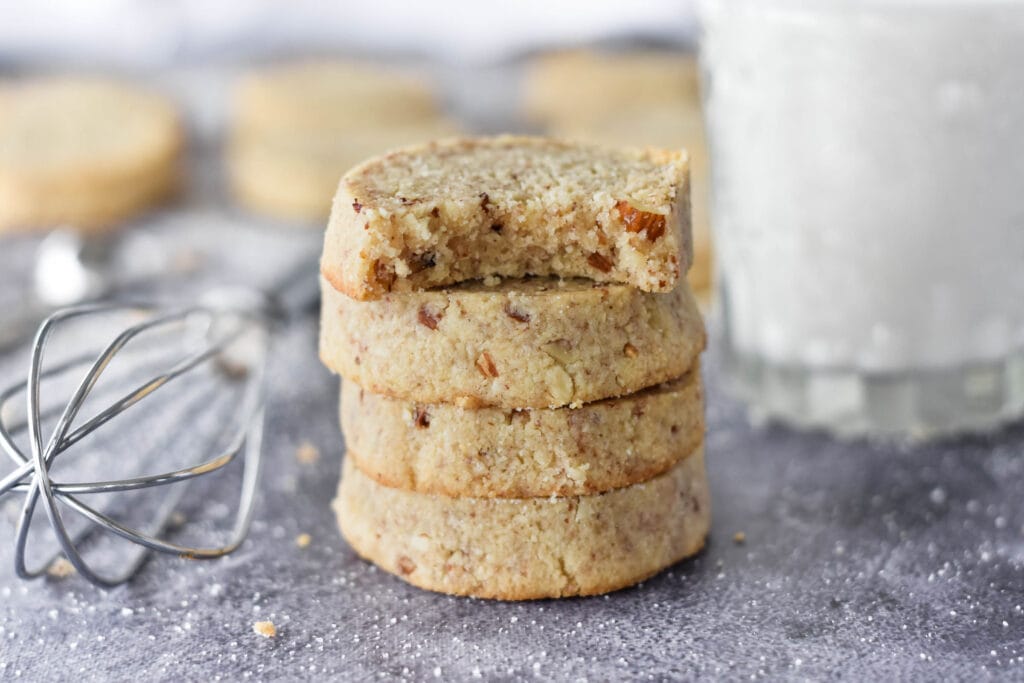 Jump to:
Following a low carb diet doesn't mean you have to miss out on the fun and tradition of baking cookies. These Pecan Sandies are so good even non-keto folks will love them!
These are the prefect "anytime" cookies. They make a great holiday treat and work well in a low carb Christmas cookie platter, but the recipe is so simple these cookies can be whipped up anytime.
This recipe involves relatively simple ingredients and does not require baking powder or eggs. Most these ingredients are something low carb bakers will have on hand making this the perfect treat to make in a pinch!
Can I Use A Different Sweetener?
Of course! Everyone has their preference when it comes to low carb sweeteners. I generally favor the combination of stevia and erythritol because together you can't detect much of a cooling sensation or aftertaste.
The English Toffee Sweet Drops work really well in this recipe because they lend to the sweet and buttery flavor notes, but can easily be replaced with any pure liquid stevia.
If using a different sweetener, I would choose wisely because this will affect the end result. Pick a sweetener that you know and love. When adding it to the recipe, start slow, taste and adjust the sweetness accordingly. The beauty of an egg-free cookie is you can eat the dough without risk of salmonella! This will help you avoid over-sweetening.
Can I Eat Cookie Dough?
Not all cookie dough is created equal. While raw cookie dough containing eggs should be consumed with caution (all of us 90's kids ate it and survived 🤷‍♀️), this egg-free cookie dough is totally safe to eat!
Pro Tip: Prepare the dough as described in the recipe below. Then take the dough and roll it into tiny balls and freeze. Thaw the cookie dough balls for 10 minutes and throw on top of keto ice cream for the ultimate treat!
How To Enjoy These Cookies
You don't really need a reason to enjoy these Keto Pecan Sandies. These are a quick cook and last for a while when stored in an airtight container. I love to dip them in some almond milk or enjoy them with an espresso. They also make a great holiday gift for friends or family trying to eat healthier!
How To Store Keto Pecan Sandies
These cookies can be stores on the countertop in an airtight container for several days. They will last longer when put in the fridge, but keep on the counter for 4-5 days.
You can also freeze the dough before baking! Just pull from the freezer and thaw on the counter for 20-30 minutes and then slice and bake! Great thing to have on hand if you have kids!
Appliances Needed
I use a bullet blender to pulse the pecans. Ideally you will want some chunks and some to be finely ground. I find it easiest to pulse the pecans several times in a bullet blender. You could also use a coffee grinder or food processor, just be sure it is clean before using so you don't get coffee grounds in your cookies.
If you don't have a bullet blender coffee grinder or food processer, simply put the pecans in a Ziploc bag and smash them using a mallet or a rolling pin. You won't get as fine of a ground but it will still do the trick.
This is used to cream the butter and the sweetener together. While you could probably do this by hand with a simple whisk, the electric mixer makes the process a little easier and more effective.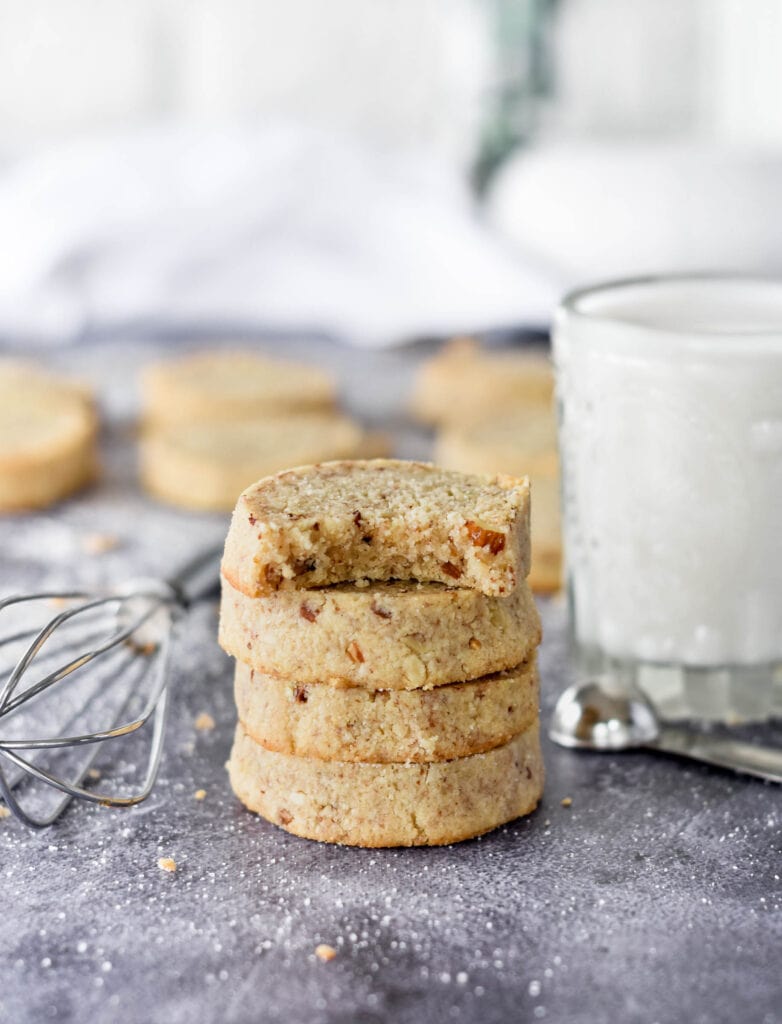 Recipe Tips
Soften the butter.
Pull the butter out of the fridge at least 30 minutes before you plan on starting to make this recipe. Do not melt the butter! Melting the butter can make the dough harder to work with.
Use level scoops.
While I am not a big fan of measuring while cooking, carefully measure the ingredients in this recipe. If you end up with too much coconut or almond flour your dough will fall apart, so be sure to use level scoops when measuring out your ingredients.
Salt to taste.
A good pecan Sandie is both sweet and slightly salty. I use salted butter and ¼ tsp of salt when I make this recipe. You may want more or less salt. Always taste you dough before adding the salt and adjust to your own preferences!
Don't skip creaming the butter.
Creaming the butter and the sweetener together allows for small pockets of air to form in the dough. This causes the butter to melt more slowly which contributes to the rich, crumbly texture. Totally worth the extra step!
Freeze the dough before slicing.
Popping the finished dough in the freezer after it has been rolled into a cylinder is helpful to get the perfect round cookies. I usually let it sit in the freezer for at least 10 minutes to firm up.
Avoid handling the cookies before they have cooled.
These cookies will be easily broken fresh out of the oven. Once they have cooled properly, you will be able to pick them up without them breaking. Patience is required, sorry.
Related Recipes
📖 Recipe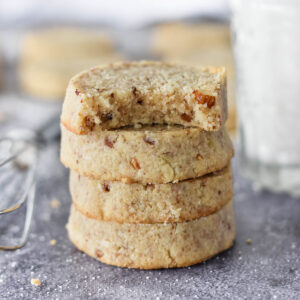 Keto Pecan Sandies Cookies
These rich and buttery pecan sandies shortbread cookies are the ultimate low carb treat!
Equipment
Electric hand mixer

Mixing bowl

Spatula

Baking sheet

Knife

Parchment paper

Measuring cups and spoons

Bullet blender
Instructions
Preheat the oven to 350 degrees.

Beat softened butter in a mixing bowl with a handheld electric mixer. Add erythritol and continue to beat until evenly incorporated.

Add remaining ingredients to bowl with butter. Beat using mixer until dough forms. Dough should be relatively crumbly but easily form a dough when pressed together.

Pulse pecans about 2 times in a bullet blender or coffee grinder. You want some pecan chunks but at least half to be fully ground. Add to dough and beat.

Lay out a piece of parchment paper. Scrape the dough from the sides of the bowl. form a dough ball with hands and place in the center of the parchment paper. Roll the dough with the parchment paper to form a cylinder with about 1 ½ inch diameter. Place dough in the freezer to cool for 15-30 minutes.

Bring out the dough and begin cutting in about ¼ inch slices.

Line baking sheet with parchment paper and evenly place each slice on the parchment paper. Dough will not spread out so they can be placed close together.

Place in the oven and bake for 12-15 minutes or until edges turn golden brown.

Cookies will be crumbly fresh out of the oven. Allow to cool completely before handling.
Nutrition
Serving:
1
cookie
Calories:
112
kcal
Carbohydrates:
3
g
Protein:
2
g
Fat:
11
g
Saturated Fat:
4
g
Cholesterol:
14
mg
Sodium:
81
mg
Potassium:
16
mg
Fiber:
2
g
Sugar:
1
g
Vitamin A:
158
IU
Calcium:
16
mg
Iron:
1
mg
Did you try these Keto Pecan Sandies? I would love to see your creations! Take a photo and tag me on Instagram or leave a photo comment on Pinterest.
Feel free to leave a comment and a rating below. Feedback is always appreciated! 😊