This AIP "Nomato" Sauce is so good you won't even miss the tomatoes. Slightly sweet and tangy and loaded with veggies, this is the best tomato-free pasta sauce out there! Even for those not following an autoimmune protocol this "nomato" sauce is a tasty and nutritious way to spice up your weekly meals.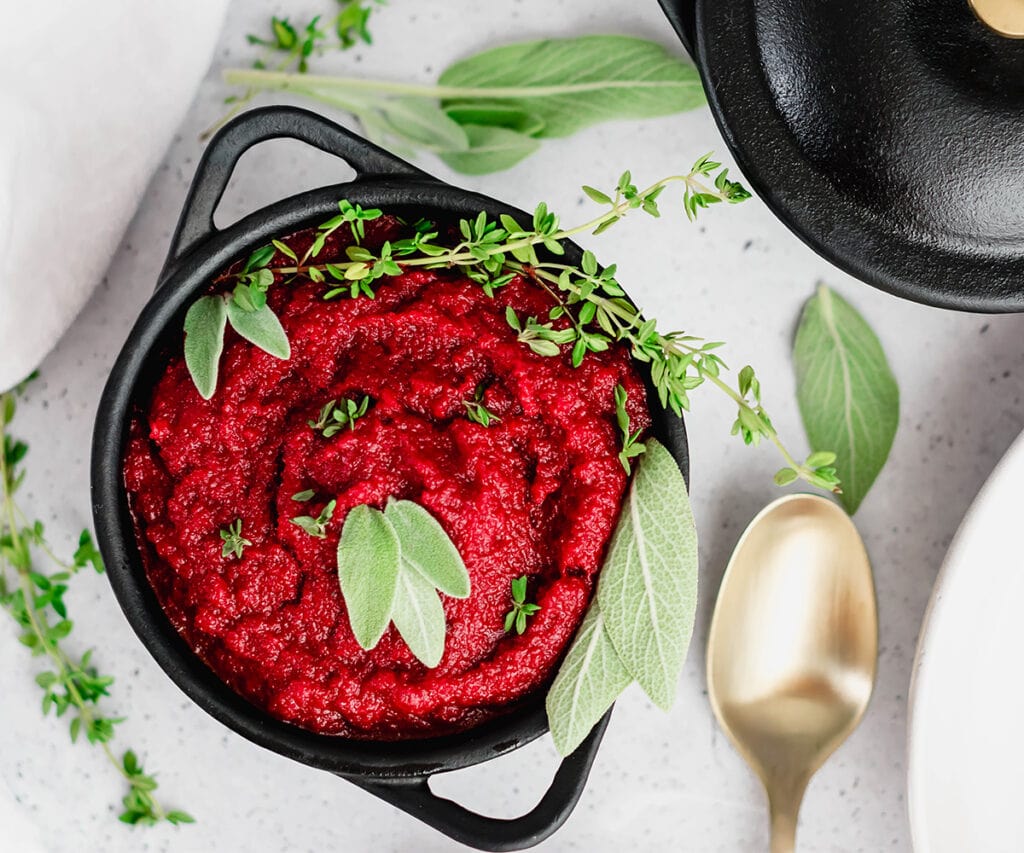 Jump to:
The paleo Autoimmune Protocol (AIP) can be extremely helpful for those struggling with an autoimmune condition. It is used as a elimination diet to help remove potential immunogenic triggers from the diet.
Similar to the paleo diet, AIP eliminates dairy, grains, legumes, vegetables oils and processed sugars. In addition, the autoimmune protocol removes nightshades, berry and seed based spices, nuts and seeds.
Most traditional sauces, especially tomato sauce, cannot be included on the AIP diet due to the restrictions listed above. Lucky for you, this "nomato" sauce is completely nightshade-free and AIP-compliant.
This tomato-free sauce is the perfect thing to throw on top of spaghetti squash, sweet potato gnocchi or AIP lasagna! Use it just like you would tomato sauce. This recipe makes enough for two meals (when cooking for two). I like to freeze half of it and store if for another meal later in the month.
How To Store "Nomato" Sauce
This sauce can be stores for up to five days in an airtight container in the fridge. For longer storage, you can store in an airtight container in the freezer for 1-2 months. Just thaw in the fridge and reheat!
Can I Make The Sauce Thinner?
As written, this recipe produces a thick and rich sauce. Depending on the quantities of veggies used in this recipe, you may desire to thin the sauce. To thin it out, you can add ½ to 1 cup of bone broth to the blender while blending. When making lasagna a thicker sauce is usually better, but when making something like pasta you may want a thinner sauce. Adjust based on what you plan to use the sauce for.
Will The Sauce Taste Like Beets?
Almost every "nomato" sauce out there contains beets. The beets gives the sauce it's rich red color. I am not a huge fan of beets, so I intentionally tried to give this sauce a more traditional tomato flavor. This recipe only calls for one small beet. With all the other ingredients and flavors, it is hardly detectable. The red wine vinegar is important for balancing out the earthy flavor of the beets.
Can I Make This Recipe In The Instant Pot?
Yes! I like making it on the stove because it really allows me to caramelize the onions and the flavors to develop, but you can absolutely make it in the Instant Pot as an alternative.
Just sauté the onions with the avocado oil in the bottom of the Instant Pot using the sauté feature. Add the garlic sauté for another minute or two. Then add all the remaining ingredients.
Seal the Instant Pot and close the valve. Set the Instant Pot for 15 minutes on the "Soup" setting. Allow it to pressurize and cook. Release the pressure once cooked and then follow the instructions for blending. You may need to let it cool a little before handling.
Batch Cooking "Nomato" Sauce
Because "nomato" sauce is not something you can commonly find in the store, it is something I like to batch cook and freeze. By doing so, we usually have a jar or two ready to pull from the freezer and be used in a meal.
When batch cooking, I use the Instant Pot. I double the recipe and instead of just using the bulb of the squash I use a whole squash. Because I double the recipe, I increase the cook time in the Instant Pot to 20 minutes on the "soup" setting. I then blend and adjust the acidity and sweetness as needed.
When blending, you will likely have to blend it in two phases. I will fill the blender and blend and then pour into a large bowl. Repeat for the rest of the sauce. I combine in the mixing bowl to ensure that all ingredients are evenly distributed before I divide the sauce in to storage containers.
This double batch yields almost 18 cups!
Where Can I Find AIP-Compliant Bone Broth?
Making bone broth at home is the safest and tastiest way to procure your AIP-compliant broth. Many store bought options contain seed and/or berry based spices. If you are in reintroduction phase, these might be fine. Just check the ingredients.
One store-bought AIP-complaint bone broth is the beef bone broth from Thrive Market. However, the chicken bone broth from the same brand does contain black pepper.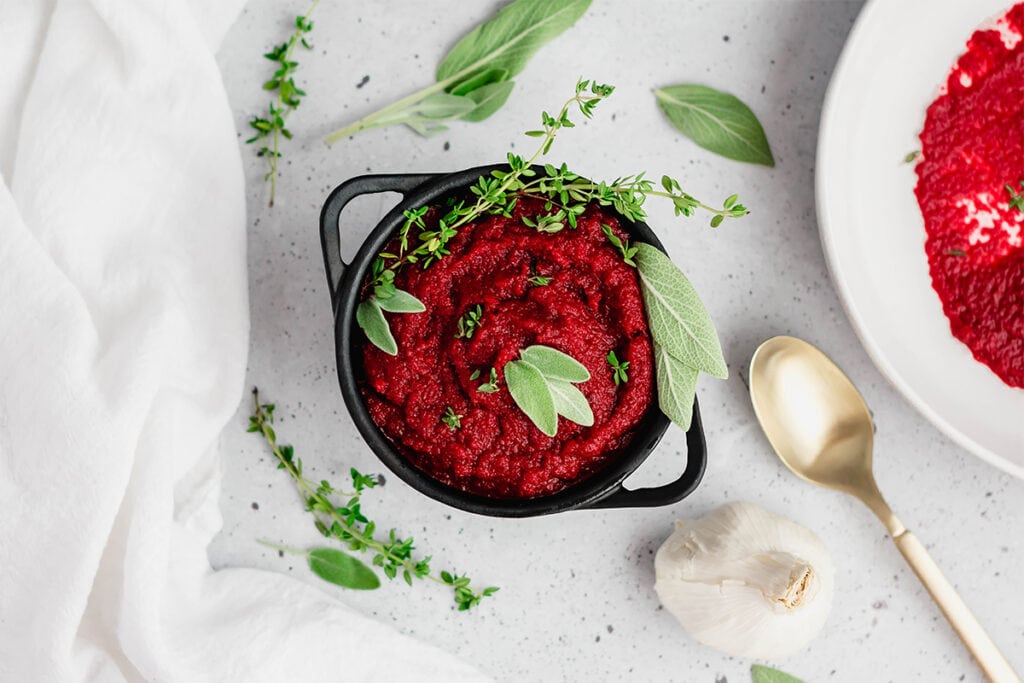 Equipment Needed
Cutting board
Knife
Veggie peeler
Stock pot or deep pan with lid
Spatula
Wooden spoon
Ingredients
Avocado Oil
I use avocado oil in this recipe instead of olive oil because when saluting on the stove top olive oil can reach its smoke point. Olive oil would work well in the recipe also, just be careful not to overheat it.
Yellow Onion, Celery and Garlic
These crucial veggies help to build flavor and depth in this sauce!
Carrots and Butternut Squash
The carrots and butternut squash are slightly sweet. The do not have an overpowering flavor and can be manipulated with the vinegar to taste similar to tomatoes. They also contribute to the texture.
Beet
The beet is less for flavor and more for color. Combine with the butternut squash and carrots, the beet makes the perfect red color for this tomato-free sauce.
Bone Broth
Bone broth makes for more complex flavors. While you could substitute water, I don't recommend that. It is similar to making a soup with just water vs. a rich and flavorful broth. It is possible, but the outcome is better with a sauce.
Oregano, Basil, Thyme, Rosemary & Salt
The AIP-friendly herbs are used in classic tomato sauce and can help build that familiar flavor.
Red Wine Vinegar
This is used to mimic the innate acidity in tomato sauce. I really like using red wine vinegar, but you could substitute lemon juice in a pinch. This ingredient can be tapered based on preference. If I have a large squash, I will usually add a little more red wine vinegar to give it a little more tang. Don't be afraid to taste the sauce and adjust accordingly.
Honey
Honey is used to bring out the natural sweetness in the sauce. Tomatoes when cooked are quite sweet, so balancing the acidity and sweetness is key to the perfect "nomato" sauce. More honey can be added if you prefer a little more sweetness!
Recipe Tips
Avoid substitutions.
While I did list a couple possible substitutions in the ingredients list above, I recommend following the recipe as written for best results. "Nomato" sauce is an art of balancing flavors, and this sauce to me is just about perfect.
Save the neck of the squash for another recipe.
The neck of the squash is perfect to use to make butternut squash noodles or to cut into rounds to roast or layer in an AIP lasagna. You can also save it to use in a tasty Fall soup.
Don't skip the broth.
Using homemade or AIP-compliant store bought bone broth really contributes to the flavor. While you could make this recipe with just water, it is much better using bone broth! If using homemade bone broth, you want to make sure to add it when the veggies are still hot so that the gelatin/collagen will dissolve and incorporate.
Sauce flavor will vary based on quantities of veggies used.
Depending on how much of each vegetable you use, your flavor and texture will vary slightly. This is why it is important to taste during the blending step. Add any additional salt, honey, red wine vinegar or herbs you feel it might need in order to make the sauce taste the best!
Other Great AIP Recipes
Did you try this AIP "Nomato" Sauce? I would love to hear how it went! Take a photo and tag me on Instagram or leave a photo comment on Pinterest.
Feel free to leave a comment and a rating below. Feedback is always appreciated! 😊
📖 Recipe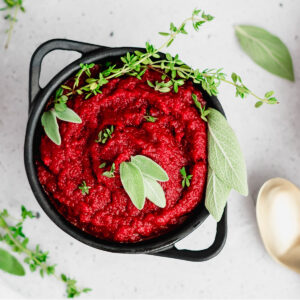 AIP Nomato Sauce
This rich and flavorful AIP "nomato" sauce is so good you wont even miss the tomatoes!
Equipment
Large pot or deep pan with lid

Blender

Rubber Spatula

Knife
Instructions
Heat the avocado oil in a deep pan or stock pot over medium heat.

Begin chopping the onion and garlic. Add the onion to the pan and allow to cook down and begin to caramelize then add the garlic and cook at a slightly lower heat. Stir as needed.

Chop the celery and add to the pot with the onion.

Add 1 cup of bone broth to the pot.

Remove the end and seeds from the butternut squash bulb. Peel the carrots, butternut squash bulb and cut into chunks. Dice all the veggies and add to the pot as you go.

Pour another 1 cup of bone broth in the pan and cover with a lid. Allow to cook on medium heat for 15-20 minutes or until all the vegetables are easy to break apart with your spatula.

Remove from heat and transfer to a high powdered blender. Blend until smooth. Add salt, vinegar, honey and spices and continue to blend. At this point you can add another half cup of broth if you want a thinner sauce. You can also taste the sauce and see if you would prefer a little more honey or red wine vinegar.

Serve and enjoy. Store any extra sauce in an airtight container in the fridge for up to five days or in the freezer for 1-2 months.
Notes
See blog post for Instant Pot Instructions and tips for batch cooking!
You don't have to use only the bulb of the butternut squash. I just usually save the neck of the squash to make butternut squash noodles or slice into rounds to roast and use in other dishes.
Nutrition
Serving:
0.5
cup
Calories:
105
kcal
Carbohydrates:
18
g
Protein:
2
g
Fat:
4
g
Saturated Fat:
1
g
Sodium:
846
mg
Potassium:
474
mg
Fiber:
3
g
Sugar:
8
g
Vitamin A:
11267
IU
Vitamin C:
21
mg
Calcium:
63
mg
Iron:
1
mg