This rich and satisfying paleo hot cereal is the perfect breakfast for a cool Fall morning. This recipe brings back hot cereal to those following a grain-free diet, in a more nutritious fashion. Warm apple and spices will ignite all the fall feels.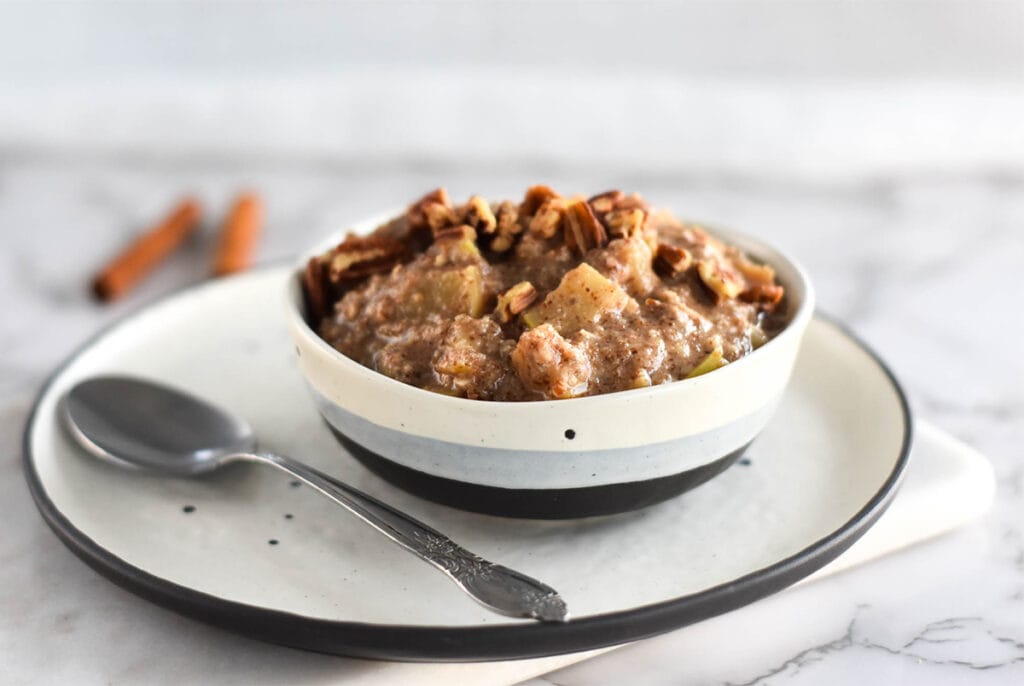 Jump to:
One of my most missed meals after embarking on a paleo diet was hot cereal. I relied heavily on oatmeal most of the time I was going through school. It is so simple, carb-y and satisfying. Albeit, less healthy than most people think.
This alternative offers up something more nutrient dense and richer in fiber and omega-3's. Plus, this cereal has fewer carbs making it a better morning option. No crazy cravings come noon due to blood sugar swings.
There are options to make this breakfast low carb, Whole30 friendly or even instant!
How To Make Low Carb Hot Cereal
Although this recipe has apple in it, you can make it lower carb by using a low glycemic sweetener. Using a sweetener like stevia or monk fruit, there is only 9 g of net carbs per serving. This may be too high for some people following a ketogenic diet but would be appropriate for general low carb eating.
I like to use Pyure granulated sweetener or Lakanto maple flavored syrup.
Can This Recipe Be Whole30 Compliant?
Yes, absolutely! When sweetening this recipe, just opt to use up to ¼ cup of chopped dates. This will give you a nice level sweetness and still be totally compliant for the Whole30 diet. Medjool dates will work the best both for flavor and texture. Be sure to remove the pit before using.
How To Make Instant Paleo Hot Cereal
This recipe only takes about 10 minutes on the stove, but I know mornings can be busy. You can prepare this cereal as an instant paleo hot cereal mix.
For instant hot cereal, simply combine all dry ingredients in an airtight container. When ready to eat, just heat ½ cup of almond milk in the microwave until near boiling. Shake up the dry mix to make sure everything is evenly distributed. Add the milk to the about 5 tbsp. of the dry mix. Stir in a little chopped apple, unsweetened apple sauce, or apple butter and sweetener to taste.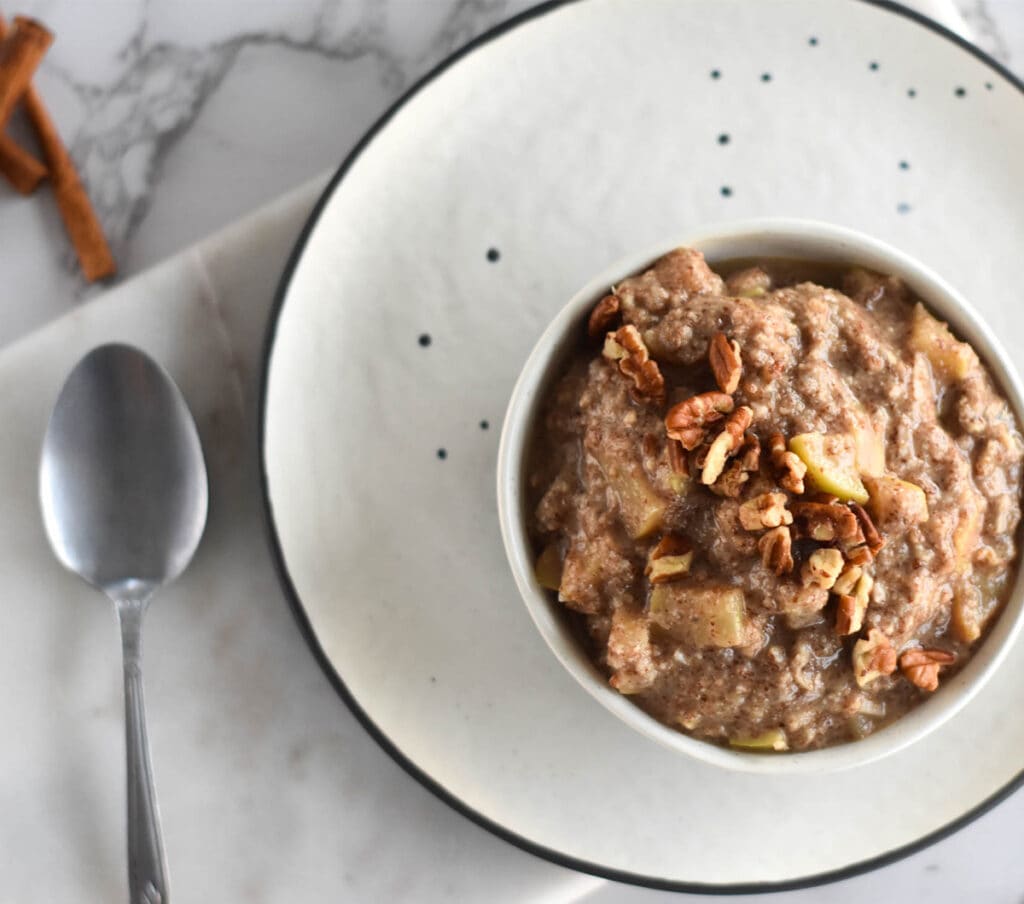 Consider Adding Protein Powder
This recipe calls for collagen protein powder. I like to add collagen for it's gut healing properties. It also supports the health of connective tissue including joints.
I would use unflavored collagen protein if you plan on sweetening. If using a flavored protein powder, sweeten to taste after protein is added so you don't make the hot cereal too sweet.
Sometimes I will add some grass-fed whey protein powder instead of collagen for added creaminess and a little more of a protein boost. I know whey protein is not paleo but it is a good option if you tolerate dairy. Adding a little extra protein will help keep your fuller for longer and support better body composition.
When adding protein powder you may need add a little extra almond milk to prevent it from getting too thick. For protein I like to use Perfect Supplements Hydrolyzed Collagen, Primal Kitchen Vanilla Collagen Protein Powder or Iconic Whey in Vanilla.
Recipe Tips
If using dates, you can chop them and add them when you add the apples to help them soften.
No food processor no problem. I like to finely process the pecans, but you could also just finely chop them. Larger chunks of pecans add a nice crunchy texture.
Date paste also works well as a sweetener for those following Whole30.
Related Recipes
📖 Recipe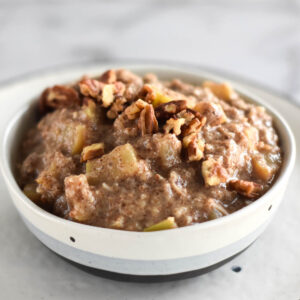 Apple Pie Paleo Hot Cereal
This rich and satisfying paleo hot cereal is the perfect breakfast for a Fall morning.
Equipment
Pot

Bullet blender or food processor
Instructions
In a medium pot, add almond milk and bring to a boil.

Core and dice apple into ½ inch pieces.

Add apple to pot and reduce to medium heat. Cook for about 5 minutes or until apple starts to soften.

Put pecans in a bullet blender or food processor and pulse until finely ground. If using dates, you can also put them in the blender to chop finely.

Add all remaining ingredients. Stir well. Cook for a few more minutes until everything thickens.

If using collagen powder, add last. Stir while pouring in the collagen to prevent it from caking.

Hot cereal will continue to thicken as it cools due to the chia seeds.
Notes
**For paleo, sweeten with maple syrup or to taste. For low carb, sweeten with monk fruit or stevia sweetener to taste. For Whole30, use ¼ cup of chopped medjool dates.
Protein powder will add some creaminess as well as some satiating protein to this cereal. If using a sweetened protein powder, sweeten to taste after the protein powder is added because it might be too sweet if you add sweetener first. If using whey protein, you may need to add a bit more almond milk.
Nutrition
Serving:
1
cup
Calories:
271
kcal
Carbohydrates:
20
g
Protein:
6
g
Fat:
20
g
Saturated Fat:
6
g
Sodium:
278
mg
Potassium:
266
mg
Fiber:
11
g
Sugar:
8
g
Vitamin A:
33
IU
Vitamin C:
3
mg
Calcium:
219
mg
Iron:
2
mg