These Matcha Overnight Oats are the perfect make-ahead addition to your morning routine. Sweet and creamy oats paired with antioxidant-rich matcha for the ideal breakfast pick me up. These matcha oats have added protein, healthy fats and are gluten-free.
Jump to:
Matcha is a tasty way to boost your health and energy. Adding it to oats can add some much needed antioxidants, while supplementing a bit of caffeine and L-theanine to promote smooth and stable energy. Not a bad way to start your day, am I right?
What Are Overnight Oats?
Overnight oats are made using a simple process that involves soaking oats overnight, as the name implies. Soaking not only makes them delicious and ready to eat when you wake up, but also helps to reduce the phytic acid in oats.
Are Oats Too High In Carbs To Eat For Breakfast?
This is a very individual question and the answer depends on your individual carb needs and carb tolerance. Oats can be a great food for breakfast, but I wouldn't recommend eating them alone and I will tell you why.
If you know me, you know that I am not a big fan of carb-y breakfasts. I mean, I love waffles more than most, but I love feeling good more. For me, if I eat a breakfast comprised of only carbs it sends me on a blood sugar rollercoaster and I feel starving shortly after.
Right now I am trying to eat more oats because they are galactogogues, meaning it helps boost milk supply for women who are breastfeeding. In order to make this a blood sugar stabilizing and satiating breakfast that I feel comfortable including regularly I add protein and healthy fats.
The carbs are not a bad choice, they just need a little help from other foods to make them stick around longer. Adding thing like protein powder, nuts, nut butter, coconut, chia seeds or hemp seeds to oats can make them more nutritious and prevent big spikes and dips in blood sugar which help to improve energy, performance and hunger management.
What Is Matcha?
Matcha is a powder made from finely ground green tea leaves from the Camellia sinensis plant. It is stronger than green tea because it is concentrated and has a beautiful and bold green color.
While it is made from green tea leaves, it is actually grown differently. When growing matcha, the tea plants are shade-grown for about three to four weeks before harvest. This process causes the plants to produce more caffeine and an amino acid called L-theanine.
Benefits Of Matcha
Antioxidants
Matcha is rich in catechins, a class of plant compounds that act as antioxidants in the body.
Anitoxidants work to stabalize reactive oxygen species in the body. By stabilizing these harmful free radicals, antioxidants mitigate cell damage and prevent disease.
Because matcha is made from the whole tea leaves, it tends to contain a significant more of these antioxidants than steeped green tea.
Including matcha may help prevent cell damage and even lower your risk of several chronic diseases by way of increasing your antioxidant intake.
L-Theanine
We all know caffeine gives us a [much needed] mental boost at times. Many studies have linked caffeine consumption to improvements in brain function.
Matcha contains caffeine, but it also contains a compound called L-theanine. L-theanine has been shown to alter the effects of caffeine, promoting alertness and helping avoid the jitteriness and energy crash that usually follows caffeine consumption. This is why many people report a more smoother energy with green tea or matcha compared to coffee.
L-theanine has also been shown to increase alpha wave activity in the brain, which may help improve sleep in the evening, promote relaxation and decrease stress levels.
What Type Of Matcha Do I Use In This Recipe?
Matcha comes in grades based on it's use. Each grade comes at a different price point and quality. For these matcha overnight oats culinary grade is used, but the bitterness varies so be sure to select a brand that you have tried and enjoy the taste of.
I most commonly use Jade Leaf Culinary Grade Matcha and Four Sigmatic Matcha Latte Mix because this is what I generally buy and have on hand. The Four Sigmatic mix has added powdered coconut milk and a bit of sweetener because it is a ready to use latte mix, but works great in the recipe.
Grades of Matcha
Ceremonial grade is used to make thick tea with a strong flavor and bright emerald-green color. Ceremonial grade is used for traditional tea ceremonies and is the most expensive grade.
Below the ceremonial grade is Usucha which has a strong balance of the ceremonial grade qualities while being lower cost and with a marginal range of bitter notes. The increase in bitterness comes from a higher tannin content. High tannin indicates high content of polyphenols which are health promoting, but also have a bitter taste (think that mouth drying bitterness you get from certain red wines, that is tannnin). This grade is also primarily used for tea drinking.
At the end of the matcha spectrum is culinary grade. This grade of matcha has a sweet, savory flavor and is used most commonly in recipes due to it's affordability.
Culinary grade also tends to be the most bitter. The leaves used for this grade are harvested late, which increases the tannin content contributing to this bitterness. This grade still contains the rich chlorophyll and amino acids like L-theanine which are beneficial to our health.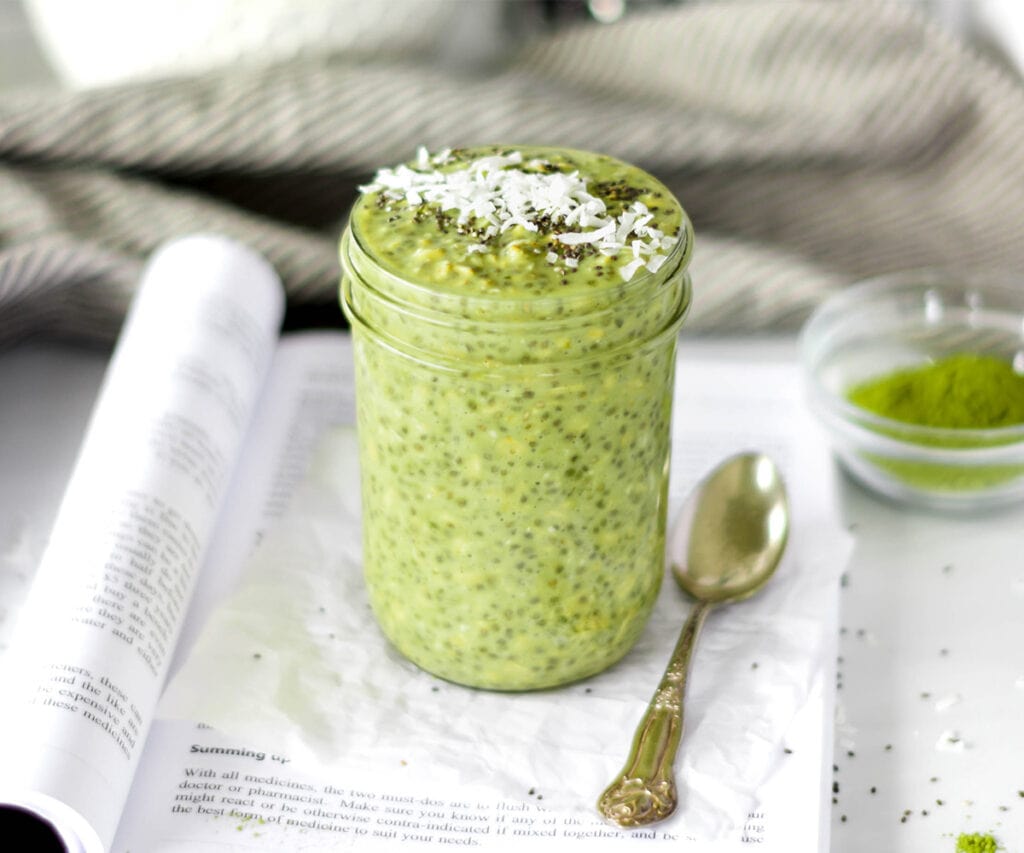 Ingredient Notes
Old Fashioned Oats
Old fashioned oats are a must. Steel cut oats and quick oats will not work in this recipe.
Select gluten-free oats if you need to avoid gluten because oats tend to be processed on the same equipment as other cereal grains and there can be cross contamination with gluten containing foods.
Matcha
It is best to use a matcha powder that you have tried before committing to eating it for breakfast. A culinary grade matcha that blends well in iced beverages or smoothies will work well for this recipe. Culinary matcha can vary in bitterness so select a brand you know and love. I like Jade Leaf Culinary Grade Matcha.
Matcha is a great ingredient for this breakfast because not only is a source of caffeine but it also contains powerful antioxidants which may help prevent cell damage and lower risk of chronic diseases.
Chia Seeds
Chia seeds are mostly just for nutritional benefit in this recipe. The chia seeds add some beneficial fiber and some omega-3 fatty acids. If you choose to omit them you may need to adjust the amount of liquid you use slightly because they are very water absorbent.
Coconut
I like both the taste and texture of the coconut in this recipe, but more importantly the coconut adds some more fat to the mix. This addition of healthy fats can help stabilize blood sugar and make you feel fuller longer.
Protein Powder
Any type of protein powder will work in this recipe. Select a protein that you enjoy, but be sure to select a vanilla flavor. Any other flavor will likely to be overpowering and may not mesh well with the matcha.
It is important to note that some protein powders are more water absorbent, so you may have to adjust the liquid ration based on the specific protein powder you use. Vegan protein tends to be more dense compared to whey protein. If you notice your oats are too thick in the morning you can just add a little extra almond milk.
Recipe Tips
Depending the type of protein powder you are using, you may need to adjust the liquid ratio. If you oats look a little thick in the A.M. just add a splash more almond milk.
Sweeten to taste. This is very individual. You can do this in the morning once the oats are prepared. 1-2 tbsp. of maple syrup is a good place to start.
Salt is key, but if you are sensitive to salt than don't use the full ½ tsp. Adjust to taste.
You can prep these oats ahead of time and store in the fridge for up to 2 days in an airtight container.
Related Recipes
Did you try these Matcha Overnight Oats? I would love to see how it went! Share a photo and tag me on Instagram or leave a comment on Pinterest.
Love this recipe? Connect with me by leaving a comment below! 😊
📖 Recipe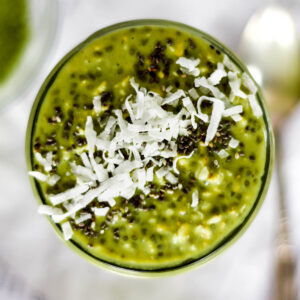 Matcha Overnight Oats
This creamy and flavorful matcha overnight oats recipe is the perfect make-ahead morning pick me up.
Equipment
Jar or airtight container with a lid
Ingredients
1

cup

Gluten-free old fashion oats

Not steel cut or instant

2

cup

Almond milk

Unsweetened

1 ½

tsp

Vanilla extract

4

tbsp

Vanilla protein powder

About 40 grams

2

tsp

Matcha powder

Culinary grade

2

tbsp

Shredded coconut

Unsweetened

2

tbsp

Chia seeds

Salt to taste

I used ½ tsp.

Maple syrup to taste

Or stevia for a lower carb option.
Instructions
Combine all ingredients in a large mason jar or an airtight container with a lid. Stir the ingredients until the matcha is dissolved. Seal the container, shake vigorously for 30 seconds or so.

Place the sealed container in the fridge for at least 45 minutes or ideally overnight.

Remove from fridge, stir and enjoy!
Nutrition
Serving:
0.5
recipe
Calories:
429
kcal
Carbohydrates:
38
g
Protein:
34
g
Fat:
16
g
Saturated Fat:
6
g
Trans Fat:
1
g
Cholesterol:
47
mg
Sodium:
956
mg
Potassium:
325
mg
Fiber:
10
g
Sugar:
3
g
Vitamin A:
281
IU
Vitamin C:
1
mg
Calcium:
491
mg
Iron:
5
mg