Overnight oats make the best breakfast for those busy mornings. These Protein Powder Overnight Oats are the ideal solution when regular oats leave you hungry and on the search for food two hours before your lunch break. These protein oats are simple, gluten-free and have a balance of macronutrients making them the perfect morning staple.
Jump to:
A breakfast that you whip up in minutes and is ready for you as you run out the door in the morning is a win in my books. Make this recipe in a mason jar with a lid and it can fit right in to your car cup holder. Nothing will stop you from getting a solid, nutrient packed, balanced breakfast.
What Are Protein Powder Overnight Oats?
The name really says it all. Protein Overnight Oats are just overnight oats with an added protein boost. This can be done through protein powder or even collagen powder. The benefit of adding protein is that it makes this quick and easy breakfast much more blood sugar stabilizing. This makes it conducive to feeling fuller longer.
There is nothing worse than feeling starving after breakfast and looking at the clock and it is only 10 o'clock. Protein does this magical thing where it increases the time it takes to empty the stomach. This creates a slower release of carbohydrate into the blood stream, which gives you stable energy and fights off the hangries a little better. Paired with some healthy fat from the coconut and chia seeds, this breakfast is the perfect morning fuel to keep you satisfied until noon!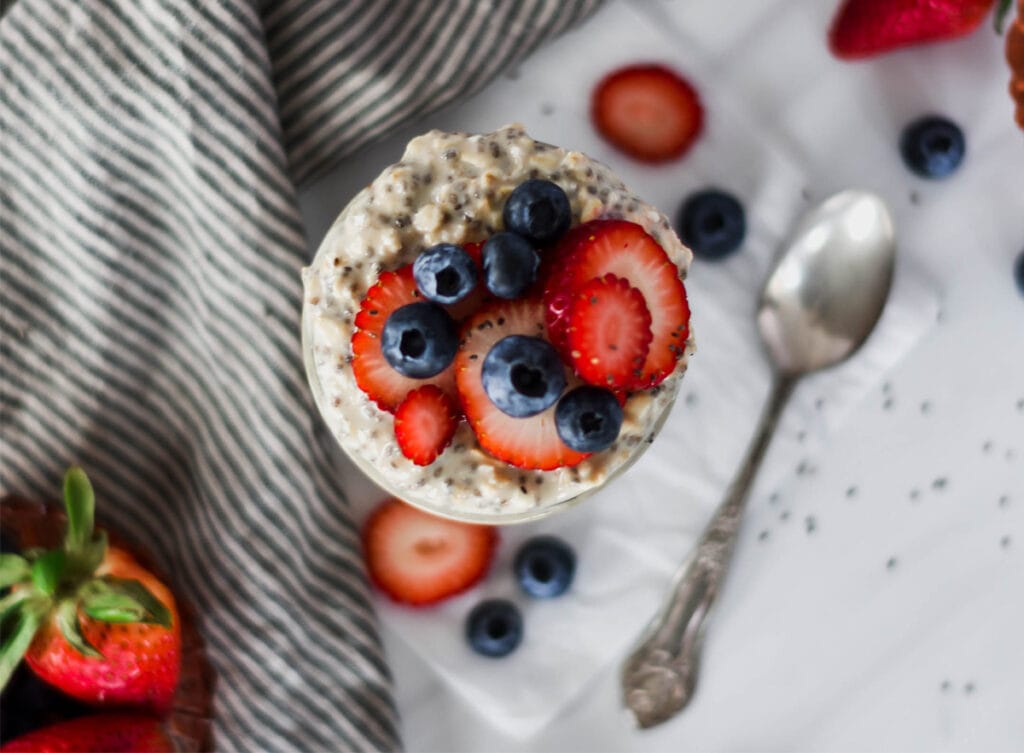 Why Soak Oats?
What is the deal with overnight oats any way? It is not like oats take that long to prepare.
Soaking grains is actually incredibly beneficial! Soaking grains overnight makes them easier to digest. It also helps to neutralize the phytic acid. Phytic acid is a component of grains that blocks nutrient absorption. By neutralizing some of this acid more of the minerals get absorbed!
Some people claim soaking oats reduces lectins. While soaking grains is generally a good idea, it usually requires rinsing to remove the lectins. So, in the case of overnight oats, where you consume the soaking liquid, I don't think lectins are notably decreased.
Ingredients
Gluten-free Old fashion oats - If not gluten-free, you can use regular old fashioned oats, but do not sub in steel cut or quick oats!
Almond Milk - Almost any milk or milk alternative would work! Avoid using canned coconut milk as the fat may separate in the fridge.
Shredded Coconut - This ingredient adds some satiating fat! If you are not big on coconut you can skip it. Maybe throw in some nut butter instead.
Protein Powder - Almost any type of protein powder will work! I like to use vanilla to keep it simple.
Chia Seeds - This tiny seed is a powerhouse. It adds a little extra protein, a touch a fat, more soluble fiber and some omega-3's to the mix.
Sweetener - I like to sweeten these oats with maple syrup, because yum. For a lower carb version I like to use stevia. You can use your preferred sweetener.
Vanilla Extract
Salt - Salt in oats makes them taste SO much better. I like mine a little on the saltier side, but you can salt to taste!
Cinnamon
How To Make Protein Overnight Oats
This recipe is so simple! All you really need an airtight container or a mason jar with a lid. Combine the ingredients in the jar, seal it and give it a proper shake. Shake vigorously for about 1 minute or until there are no lumps and everything is well mixed.
Then, pop the jar in to the fridge and let it sit overnight. In the morning, just mix it up, top with any desired toppings and enjoy!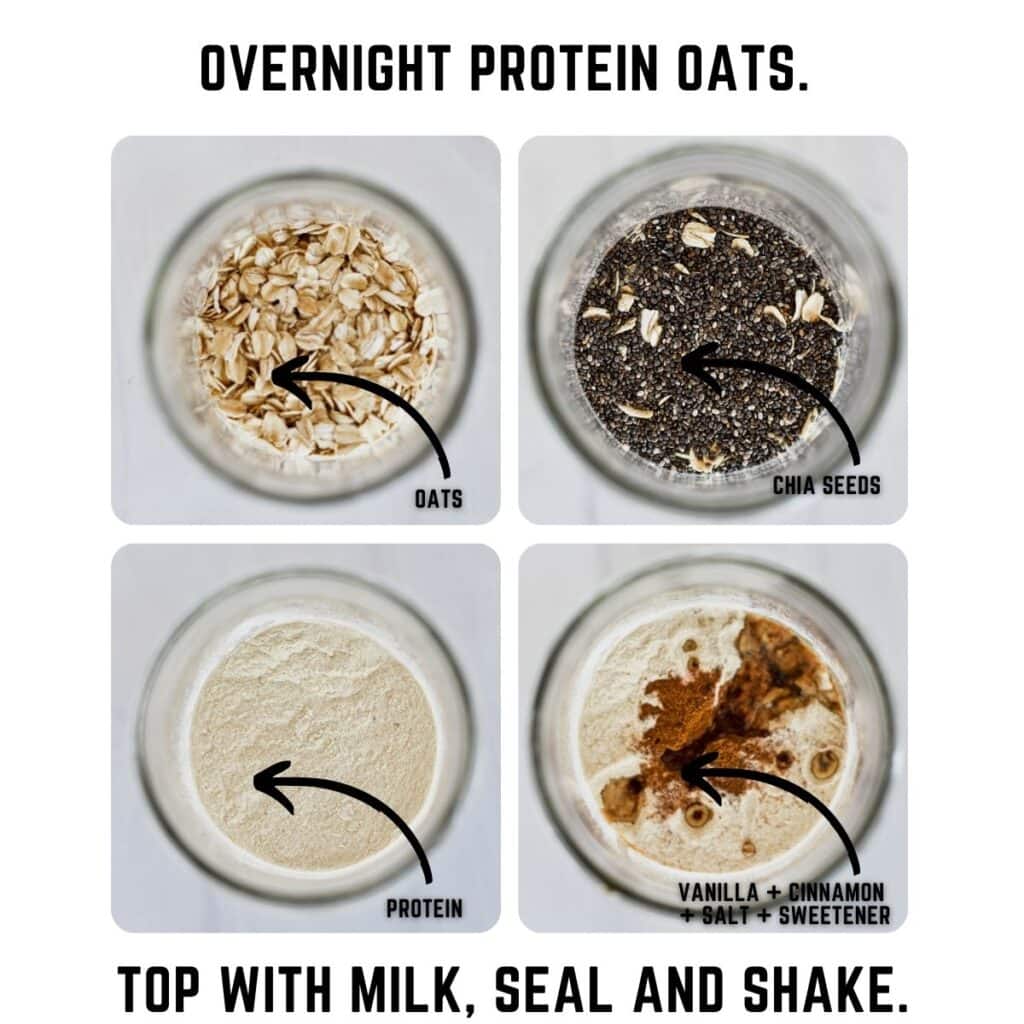 What Type Of Protein Powder Should I Use?
Any protein powder that fits in to your diet would work! I would select a protein powder with around 20 grams of protein per serving and less than 5 grams of carbohydrate. Be sure to check the ingredient panel to make sure there are not any funky ingredients too!
Some protein powders are more or less drying and may require a slight adjustment in the liquid ratio.
This Amazing Grass protein is one of my favorites. It is a little lower in protein but has a really creamy vanilla flavor! I also really like IsoPure Zero Carb. It is just pure whey protein isolate, nothing extra. You will definitely need to add a little sweetener if you use a plain whey protein.
Topping Ideas
Because these protein oats are such a blank slate, the topping possibilities are endless. Here are some ideas:
Nut butter! Peanut butter, almond butter, cashew butter, you name it!
Fresh blueberries, strawberries or raspberries
Chocolate chips, because why not?
Cooked apples with extra cinnamon!
Banana slices
Slivered almonds, shredded coconut, toasted coconut chips or hemp seeds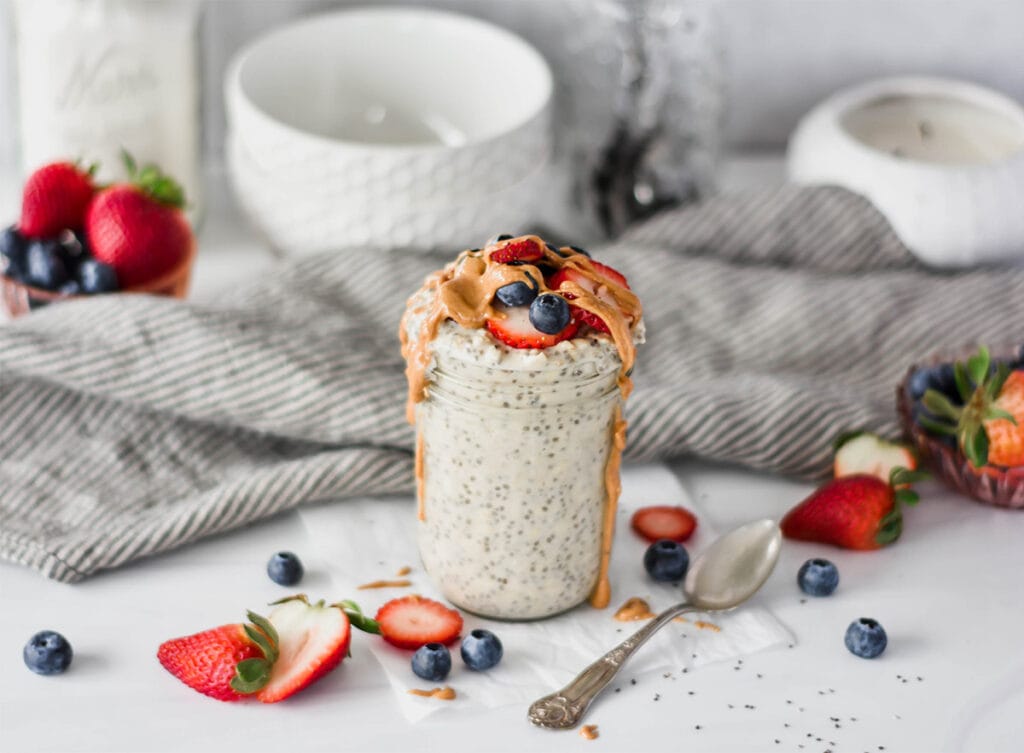 Related Recipes
Did you try this Protein Powder Overnight Oats recipe? I would love to see your creations! Take a photo and tag @foodbornewellness on Instagram or leave a photo comment on Pinterest.
Feel free to leave a comment and a rating below. Feedback is always appreciated! 😊
📖 Recipe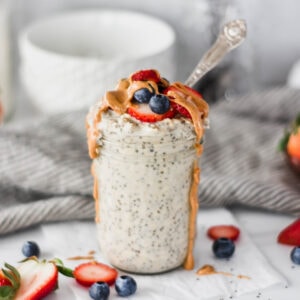 Protein Powder Overnight Oats
This creamy and filling protein overnight oat recipe makes for the perfect make-ahead, on the go breakfast!
Equipment
Jar or airtight container with a lid
Ingredients
Toppings (Optional)
Fresh or frozen fruit

Nut butter

Shredded coconut or slivered almonds
Instructions
Combine all ingredients in an airtight container or jar with a lid. Seal container and shake vigorously for a minute or so until everything is well incorporated and no lumps appear.

Place sealed container in the fridge for 45 minutes or ideally overnight.

Remove from fridge, stir and enjoy!
Nutrition
Serving:
1
serving
Calories:
415
kcal
Carbohydrates:
39
g
Protein:
32
g
Fat:
16
g
Saturated Fat:
6
g
Trans Fat:
1
g
Cholesterol:
47
mg
Potassium:
325
mg
Fiber:
10
g
Sugar:
3
g
Vitamin A:
83
IU
Vitamin C:
1
mg
Calcium:
496
mg
Iron:
5
mg