This Paleo Bulgogi recipe takes the deliciousness that is traditional Korean BBQ beef and removes the soy, grains and vegetable oils, but keeps that trademark sweet and savory flavor. We serve this bulgogi with zucchini noodles, mushrooms and a beef bone broth for the ultimate easy, healthy and tasty dinner.
Jump to:
As many of you know, my husband has an autoimmune condition that he is currently managing through diet/lifestyle modifications. While he is starting to reintroduce more produce and spices in to his diet, for nearly a year his diet consisted primarily of meat because that is what he could tolerate.
Because of this, his favorite (read: only) restaurants he likes to go to are Brazilian steakhouses, and now that he has a little more lenience in his diet, Korean BBQ restaurants. If you have never been to one of these restaurants, you basically pay one price and get to eat an endless amount of meat. For him, there really is not much better.
When we go to Korean BBQ, while we like to try all the different types of meats and marinades, our favorite is always the bulgogi. It is slightly sweet, salty and caramelizes when you cook it. *Chef's kiss* It is true perfection.
Why Make This Recipe Paleo-Friendly?
Going out to these restaurants are always fun because you get to prepare the meat at the table over open flame, but I always have a lingering fear that the unknown ingredients in the marinade might send him in to a flare.
Restaurants almost exclusively use vegetables in their cooking because of cost, this is something I know and a risk you assume whenever you go out to eat unless otherwise noted on the menu. I also know traditional bulgogi is made with soy sauce and sweetened with different types of sugars (depending on the recipe). None of these components are things he currently includes in his diet.
That sweet and savory bulgogi flavor was something I knew I could replicate using paleo-friendly ingredients. So, I did and it is phenomenal.
I used a recipe from Hyosun at Korean Bapsang as a base to understand the basic ratios of ingredients I would need for this marinade. I also used her suggestion to serve the bulgogi "Seoul style" as the inspiration to serve this meat in a simple broth-based soup. You can view her original delicious recipe here.
What Is Bulgogi?
Bulgogi, literally meaning "fire meat", originated from northern areas of the Korean Peninsula. It is a very popular dish in South Korea and can be found at most restaurants.
Made from thinly sliced and marinated beef or pork, bulgogi is grilled on a barbecue or on a stove-top griddle. It can also be stir-fried.
Typically, ribeye and sirloin steaks are used in the beef variation.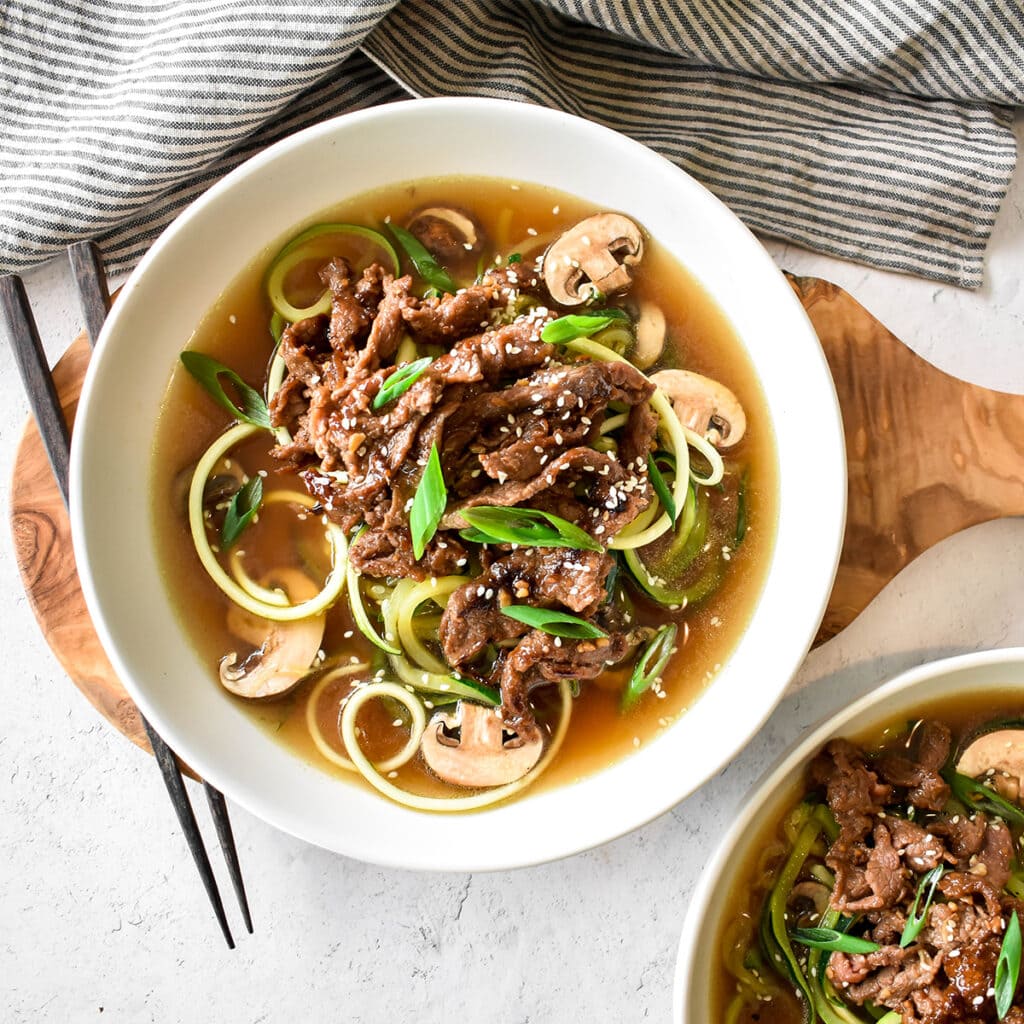 How To Make Bulgogi
Bulgogi at Korean BBQ restaurants in the states is grilled on a tableside grill. While the meat can be prepared in many different ways, it is most commonly cooked on a small grate over open flame.
Bulgogi is marinated first and then grilled or pan seared. Because the meat is so thin, it does not take long to marinated. Marinating for 1 hour results in a very flavorful meat.
For the marinade:
Mix ingredients together and pour over the sliced beef, making sure it is all covered well. Refrigerate for 1 hour before cooking.
To cook bulgogi, unless using a stir fry method, you want to place the meat on the skillet or grill in batches because over crowding will prevent the meat from caramelizing properly. Watch carefully as the meat cooks, it is very thin and the marinade contains sugar which can burn easily.
Where Can I Find Thinly Sliced Meat
If you have a Korean grocer locally, you can almost gaurentee to find meat cut specifically for bulgogi there. You can also ask the meat/deli counter in your grocery store to thinly slice ribeye or sirloin to be used for bulgogi.
Trader Joe's also carries beef thin enough to use for bulgogi. It is not labeled as bulgogi meat but is paper thin and found in the fresh meat section.
What Make This Recipe Different From Traditional Korean BBQ Beef?
This recipe involves some ingredients that are not present in traditional beef bulgogi in order to make it paleo.
Coconut aminos was used in place of soy sauce. The slight sweetness of coconut aminos works well in this recipe and allows us to use slightly less sugar.
Instead of regular white sugar, we substitute coconut sugar. The caramel-y flavor of coconut sugar really makes the caramelized meat pop.
The asian pear was omitted for sake of convenience, because pears are not always in season, however, you can add the grated pear and reduce the coconut sugar used. If you add 4 tablespoons of grated pear, I would reduce the coconut sugar to 3 tbsp.
Apple cider vinegar is used instead of rice vinegar. I love the taste of rice vinegar, but because it is made from rice it is not a paleo-friendly ingredient. I substituted apple cider vinegar in this recipe, but ACV is more acidic and has less of a sweetness to it, so I used much less than I would if I was using rice vinegar.
Recipe Tips
You can cook some of the marinade up after the beef is done (be sure to cook it long enough to kill bacteria from the raw meat) and use that as a sauce to top the beef and/or soup.
Bulgogi does not need to be served with soup. It can be eaten by itself, with rice or in a stir fry.
If stir frying, you can add all the beef to the pan at one time along with stir fry veggies. The extra marinade will flavor the veggies and make an extremely delicious stir fry.
I used just regular baby bella mushrooms because that is what I was able to source, but enoki mushrooms were recommended by Hyosun in her Seoul style serving suggestion and would be delicious.
The beef is thin, so it cooks fairly quickly. Keep a close eye on it. While you do want some caramelization, the sugars in the marinade can also burn.
Do not overcook the zucchini noodles and mushrooms, they are both very tender and only need to be sautéed briefly as the will cook more in the hot broth.
Related Recipes
Did you try this Paleo Bulgogi recipe? I would love to see your creations! Take a photo and tag me on Instagram or leave a photo comment on Pinterest.
Feel free to leave a comment and a rating below. Feedback is always appreciated! 😊
📖 Recipe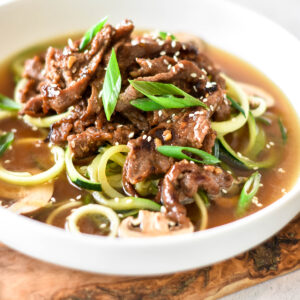 Paleo Bulgogi
With this paleo bulgogi you get all the Korean BBQ flavor without any of the soy, grains or vegetables oils. This bulgogi is served on top of a simple broth soup with zucchini noodles and mushrooms.
Equipment
Large skillet

Knife

Cutting board
Ingredients
1

lb

Thinly sliced beef (ribeye or sirloin)

1

Shallot
Instructions
Using shaved or very thinly sliced beef, separate the slices and remove any excess blood from the meat using paper towels.

Combine all the marinade ingredients in a small bowl or Ziploc bag. Mix together.

Peel and thinly slice the shallot.

Combine the meat, shallot and marinade in a Ziploc bag or an airtight container. Make sure the meat is fully covered by the marinade. Place in the fridge for at least 1 hour or up to overnight.

Traditionally, Korean BBQ is cooked on a grate over open flame. If you have the right equipment, it is fun to cook the meat tableside. You can also cook on a conventional grill or pan sear the meat.

Grilling: Grill the meat on a charcoal or gas grill over high heat until slightly caramelized and nicely seared. Space the meat out well and watch carefully because it will cook quickly.

Pan Searing: If searing, preheat the pan nice and hot. Add a small drizzle of oil and cook the meat until slightly caramelized and seared. Cook in batches in order no avoid over crowding the skillet.
To Serve
Heat a drizzle of avocado oil in a large skillet over medium heat.

Add sliced garlic, sliced mushrooms and zucchini noodles. Sauté for several minutes until zucchini is tender and garlic is fragrant. Do not over cook.

Pour in broth and season with coconut aminos.

Serve broth in bowls, topped with beef, sliced green onions and sesame seeds.
Nutrition
Serving:
0.5
recipe
Calories:
680
kcal
Carbohydrates:
43
g
Protein:
64
g
Fat:
27
g
Saturated Fat:
6
g
Cholesterol:
138
mg
Sodium:
1360
mg
Potassium:
1599
mg
Fiber:
4
g
Sugar:
20
g
Vitamin A:
574
IU
Vitamin C:
44
mg
Calcium:
174
mg
Iron:
6
mg