This Paleo Sweet and Sour Chicken is more than delicious, it is my #dinnergoals every night of the week. This method of cooking keeps the chicken tender and juicy on the inside and crispy on the outside making it one of my favorites. Between COVID-19 and being pregnant I am having a pretty hard time finding foods that I am able to get a hold of and also willing to eat once I get them home.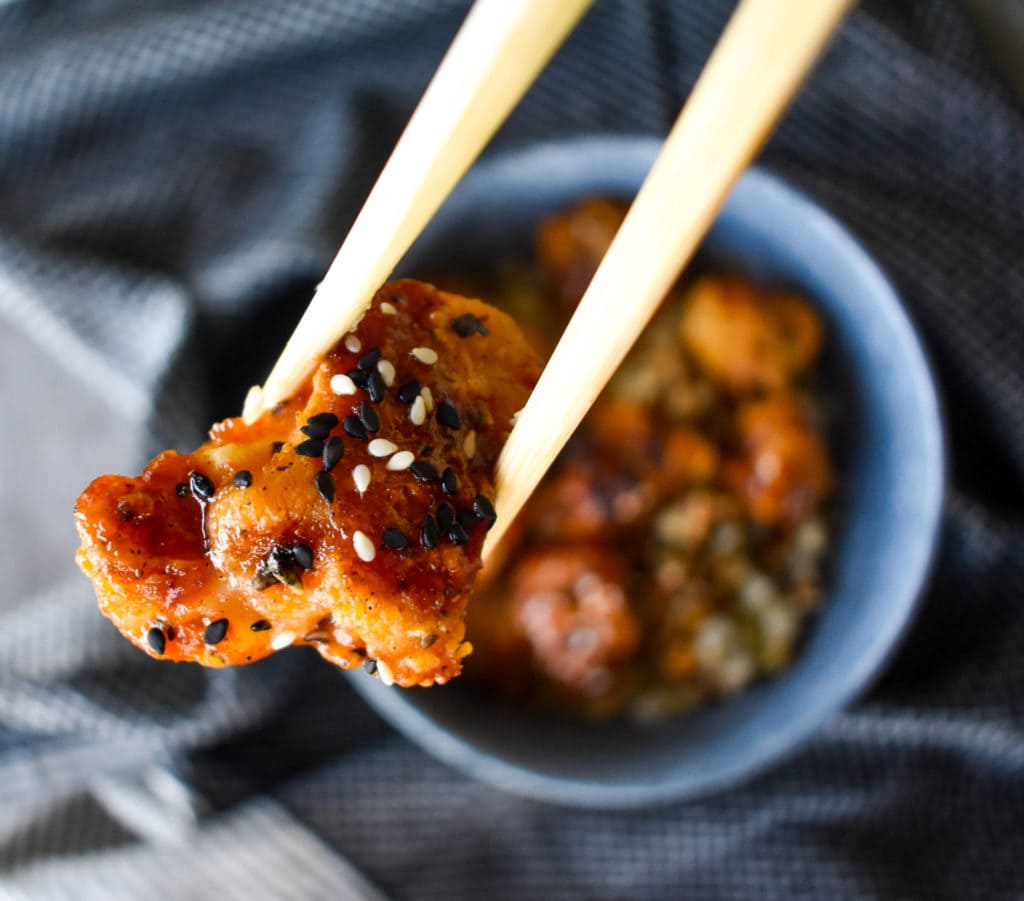 Jump to:
I have been lucky with symptoms so far. Honestly, I don't have much to complain about, but I will say that my food aversions have been REAL. Finding a sweet spot between eating foods that sound appealing and don't make me feel like shit has been a struggle.
I always had the delusional idea that once I got pregnant I would be obsessed with eating the "perfect" diet. As an RD, I help people optimize their diet for a living. I thought my project for this time in my life would be obsessively tracking every nutrient I put in my mouth. I thought I would be eating a lot more liver and all the salads.
Somehow, I am feeling much more laid back about it all than I ever could have imagined. Who am I? I am still trying to eat the healthiest diet I can tolerate. Unfortunately, that looks like a lot more carbs and a lot less green than I had envisioned it.
For a couple weeks I was living off of gluten free grilled cheese and spicy curry, but a girl can only live on cheese and bread for so long. This Paleo Sweet and Sour Chicken recipe is exactly the mix up I needed. The chicken is so tender and crispy. I use this "breading" recipe in all sorts of variations and it has been the bridge to help me get more (and much needed) protein in my diet.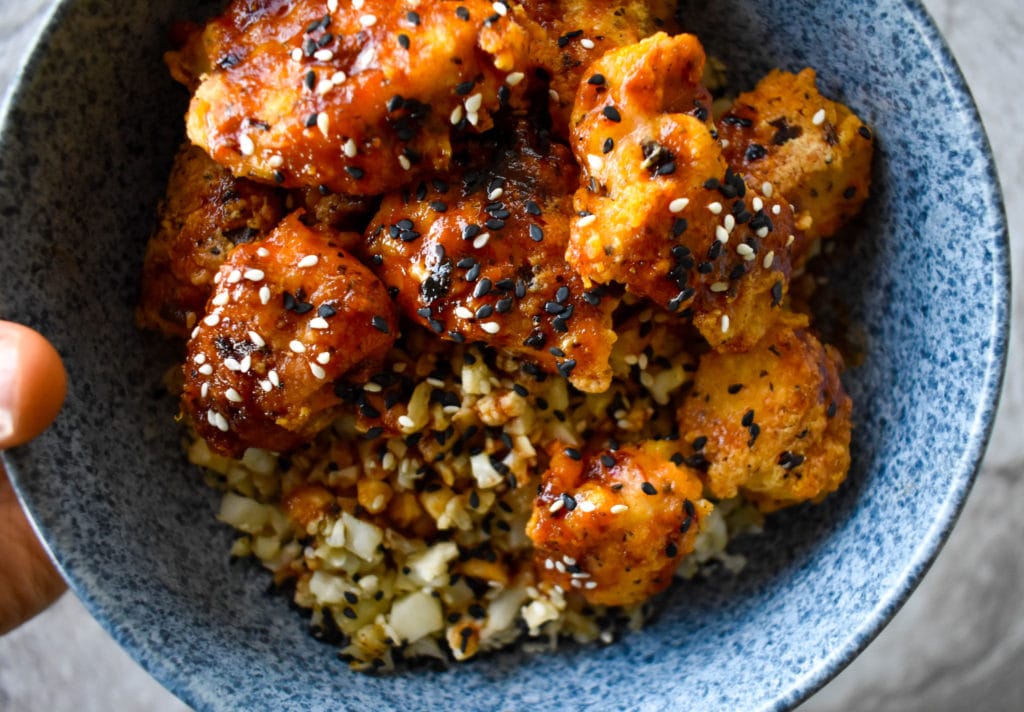 30 Minute Meals
My husband is following a very restrictive diet to manage an autoimmune illness, meaning I am cooking for one (two counting baby!) these days.
Anyone else lack motivation to cook ACTUAL recipes when you are just feeding yourself? It is a killer! The easier a recipe is the more likely I am to make it. This Paleo Sweet and Sour Chicken is a recipe I can make on the drop of a dime and in less than 30 minutes. This is what my life is about right now.
For Other Paleo 30 Minute Meals:
How does this Paleo Sweet and Sour Chicken stack up against takeout?
I know everyone is missing sitting down at their favorite restaurant right now. I am mostly just missing having someone else cook for me. COVID or no COVID, this recipe will surely satisfy any take out craving you have and make you feel much better about your food choices.
Better Quality Fats
This Paleo Sweet and Sour Chicken is lightly battered and pan fried in good quality, high temp cooking oils. Coconut oil or Avocado oil work best in this recipe. And, from a nutritional (and flavor) standpoint these oils are far superior to the oxidized and old vegetables oils that are used to fry your food (and hundreds of others before the oil is changed) at a conventional takeout restaurant.
Gluten Free
Obviously, because this is a paleo recipe it is gluten free. Even if you tolerate gluten relatively well, it can be a good idea to reduce consumption.
One reason being that, gliadin, a component of gluten has been shown to affect and weaken tight junctions in epithelial cells. This contributes to intestinal permeability which is directly related to system immune activation (1). Chronic exposure can lead to gluten sensitivity down the road. It could also manifest in other autoimmune related issues.
Lower Carb
We use cauliflower rice in the recipe because not only does it add nutrient density to this meal but it also lowers overall carb count. Because the sauce has a decent amount of coconut sugar (although you only need a small amount of sauce), it's a good idea to pair this meal with a lower carbohydrate side to make it less of glycemic bomb. If you need the calories, tolerate carbs exceptionally well or are particularly active you could always substitute regular rice or do a 50:50 combo.
Refined Sugar Free
Although we do use coconut sugar in this recipe, it is a much better alternative to the sugary sauces that you get at a restaurant. You can feel better about these ingredients and still get the flavor that you are after.
Sweet and Sour Sauce
If you like a sweeter sweet and sour sauce you can add ½ cup of pineapple juice when reducing the sauce.
For more tartness, remove the water and replace it with vinegar.
The sauce will thicken as it cools but must first be reduced well. The consistency will be syrupy. If you want it to be thicker, you can add 1-2 tsp of tapioca starch. You will either want to dissolve the starch in hot water first (the 2 tbsp of water already in the recipe) or be prepared to whisk while you add the starch into the sauce while it is reducing to prevent clumps from forming.
Did you make this recipe? If so, please leave a comment and a rating below! I'd love to hear from you!
📖 Recipe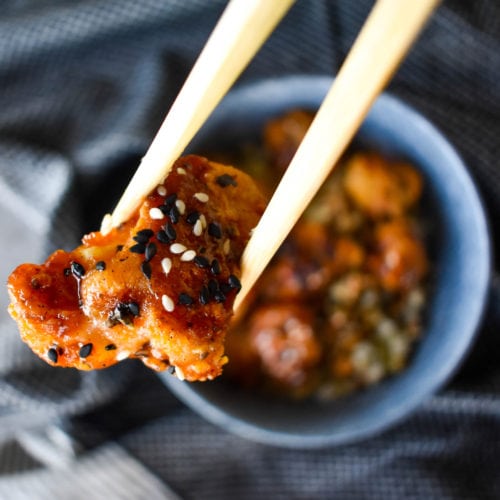 Paleo Sweet and Sour Chicken
This is the ultimate alternative to takeout. This Paleo Sweet and Sour Chicken is golden, crispy and ready in 30 minutes.
Equipment
Large frying pan

Small pot

Tongs

Whisk
Instructions
Sweet and Sour Sauce
Begin by whisking all sauce ingredients together over medium heat.

Allow sauce to reduce for about 10 minutes stirring regularly. Sauce should become a syrupy consistency.

Allow sauce to cool. Store in an airtight container for up to 3 weeks.
Crispy Chicken
Remove chicken from package and pat dry with a paper towel.

Cut the chicken into 1 inch square pieces. Salt liberally.

Heat oil in a large frying pan on medium-high heat.

In a bowl, whisk the egg.

Add chicken and whisked egg into a gallon sized Ziplock bag and seal. Shake until all the chicken is coated with the egg.

Mix all the dry ingredients in a medium sized bowl. Use a fork or tongs to remove the chicken pieces from the bag and dredge in the dry mixture.

Place the chicken in the hot oil. Allow chicken to brown (about 5 minutes per side) and then flip. Remove chicken from the pan once it is cooked through and set aside.
Cauliflower Rice
Once chicken is cooked, add the cauliflower rice to the leftover oil in the pan. No needs to clean the pan.

Add salt and pepper and allow to warm for about 5 minutes, stirring as needed.
Assembly
Add cauliflower to bowl, top with chicken and drizzle the sauce on top to keep the chicken nice and crispy.
Notes
Chicken breast tenders are used because they are already trimmed and a very good size to use in this recipe but you could also use regular chicken breast and trim the chicken yourself.
For a sweeter sauce add ½ cup of pineapple juice before reducing the sauce. If you add more liquid, be sure to reduce for longer. For more tartness, remove the water and add 2 tbsp of vinegar.
The sauce will thicken once it is cooled, but it must be reduced first. If you want a thicker sauce you could add a tsp of tapioca starch while hot and whisk.
Double the cauliflower rice if you're feeding more than 2 people.
Hands down best way to reheat is in the airfryer! About 6-8 minutes at 400 degrees will do it.
Nutrition
Serving:
0.25
recipe
Calories:
467
kcal
Carbohydrates:
34
g
Protein:
38
g
Fat:
20
g
Saturated Fat:
3
g
Cholesterol:
150
mg
Sodium:
608
mg
Potassium:
692
mg
Fiber:
1
g
Sugar:
14
g
Vitamin A:
426
IU
Vitamin C:
3
mg
Calcium:
15
mg
Iron:
1
mg
For more paleo meal inspiration, check out this Free Paleo Meal Plan or any of my other Free Meal Plans!