Paleo Chipotle Cod and Sweet Potato Chowder
Soups are one of a my favorite foods to prep and cook because they are so very hard to screw up. I cook a lot, but I don't have any delusions about being a professional chef. My culinary skills are rooted largely in a fight or flight response and a desire to eat healthy, wholesome foods. I cook because it is necessary for survival in this day and age.  I can make a darn good meal, but I am also responsible for some serious cooking fails! Soup is amazing because it requires no fancy cooking skills. You just essentially throw everything in a pot and try to not to burn it (which is effortless seeing as it's pretty damn hard to burn liquid). This Paleo Chipotle Cod and Sweet Potato Chowder is easy and loaded with goodness and flavor.
Meal Prep 101
Don't like eating day old, soggy broccoli and dried out chicken? Then I advise you quit meal prepping like that. I am all for meal prepping if it helps your reach your nutrition goals, but you don't have to meal prep boring food. By making a large batch of soup on Sunday you have lunch or dinner for several days during the week. Soup holds up nicely in the fridge for a week or in the freezer for several. Choose a flavorful soup recipe so that it doesn't bore the crap out of your taste buds. Treat yourself by meal prepping foods you actually enjoy so that you don't find yourself tossing everything you prepped and ordering a pizza midway through the week. Here are several awesome and easy soup recipes that make meal prepping enjoyable: Creamy Paleo Tomato Basil Soup, Curried Coconut and Butternut Squash Soup, Maple Bacon Sweet Potato Soup.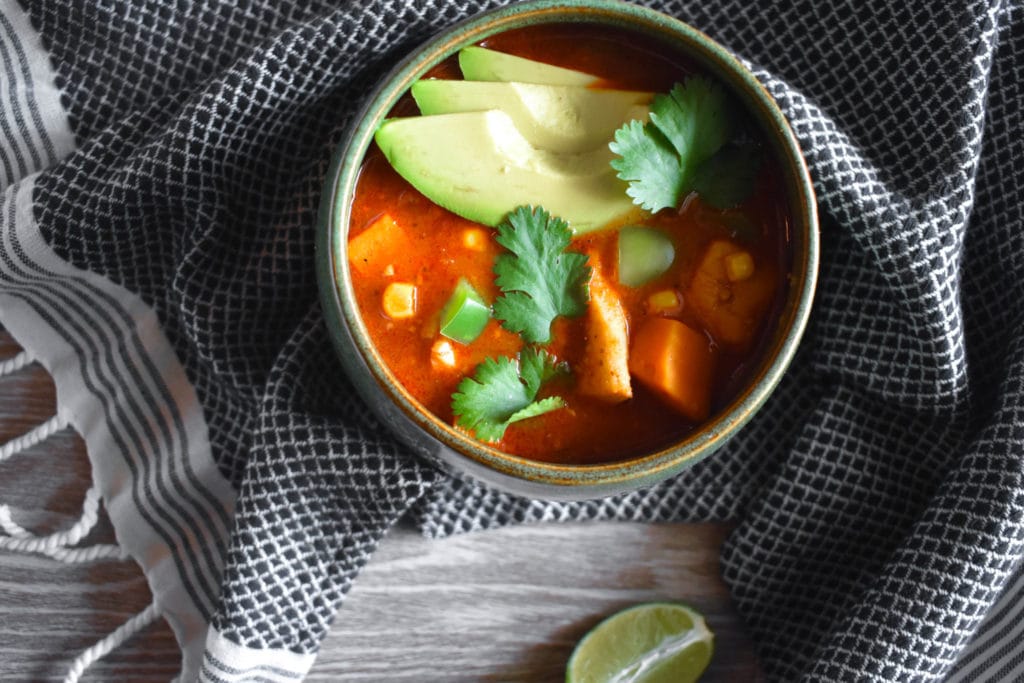 Campbell's Showdown
Homemade soup is the pinnacle of nutrient packed super meals. Although you can find some brands that offer high quality packaged and prepared soups, the healthiest soup you can have is one that you prepare yourself. Not only does homemade soup have a whole lot less sodium, but it can be filled with the most nutrient dense ingredients you can find making in trump a can of Campbell's soup without question.
Nutrition Bullet Points for this Paleo Chipotle Cod and Sweet Potato Chowder
BONE BROTH supports a healthy gut by adding collagen proteins, amino acids (proline, glycine and glutamine) and minerals to this already nutrient dense soup. These amino acids with the additional collagen helps to support a healthy intestinal tract by fueling cellular repair and reducing inflammation.
This Paleo Chipotle Chowder is loaded with NUTRIENT RICH INGREDIENTS. Sweet potatoes are an excellent source of vitamin A which supports vision, skin and bone health. Bell peppers are one of the best sources of vitamin C which we all know is essential for immunity, but also plays an important role in cellular repair. Tomatoes are packed with both C and A. Avocados are rich in minerals like potassium which can help lower blood pressure and magnesium which is necessary for bone health. Avocados also contain a hearty amount of vitamin B6 which has a role in energy metabolism, nervous function and promotes liver health. Coconut milk is another good source of minerals (iron, magnesium, potassium), and contains vitamin E which is an antioxidant important for preventing cellular oxidation. If you use wild-caught cod, you will also get vitamin D which is hard to find from foods. Cod is an extremely nutritious addition to the meal because it adds an excellent amount of B12 and B6. Eating seafood also adds iodine which is essential for healthy thyroid function. Iodine is especially important for women who eat leafy greens or cruciferous vegetables multiple times each day as that could disrupt thyroid function without proper iodine intake.
It wouldn't be my blog post if I didn't mention HEALTHY FATS. Y'all may know by now that my all time favorite fat sources are avocados and coconuts and this Paleo Chipotle Chowder has both. Avocados are awesome because they are one of the most nutrient rich fat sources on the planet. They are packed with vitamins and minerals, but also have one of the best ratios of monounsaturated to polyunsaturated fatty acids. Polyunsaturated fats can be inflammatory and oxidate fairly easily. Most fat sources that boast high quantities of monounsaturated fats also have a high amount of polyunsaturated fats (with the exception of olives and macadamia nuts). Coconuts are an entirely different breed of fats. Coconuts have high quantities of healthy saturated fats, including medium-chain triglycerides. This type of fat is particularly beneficial because of the way it is processed by the body. MCT's bypass normal digestion and go straight to the liver where they are used for energy. Some studies show that MCT's can be beneficial for accelerating fat loss, increasing lean muscle mass and supporting energy levels during exercise. They are also beneficial for people who have some types of digestive disorders. Coconuts are one of the few natural dietary sources of MCT's. Healthy fats help keep you satisfied after a meal, and allow you to absorb the fat soluble vitamins making them necessary for health and to stave off hangriness.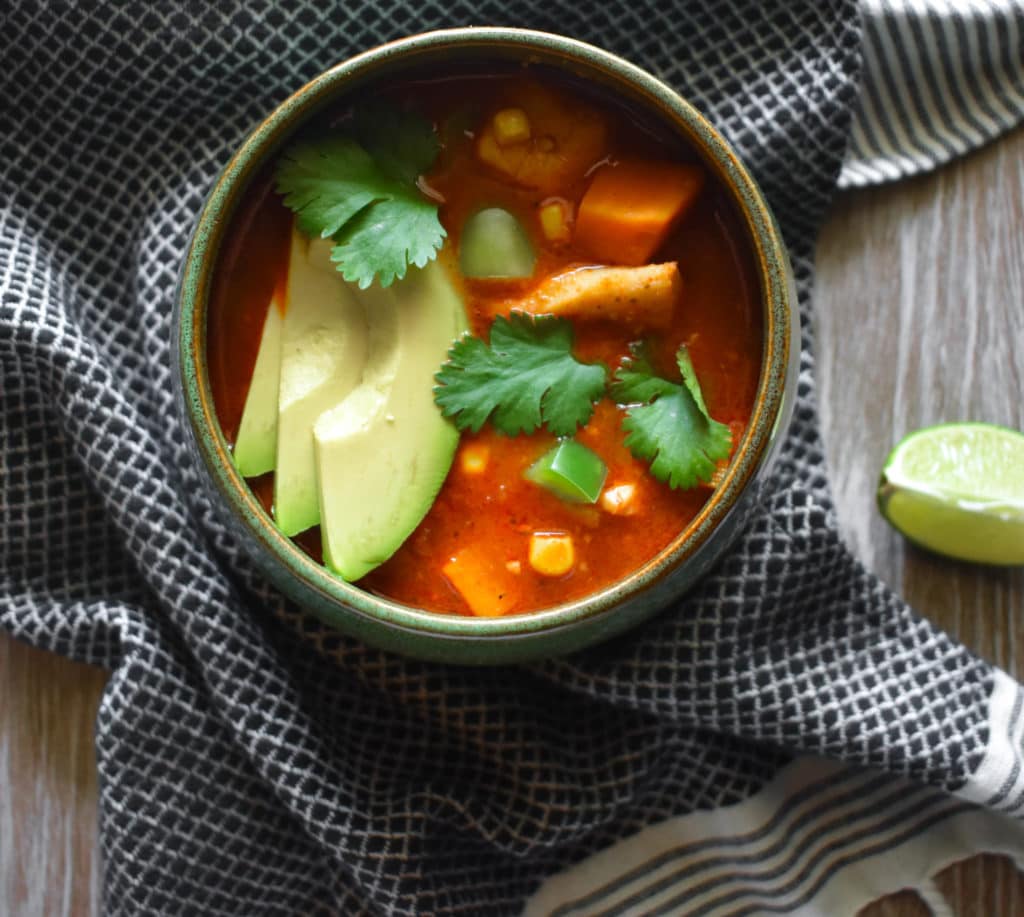 I would give you a few cooking tips but this Paleo Chipotle Cod and Sweet Potato Chowder really is quite effortless so let's get to it.
📖 Recipe
Paleo Chipotle Cod and Sweet Potato Chowder
This Paleo Chipotle Cod and Sweet Potato Chowder is a healthy and delicious way to set yourself up for success during the week. It works great for weekday lunches because it is filling, nutritious and loaded with flavor so it doesn't get boring by the second or third day.
Ingredients
Garnish
1

avocado

pitted and diced

½

bunch

cilantro

chopped
Instructions
Begin by dicing the onion. Heat 2 tbsp of avocado oil in a large stock pan over medium heat. Add the onion, allow to cook until it becomes fragrant.

While the onion is cooking. Seed and dice the pepper. Peel the sweet potato and dice into ¼ inch cubes. Add the peppers and garlic to the pot (I buy minced garlic in a large jar because I hate chopping garlic).

Once the peppers have cooked for 1-2 minutes. Add the sweet potatoes, coconut milk, broth, tomatoes and chipotle sauce. Stir and allow to simmer.

Pat the cod dry, and cut the into chunks (~½ inch). Add to the pot.

Drain and rinse the corn. Add to pot.

Begin adding the remaining ingredients. Stir so that everything is incorporated. Cover and turn heat to low-medium. Allow chowder to cook for 15-25 minutes until veggies are soft and fish becomes opaque.

Top with diced avocado and chopped cilantro. Serve and enjoy.
Notes
If using frozen fish, thaw before use and drain excess water.