These creamy butternut squash noodles are my ultimate definition of comfort food. The sauce is rich with plenty of parmesan and cream, while the sausage adds the perfect amount of spice and savory flavor. Topped with fresh basil, this recipe is like a hug for your spirit.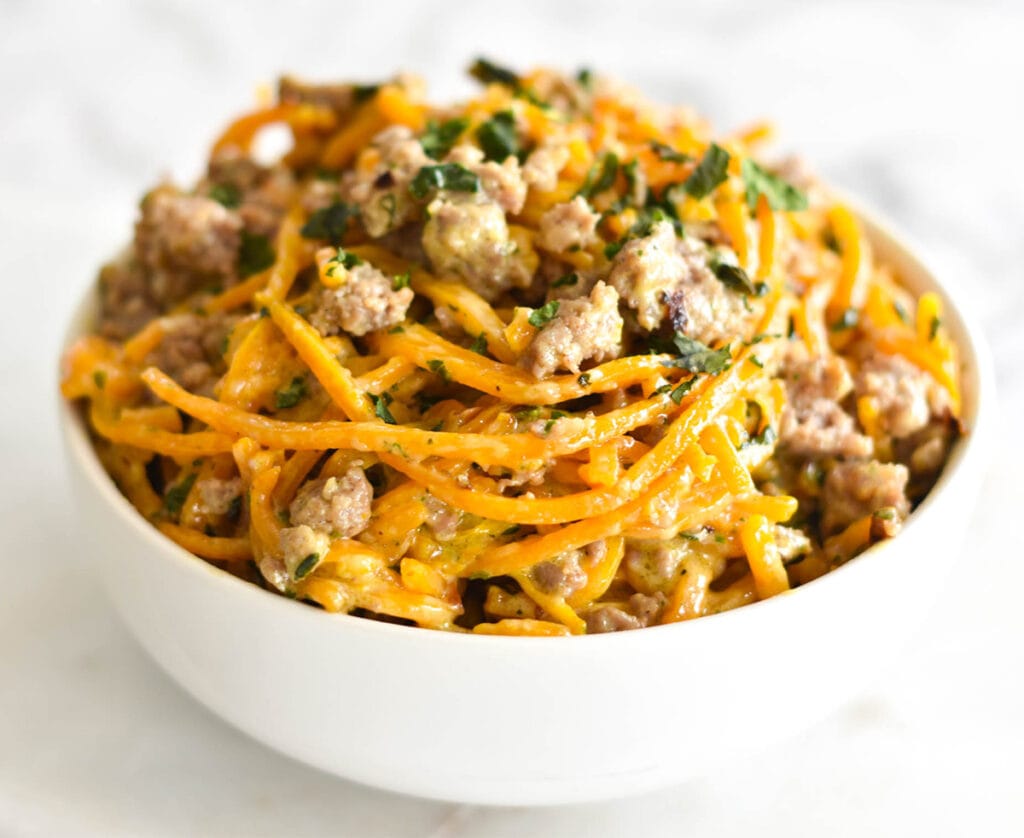 Jump to:
Butternut squash noodles are the most undervalued veggie noodle. The texture, the slight sweetness, really everything about them makes a boring dish so much better.
Because they are not as low in carbohydrate as everyone's favorite, zucchini noodles, they don't get the spotlight. But, I am here to tell you that they are worth a couple extra grams of carbs! These noodles are super nutritious and still relatively low in carbohydrate.
Nutrition Info For Butternut Squash
In this recipe I recommend using around 400-500 grams of butternut squash noodles (measured raw). This ensures you will have enough sauce to cover the noodles adequately.
In 100 grams of butternut squash, you will have about 45 calories, 10 net grams of carbs and 1 gram of protein. While eating 400 grams might spike your blood sugar slightly, most people can tolerate 10 grams of net carbs and still maintain very good blood sugar control.
As far as micronutrients go, butternut squash is a powerhouse.
Potassium
There is 352 mg of potassium in just 100 g of butternut squash. Adults need around 4700 mg of potassium each day, and most people eating a conventional diet do not get near that much.
Potassium is extremely important for blood pressure regulation. It works as a buffer in the body, aiding in the prevention of diseases like osteoporosis and kidney disease.
Because potassium is an electrolyte and has a significant role in fluid balance in the body, it is very important to replace when exercising in extreme heat or when following a ketogenic diet.
Potassium also is important for muscle contraction. The heart's rate is regulated by potassium. Inability to clear potassium from the blood, as in kidney disease, can result in an increase in heart rate and even a heart attack. Inadequate potassium can result in the heart slowing or stopping.
Vitamin A
For this serving of butternut squash you will get 213% of your daily value of vitamin A in the form of beta carotene. Beta carotene is the precursor to vitamin A found in plants. While vitamin A can be toxic in high doses (much higher than 213% DV), beta carotene is more easily excreted from the body if overconsumed.
Vitamin A is a powerful antioxidant. It has roles in preventing night blindness and supporting the immune system among many other things.
Vitamin C
In 100 grams of butternut squash you will get 35% daily value of vitamin C. Vitamin C is an important nutrient required for tissue repair and collagen production. This vitamin aids absorption of iron and has a role in immune health.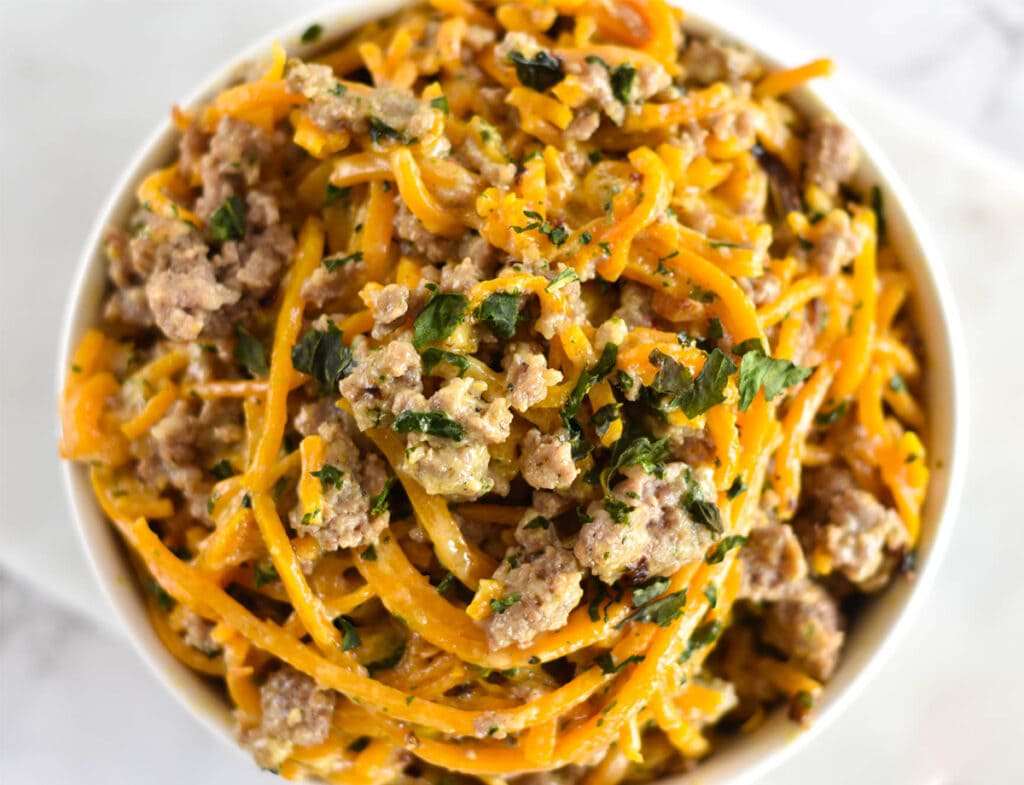 How To Cook Butternut Squash Noodles
You can cook butternut squash noodles a variety of ways. My favorite way to prepare these veggie noodles is to bake them. This really brings out the sweetness and makes them perfectly tender.
I toss the spiralized butternut squash in a couple tablespoons of avocado oil and roast them in the oven at 400 degrees F for 25-30 minutes or until the noodles are tender.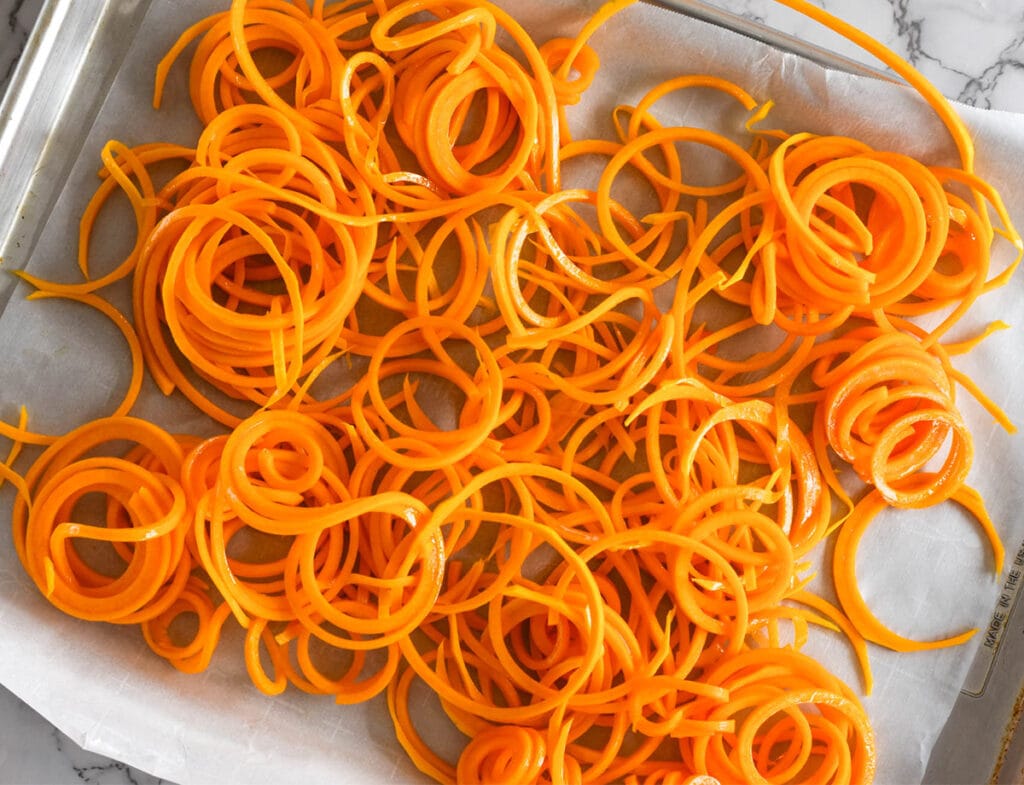 Equipment Needed
Spiralizer
Knife
Cutting Board
Veggie Peeler
Sheet Pan
Parchment Paper
Large Frying Pan
Spatula
Mixing Bowl
Most equipment needed for this recipe are common kitchen items and utensils. The one unique item is the spiralizer. If you don't have a spiralizer, you could buy precut butternut squash noodles that are available in the produce section.
If you have a Kitchenaid mixer, I cannot recommend the spiralizer attachment enough. It is far superior to every crank option I have tried. Pricey, but totally worth it if you make veggie noodles frequently!
Can I Make This Recipe Keto?
Absolutely! The recipe is already relatively low carb. To make it lower in carb to fit into a keto diet, you can substitute out the butternut squash for zucchini noodles or spaghetti squash.
When using zucchini noodles, you will not need to cook these noodles as long. You can bake them for about 10 minutes at 400 degrees as you would with the butternut squash noodle. Or, you can throw them right into the sauce and let them cook down slightly. Avoid overcooking as they will make the sauce watery.
If using spaghetti squash, follow these simple instructions to prepare the squash.
To make the sauce even richer, you could add a tablespoon or two of butter. Or add some crispy chopped bacon.
Related Recipes
Did you try these Creamy Butternut Squash Noodles? I would love to see your creations! Take a photo and tag me on Instagram or leave a photo comment on Pinterest.
Feel free to leave a comment and a rating below. Feedback is always appreciated! 😊
📖 Recipe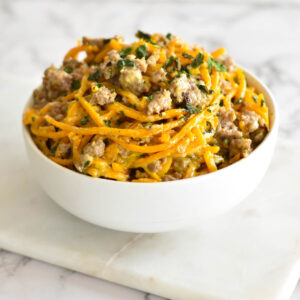 Creamy Butternut Squash Noodles with Sausage and Basil
This rich and creamy butternut squash noodles with sausage and basil makes the perfect comfort food.
Equipment
Knife

Cutting board

Spatula

Mixing bowl

Frying pan

Parchment paper

Sheet pan

Spiralizer
Ingredients
1

small

Butternut Squash (415 g spiralized or 5 cups of noodles)

2

tbsp

Avocado oil

1

lb

Italian sausage

¼

cup

Yellow onion

½

cup

Freshly grated parmesan

½

cup

Freshly grated asiago

Or more parmesan

4

cloves

Garlic

¼

cup

Basil

Finely chopped

¼

cup

Unsweetened almond milk

Or regular milk

½

cup

Heavy cream

1

tsp

Garlic powder

1

tsp

Black pepper

½

tsp

Fennel seed

½

tsp

Crushed red peppers

Optional

Pink Himalayan salt

To taste
Instructions
Preheat the oven to 400 degrees F.

Begin by chopping both ends of the butternut squash and removing the bulb. You can save the bulb for another recipe. With the neck only, peel the skin and spiralize. Cut all the noodles into desirable lengths.

Toss noodles in oil. Spread evenly on sheet pan lines with parchment paper and lightly salt. Cook for 25- 30 minutes. Toss halfway through with a pair of tongs.

While noodles are cooking, heat a large pan over medium heat. Add sausage. Brown and break up. Continue to cook until there is no more pink. Remove sausage from the pan and set aside.

Finely dice ¼ cup of onion and add to the pan with the sausage fat. Lower the heat slightly. Cook until the onion begins to caramelize.

Peel and mince the garlic. Add to the pan with the onion and allow to cook for about 1 minute.

Add the cream and almond milk to the pan and whisk together. **See notes on making a richer sauce.

Add the grated cheese and finely chopped basil. Let everything heat up while stirring. Add the spices and salt to taste if needed.

Using the tongs, add the butternut squash noodles to the pan. Toss in the sauce.

Add the sausage and toss. Grate extra parmesan cheese on top if desired. Serve immediately.
Notes
To make a richer cream sauce,

you can use all cream or substitute the almond milk and heavy cream for half and half. Another option would be to add 1-2 tablespoons of butter when you add the cream. I would recommend considering one of these options if using using zucchini noodles which are more watery than butternut squash. 
Nutrition
Serving:
1
cup
Calories:
623
kcal
Carbohydrates:
16
g
Protein:
30
g
Fat:
49
g
Saturated Fat:
21
g
Cholesterol:
142
mg
Sodium:
492
mg
Potassium:
767
mg
Fiber:
2
g
Sugar:
3
g
Vitamin A:
11751
IU
Vitamin C:
25
mg
Calcium:
398
mg
Iron:
2
mg