This Whole30 Pineapple Chicken recipe is a weeknight favorite in my house. It takes 30-minutes from start to finish and is super versatile. Serve with rice or cauliflower rice for those following Whole30. Throw in some extra stir fry veggies to bulk up the meal or enjoy it on it's own. This simple pineapple chicken dish is gluten-free, free of refined sugar and paleo-friendly.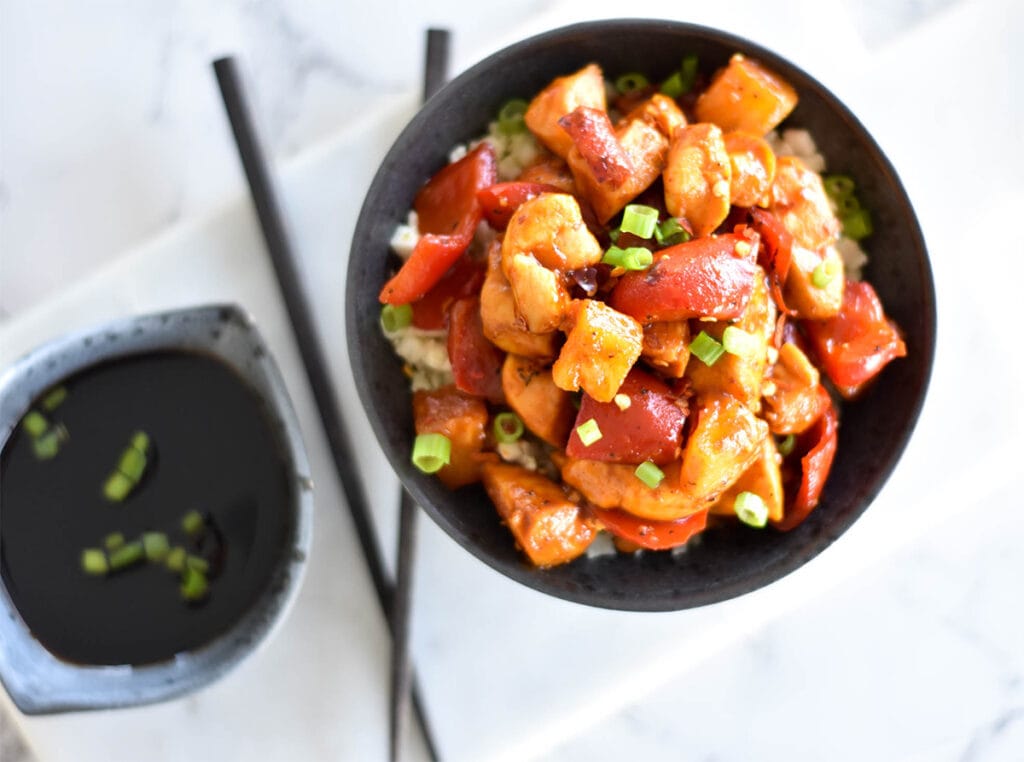 Jump to:
This simple stir fry recipe is one of my favorites! It is so easy to make, especially when you only have 30-minutes to spare. And, all you need is one pan!
You can doctor up this recipe to include a wide array of stir fry veggies. Broccoli, snap peas, green beans, onion, water chestnuts, bamboo shoots, whatever you'd like. Just add them to the pan when cooking the bell peppers. This is a great way to increase your micronutrient intake and bulk up the recipe to make it more filling or to feed more people.
You can serve the pineapple chicken and sauce on top of rice or cauliflower rice, or just enjoy the stir fry by itself.
What Is Whole30?
The Whole30 program is a 30-day elimination diet designed to help weed out any food intolerances. It focuses on real foods without additives or heavy processing, and is used to reconnect individuals with their hunger and fullness cues and improve diet quality.
Whole30 is a modified paleo diet, eliminating commonly problematic foods like legumes, grains and dairy. Additionally, it also restricts any form of added sugar (including maple syrup and honey), additives (like carrageenan, sulfites and MSG), sweeteners like stevia, and alcohol. Here you can find more information on the Whole30 program.
This recipe contains simple ingredients and is naturally sweetened with pineapple juice so it is 100% Whole30-complaint.
Other Great Whole30 Recipes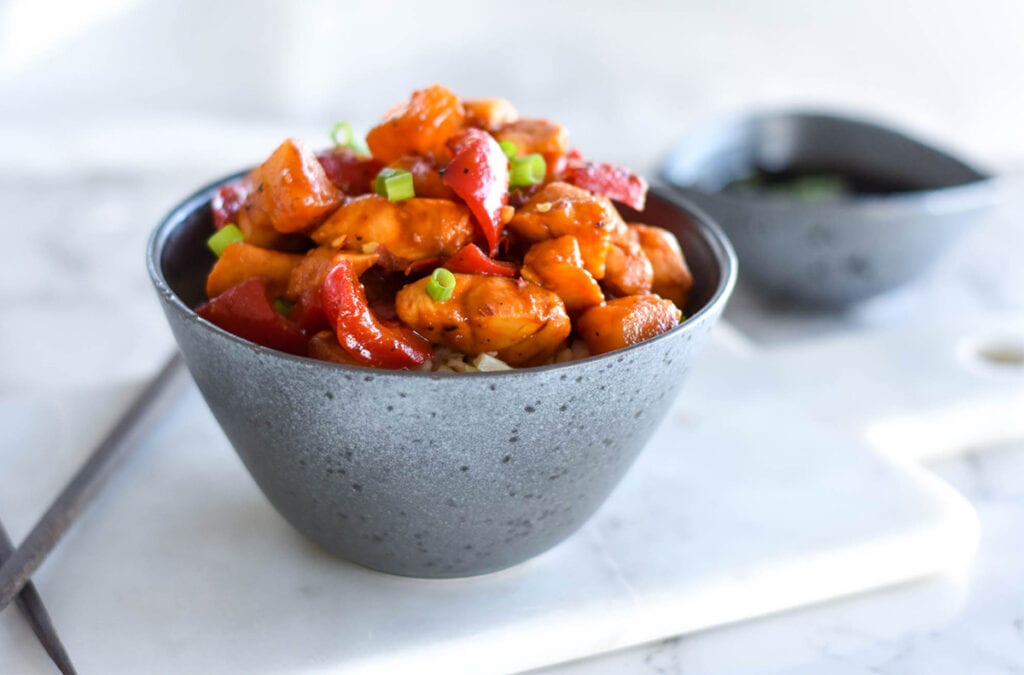 Can I Use Canned Pineapple In This Recipe?
Yes! That is what I would recommend. Using canned pineapple is just so easy and you can use the juice from the can to make the sauce. Make sure to buy pineapple chunks in 100% pure pineapple juice.
While fresh pineapple will be delicious and work just fine in this recipe, you just can't beat cheap and simple!
Making The Sauce
The sauce used in this recipe requires only 5 ingredients and is super delicious. It is free of refined sugar and sweetened with pineapple juice.
To make this sauce, simply combine the 5 ingredients, whisk together and reduce down. The key is to allow proper time to reduce in order for the sauce to thicken properly. Stir occasionally and be patient. It should start to thicken after 15 minutes of simmering.
You can substitute soy sauce if you have trouble finding coconut aminos, but it will be saltier so add half the recommended amount, taste and adjust accordingly. Soy sauce is not Whole30-complaint or paleo. If possible, use coconut aminos because it just tastes better in my opinion and is soy-free.
The recipe produces enough sauce to top rice and/or additional stir fry veggies. If you just plan to eat just the chicken, pineapple and bell peppers than you might end up with more sauce than you actually will use. The calories for this recipe are calculated using ½ of the entire recipe including ½ of the sauce, which means the amount you eat may actually be less calorically dense.
30-Minute Meal
I am always looking for quick recipes that can get dinner on the table without much prep. This pineapple chicken recipe is about as simple as it gets. The goal in creating this recipe was to keep the ingredient list small, the equipment needed minimal and the recipe instructions simple.
Things than can help keep this recipe quick include using pre-minced garlic, chicken breast tenders which are super easy to trim and cut, and using canned pineapple. Using pre-cut cauliflower rice as a side is a great option. Simply sauté it for several minutes in a pan. If you are more of a traditional rice kind of family, there is no shame in using par-cooked microwavable rice. Whatever gets dinner on the table!
If you find yourself with a extra minutes, you can sauté some fresh ginger or add pressed ginger to the sauce. You can add a white onion to the pan when cooking the bell peppers, allowing it to caramelize for a little something extra. Little additions like this can make the recipe more special and different every time you make it.
Ingredients and Possible Substitutions
Avocado Oil - I like avocado oil because of it's neutral flavor and high smoke point. Extra virgin coconut oil will also work in this recipe, as will any neutral flavored cooking oil that is appropriate for medium/high heat.
Chicken Breast Tenders - You can use regular chicken breasts. I like chicken breast tenders (also called tenderloins) because they are small and easy to but into 1 inch pieces. If using regular chicken breasts, be sure to cut against the grains of the muscle fibers.
Canned Pineapple Chunks - Fresh pineapple will also work in this recipe. Canned pineapple just makes it easier. If you don't purchase canned pineapple in 100% juice you will need to buy pineapple juice separately.
Red Bell Peppers - The red bell peppers compliments the sauce and sweet pineapple well. With that said, any stir fry veggies can be used in this recipe if you do not like or tolerate bell peppers. I don't recommend using green bell peppers as they taste different, but yellow or orange can be used interchangeably.
Coconut Aminos - Coconut aminos is less salty and has a unique sweetness when compared to soy sauce. In a pinch, you can substitute soy sauce or soy aminos but you may need to use less than ¼ cup. Add half the amount, taste and adjust if needed.
Related Recipes
Did you try this Whole30 Pineapple Chicken? I would love to see your creations! Take a photo and tag me on Instagram or leave a photo comment on Pinterest.
Feel free to leave a comment and a rating below. Feedback is always appreciated! 😊
📖 Recipe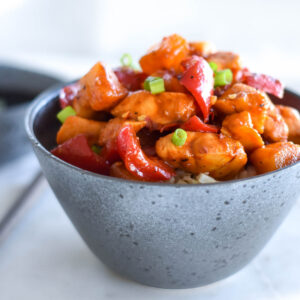 Whole30 Pineapple Chicken
This tasty and simple 30-minute pineapple chicken recipe is paleo, whole30 and gluten-free
Equipment
Frying pan

Spatula

Bowl

Whisk

Knife

Cutting board
Instructions
Heat 1 tbsp. of oil in large frying pan over medium heat.

Trim and cut the chicken breast tenders in to 1 inch cubes. Salt to taste and add to pan once the oil is hot.

Brown chicken on all sides until it is cooked through, about 6-8 minutes. Remove from pan and set aside.

Heat another tbsp. of oil over medium heat in the same pan. Begin seeding and chopping bell peppers. Add to pan. Cook for about 5 minutes or until skin starts to blister slightly.

While peppers are cooking, whisk together the ingredients for the sauce in a small bowl. Set aside.

Add pineapple and chicken to the pan with the peppers. Pour the sauce over the chicken and allow to simmer for 15 minutes or until pineapple juice reduces down and sauce becomes thick.

Chop green onions. Top the chicken with green onions and crushed red pepper.

Serve over rice or cauliflower rice, or enjoy by itself.
Nutrition
Serving:
0.5
recipe
Calories:
612
kcal
Carbohydrates:
54
g
Protein:
52
g
Fat:
21
g
Saturated Fat:
3
g
Cholesterol:
145
mg
Sodium:
1081
mg
Potassium:
1619
mg
Fiber:
6
g
Sugar:
36
g
Vitamin A:
4336
IU
Vitamin C:
187
mg
Calcium:
84
mg
Iron:
3
mg