Turmeric Golden Butter Latte
Being from Washington, I have an affinity for coffee that most people won't fully understand. Some people truly enjoy coffee. Some people need coffee to function. I brew my baths with coffee grounds so that I can steep myself in the aromatic goodness of a full-bodied dark roast. I drink from vats of coffee the size of my head. Our fridge dispenses cold brew instead of water. In normal physiology, humans are close to 65% water. The water that makes up most of my being is definitely mixed with espresso to make a rich, smooth Americano. I was once turned away from donating blood for this reason. It's a condition the medical community still doesn't fully understand... Exaggerating? I may have embellished a little bit here and there, but not by much.
Here in Texas, coffee shops are few and far between. This is particularly true where we live, a small town called The Middle of Fucking Nowhere. We have a Starbucks, so there's that. In truth, I am not a coffee snob by any means. I have been known to drink instant coffee, and gas station coffee, and to lap up coffee off the floor a few desperate times. I am more of a coffee purist. I like my coffee like I like my men - strong and not very sweet. My husband is living proof of that (partly kidding). Here in TMOFN, people enjoy their sugar with a dash of coffee, over ice. In their defense, summer down here is hotter than Satan's naughty bits which makes coffee less appealing to the masses year-round.
Jump to Recipe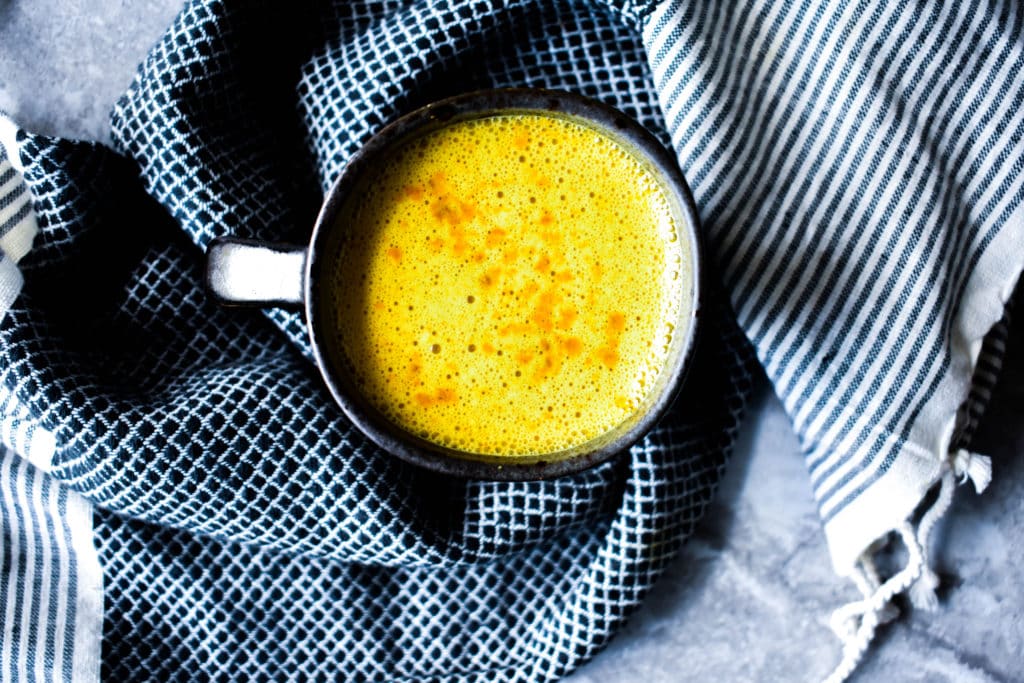 When the Coffee Won't Cut It
Longing for options and variety, I have found myself venturing away from my morning gallon of Joe as of late. You see, I am not particularly sensitive to caffeine. By that, I mean that I can mainline espresso at 9:45 PM and be in bed by 10:00 PM. With the volume of coffee I have been drinking since my early 20's, I decided taper down my caffeine consumption a bit. Although caffeine in moderation appears to be totally fine, even healthy, moderation has never really been my strong suit. Lately, I have transitioned to drinking more matcha and taking L-theanine in the mornings, and feel pretty fantastic doing this. It allows me sustained energy and focus throughout my day, and helps to prevent my adrenal glands from shriveling up and sloughing off entirely.
My newest morning swap has been introducing a sweet and spicy turmeric golden butter latte. I generally don't eat breakfast in the morning, and this golden butter latte is exactly what I need to stabilize my blood sugar and keep my hunger at bay until my first meal at noon. Of course, I am all about intuitive eating and honoring hunger signals, so if I feel like having a meal in the AM or just want to post-up in front of some Parks and Rec with a jar of peanut butter to procrastinate initiating my work day, well, then that's exactly what I do. But, on most days a creamy turmeric latte is all that I need to get me through those early hours.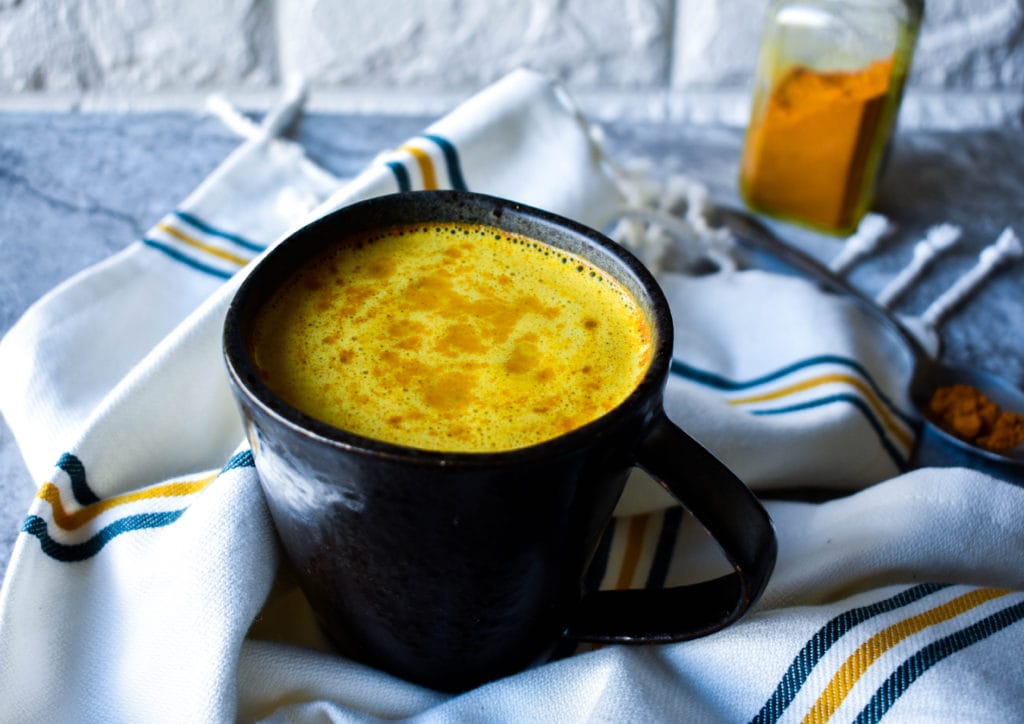 The Beauty of the Golden Butter Latte
The magic of this golden butter latte is that it has the capacity to lend those warm feelings and strong emotions that are generally only ignited in me when I smell the morning coffee brewing. Additionally, the benefits of swapping out an occasional cup of Joe (or in my case, gallon) with this antioxidant packed beverage are boundless.
Why Should You Incorporate a Golden Butter Latte into Your Daily Routine:
Curcumin - This compound that yields turmeric it's bright yellow color and potent antioxidant effect. When I was running 40+ miles a week and my body was showing it's disdain for my poor life decisions by making my joints ache with a fiery fury, I would take several turmeric capsules to ease the pain without using NSAID's as a daily crutch. Today I like knowing that I am aiding my body by incorporating a daily dose of curcumin to help reduce system inflammation that can occur from environmental and lifestyle stressors.
Grass-Fed Butter - The beauty of grass-fed butter is that it is extremely nutrient rich compared to most other fat sources. Grass-fed butter can add things like omega-3 fatty acids, CLA, and vitamins D, E, A and K to your diet, all while helping to stabilize blood sugar and supply slow burning energy.
Ginger - We all know ginger as tried and true stomach soother, but it can help with digestion in many ways. Ginger cans stimulate both saliva and bile production to support digestion. This is particularly important in the morning in order to get your digestion back online after fasting. It also helps clear any gastric residuals (common with gastroparesis or delayed gastric emptying) before you begin a meal.
Antioxidants - Because this Golden Butter Latte is rich in spices it is also loaded with antioxidants. Everyone knows antioxidants are beneficial, but most people don't understand that the body requires a certain balance between antioxidants and free radicals in order to prevent oxidative stress. Oxidative stress contributes to the development of most chronic disease. Spices are some of the best sources of antioxidants, and this beverage is packed full of them.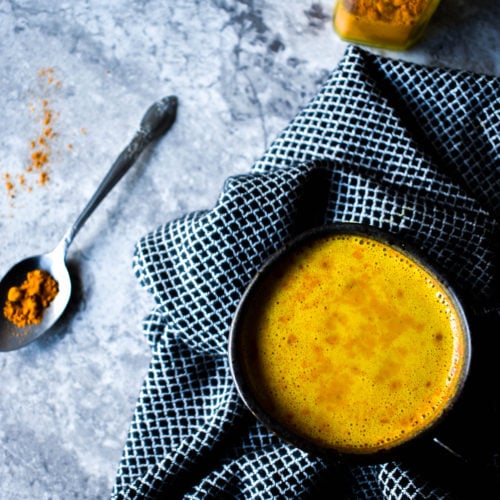 Turmeric Golden Butter Latte
This blood sugar stabilizing, sweet and spicy beverage is the perfect alternative to shake up your morning routine. My Golden Butter Latte provides a healthy dose of antioxidants and is a proper low-carb, caffeine-free swap for the traditional butter coffee.
Ingredients
2

cup

Unsweetened almond milk

Or coconut milk

1/2 - 1

tbsp

Grass-fed butter

1/2 - 1

tsp

Ground turmeric

1/2

tsp

Ground ginger

1/4

tsp

Cinnamon

1/4

tsp

Pure vanilla extract

1/2

tsp

Liquid stevia (or to taste)

Coconut sugar or maple syrup can be used instead

1

dash

Black pepper

1

dash

Himalayan sea salt

1-2

dash

Cayenne pepper
Instructions
Begin by heating the almond milk on the stove or in the microwave. If using the stove heat to light a light boil. If microwaving, 3 minutes in a glass cup usually will do the trick.

Once milk has been heated, pour into a bullet blender. Add butter, spices and vanilla. Pulse until it is frothy and butter is emulsified. Pulse longer to ensure spices are well distributed throughout the liquid.
Notes
- Use more butter or less butter depending on your goals. If you are using the drink to tide you over between meals, opt for more. If the beverage is just a treat, add butter to taste. For me, 3/4 tbsp. is perfection.
- Add more cayenne and/or ginger for a spicier drink.
- You can use 1/2 water, 1/2 milk if you want to Make your almond milk go further. 2 cups of almond (or fluid) milk will yield a fairly potent drink, especially with a full tsp of turmeric. This is how I like it, but definitely adjust to your own taste. You can always add more liquid to make it more mellow.
- Even when well blended their might still be some sediment on the bottom of the glass.