This Keto Instant Pot Pulled Pork recipe utilizes a sweet and savory cocoa rub for a spin on traditional pulled pork. Paired with coleslaw, this pulled pork makes the perfect easy, oven-free weeknight meal.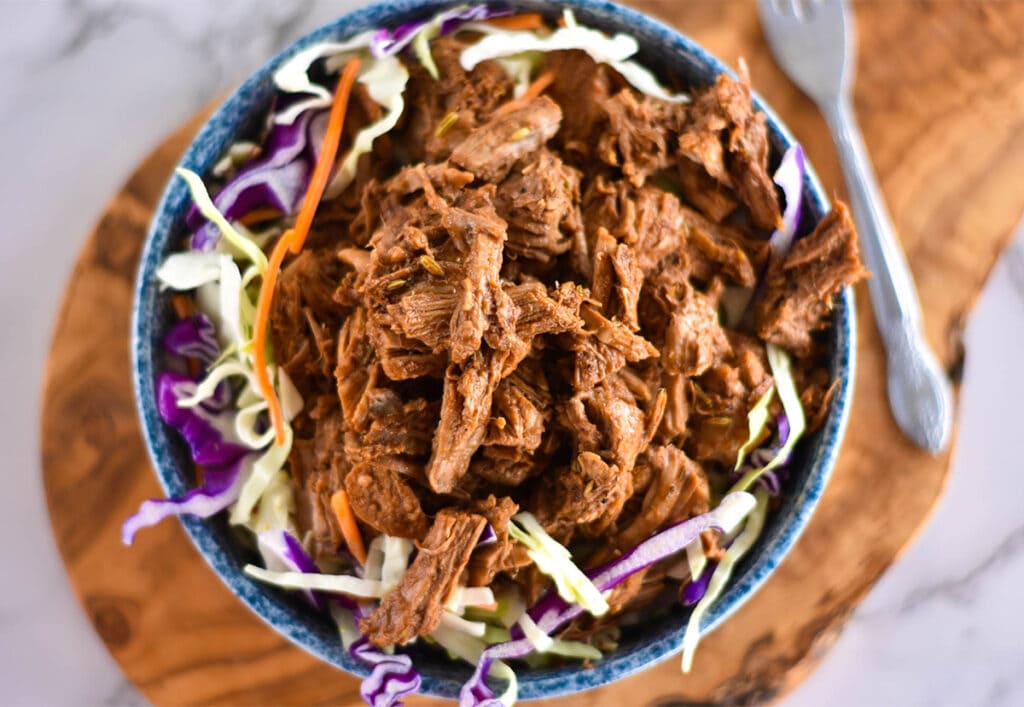 Jump to:
Sometimes the task of dinner is daunting, even for someone like me who legitimately enjoys playing around in the kitchen. I don't have a large family to feed. All I have is a husband. A husband who is the least picky eater in the world. Poor me, right?
I have seen the man eat room temperature pizza that had been sitting in a bar over night. I wish I could say this was a distant, historical event or even an isolated incident, but that would be a lie. Although my husband is the only mouth I have to feed, and he would be reasonably satisfied eating a bowl of Fig's grain-free kibble in the right context, I feel obligated to provide a healthy and hearty meal for him most days of the week. In part, for his health and safety.
Despite the fact that my husband has low standards (we all know that one is a given 🤷‍♀️), I still don't have an abundance of time and patience for cooking during the week. It is key for weeknight meals at our house to be quick and simple. And, bonus if there are leftovers for lunches.
That is why this Keto Pulled Pork recipe is my new go-to favorite. The prep is bare bone for this meal, and using the Instant Pot makes it almost too easy.
Choosing A Roast
In this recipe, I opt for a boneless pork ribeye roast (also called a pork loin roast or pork rib roast). Although a shoulder roast would work well and will produce a more moist dish, I like the rib roast because it is leaner and easier to find in a smaller size. It can be difficult to locate a 2 lb shoulder roast at our local stores.
Also, I generally enjoy fatty cuts of meat when I can get them grass finished. Because pork is grain-fed, I opt for leaner cuts. This is because grain-fed animals have a higher omega-6 fatty acid ratio, which can be pro-inflammatory. By choosing leaner cuts of grain-fed meat you can avoid excess omega-6 fats in your diet, which is a good thing to be conscious of.
Can I Make This Recipe In The Slow Cooker?
Yes! This recipe can easily be done in the slow cooker. It will obviously just be slower require some pre-meditation.
A roast this size should cook on high for about 4 hours or for about 6 hour on low. The other instructions will remain the same. Be sure to check the internal temperature before removing the roast. It should reach at least 145 degree F.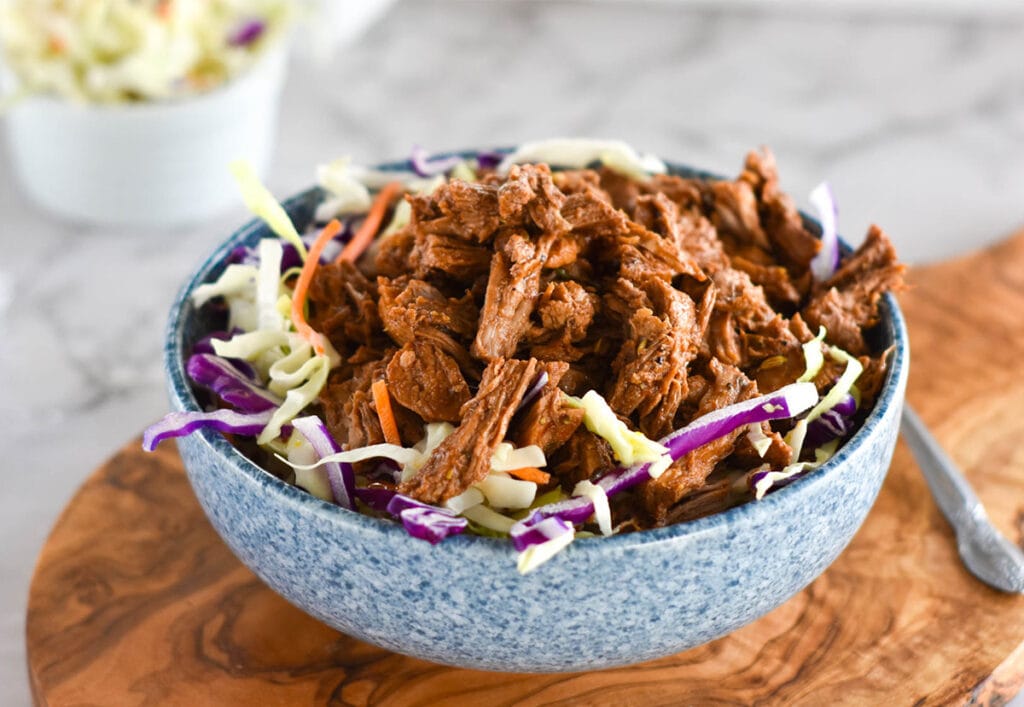 Making a Meal
To turn this dish into a meal, I would suggest making a simple coleslaw and throwing it all together in a large bowl and enjoying. Simple and righteous.
Alternatively, you can make pulled pork sandwiches, tacos or lettuce wraps, but I would suggest adding a coleslaw to each of these options to give it some color, crunch and a light, tangy flavor that really compliments this pulled pork.
How To Make Coleslaw
Time needed: 5 minutes.
How To Make Coleslaw
Whisk together dressing.

In a large mixing bowl, whisk together ½ cup of avocado oil mayo, 2 tbsp. mustard, 2 tbsp. of raw honey, 1 ½ tbsp. lemon juice, salt and pepper to taste. For low carb, use stevia or Lakanto maple syrup to taste instead of honey.

Add 16 ounce bag of coleslaw mix.

Add coleslaw mix to dressing in bowl. Stir until the slaw is fully covered
Equipment
This recipe is super easy and doesn't require much. You will need:
Instant Pot - See instructions for slow cooker if you haven't committed to the an Instant Pot yet.
Meat Claws - You could also use two forks. This is just used to shred the meat.
Other common kitchen items you will need include a cutting board, a knife and a bowl.
Recipe Tips
The shape of your pork roast will affect cooking times. A fat round roast will cook for about 55 minutes, while a thin, long roast may only need 45 minutes in the Instant Pot.
To be sure your roast is done, cut it in half and see if there is any visible pink in the center. You can also test the temperature. The roast will need to reach at least 145 degrees F.
You can adjust the spice by adding more cayenne pepper.
If not low carb, you can use a couple tbsp. of maple syrup or honey to sweeten the pork.
Related Recipes
Did you try this Keto Instant Pot Pulled Pork Recipe? let me know what you think! Leave a comment and a rating below.
📖 Recipe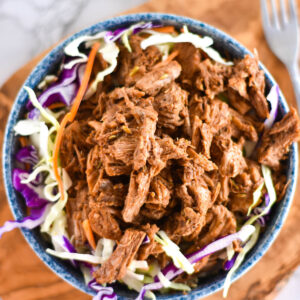 Keto Instant Pot Pulled Pork
This simple rubbed pulled pork recipe is a low carb favorite in our house. It is paleo friendly, flavorful and goes great in tacos or with coleslaw.
Instructions
Combine all herbs and spices in a small bowl, mix well.

Pat roast dry with a paper towel.

Cut the roast into 1-2 inch chunks. Remove any grisly pieces and as much fat as you prefer. Keeping most of the fat will help the meat stay moist while cooking, but if you want leaner meat you can trim the fat.

Pour avocado oil on the bottom of the crock. Add the meat, then add broth.

Pour spice mixture over roast. Pat on to the surface.

Select "Meat/Stew" and allow to cook for 45 minutes. Once roast is finished, vent steam and remove top.

Pork should no longer be pink. If it is, check the temperature and verify that it has reached 145 degrees F. If it is not cooked through, you will need to give it another 5-10 minutes in the Instant Pot. Most likely it will be done after 45 minutes.

In the crock, begin to separate meat with two forks or meat claws. Remove any tough or grisly pieces during this time.

Stir meat in juice and allow to simmer in juice for 5 minutes before serving. Remove from crock and discard any excess juice, and enjoy.
Notes
If desired, you can save the excess juice from the roast and store it with the meat to keep it moist.
Using a shoulder roast of the same size will require the same cooking time.
Nutrition
Serving:
6
oz
Calories:
208
kcal
Carbohydrates:
4
g
Protein:
23
g
Fat:
11
g
Saturated Fat:
3
g
Cholesterol:
74
mg
Sodium:
871
mg
Potassium:
485
mg
Fiber:
2
g
Sugar:
1
g
Vitamin A:
453
IU
Vitamin C:
3
mg
Calcium:
33
mg
Iron:
2
mg