What is better on a hot summer day than a glass of cold lemonade? Lemonade with vodka, obviously, but that was a rhetorical question. This keto lemonade is low carb, sugar free and low calorie. Taste like nostalgia without the blood sugar spike and ready in only minutes. Cheers to that. 🍋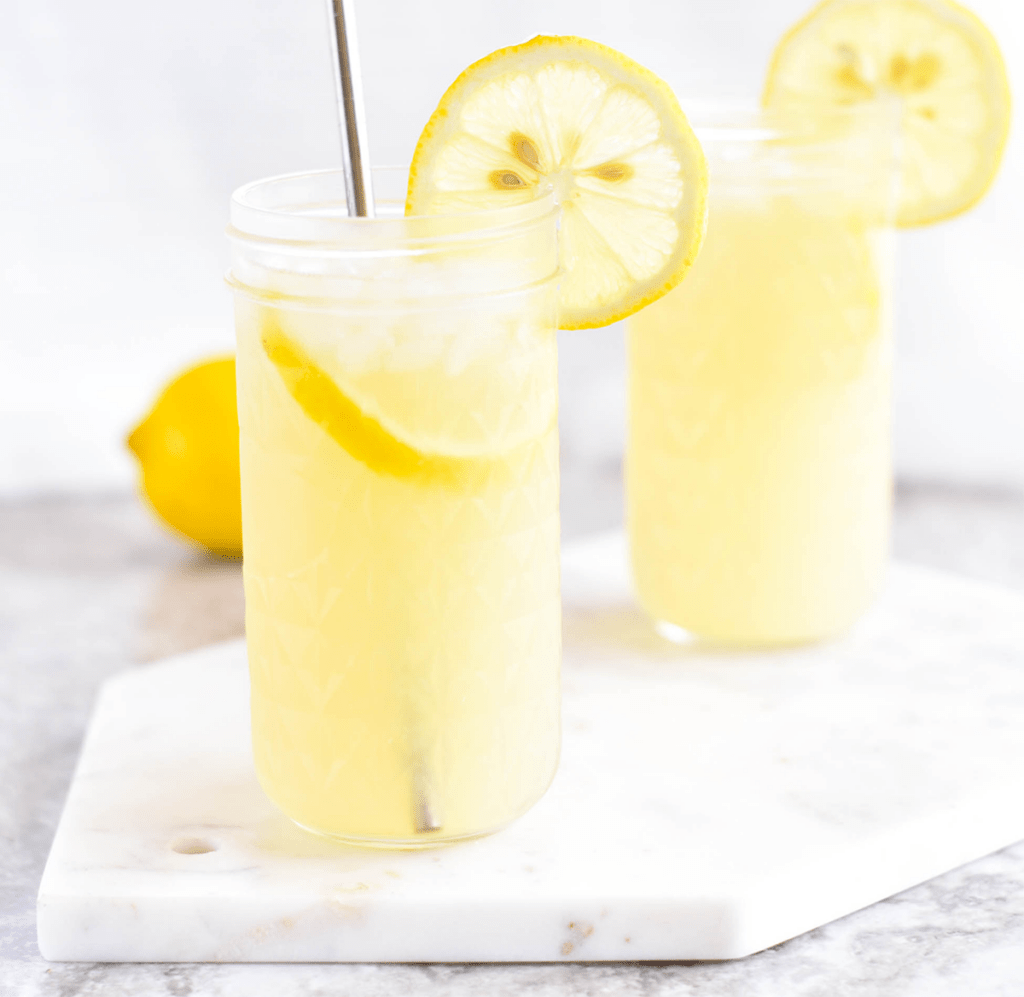 Jump to:
Sugar Free Sweeteners
For this recipe, I chose to use the powdered monk fruit and eyrthritol blend from Lakanto (you can find it here). This sweetener works great in this recipe because it dissolves easily and has a comparable flavor to sugar.
When choosing a sweetener I would opt for one that is natural. My top choices are monk fruit, stevia and erythritol.
If you decide to use a granulated sweetener, the first step in this recipe is important. You will need to heat the water and make a "simple syrup" in order for any granulated sweetener to dissolve properly. A powdered sweetener will usually dissolve in cold water.
All sweeteners have a different level of sweetness. So, if you choose to deviate from the recipe start with a small amount of sweetener and add until it meets your desired level of sweetness.
Using Store Bought Lemon Juice
While using fresh lemons is never a bad decision, I am not a zealot when it comes to always needing fresh squeezed juice in every recipe. Fresh lemons add a nice flavor, but using a good quality store bought lemon juice can be almost indistinguishable from fresh juice. At least to my unrefined pallet.
I use Santa Cruz Organic 100% lemon juice. This brand, or something similar, is what I would recommend if you are not planning on juicing your own lemons.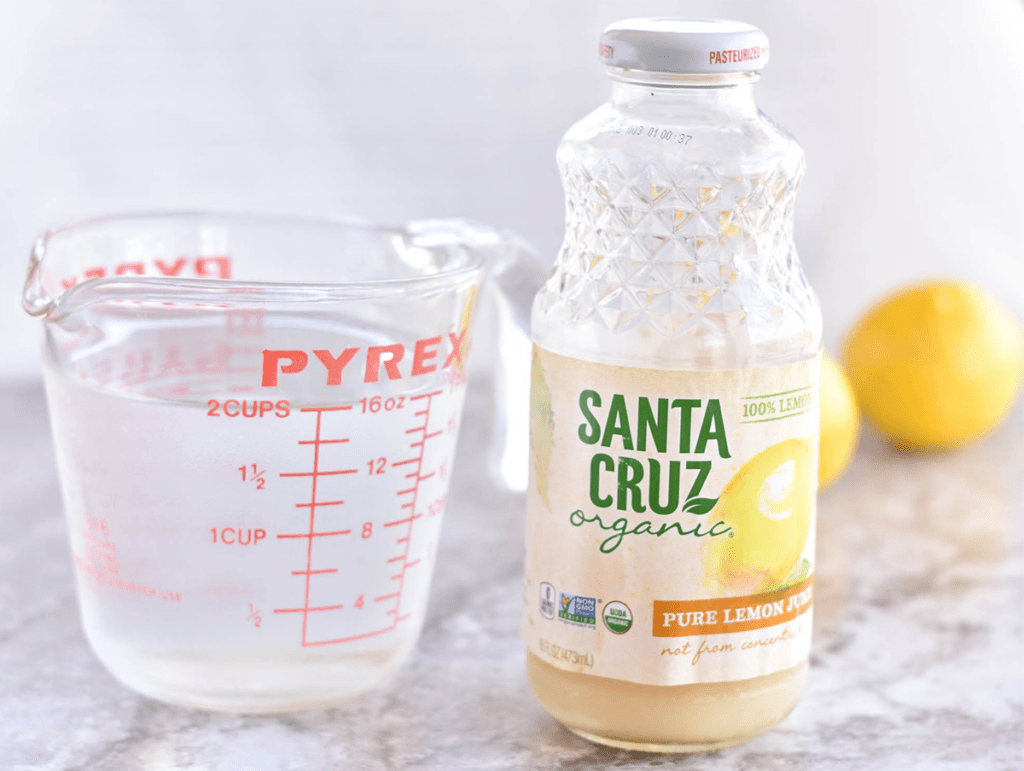 Electrolyte Needs On Keto
Whether you are doing keto or just living in a hot climate, you might benefit from supplementing with electrolytes. There are many electrolytes but the three most commonly needing supplementation are sodium, potassium and magnesium.
Those living a ketogenic lifestyle have higher electrolyte needs compared to those who are not in ketosis. There are several reasons for this:
Less Glycogen - Glycogen is the storage form of carbohydrate in your muscles. When you are eating fewer carbohydrate glycogen begins to get depleted. Each glycogen molecule contains water. The release of glycogen causes a shift in body fluid which subsequently causes a loss in electrolytes.
Lower Circulating Insulin - Insulin is used to remove glucose from the bloodstream. When someone is eating low carb there is a decrease in circulating insulin. When insulin levels lower the kidneys excrete electrolytes.
These combined factors make your electrolyte needs higher on ketosis, specifically sodium. A general recommendation is to aim for 3000-5000 mg of sodium, 3000-4000 mg of potassium and 300-500 mg of magnesium daily when following a ketogenic diet (1). You may need more or less depending on activity level and body size.
Adding Electrolytes To This Recipe
Sodium - Pink Himalayan salt is a good option because it contains other trace minerals apart from sodium. Start by adding a little and then adjusting according to your taste.
Potassium - Using "Lite Salt" or "No Salt" will add additional potassium to this lemonade. Lite Salt is a combination of sodium and potassium. No Salt does not have the sodium. Be a little more cautious adding this because it has a metallic taste.
Magnesium - I would generally recommended supplementing with magnesium glycinate (this would be taken in pill form and not added to this drink). Magnesium glycinate is better absorbed and utilized by the body and it can actually cross the blood brain barrier. Whereas, magnesium citrate which is more commonly mixed in drinks, generally stays in the GI tract and can cause a laxative effect.
When adding sodium and/or potassium to this recipe. I would limit to ¼ tsp total. This will help preserve the flavor of the lemonade. But! Please add slow and taste before you commit because preference will vary depending on your individual electrolyte needs and tolerance to salty things.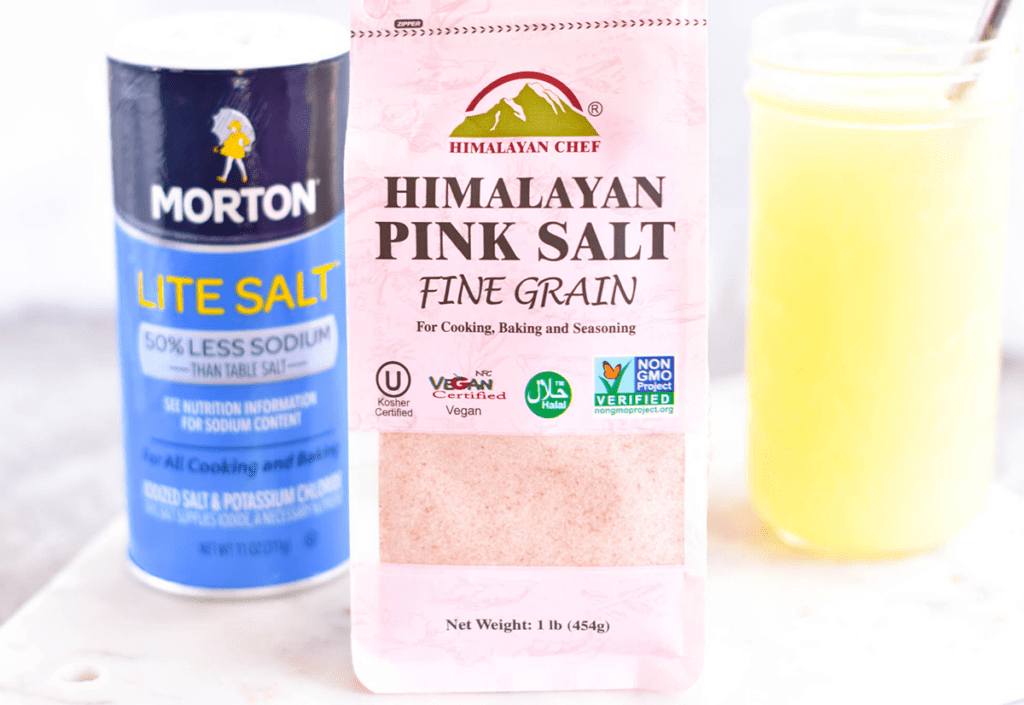 Recipe Tips
If using the recommended Lakanto Powdered Monk Fruit Sweetener, you can get away without mixing it into warm water to form a simple syrup. This is mostly used when adding granulated sweeteners or the electrolytes. The powdered sweeteners will usually dissolve right into the cold water.
Adjust the sweetness to taste. I like my lemonade a little sour, but don't be afraid to add a little more sweetener if that is your preference.
Adding a little (subjective) vodka or tequila to this recipe would be a good option for a delicious low carb cocktail.
Other Low Carb Beverages
Did you try this Keto Lemonade? I would love to
see your creations! Take a photo and tag me on Instagram or leave a
photo comment on Pinterest.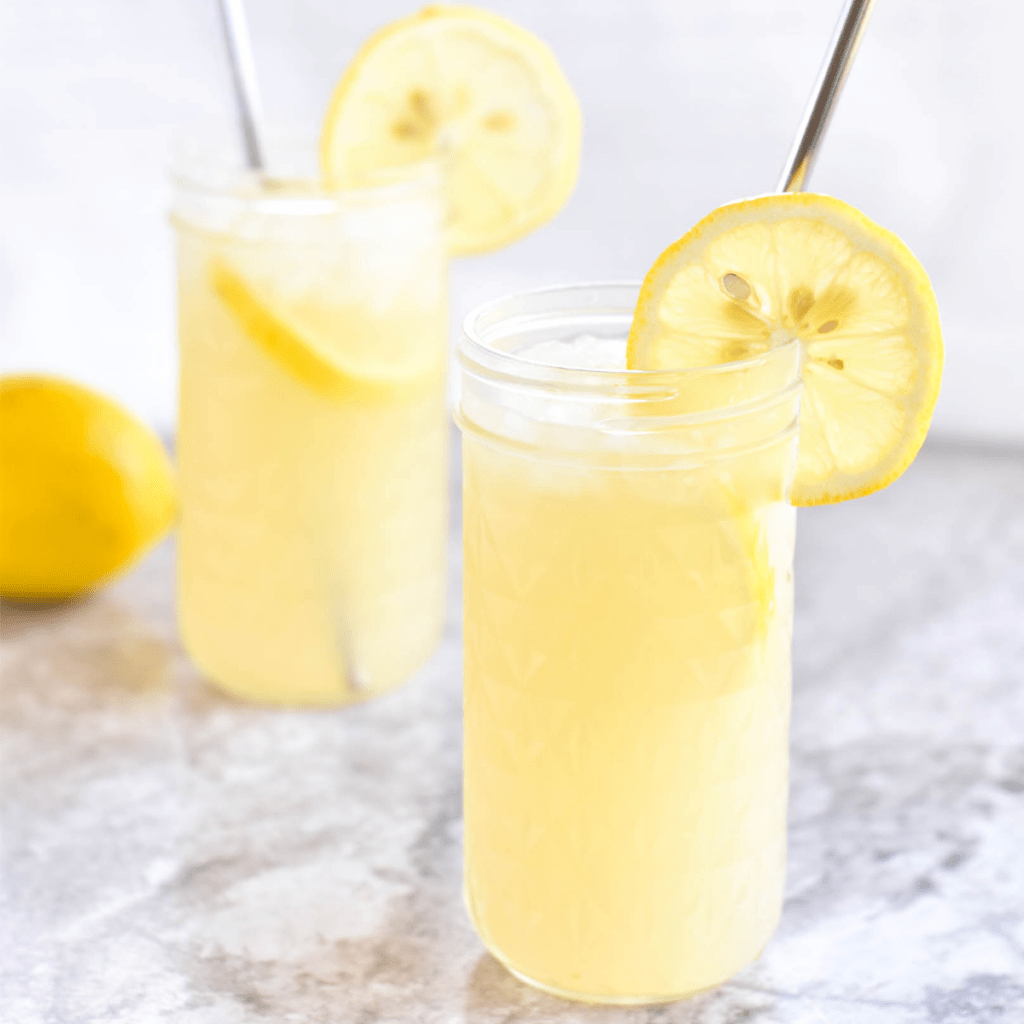 📖 Recipe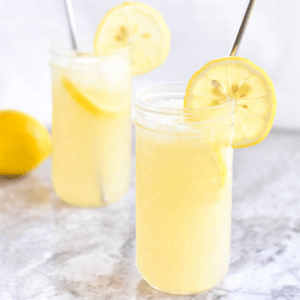 Keto Lemonade
This simple 3 ingredient sugar free and low calorie beverage is a great way to cool down after a hot summer day.
Instructions
Bring one cup of water to a low boil in a small sauce pan. Once water is hot, whisk in sweetener and electrolytes (if using). Continue to stir until the sweetener has fully dissolved to create a simple syrup. **See notes.

Remove the simple syrup from the heat. Pour in to a pitcher and add the lemon juice and 2 cups of cold water.

Taste at this time and add any additional sweetener to taste.
Notes
Use either fresh lemon juice or a high quality brand that you have tried and trust. I use Santa Cruz Organic.
**If you are using the Lakanto Powdered Monk Fruit Sweetener and not using electrolytes you can skip warming the water before mixing in the sweetener. Just mix the powdered sweetener in cold water until it dissolves completely. Making the "simple syrup" is more beneficial when using a granulated sweetener or adding electrolytes.
Nutrition
Serving:
4
servings
Calories:
11
kcal
Carbohydrates:
4
g
Protein:
1
g
Fat:
1
g
Saturated Fat:
1
g
Sodium:
9
mg
Potassium:
52
mg
Fiber:
1
g
Sugar:
1
g
Vitamin C:
20
mg
Calcium:
8
mg