My love for pesto is unfaltering. I don't take it lightly when I say, this dairy-free Whole30 pesto is pure perfection. You get all the flavor in this recipe from the fresh basil, rich pine nuts, and "cheesy" nutritional yeast. This recipe is paleo-friendly, Whole30-approved and appropriate for people following a vegan diet.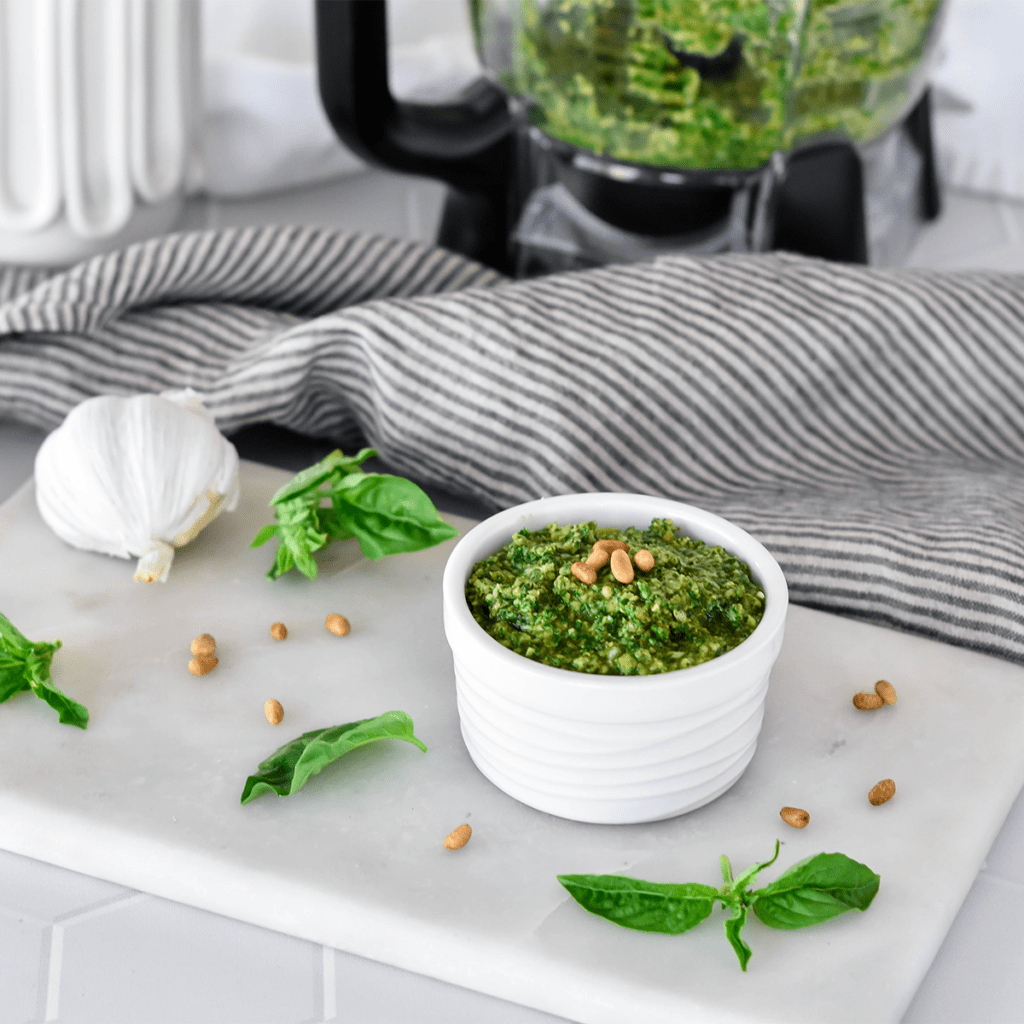 Jump to:
Is it possible for someone to live off of pesto alone? I don't know, but I am willing to try... for the sake of science, of course.
Pesto is easily one of my favorite foods. I love the flavor of basil, combined with the olive oil, pine nuts and salt.... it really does not get any better.
This dairy-free pesto is so good you won't even miss the parmesan. In this recipe we use cashews and nutritional yeast to replace the nutty flavor of the parmesan, and man, does it work!
What Makes This Recipe Whole30-friendly?
Whole30 is a 30-day elimination diet that is based on the paleo framework. Like the paleo diet, Whole30 eliminates processed foods, processed sugar, vegetable/seed oils, legumes, grains and dairy. In addition, Whole30 requires the elimination of any types of added sugars (including maple syrup, honey and coconut sugar) and easy to overeat foods like baked goods, chips or pizza made with paleo ingredients.
Traditional pesto contains parmesan cheese, and while delicious, parmesan is not allowed on the Whole30. Additionally, most store bought pesto sauces have problematic ingredients like soybean and canola oil.
Worry not, my friend. This recipe contains only Whole30 approved ingredients: fresh basil, nuts, olive oil, salt, nutritional yeast. And, it is the perfect addition to almost every meal while you complete your Whole30.
How To Make Dairy-Free Pesto
To make this paleo basil pesto, simply combine the following ingredients in a high powered food processor and process until it is smooth. Scrape the sides as needed with a rubber spatula until the desired consistency is achieved.
Here is what you will need:
2 cups Fresh Basil Leaves
½ cup Olive Oil
¼ cup Roasted Cashews
¼ cup Pine Nuts
1 tbsp. Nutritional Yeast
Pink Himalayan Salt
4 cloves Garlic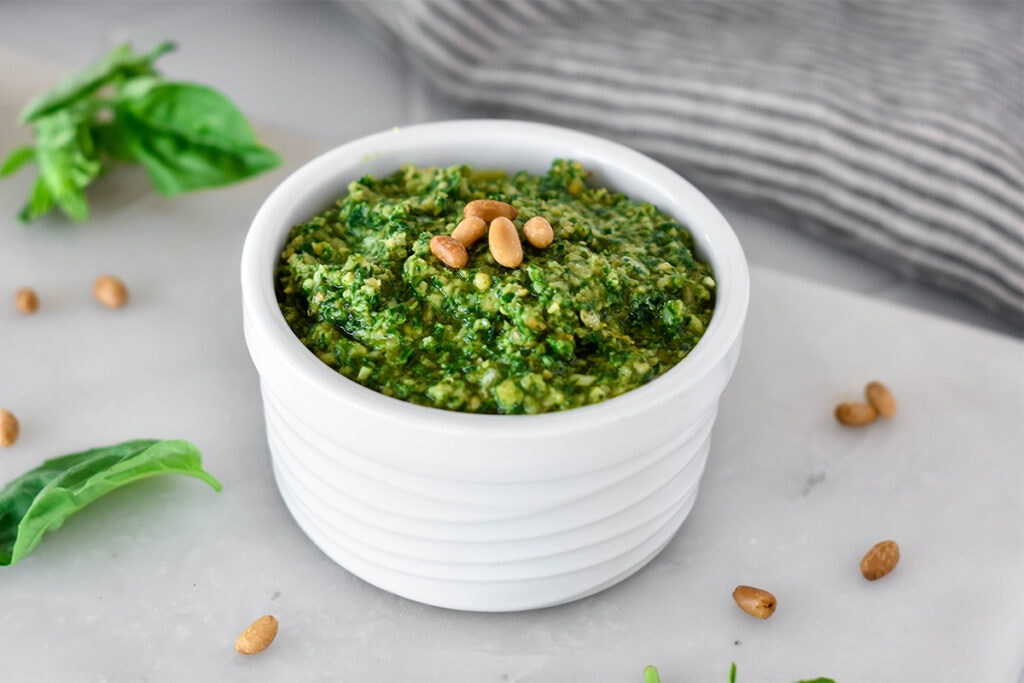 Ingredient Notes
Garlic
I use a lot of garlic, because that is just the life I choose to lead. I like garlic, okay? You can use less and I wont judge you. Also, if the flavor of raw garlic is too strong for you I would suggest roasting the garlic! That brings out the sweetness and makes it a bit more mild.
To roast garlic, preheat the oven to 400°. Slice off top of the head of garlic. Drizzle with oil and season with salt and pepper. Wrap the head of garlic in foil and place in a shallow oven-safe dish. Bake for about 40 minutes or until it is golden brown and soft.
Nutritional Yeast
The nutritional yeast adds a "cheesy" flavor to this pesto without adding any dairy. Combined with the cashews, the flavor is similar to that of a nutty parmesan.
This ingredient can be found in the spice aisle or health food section of most grocery stores. If you can't source it, you can skip it, but I definitely feel it is part of the reason this recipe is pure perfection. So, if you can find it, use it!!
Basil
Look for fresh, traditional basil. Not Thai basil (although this could work in a pinch). Even better if it is grown yourself! You will need 2 cups, or a 4 oz. package.
Olive Oil
Any type of olive oil will work. Extra virgin olive oil has a stronger, more peppery flavor. Choose an olive oil that you enjoy the taste of because it is a predominate tasting note in this recipe.
Salt
I like my pesto like I like my men, salty. That may not be the case for everyone. I use a full tsp. of salt when I make this recipe. Salt your pesto to taste. It will give you an excuse to eat the pesto with a spoon.
Other Great Whole30 Recipes
Did you try this Whole30 Pesto recipe? I would love to see how it went! Share a photo and tag me on Instagram or leave a comment on Pinterest.
Love this recipe? Connect with me by leaving a comment below! 😊
📖 Recipe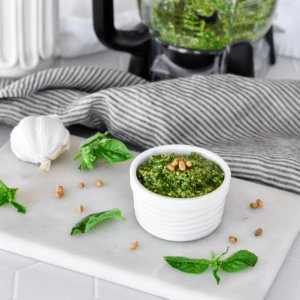 Whole30 Pesto (Vegan, Paleo)
This rich and fantastic dairy-free Whole30 pesto is the perfect sauce for... well... everything. This pesto is made with fresh basil, pine nuts, olive oil, cashews, salt and nutritional yeast for the perfect classic pesto flavor without the dairy!
Ingredients
2

cups

Basil leaves

½

cup

Olive oil

¼

cup

Roasted cashews

¼

cup

Pine nuts

1

tbsp

Nutritional yeast

Pink Himalayan salt to taste

I used 1 tsp

4

cloves

Garlic
Instructions
Preheat oven to 350°. If pine nuts are not already toasted, toast them on a baking sheet lined with parchment paper until golden brown. With a spatula, toss the pine nuts halfway through. The toasting process should take about 5–7 minutes. Be careful not to overcook them. Transfer to a food processor and let cool.

Add cashews, nutritional yeast and garlic and pulse until finely ground, about 1 minute. Add basil and place the top back on. With the motor running, add oil in a slow and steady stream until pesto is mostly smooth, with just a few flecks of green, about 1 minute. Season with salt to taste.

To store, put in an airtight container and top with a layer of olive oil to seal and prevent browning. Store in the fridge for up to 2 days.
Nutrition
Serving:
1
tbsp
Calories:
90
kcal
Carbohydrates:
1
g
Protein:
1
g
Fat:
9
g
Saturated Fat:
1
g
Sodium:
1
mg
Potassium:
46
mg
Fiber:
1
g
Sugar:
1
g
Vitamin A:
159
IU
Vitamin C:
1
mg
Calcium:
8
mg
Iron:
1
mg