Missing your favorite foods on Whole30? This Whole30 Caesar Salad is crisp, creamy and garlicky, and will help fill that void for you. A Caesar salad that is paleo, gluten-free and dairy-free? It is not a lie!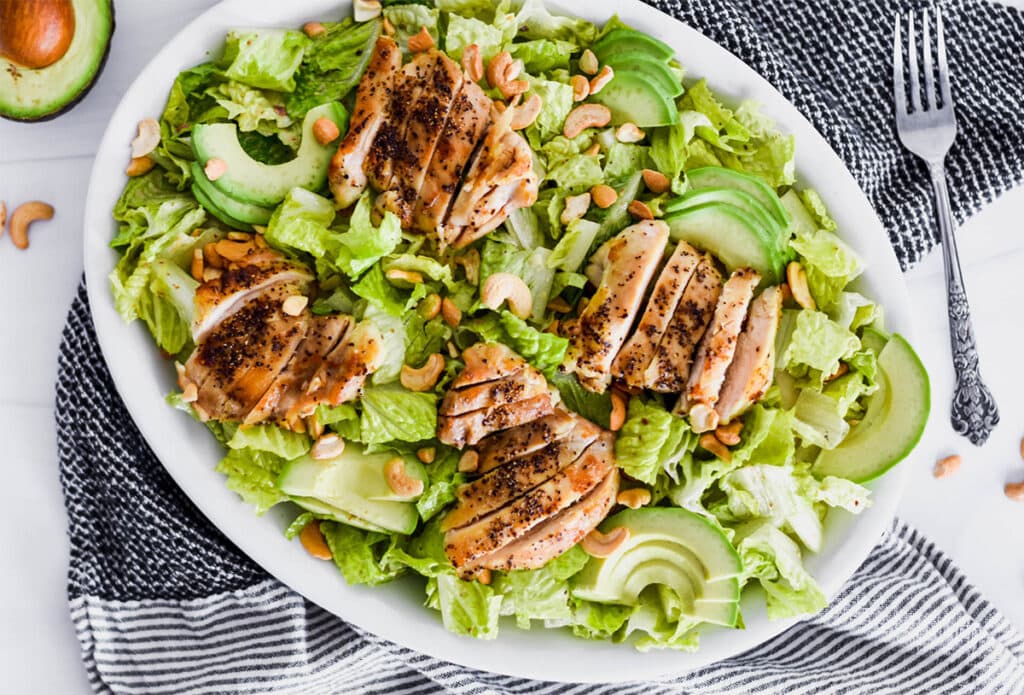 Jump to:
I love a good Caesar salad! It is creamy, crisp and salty, basically the pinnacle of salads. Unfortunately, most Caesar dressing contain things like soybean oil. Caesar salads usually have croutons, parmesan cheese and aren't normally paleo-friendly.
I am here to tell you CAN have it all! This Caesar salad is gluten-free, dairy-free, and 100% paleo. All the flavor and none of the unhealthy ingredients.
Making Whole30 Caesar Dressing
Traditional Caesar dressing is made with parmesan cheese, egg yolks, oil, lemon juice, anchovies, garlic, Worcestershire sauce, salt and pepper.
In this Whole30 Caesar Dressing recipe we skip the egg yolks and go for avocado oil mayo because it adds a nice element of creaminess and contains egg yolks already.
Obviously, no cheese is used in this recipe. Instead we use nutritional yeast to give it a dairy-free "cheesiness".
In place of the Worcestershire we use coconut aminos which gives it a umami flavor but without the sugar. I added Kalamata olives to this recipe even though they aren't in traditional Caesar dressing because the salty, savory notes really contributes to the depth of flavor.
Here is exactly what you will need for this Whole30 Caesar Dressing:
Finely mince the olives and garlic. Combine all ingredients in a bowl and whisk together. You could also use a bullet blender and pulse until smooth. That's it, easy paleo Caesar dressing!
What Is In This Paleo Caesar Salad?
Whole30 Caesar Dressing
See above! This dairy-free Caesar dressing has all the creaminess and flavor elements that we love!
Crispy, Flavorful Pan Fried Chicken Thighs
Grilled chicken breast in salads is so over played. Chicken thighs are more budget friendly and taste SO good pan fried and chopped up on a salad.
The fat from the dark meat helps get them nice and crispy without much extra oil, making them the ultimate healthy alternative to fried chicken!
Crisp Romaine Lettuce
Is a Caesar salad without romaine lettuce really a Caesar salad? Not in my book. The crisp, fresh romaine really adds an element to the salad that can't be done by other greens.
Crunchy Roasted Cashews
Instead of croutons, this crunchy roasted cashews keep the texture of the salad interesting and fun. Trader Joe's just came out with Garlic Plantain Croutons which would be another phenomenal paleo-friendly crouton substitution. Even crushed, salty plantain chips would be great (just check the ingredients to make sure they are fried in a paleo-approved oil).
Creamy Avocado
The rich and creamy avocado acts as a swap for shaved parmesan. Plus, healthy fats!!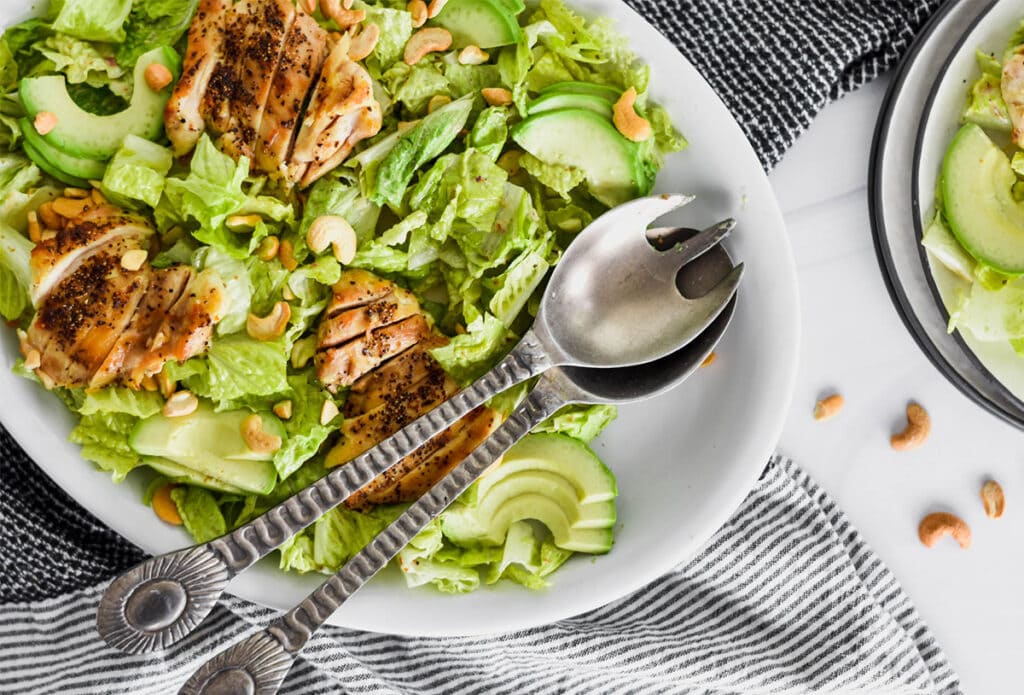 Possible Substitutions
Avocado oil mayo can be swapped for coconut oil mayo or olive oil mayo, just be sure to check the ingredients to make sure it is made 100% from a paleo-friendly oil. Some brands like to pull a quick one, banking on the fact that most people don't check the ingredients.
If you can't get your hands on kalamata olives this ingredient can be skipped (it only plays a minor role in the recipe) or substituted for something like capers!
A nut-free and tasty options to replace the cashews would be crushed plantain chips! Just make sure they are fried in coconut, palm or avocado oil.
Related Recipes
Did you try this Whole30 Caesar Salad? I would love to see your creations! Take a photo and tag me on Instagram or leave a photo comment on Pinterest.
Feel free to leave a comment and a rating below. Feedback is always appreciated! 😊
📖 Recipe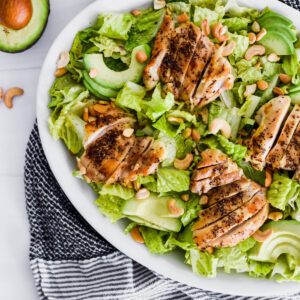 Whole30 Chicken Caesar Salad
This crisp and creamy Whole30 Chicken Caesar Salad is everything you love with the dairy, gluten or vegetable oil!
Equipment
Knife

Cutting board

Frying pan
Ingredients
Salad
¼

cup

Cashews

Roasted

1

Avocado

Large and ripe

3

Heads of romaine
Instructions
Chicken
Flatten out the chicken thighs and lay on a cutting board. Sprinkle with salt on pepper on both sides.

Heat a frying pan over medium heat with a little bit of cooking oil. Once pan is hot lay the chicken thighs down flat on the surface of the pan. Allow chicken to brown and the flip and cook on the other side, about 5-7 minutes per side. Chicken should be crispy on the outside and cooked through on the inside.

Remove from pan. Slice into strips and set aside.
Whole30 Caesar Dressing
Peel and mince garlic. Finely minced olives.

Combine all ingredients for dressing into a small bowl and whisk together. Set aside.
Salad
Chop the romaine heads throwing out the ends. Peel and slice the avocado.

In a large salad bowl, combine lettuce with dressing. Start with a little when you add the dressing to the salad, you can always add more. You want the lettuce covered but not soggy.

Top salad with sliced chicken, roasted cashews and sliced avocado and serve.
Notes
** Be sure to choose an avocado oil mayo that you have tried and love. You will be able to taste the mayo in the dressing so if you don't like the flavor of the mayo you will not love the dressing.
Nutrition
Serving:
1
salad
Calories:
686
kcal
Carbohydrates:
11
g
Protein:
32
g
Fat:
58
g
Saturated Fat:
12
g
Trans Fat:
1
g
Cholesterol:
174
mg
Sodium:
1232
mg
Potassium:
766
mg
Fiber:
5
g
Sugar:
1
g
Vitamin A:
2068
IU
Vitamin C:
8
mg
Calcium:
44
mg
Iron:
3
mg