This rich and flavorful Whole30 Zuppa Toscana is the perfect easy weeknight meal. This recipe is one of my favorite things to make on a cold and rainy day. Dairy free, gluten free and incredibly satisfying, I think you will enjoy it as much as I do!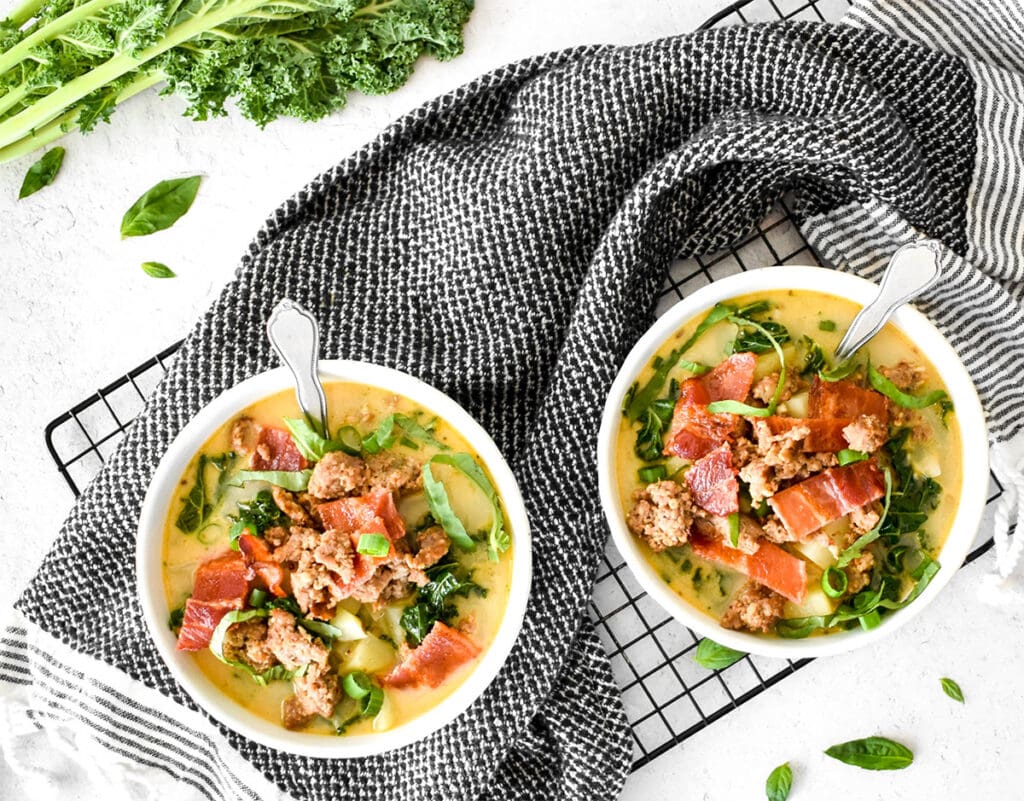 Jump to:
What Is Zuppa Toscana?
Zuppa Toscana simply translated means Tuscan soup. This soup comes in many variations but was made popular in the US by the Olive Garden Restaurant chain.
This recipe for Whole30 Zuppa Toscana is similar to the Olive Garden recipe but made dairy free and with more wholesome ingredients.
Are Potatoes Paleo?
The great debate! This really comes down to personal preferance and tolerance. I choose to include potatoes in my diet, and potatoes are 100% Whole30 compliant, but if you have issues with carb tolerance or nightshades than they might be worth avoiding.
For more info, read my post: Are Potatoes Paleo?
If you do not choose to include potatoes in your diet, a good substitute for the russet potatoes used in this recipe would be white sweet potatoes. The end result will be slightly different but still very tasty.
For those looking for a lower carbohydrate option, you could chop a head of cauliflower, roll in avocado oil and salt and roast for 20-25 minutes or until browned at 425 degrees F. Add this to the soup towards the end to replace the potatoes.
Where Can I Find Whole30 Complaint Bacon and Sausage?
Stores are starting to carry more Whole30 approved brands, but not all will. Be sure to read labels! Most conventional bacon and sausage will have sugar and additives not allowed on the diet.
The following brands carry some Whole30 friendly options: Applegate Farms, 365 Whole Foods Brand, Teton Waters, Pedersons, and Wellshire.
You can also order Whole30 complaint bacon and sausage from US Wellness Meats, Butcher Box and White Oak Pastures.
Making your own sausage using ground pork can be very simple and tasty. For an easy homemade sausage recipe check out my Whole30 Italian Sausage.
Where Can I Find Whole30 Compliant Broth?
Broth is one of those foods that you assume would have a simple ingredient list across the board, unfortunately, that is not the world we live in. Even store bought bone broth can have unwanted ingredients like sugar, strange additives and things you can't pronounce.
Making bone broth at home is always a safe way to go, and so flavorful! If you are like me, A.K.A. a little lazy and a little short on time, store bought is sometimes a necessity. I like to buy from Kettle and Fire for a Whole30 friendly broths. Both their original line and keto line are Whole30 approved.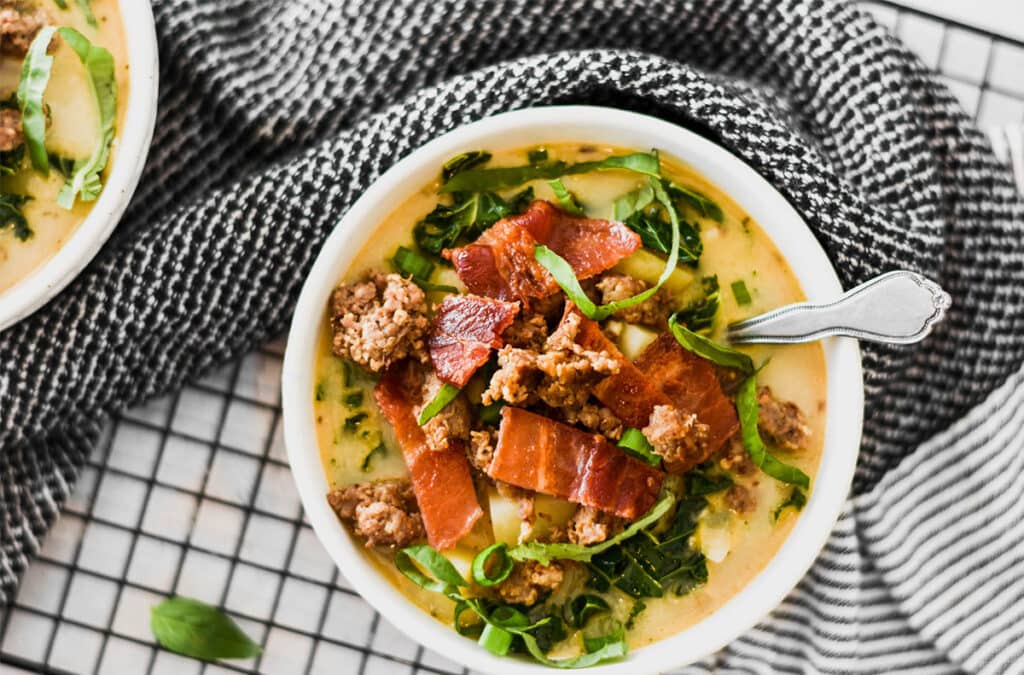 Tips For Making Whole30 Zuppa Toscana
Chopping the bacon using kitchen scissors is helpful. I like the chop the bacon and then fry it because it usually comes out better and is easier to cook.
Don't dump all the bacon and/or sausage fat. The pork fat helps add a level of richness to the soup that would otherwise be missing without dairy. I like to keep about 2-3 tbsp. of fat after the meat is done cooking and use that to sauté the onions in.
For a lower carb version, you could roast cauliflower and substitute that for the potatoes.
Add the kale about 10 minutes before the soup is finished to prevent it from wilting too much.
Storing This Soup
This recipe can be stored safely for about 5 days in the fridge. If you want to make and store for longer, I suggest freezing. Just pour the cooled soup into a large airtight container and freeze for up to 1 month. Thaw in the fridge the day before using.
In both situations I would recommend storing the bacon and sausage separately and not in the soup. This allows the bacon and sausage to remain flavorful.
Related Recipes
Did you try this Whole30 Zuppa Toscana? I would love to
see your creations! Take a photo and tag me on Instagram or leave a
photo comment on Pinterest.

Feel free to leave a comment and a rating below. Feedback is always
appreciated! 😊
📖 Recipe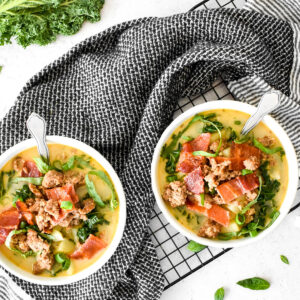 Whole30 Zuppa Toscana
This Whole30 Zuppa Toscana is a rich and flavorful soup that can be whipped up in a quick weeknight meal.
Equipment
Knife

Cutting board

Stock Pot

Ladle
Ingredients
Toppings
4

Green onions, diced

Optional

¼

cup

Fresh basil, shredded

Optional
Instructions
Chop the bacon in to 1 inch pieces. Cook in stock pot until they become crispy.

Spoon out the bacon and place on some folded paper towels to absorb excess grease and set aside.

Leave the bacon grease in the pan and add the sausage. Break up the sausage into small pieces and brown completely.

Spoon out the sausage and place on folded paper towels and set aside.

Remove excess pork fat from the pot leaving only about 2-3 tbsp.

Dice the onion and add to the pork fat. Reduce the heat slightly and cook until the onion starts to become fragrant and translucent.

Add the minced garlic to the pot. Sauté for about 1 minute.

Pour the broth into the pot.

Peel and dice the potatoes into about ½ inch cubes. Destem the kale and chop. Add the potatoes to the pot. Stir in salt and spices.

Allow potatoes to cook for about 10 minutes then add the kale. Allow to cook for another 5-10 minutes or until potatoes pierce easily with a fork. Remove from heat and stir in coconut milk.

Allow soup to cool a little before serving to help it thicken. Top with diced green onions, shredded basil, sausage and bacon.
Nutrition
Serving:
1
cup
Calories:
452
kcal
Carbohydrates:
22
g
Protein:
15
g
Fat:
35
g
Saturated Fat:
17
g
Cholesterol:
54
mg
Sodium:
682
mg
Potassium:
836
mg
Fiber:
2
g
Sugar:
1
g
Vitamin A:
3916
IU
Vitamin C:
52
mg
Calcium:
102
mg
Iron:
4
mg