We all know peanut butter and chocolate is the most perfect combo. These Healthy Peanut Butter Eggs are free of refined sugar, made of simple, gluten-free ingredients and have collagen for added benefits!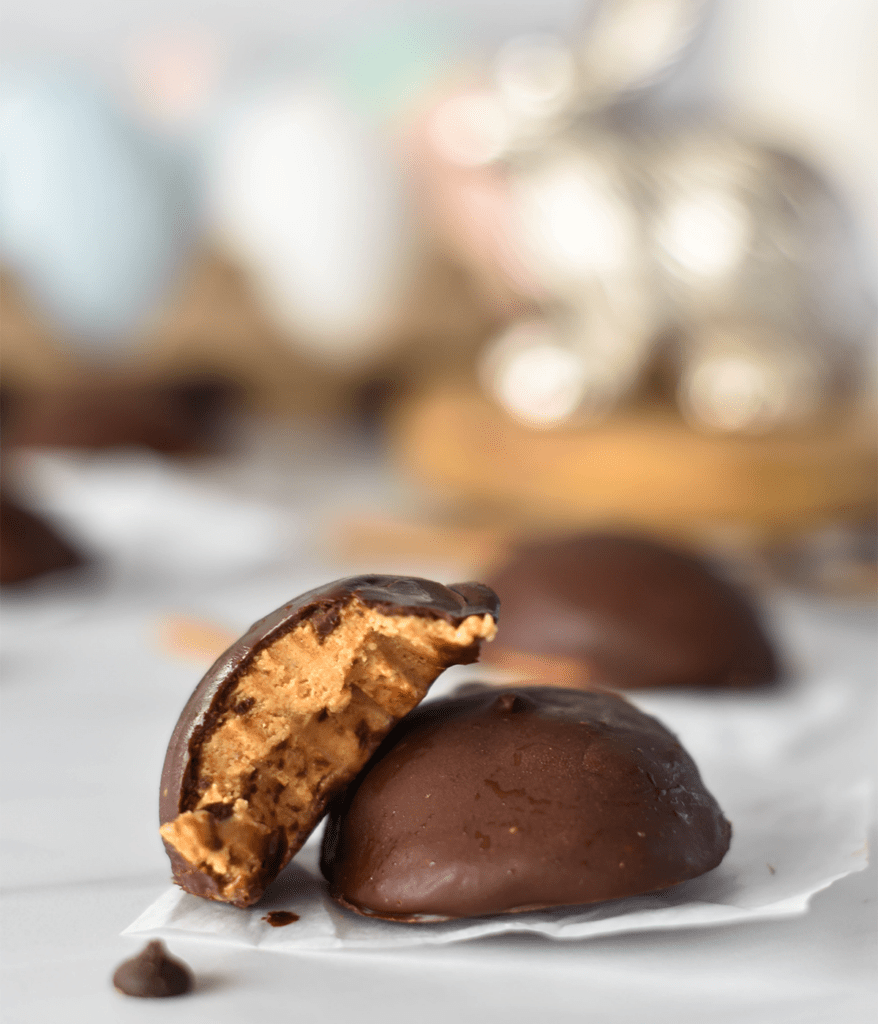 Jump to:
To say I am a peanut butter lover would be an understatement. Peanut butter recipes are one of my favorite to recipe test because I get to snack on peanut buttery treats for months.
This year I made these healthier peanut butter eggs and a similar, lower carbohydrate Keto Peanut Butter Egg recipe. Needless to say my freezer is full of peanut butter eggs, and I am very satisfied with my life decisions right now.
What Makes These PB Eggs Healthier?
Free of Refined Sugar
These healthier peanut butter eggs are made with coconut sugar instead of processed sugar. They are also lower in carbohydrate than traditional Reese's Eggs, especially if you make them with Lily's and Bake Believe stevia sweetened chocolate!
Collagen
I love using collagen in my sweet treats! Collagen adds some protein to this recipe and also some beneficial amino acids like proline and glycine. It is an important component in our soft tissues and supplementing can support the integrity of our gut, skin and joints!
No Funky Stuff
This recipe requires 6 simple ingredients! That is it! No weird additives. Nothing that looks like it belongs in a chemistry lab. Just good, old fashioned real food ingredients.
Ingredient Notes
Peanut Butter
I highly recommend using  Laura Scudder's, Adam's, Smucker's Natural, or Santa Cruz Organics. These brands have a super peanut-y, toasty flavor and are a little more salty which I love. They also have the right texture that when mixed with the collagen creates the perfect peanut butter filling.
Definitely choose a brand that contains only peanuts or peanuts and salt.
Chocolate
I like Lily's and Bake Believe stevia sweetened chocolate chips. I am partial to milk chocolate or white chocolate in this recipe, but use your favorite type of chocolate. Semisweet and dark chocolate would also work if that is your preferrance.
Collagen
Select a grass-fed collagen protein powder. Right now I am using one from Anthony's which I love because it is so dang affordable.
Any unflavored collagen powder should work in this recipe.
Recipe Tips
Freeze the eggs! Freezing the peanut butter mixture after you have scooped it in to balls will help you mold them in to eggs, you only need to freeze it for about 5-10 minutes. You don't want them to harden completely quite yet. Freezing the eggs again (once molded) for at least 15 minutes will help prevent the peanut butter from melting in the warm chocolate.
Shake off the extra chocolate. Use a fork to dip the eggs. Tap the bottom of the fork on the edge of the chocolate bowl several times. The chocolate will drain through the tines. This will help get your chocolate to peanut butter ratio just right. Very important.
Store in the fridge or freezer. Your chocolate will melt at room temperature, especially in the summer. Pop these PB eggs in an airtight container, separate the layers with parchment paper and store in the fridge or freezer. If storing in the freezer, allow the eggs to thaw for several minutes at room temp before enjoying.
Related Recipes
Did you try these Keto Reese's Cups? I would love to see your creations! Take a photo and tag me on Instagram or leave a photo comment on Pinterest.
Feel free to leave a comment and a rating below. Feedback is always appreciated! 😊
📖 Recipe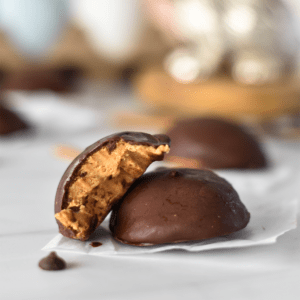 Healthy Peanut Butter Eggs
These healthy peanut butter eggs pair chocolate, peanut butter and collagen for the perfect Easter treat.
Equipment
Whisk

Mixing bowl

Parchment paper

9x5 baking dish
Ingredients
Chocolate Shell
5

ounces

Chocolate chips

I used Lily's

1

tbsp

Coconut oil
Instructions
Combine ingredients for filling in a large mixing bowl. Combine all ingredients in a bowl. Mix together with a whisk until; the mixture is smooth and lump-free.

Lay down a piece of parchment paper or wax paper on half sheet pan. Using a ½ ounce scoop, begin scooping out the mixture into balls and laying them on the parchment paper. Once you have scooped out all the mixture, place the sheet pan back into the freezer for another 10 minutes or until the mixture is cold enough to mold. If your mixture is not thick enough to scoop, you may need to freeze or add more collagen powder (the texture will vary based on the type of peanut butter you use).

Once the balls have hardened enough to mold, pinch one end to form an egg shape and then flatten on the parchment paper. Repeat for all the balls. Place the peanut butter eggs back in the freezer while you prepare the chocolate. You want the eggs to be fairly frozen before dipping them in the chocolate.

Once the eggs are firm and frozen, melt the chocolate and coconut oil in a microwave safe bowl in the microwave for 15 seconds intervals. Take the bowl out and mix the chocolate and microwave again for 15 seconds until the chocolate comes out smooth.

Dip the peanut butter eggs in the bowl of chocolate. Use a spoon to pour the chocolate over the tops. With a fork, remove the egg, tap the fork on the side of the bowl to remove excess chocolate and then place carefully back on the parchment paper lined backing sheet.

Place finished eggs in the freezer to harden the chocolate. Store uneaten peanut butter eggs in an airtight container in the fridge or freezer to prevent them from softening at room temp. Thaw for 5 minutes before enjoying.
Nutrition
Serving:
1
piece
Calories:
140
kcal
Carbohydrates:
7
g
Protein:
7
g
Fat:
10
g
Saturated Fat:
4
g
Sodium:
65
mg
Potassium:
94
mg
Fiber:
1
g
Sugar:
5
g
Vitamin A:
1
IU
Vitamin C:
1
mg
Calcium:
44
mg
Iron:
1
mg