These Keto Peanut Butter Eggs are the perfect Easter treat to enjoy without loading up on carbs. This recipe is a Reese's Egg copycat recipe with a healthy twist. These tasty peanut butter eggs have more protein, no sugar and only a handful of ingredients!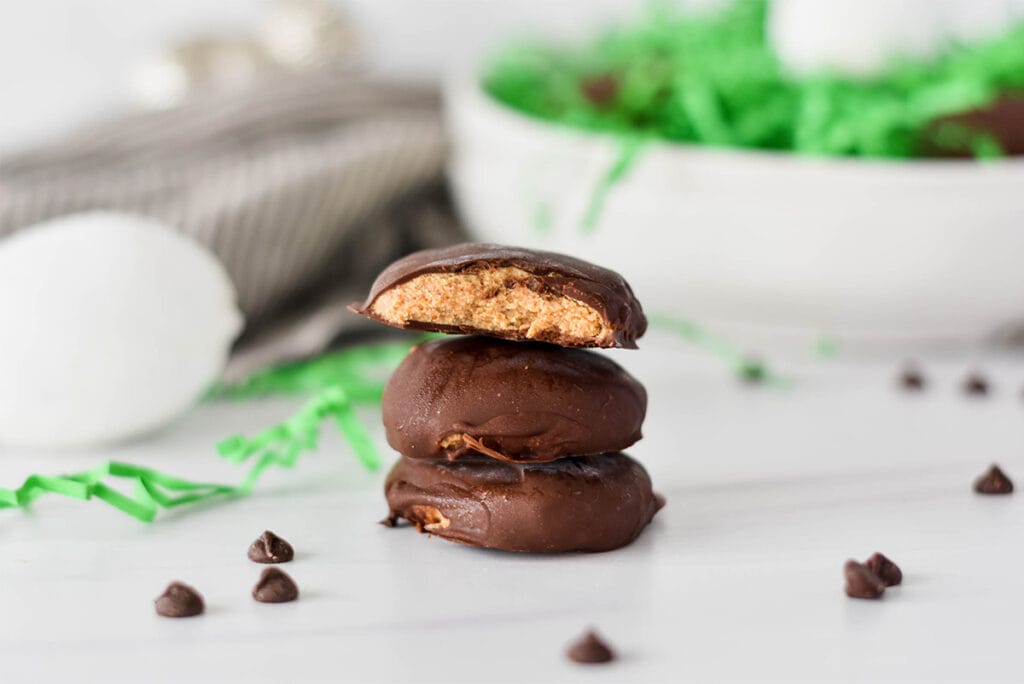 Jump to:
What I Love About This Recipe
It is rare that you get to have your cake and eat it to. That is the case with these Copycat Reese's Eggs. This low carb version allows you to enjoy your holiday favorite while still meeting your macronutrient goals.
Not only is this recipe low in carbohydrate, with only 4 grams of net carbs per serving. It also has 8 grams of protein!
These peanut butter eggs are not just an empty calorie treat. You can actually feel good about them and trust that they won't spike your blood sugar.
Ingredient Notes
Sweetener
I have used Truvia Confectioner's and Lakanto powdered Monk Fruit Sweetener in this recipe. Use whatever powdered sweetener you prefer, just make sure it is a 1:1 sweetener, meaning it replace sugar in a 1:1 ration.
Peanut Butter
If you don't already know now that I am partial to a few select brands of peanut butter, well, I am. My favorites are Laura Scudder's, Adam's, Smucker's Natural, or Santa Cruz Organics. These brands have a super peanut-y, toasty flavor and are a little more salty which I love. They are also lower in carbohydrate.
Use whatever peanut butter you want, but definitely a brand that contains only peanuts or peanuts and salt.
Butter
Get the good stuff! Getting grass-fed dairy is where it is at. Not only does it taste better but it is better for you. Grass-fed dairy is richer in omega-3's and fat-soluble vitamins like vitamins A, E and K2.
Vitamin A plays an important role in skin, vision, reproductive and immune system health. Vitamin E acts as an antioxidant. But, the most important factor is the vitamin K2.
Vitamin K2 supports bone and cardiovascular health, and is not found in high quantities in grain-fed cattle. The cattle get K1 from the grass and covert it to the form K2. K1 is absent from the diets of grain-fed cattle.
The important benefit of K2 in conjunction with calcium is that it increases the utilization and binding of calcium. Excessive calcium that is not utilized in the body has been shown to cause calcification of the soft tissue, including arteries. Because K2 activates calcium binding proteins, it prevents excess calcium from floating around in the blood stream.
Totally worth an extra quarter or two at the store!
Chocolate Chips
I like Lily's and Bake Believe low carb chocolate chips. I prefer milk chocolate or white chocolate in this recipe, but use your favorite type of chocolate. Semisweet and dark chocolate works well too!
Note that the sweeter the chocolate chips are that you select, the less sweetener you will want to put in your peanut butter filling.
Recipe Tips
Don't Skip Hardening in the Freezer!
The peanut butter filling is going to be too soft to mold unless it has some time to harden in the freezer. To scoop the dough, 5 minutes is sufficient (if it stays in too long it will be difficult to scoop).
Once you have scooped out the peanut butter filling in to balls, freeze for another 10 minutes before you form them into eggs.
After you mold the eggs, freeze again before you dip in chocolate. It is a pain if your peanut butter is melting in to the chocolate. TRUST ME. Freeze the eggs for at least 10 minutes. The harder they are the easier they will be to dip!
Add Sweetener and Salt to Taste
I gave the amounts I used in this recipe, but everyone likes a different level of sweet to salt ratio. My perfect peanut butter eggs have 4 tbsp. of sweetener and ¼ tsp. of salt (in addition to salted peanut butter and butter because I like things salty!).
Taste you peanut butter filling and adjust the level of sweetness/saltiness to your own tastes for best results!
Related Recipes
Did you try these Keto Peanut Butter Eggs? I would love to see your creations! Take a photo and tag me on Instagram or leave a photo comment on Pinterest.
Feel free to leave a comment and a rating below. Feedback is always appreciated! 😊
📖 Recipe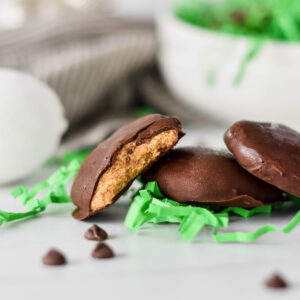 Keto Peanut Butter Eggs
This healthier alternative to the Reese's egg makes the perfect low carb, protein packed holiday treat.
Equipment
Whisk

Mixing bowl

Sheet pan

Cookie scoop

Parchment or wax paper
Ingredients
Filling
½

cup

Peanut butter

Unsweetened

1

tbsp

Butter

Softened

3-4

tbsp

1:1 Powdered Sugar Substitute

I used Truvia confectioners

25

grams

Unflavored whey protein powder

About ¼ cup (measurements for protein powders other than unflavored whey will vary)

¼

tsp

Salt

Or to taste (use more or less depending on if your PB and butter are salted)
Chocolate Shell
½

cup

Chocolate chips (I like milk or white chocolate in this recipe)

Lily's or Bake Believe work well!

½

tbsp

Butter
Instructions
Combine ingredients for the filling in a large mixing bowl. Make sure butter is properly softened but not melted. Mix together using a whisk. Place in freezer for about 5 minutes before scooping.

Lay down a piece of parchment paper or wax paper on sheet pan. Using a ½ ounce cookie scoop, begin scooping out the mixture and plopping them on the parchment paper. Once you have scooped out all the mixture, place the sheet pan back into the freezer for another 10 minutes or until the balls harden enough to mold.

Once the balls have hardened, pinch one end of the ball to form an egg. Repeat for all. Place the peanut butter eggs back in the freezer for another 15 minutes.

Once the eggs have hardened, prepare the chocolate. Melt the chocolate and butter in a microwave safe bowl in the microwave for 15 seconds intervals. Take the bowl out and mix the chocolate and microwave again for 15 seconds until the chocolate comes out smooth.

Dip the peanut butter eggs in the bowl of chocolate using a spoon to pour the chocolate over the tops. With a fork, remove the egg, tap the fork on the side of the bowl to remove excess chocolate and then place carefully back on the parchment paper lined backing sheet. This will work best if the peanut butter eggs are hard when coming out of the freezer.

Place finished eggs back in the freezer one more time for the chocolate to harden. Store uneaten peanut butter eggs in an airtight container in the fridge or freezer to prevent them from softening at room temp.
Nutrition
Serving:
1
egg
Calories:
187
kcal
Carbohydrates:
8
g
Protein:
8
g
Fat:
15
g
Saturated Fat:
6
g
Trans Fat:
1
g
Cholesterol:
12
mg
Sodium:
194
mg
Potassium:
131
mg
Fiber:
4
g
Sugar:
2
g
Vitamin A:
84
IU
Calcium:
20
mg
Iron:
1
mg