As a Washington girl to my core, Fall is among my favorite of things. This Paleo Apple Pecan Salad with Apple Cider Dressing screams Fall. The sweet and tart flavors from the apple paired with toasted pecans and cranberries make for the perfect addition to your meal.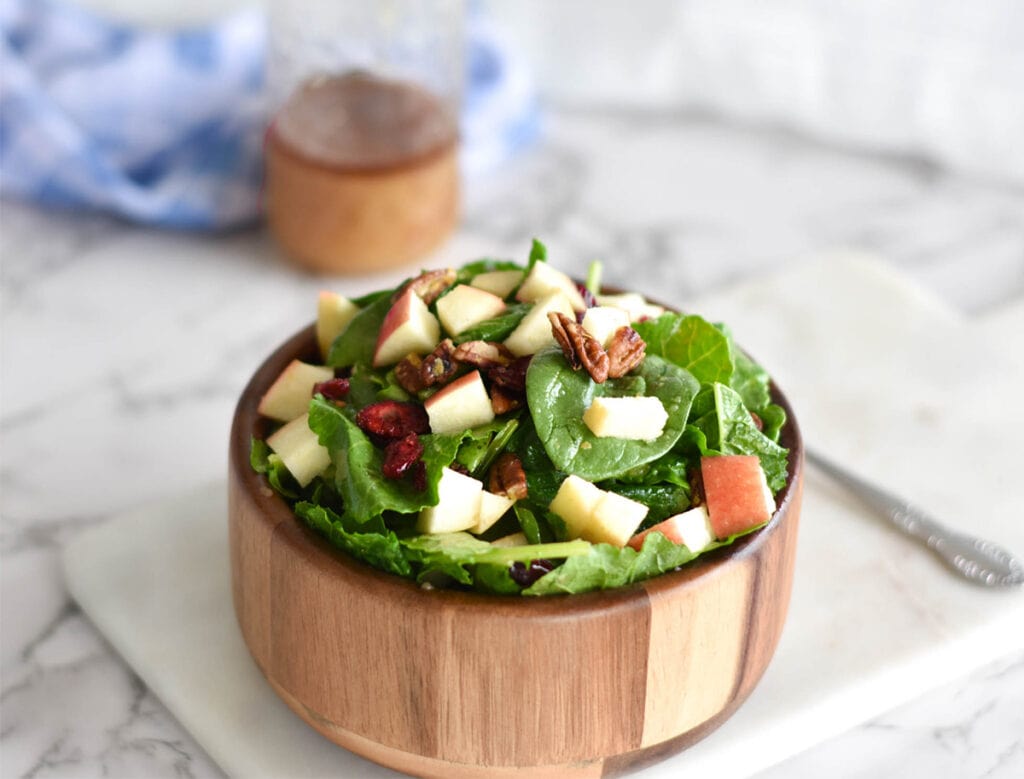 Jump to:
Now, my friends, I am not much of a dressing person but this Apple Cider Dressing is to die for. I am usually satisfied doing a little olive oil or avocado oil on some spinach with a little S&P and calling it good. But, the Fall flavors in this dressing are outstanding and make me second guess my minimalist approach to salad dressing all these years.
We create the perfect "cheesy" pecans by toasting them with nutritional yeast and salt. Throw on some sweet and tangy apples and cranberries and we got ourselves a healthy and flavorful Autumn salad.
Not All Salads Are Created Equal
You will find a Fall apple salad on many menus this season. Just because it has fruit and veg in the photo doesn't necessarily make it healthy. I am not trying to steer you away from choosing salad options when going out, because it might, in fact, be better than option on the menu. I just want you to select your meal wisely, or at least be informed.
Check the nutrition labels and ingredients before committing to a restaurant salad. You might be surprised what you find on there.
While an apple pecan salad from a restaurant may look paleo-friendly at first glance, it likely contains ingredients like soybean oil, a surprising amount of sugar or strange additives that look like they were written in a foreign tongue.
The best way to avoid these nutrition hiccups is planning ahead. This paleo apple pecan salad is simple to make, nutritious and will certainly scratch that apple salad itch. No refined sugar is used in this recipe and we opt for only high quality monounsaturated olive oil.
This salad is diary free and has real ginger for it's anti-inflammatory properties, along with cinnamon to support blood sugar control. We only use two tbsp. of maple syrup for a whopping 6 cups of greens. This is a salad you can feel good about.
Is Wendy's Apple Pecan Chicken Salad Healthy?
As a dietitian, this salad from Wendy's is not the worst thing you can have on your plate. The protein content of this salad is respectable at 39 grams and it is not an insane amount of calories like many salad options from chain restaurants. It is also a quick way to get in some greens which, for most Americans, might be a win.
What I dislike about this salad is the amount of sugar. This salad clocks in at 41 grams of sugar which is quite high. Some is natural sugar from the apples but most of it is added sugar.
The chicken contains a wide variety of gums and stabilizers which seem unnecessary and make me a little uncomfortable. In particular, carrageenan, which has been linked to cancer and IBD. I will point out that the studies on this additive may not be hard evidence. They have only been done on animals and isolated cells. While I don't think eating this salad once in a while is going to cause cancer, sometimes it is just best to steer clear of questionable ingredients.
As I would have expected, there is soybean and canola oil used. I would not recommend consuming either of these oils to the extent that you can avoid them.
Many of the other ingredients would not be appropriate for a paleo diet. And, even without the chicken or the cheese, this Wendy's salad would not be appropriate for a vegan diet because the pecans too contain a milk ingredient.
Ingredients for Wendy's Apple Pecan Salad
Here are the ingredients I took from the Wendy's site:
Salad Blend
Romaine Lettuce, Apple Chunks (Apples, Calcium Ascorbate [To Maintain Freshness And Color]), Spring Mix, Dried Cranberries (Cranberries, Sugar, Sunflower Oil).
Grilled Chicken Breast
Chicken Breast, Water, Seasoning (Salt, Natural Flavors, Corn Maltodextrin, Dextrose, Spices, Dehydrated Garlic Powder, Dehydrated Onion Powder, Paprika, Gum Arabic, Yeast Extract, Canola Oil, Sodium Citrate, Sugar), Potato Starch, Carrageenan, Xanthan Gum, Soy Lecithin.
Blue Cheese Crumbles
Blue Cheese (Pasteurized Milk, Cheese Cultures, Salt, Enzymes, Penicillium Roqueforti), Anti-Caking Blend (Powdered Cellulose, Natamycin).
Pomegranate Vinaigrette Dressing
Water, Sugar, Pomegranate Juice Concentrate, White Wine Vinegar, Soybean Oil, Orange Juice Concentrate, Balsamic Vinegar, Distilled Vinegar, Salt, Extra Virgin Olive Oil, Orange Flavedo (Orange Peel, Sugar, Orange Oil), Shallots, Xanthan Gum, Natural Flavor, Spice.
Roasted Pecans
Pecans, Sugar, Honey, Corn Starch, Calcium Stearate (Anti-Caking Agent), Soy Lecithin, Maltodextrin, Lactose (From Milk), Xanthan Gum, Soybean Oil, Sea Salt, Cayenne Pepper.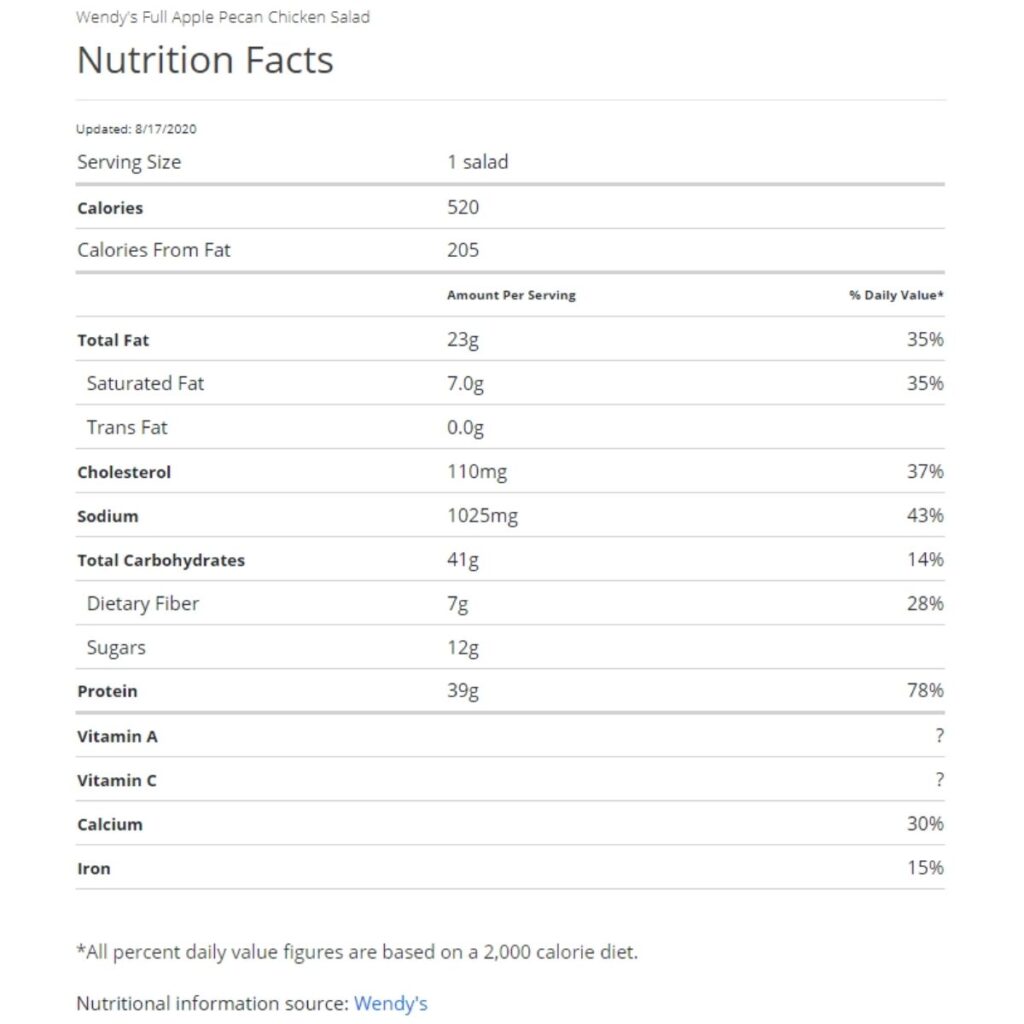 How To Meal Prep This Recipe
This Paleo Apple Pecan Salad can make an easy week day lunch meal prep! I would suggest grilling or pan frying 4 chicken breasts to make this a more filling meal. You could also use the shredded chicken from my Instant Pot Shredded Chicken recipe for a simple solution.
Make the recipe as described in the recipe card below but do not combine anything.
You will need 5 containers or Ziploc bags for each component:
Greens
Pecans and cranberries
Dressing
Apple
Chicken (if making)
Keep each ingredient separate to prevent anything from getting soggy while in the fridge. I recommend chopping up the chicken ahead of time. This will be helpful when you are at work or school without a proper knife. Another good tip would be to use split meal prep containers to limit the number of containers you are juggling.
For each salad, pair up 1 chicken breast (if using), 1.5 cups of greens, ¼ apple, 2 tbsp. pecans, 2 tbsp. of cranberries and as much dressing as you need. Enjoy salad within 2-3 days of preparing. The chopped apple will begin to brown around 2 days.
How To Make The Apple Cider Dressing
This easy, paleo friendly Fall dressing is simple to make. In a bowl, whisk together the following ingredients:
You can store this dressing in an airtight container in the fridge for at least 1 week. Set on the counter for 5 minutes to allow olive oil to get to room temp again and give it a good stir before using.
How To Make "Cheesy" Toasted Pecans
Heat two tsp. of extra virgin olive oil in a frying pan of low medium heat. Olive oil has a lower smoke point so you don't want it to get too hot. Add the ½ cup of pecans and top with ⅛ tsp. pink Himalayan salt and 2 tsp. nutritional yeast. Stir with a wooden spatula to coat pecans.
Allow pecans about 4-5 minutes to toast, stirring regularly. Do not let them burn. Once you notice a warm and fragrant smell coming from the pan, remove from heat. They do not need to change color to be toasted.
Possible Substitutions
Maple Syrup - Maple syrup is preferred due to the flavor and viscosity, but you could also try honey.
Extra Virgin Olive Oil - If you don't have olive oil you could substitute avocado oil in a pinch.
Apple Cider Vinegar - If you are out of ACV, substitute 1 tbsp. of balsamic vinegar in this dressing.
Ginger Paste - You could use fresh ginger but it must be VERY finely chopped or pressed to incorporate evenly in the dressing. Ginger paste is the easier and better option in this case.
Baby Kale - Mixed baby greens, spring mix or spinach can be used. I would not recommend regular kale as it will be a little tougher.
Honeycrisp Apple - An Opal, Ambrosia or Pink Lady apple would also work in this recipe.
Related Recipes
Did you try this Paleo Apple Pecan Salad? If so, leave a comment and a rating below! I would love to hear from you.
📖 Recipe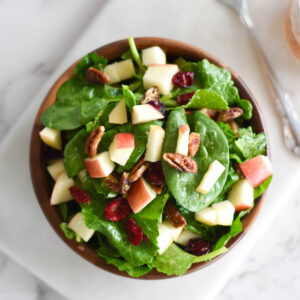 Paleo Apple Pecan Salad
This tasty and healthy salad combined sweet and tart apples, cranberries, toasted pecans and a flavorful apple cider dressing to unite the perfect fall flavors. Add grilled chicken breast to make this a meal.
Equipment
Cutting board

Knife

Mixing bowls

Whisk
Ingredients
Paleo Apple Cider Dressing
Salad
1

Honeycrisp apple

Large

2

cup

Baby kale

About 2 ounces.

4

cups

Spinach

About 4 ounces.

½

cup

Dried cranberries

Apple juice sweetened
Instructions
"Cheesy" Toasted Pecans
In a frying pan, heat 2 tsp of olive oil over low-medium heat. Add pecans, salt and nutritional yeast and stir.

Allow pecans to toast. This will only take up to 5 minutes. Once the pecans start to become fragrant you will want to remove them from the heat. They do not need to change color.

Stir to ensure the nutritional yeast and salt stick to the pecans. Set aside.
Paleo Apple Cider Dressing
Combine all ingredients in a small bowl and whisk together. Set aside.
Salad
Core the apple and chop into ¼ inch cubes.

In a large mixing bowl, add pecans, apple and cranberries. Top with as much of the dressing as you would like. Be conservative at first, you may have more than you will need to use. Taste and add more as needed.

Serve immediately. Store any unused dressing in the fridge for up to 1 week.
Notes
You could omit the kale altogether and use only spinach in this recipe if you would prefer. 
Nutrition
Serving:
1
cup
Calories:
200
kcal
Carbohydrates:
23
g
Protein:
3
g
Fat:
13
g
Saturated Fat:
1
g
Sodium:
172
mg
Potassium:
316
mg
Fiber:
3
g
Sugar:
15
g
Vitamin A:
4123
IU
Vitamin C:
36
mg
Calcium:
68
mg
Iron:
1
mg