These Pumpkin Spice Coconut Chips are the easiest and tastiest Fall (or anytime) treat. Made with simple wholesome ingredients, these coconut chips are paleo, gluten free and kid friendly!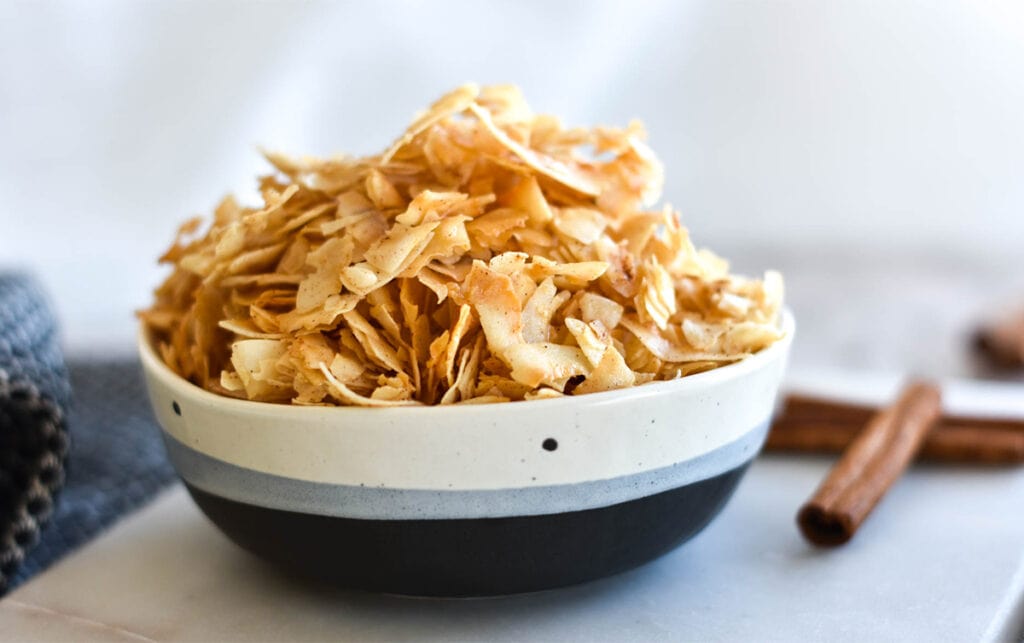 Jump to:
These coconut chips are comparable to the one you can find at the store (i.e. DANG Coconut Chips
). The texture is a little different, but all the deliciousness is all there.
Now why would I make these when I could just buy them from the store? Four words: broke ass collage student. Well, I guess I can't really use that excuse anymore because I am officially done with school, but the broke ass mindset is still there.
Even so, I live for food quality. As a nutrition junkie, I spend more on groceries than I do anything else. And, sometimes Kevin even wants to eat too. Eating high quality, great tasting food is a priority for me but I am also a bargain hunter by nature. So, when I can make a killer treat at home for a fraction of the cost I am all for it.
My favorite part about this treat is that fact that my cupboard usually contains all these ingredients. If a sweet tooth hits me and I don't have anything on hand to nosh on I can whip up these coconut chips in less than 20 minutes.
What Makes These Coconut Chips A Helathy Snack?
The pumpkin spice coconut chips have fiber, medium chain triglycerides, and have a low glycemic index. A low glycemic index means that although these puppies taste super sweet and fantastic they have a very mild effect on your blood sugar. You can thank the healthy fats.
How To Store Homemade Coconut Chips
An airtight container lined with parchment paper is the best storage method I have found. When storing them you want to make sure they have had time to cool and sit out for at least 20 minutes. This will help prevent them from creating condensation in the airtight container and losing their crispness. It is best to keep the coconut chips on the counter and not in the fridge. Enjoy within the first couple days.
How To Make Pumpkin Pie Spice
If you don't have pumpkin pie spice on hand, that is okay! As long as you have some baking spices you may be able to make in a couple minutes at home.
Just mix together 3 tablespoons ground cinnamon, 2 teaspoons ground ginger, 2 teaspoons ground nutmeg, 1 ½ teaspoons ground allspice and 1 ½ teaspoons ground cloves. Label and store in an airtight jar or container.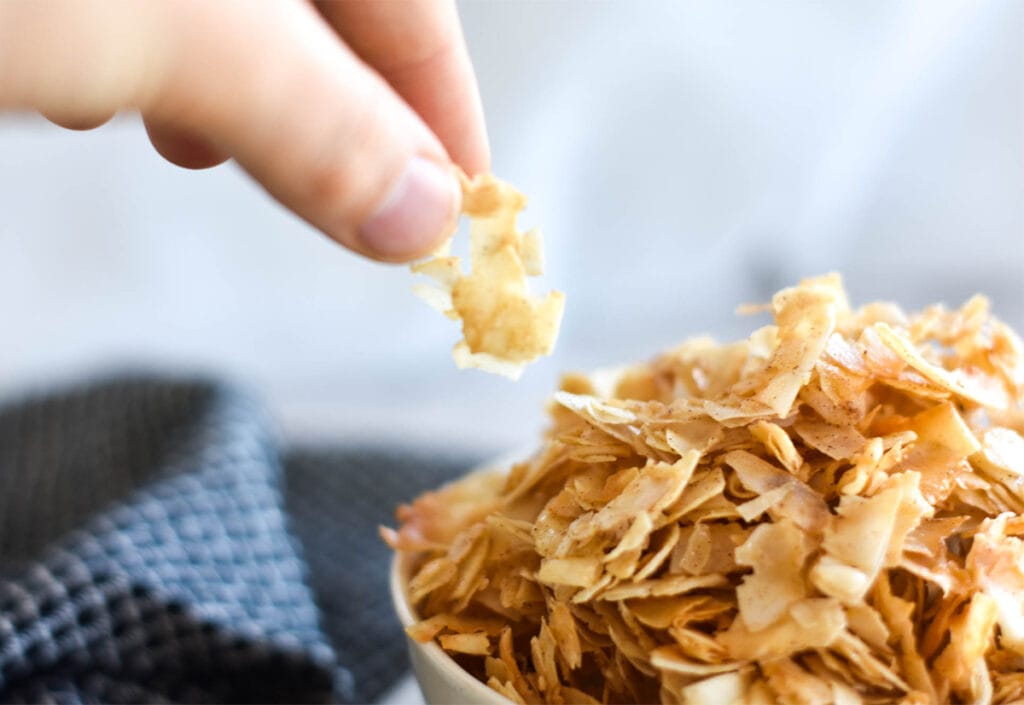 Can I Make This Recipe AIP Complaint?
For those following an autoimmune protocol you can make this recipe AIP compliant with a simple swap. Pumpkin pie spice is not AIP compliant. It contains seed (nutmeg) and berry (allspice) based spices. A simple substitute would be to use ¼ tablespoon of ground cinnamon in place of the pumpkin pie spice in this recipe. All other ingredients are AIP compliant.
Another option would be to make your own AIP pumpkin pie spice with the recipe below!
How To Make AIP Pumpkin Pie Spice
To make AIP pumpkin pie spice simply combine 4 tablespoons ground cinnamon, 2 teaspoons ground ginger, 2 teaspoons ground mace and 2 teaspoons ground cloves in a bowl and mix. Label and store in an airtight container.
Where Do I Find Coconut Flakes?
The type of coconut you use is important. Make sure to use the large coconut flakes not shredded or desiccated coconut. Also, make sure to get raw (not toasted) coconut since we will be toasting it ourselves. The other thing to look for is making sure the coconut flakes you choose are unsweetened.
I usually buy coconut flakes in the bulk section of a health food store. I find this is the cheapest as 2 cups usually costs about $1. Another option is Trader Joe's Organic Unsweetened Coconut Chips which are the largest coconut flakes you'll probably find.
You can find many options on Amazon as well.
Craving Pumpkin? Check Out These Other Pumpkin Recipes!
📖 Recipe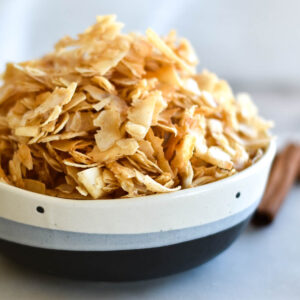 Paleo Pumpkin Spice Coconut Chips
This pumpkin spice coconut chip recipe is the perfect east treat made with wholesome ingredients. Sweet and crunchy with a hint of warm holiday spice.
Equipment
Baking sheet

Parchment paper

Spatula
Instructions
Preheat the oven to 300 degrees F, and line a baking sheet with parchment paper.

Melt the coconut oil for 15-20 seconds in the microwave.

In a large bowl, mix all ingredients until coconut is well covered.

Spread evenly on baking sheet lined with parchment paper and cook for 12 minutes. Take the baking sheet out and flip the coconut halfway through.
Notes
Keep a close eye on the coconut chips while cooking because they burn rather easily. I suggest pulling them out after 10 minutes and allowing a chip to cool and taste testing. In my oven, 12 minutes was about perfect.
Nutrition
Serving:
0.33
cups
Calories:
215
kcal
Carbohydrates:
11
g
Protein:
2
g
Fat:
19
g
Saturated Fat:
17
g
Sodium:
11
mg
Potassium:
169
mg
Fiber:
5
g
Sugar:
6
g
Vitamin C:
1
mg
Calcium:
15
mg
Iron:
1
mg