Toasted Paleo Pumpkin Spice Coconut Chips
This lovely little coconut chip recipe is a fine example of beauty in simplicity. It is packed full of wonderful holiday flavor yet requires no baking skills, hardly any patience, and not a single $20 kitchen gadgets made of medical-grade silicone that you can never seem to find anyway. How's that for a win?
These Toasted Paleo Pumpkin Spice Coconut Chips are comparable to the coconut chips you can buy in the store (i.e. DANG Coconut Chips
). The texture is a little different, but all the deliciousness is all there. Now why would I make these when I could just buy them from the store, you ask? Hello! Four words: Broke-Ass-College-Student. Well, I guess I can't really use that excuse anymore because I am officially done with school, but the mindset is still there. Even so, I live for food quality. As a nutrition junkie, I spend more on groceries than I do on clothing most months, and sometimes Kevin even wants to eat too. Eating high quality, great tasting food is a priority for me, but I am also a bargain hunter by nature so when I can make a killer treat at home for a fraction of the cost I am all for it. And, these Toasted Paleo Pumpkin Spice Coconut Chips are about the easiest thing ever to make.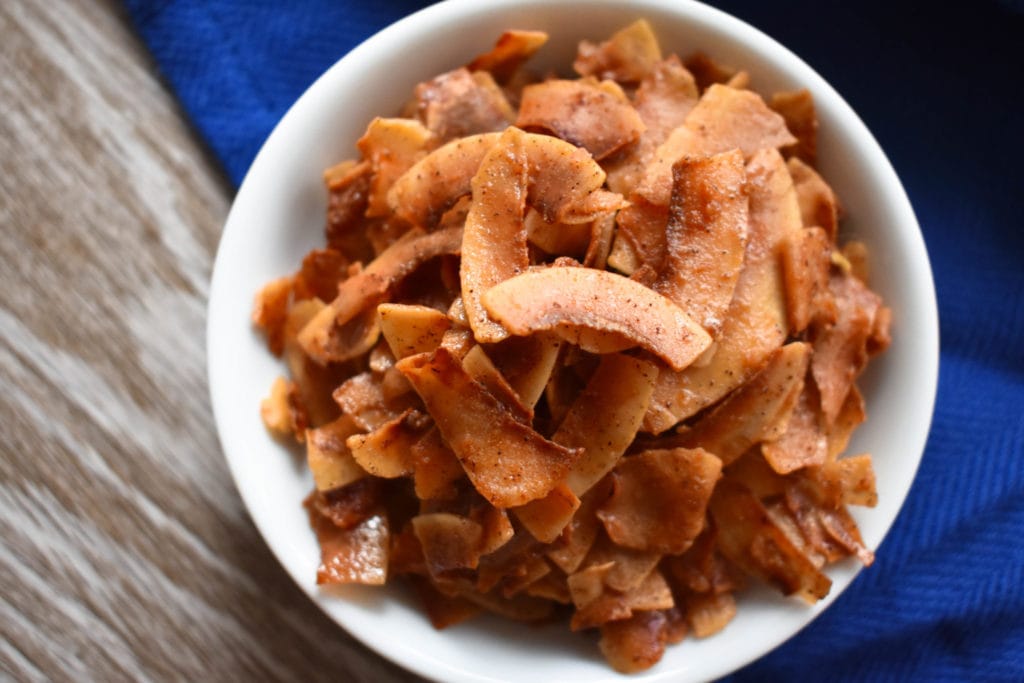 Healthy Treat?
The coconut chips are loaded with fiber, medium chain triglycerides (a healthy fat!), and have a low glycemic index. A low glycemic index means that although these Toasted Paleo Pumpkin Spice Coconut Chips taste super sweet and fantastic they have a very mild effect on your blood sugar. Stable blood sugar levels lead to fewer cravings, and more stable energy.
On-Hand Sweet.
My favorite part about this treat is that fact that my cupboard usually contains all these ingredients, so if a sweet tooth hits me and I don't have anything on hand to nosh on I can whip up these coconut chips in less than 20 minutes, and smash my craving with a healthy treat!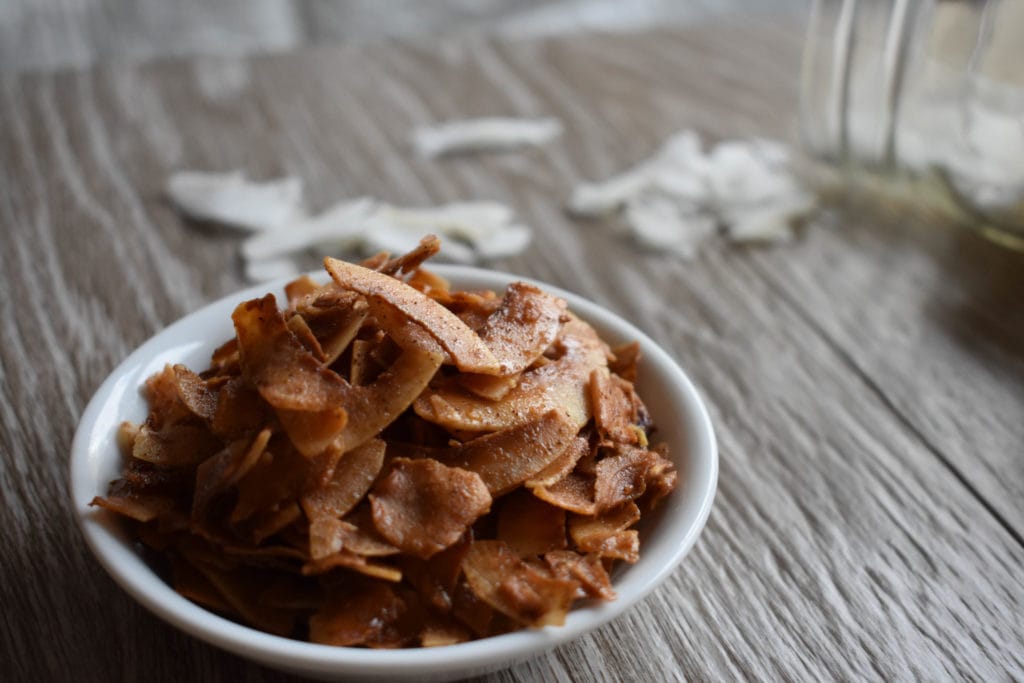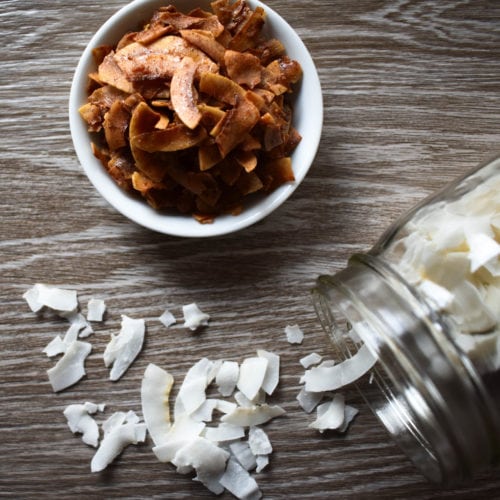 Toasted Paleo Pumpkin Spice Coconut Chips
This is killer recipe to sooth your sweet tooth in a pinch, and is easy enough for even those of us who get lost trying to find their kitchen. Sweet and crunchy with a hint of warm holiday spice.
Ingredients
2

cups

unsweetened coconut flakes

1/2

tbsp

melted coconut oil

2

tbsp

maple syrup or honey

1/4

tsp

pumpkin pie spice

1/4

tsp

ginger

pinch

sea salt

to taste
Instructions
Preheat the oven to 300 degrees F, and line a baking sheet with tin foil.

In a large bowl, mix all ingredients until coconut is well covered.

Spread evenly on baking sheet, and cook. Give the coconut chips a little stir halfway through the cooking process.
Notes
Keep a close eye on the coconut chips while cooking because they burn rather easily. I suggest pulling them out after 10 minutes and allowing a chip to cool and taste testing. In my oven, 15 minutes was about perfect but when I removed them from the oven I wasn't entire sure they had been cooked all the way until I tasted them.
Make sure to use the large coconut flakes. Shredded coconut won't work quite the same. Also, make sure to get the unsweetened variety since we will be adding good quality sweeteners ourselves. I used Trader Joe's Organic Unsweetened Coconut Chips
in this recipe.