A 7-layer dip is always a party hit. Most people are familiar with a Mexican 7 layer dip, but this twist is going to thrill all of my hummus and olive lovers out there. This Mediterranean 7-Layer Dip contains feta, salty Kalamata olives, red onions, crisp cucumbers, sweet sundried tomatoes, spicy garlic and creamy hummus. What is better?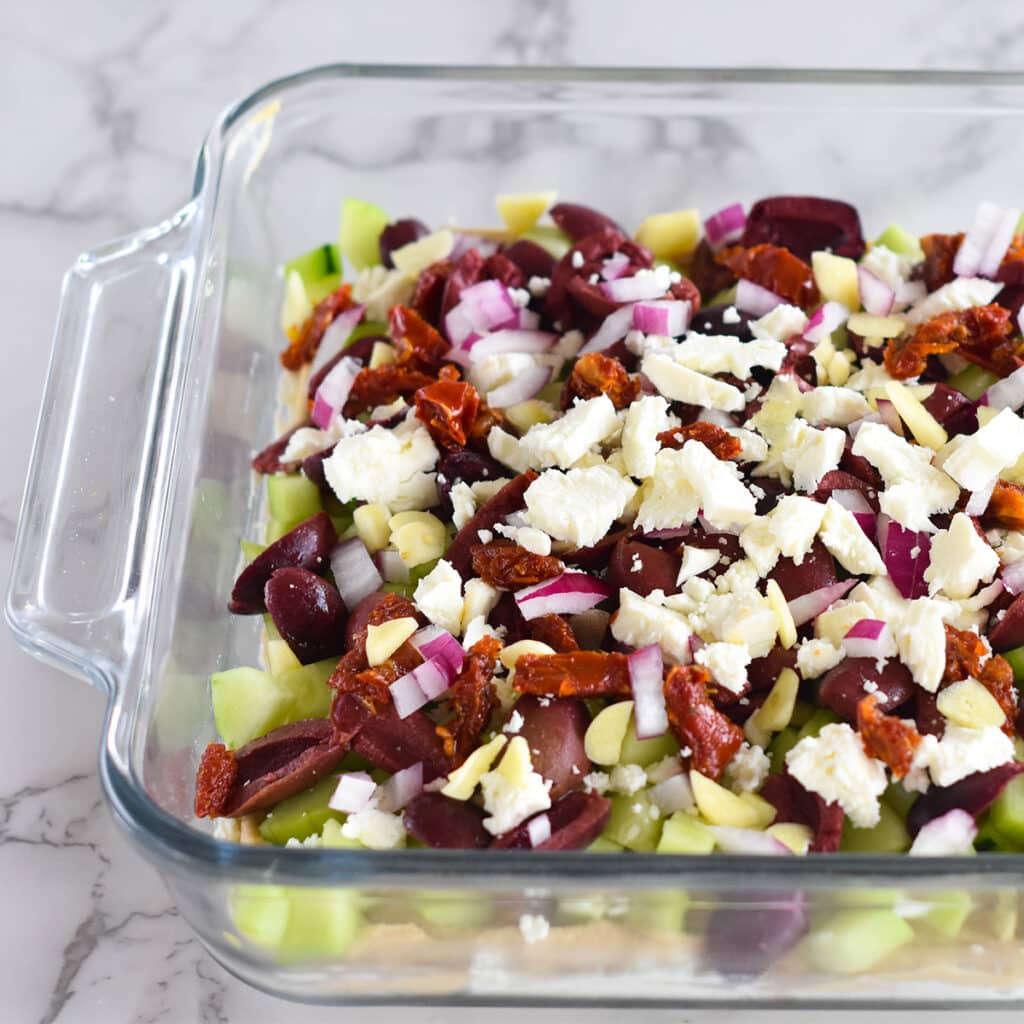 Jump to:
Mediterranean flavors are my favorite. I whole heartedly believe the more garlic the better the dish, sometimes to my husband's dismay. And, olives... Olives should be their own food group.
Mexican 7-layer dip is an extremely popular party favorite, but can I tell you a little secret? I actually really hate sour cream! I just can't do it. Never have been able to and never will. Although you can skip the sour cream in Mexican 7-layer dip, most people would be appalled by that idea.
This Mediterranean 7-Layer Dip is my attempt to get in on the fun without personally offending the die-hard sour cream lovers out there. This dip is rich, creamy and so flavorful! It is full of nutritious ingredients and may have been eaten as a meal several times during this recipe's development. But, can you blame me?
What Kind Of Hummus Should I Use?
I use store bought hummus because I have yet to master the art of making homemade hummus. If you have a hommade hummus recipe that you love you can surely use that!
My criteria for selecting a hummus is that the hummus has to have that rich, smooth texture that makes store bought hummus phenomenally better than anything I make at home, and has to be free of vegetable oils.
Hummus is traditionally made with olive oil and that is intended to be. When brands use soybean oil or other vegetable oils they are doing that to cut costs. Unfortunately, they are also sacrificing flavor and making the dip nutritiously inferior.
Vegetable oils are processed at high heats and with chemical solvents making them incredibly prone to oxidation. These oils also tend to have a higher omega-6 content than many other foods which can contribute to inflammation, especially in the context of a diet high in omega-6 fats like most Americans.
My tip would be to find a brand that is willing to spend a couple extra pennies per ounce to use olive oil. I love the Falafel King brand. I usually find it at Natural Grocer's.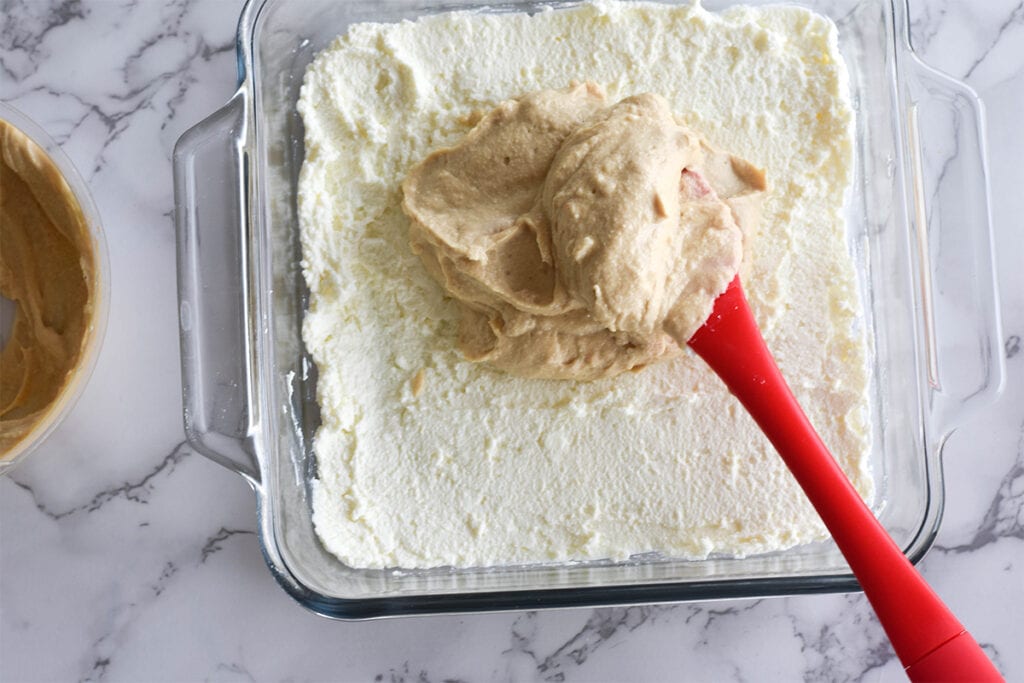 How To Make Mediterranean 7-Layer Dip
Time needed: 10 minutes.
Simple Steps To Make This Mediterranean 7-Layer Dip
Make the whipped feta.

Combine the ricotta and 4 ounces of feta in the blender or food processor. Whip until smooth. Spread the cheese evenly on the bottom of an 8x8 baking dish using a spatula to make the first layer.

Add the hummus.

Take a 7-10 ounce container of hummus (or about 1 ¼ cup homemade) and spread evenly on top of the whipped feta.

Peel and chop the cucumbers.

Peel the cucumbers. Cut the ends and then cut it in to four pieces lengthwise. Run the knife down the inside of each piece to remove the seeds. Then cut each piece again lengthwise to make 8 thin pieces and dice. Sprinkle evenly on top of the hummus.

Add the olives.

Drain 1 cup of Kalamata olives and sprinkle evenly across the dish.

Add the sundried tomatoes.

Drain ½ cup sundried tomatoes from oil. Pat dry and chop into pieces. Add on top of the olives.

Add onion.

Peel and finely dice ¼ of a red onion. Sprinkle over the dish.

Add the garlic.

Peel and mince 3 gloves of garlic. Add to the dish.

Top with the remaining feta.

Crumble 2 ounces of feta over the top.

Serve and enjoy.

Serve the dish with crackers, veggies, naan or pita bread.
Equipment Needed
This recipe requires the following pieces of standard kitchen equipment:
Knife
Cutting Board
Rubber Spatula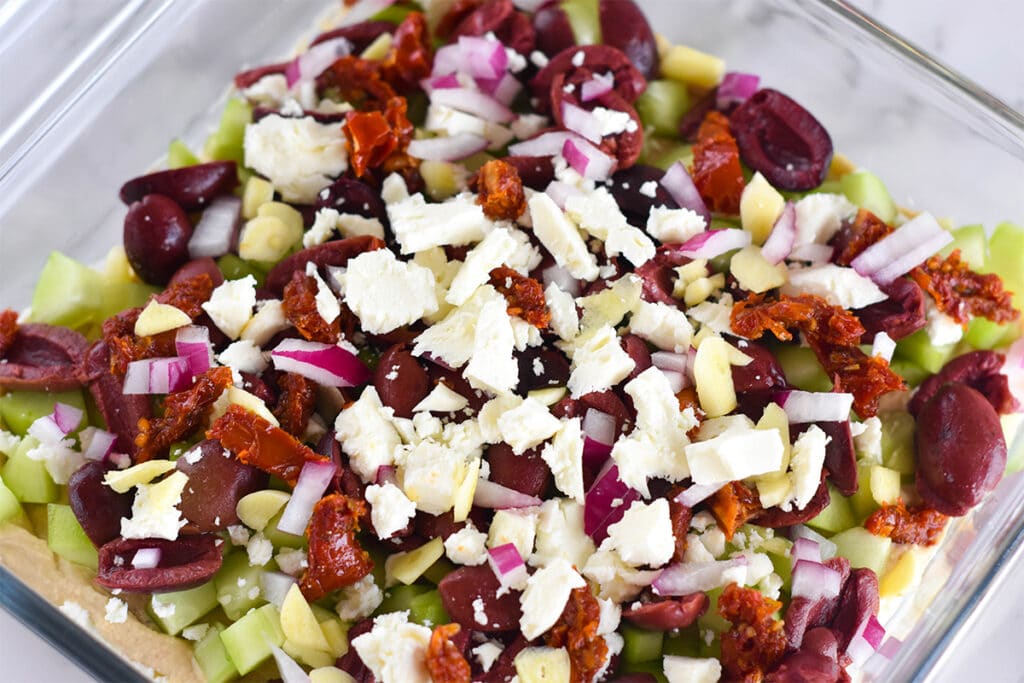 Recipe Variations
Seven layers is good, but why stop at seven? Feel me? There are so many options with this dip! If you are feeling creative you may consider adding some of the following ingredients to really push this appetizer over the top:
Marinated artichoke hearts
Roasted red peppers
Raw red peppers
Green onions
Tzatziki
Infused olive oil
Serving Suggestions
This dip goes so well with many favorite finger foods. My gluten-free go-to's at home are Simple Mills or Mary's Gone Crackers. I also love dipping veggies like baby carrots or sliced bell peppers in this satisfying spread. Of course, you could slice some garlic naan or pita into triangles for a tasty and classic pairing.
Related Recipes
Did you try this Mediterranean 7-Layer Dip? Tell me how it went below with a comment and a rating!
📖 Recipe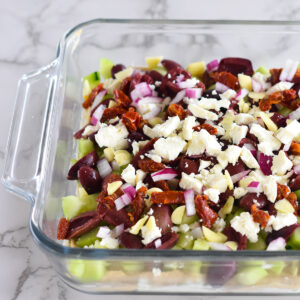 Mediterranean Seven Layer Dip
This tasty spin on the beloved 7-layer dip is sure to impress your party guests with rich Mediterranean flavors.
Equipment
Food processor or blender

Spatula

8x8 Baking dish
Ingredients
6

oz

Feta

Divided

½

cup

Ricotta

10

ounces

Hummus

1

Cucumber

1

cup

Kalamata olives

½

cup

Oil packed sundried tomatoes

Drained

¼

Red onion

3

cloves

Garlic
Instructions
Combine 4 ounces of feta with ½ cup of ricotta in a blender or food processor. Pulse together until smooth.

In an 8x8 baking dish, spread the cheese mixture evenly on the bottom using a spatula.

Next layer the hummus. Spread evenly on top of the cheese.

Drain the olives and sprinkle across the dish.

Drain the sundried tomatoes and pat dry. Chop into small pieces. Sprinkle on top of the olives.

Finely dice ¼ of the onion and add to the dish.

Mince the garlic. Add to the dish.

Crumble the last two ounces of feta on top.

Serve with crackers or naan.
Nutrition
Serving:
0.5
cup
Calories:
191
kcal
Carbohydrates:
12
g
Protein:
9
g
Fat:
13
g
Saturated Fat:
5
g
Cholesterol:
27
mg
Sodium:
665
mg
Potassium:
413
mg
Fiber:
4
g
Sugar:
4
g
Vitamin A:
322
IU
Vitamin C:
5
mg
Calcium:
174
mg
Iron:
2
mg