Who doesn't love a good, homemade pesto? This Lemon Basil Pesto has the perfect balance of lemon-y zest, salt, bright herbs and garlic for a robust flavor. Use this rich sauce on top of steak, chicken, fish or veggies! This 10-minute recipe is gluten-free and keto-friendly.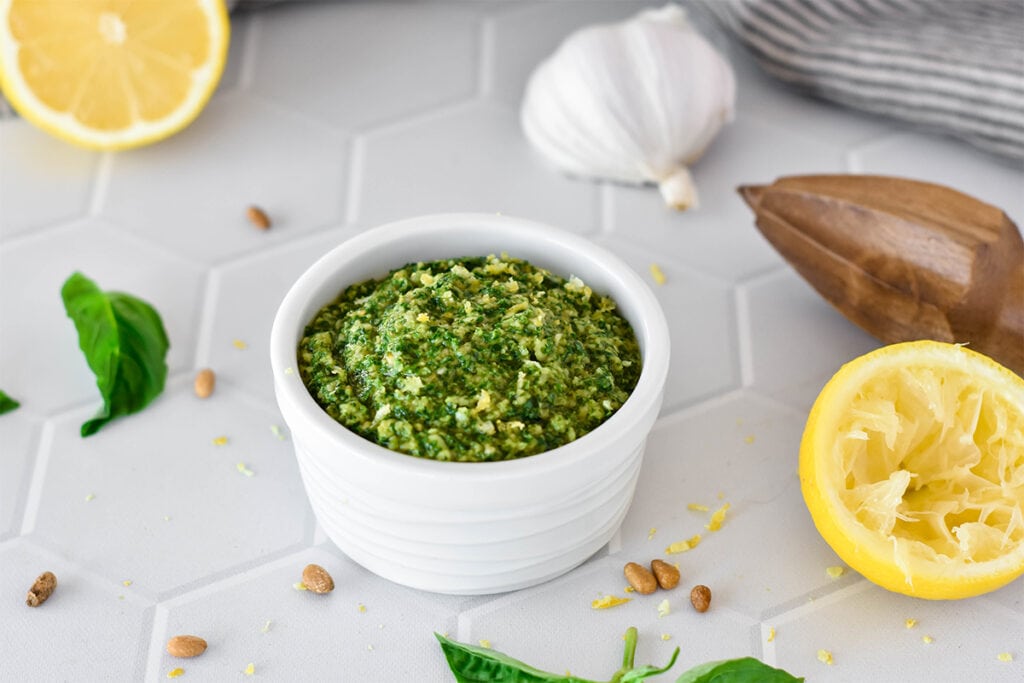 Making pesto at home is so, so easy and so much more flavorful than store-bought versions. You can also avoid the cheaper vegetable oils and weird additives in some store-bought options. Why settle when you can make homemade pesto in 10 minutes?
This lemon basil pesto is the perfect twist to this summer and fresh sauce. With lemon zest, fresh lemon juice, garlic and parmesan, this pesto is prefect, balanced and bright.
Jump to:
Can I Make This Recipe Dairy-Free?
Pesto can be easily made dairy-free if you cannot tolerate dairy or choose to avoid it.
To maintain the same nutty, salty flavor that the parmesan lends you can substitute ¼ cup of roasted cashews and add about a tbsp. of nutritional yeast. You may need to add a little more salt.
How To Make Lemon Basil Pesto
To make this zesty and flavorful lemon basil pesto, simply combine the following ingredients in a high powered food processor and process until it is smooth. Scrape the sides as needed with a rubber spatula until the desired consistency is achieved.
Here is what you will need:
2 cups Fresh Basil Leaves
½ cup Olive Oil
¼ cup Fresh Grated Parmesan
¼ cup Pine Nuts
1 tbsp. Lemon Juice
1 tsp. Lemon Zest
Pink Himalayan Salt
4 cloves Garlic
What Type Of Food Processor Do I Need For Pesto?
Anything high powered will work. You could also use a good blender with a pulse function. I use the food processor attachment for my 1500 watt Ninja Blender and it works beautifully.
Ingredient Notes
Basil
Basil, the star of the show. Look for the freshest of fresh. You will need a solid 2 cups, or a 4 oz. package. When it comes to basil, summer time is the best time to find large quantities of fresh basil for a reasonable price.
If you grow basil yourself, lemon basil is a great variety to use in this recipe!
Parmesan
I am partial to getting a block of parmesan and grating it yourself. I feel like whole parmesan tends to be more flavorful and doesn't contain anti-caking agents.
Garlic
This recipe is garlicky perfection. If you are not a garlic person (do those exist?) than you can taper the garlic to two cloves.
Also, raw garlic has a bit of a bite to it. I love it and this is generally how garlic is used in pesto, but if you are not a fan of raw garlic consider roasting it! Roasted garlic is more mild and slightly sweeter.
To roast garlic, preheat the oven to 400°. Slice off top of the head of garlic using a knife. Place the head of garlic and a piece of tin foil. Drizzle with oil and season with salt and pepper. Wrap the head of garlic with the foil and place in a shallow, oven-safe dish. Bake for about 40 minutes or until it is soft and golden brown.
Lemon Juice and Zest
One lemon will provide more than enough juice and zest for this recipe.
You can absolutely add more zest if you like it super lemony! Avoid adding more lemon juice because you don't want the pesto to become runny.
Olive Oil
Extra virgin olive oil is stronger flavored and can sometimes be described as fruity or peppery. Choose an olive oil that you enjoy the taste of because it is a predominate tasting note in this recipe. Any type of olive oil that you enjoy will work just fine.
Salt
Salt your pesto to taste. I love a good salty pesto. It is one of my favorite qualities about pesto. I use a whole teaspoon when I make this recipe.
What Can I Serve This Pesto With?
This lemon basil pesto can be used in a variety of ways. It is the perfect thing to make a boring dish super flavorful. Here are some ideas:
Use it on zucchini or other veggie noodles.
Top steak, chicken or seafood with it.
Drizzle it on top of pizza.
Spread it over roasted veggies or potatoes.
Related Recipes
Did you try this Lemon Basil Pesto recipe? I would love to see how it went! Share a photo and tag me on Instagram or leave a comment on Pinterest.
Love this recipe? Connect with me by leaving a comment below! 😊
📖 Recipe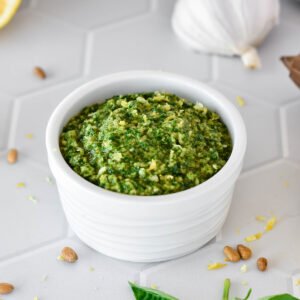 Lemon Basil Pesto
This rich and zesty lemon basil pesto is ready in 10 minutes and is the perfect summer sauce to top on steaks, chicken, veggies or pasta.
Ingredients
2

cups

Basil leaves

traditional or lemon basil

½

cup

Olive oil

¼

cup

Parmesan

Freshly grated

¼

cup

Toasted pine nuts

1

tbsp

Lemon juice

Fresh

4

cloves

Garlic

1

tsp

Lemon zest

Pink Himalayan salt to taste

I used 1 tsp
Instructions
Preheat oven to 350°. If pine nut s are not already toasted, toast them on a baking sheet lined with parchment paper until golden brown. With a spatula, toss the pine nuts halfway through. The toasting process should take about 5–7 minutes. Be careful not to overcook them. Transfer to a food processor and let cool.

Add parmesan, lemon zest, lemon juice and garlic and pulse until finely ground, about 1 minute. Add basil and place the top back on. With the motor running, add oil in a slow and steady stream until pesto is mostly smooth, with just a few flecks of green, about 1 minute. Season with salt to taste.

To store, put in an airtight container and top with a layer of olive oil to seal and prevent browning. Store in the fridge for up to 2 days.
Nutrition
Serving:
1
tbsp
Calories:
82
kcal
Carbohydrates:
1
g
Protein:
1
g
Fat:
9
g
Saturated Fat:
1
g
Cholesterol:
1
mg
Sodium:
25
mg
Potassium:
27
mg
Fiber:
1
g
Sugar:
1
g
Vitamin A:
171
IU
Vitamin C:
1
mg
Calcium:
26
mg
Iron:
1
mg