Sugar-Free Gluten-Free Banana Muffins
What smells better than warm banana bread in the oven?
This simple recipe is a great way to make use of those overripe bananas. These Sugar-Free Gluten-Free Banana Muffins are lightly sweet and incredibly satisfying. They are made with simple and wholesome ingredients that you can feel good about. These muffins are a great treat, or an excellent addition to breakfast when you are craving something soft and bread-y (because we all have those days!). Plus, you get to fill your home with the warm smell of cinnamon and bananas. Total win!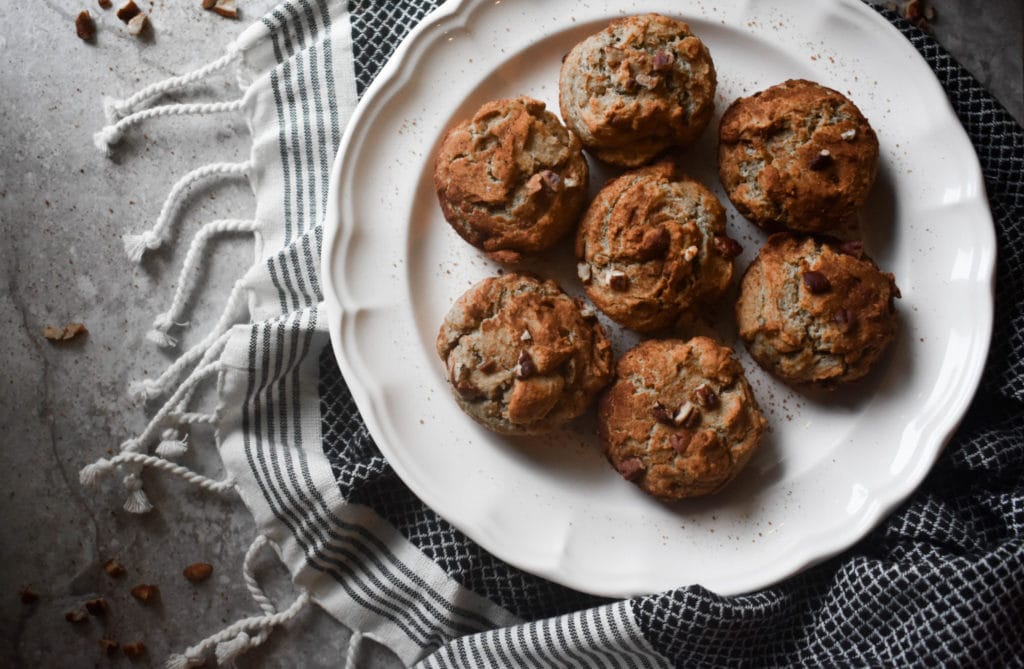 Why Sugar-Free?
If you follow my recipes you know that I am a big fan of stevia. I don't avoid sugar completely. I use coconut sugar and maple syrup in many of my recipes and really enjoy the flavor and texture of natural sugars in baked goods. Some people don't like the taste of stevia, and that is just fine. These tasty muffins don't require a lot of added sugar because of the sweet overripe bananas. So, if you are not a fan of stevia feel free to substitute coconut sugar or maple syrup (¼ cup should be enough - if you choose maple syrup just omit the coconut milk and add an additional tablespoon of coconut oil to modify the moisture content).
For this sugar-free gluten-free banana muffin recipe I chose to omit the sugar because I was using gluten free flour. When I bake, I usually use paleo flours like coconut or almond flour. Today I was really craving a soft and fluffy muffin. I love paleo cooking, but baked treats made with nut flours tend to be more dense. Because gluten free flour causes a greater glycemic effect than nut flours I decided to leave out the sugar to keep the effect on blood sugar minimal. Luckily, by using stevia you don't have to sacrifice the sweetness but you can reduce the blood sugar swings you would get from traditional muffin recipes.
WOAH. I thought we were grain-free here on Foodborne Wellness?
I am all for paleo cooking, but you should know by now that I don't believe absolutes belong in the diet. I choose to eat a mostly paleo diet because I wholeheartedly believe that it is the most nutritious and health promoting diet on the planet when it is approached properly. I also wholeheartedly believe that the only reasons you should exclude foods or food groups entirely are: 1.) you have an undesirable reaction to them; 2.) you are actively trying to eat healthier and these foods make you feel less healthy in a physical sense; or 3.)  you have conflicting religious or ethical beliefs. Because I have no food sensitivities I actively try to allow flexibility in my diet. I find it quite helpful not to get hung up on diet labels. It is incredibly liberating to lift labels like "good" and "bad" from the foods we choose to include and exclude from our diets.
It is important to avoid foods that make you feel awful, but avoiding foods because they make you feel like an awful person for eating them is not a healthy head space to be in, and if you find yourself here you might need to revisit the reasons why you choose to exclude foods from your diet. It has taken me many of years to get to a point where I can include foods like grains in my diet without feeling guilt and shame.  This is something I am still consciously practicing. Often times, periods of severe overeating can be triggered by black listing foods. If you are having trouble with over and under eating cycles I advise you to A.) find someone (preferably a professional) to talk to about the underlying issues and B.) work on allowing ALL foods to be part of your diet without guilt. This sugar-free gluten-free banana muffin recipe is something that I would have found difficult to eat even a year or so ago because gluten-free flour is not very nutrient dense so I labeled it as "bad" or "unhealthy". This practice is active and ongoing but, oh so worth it.
If you are looking for a tasty paleo muffin recipe, try my Paleo Low-Carb Maple Apple Mini Muffins!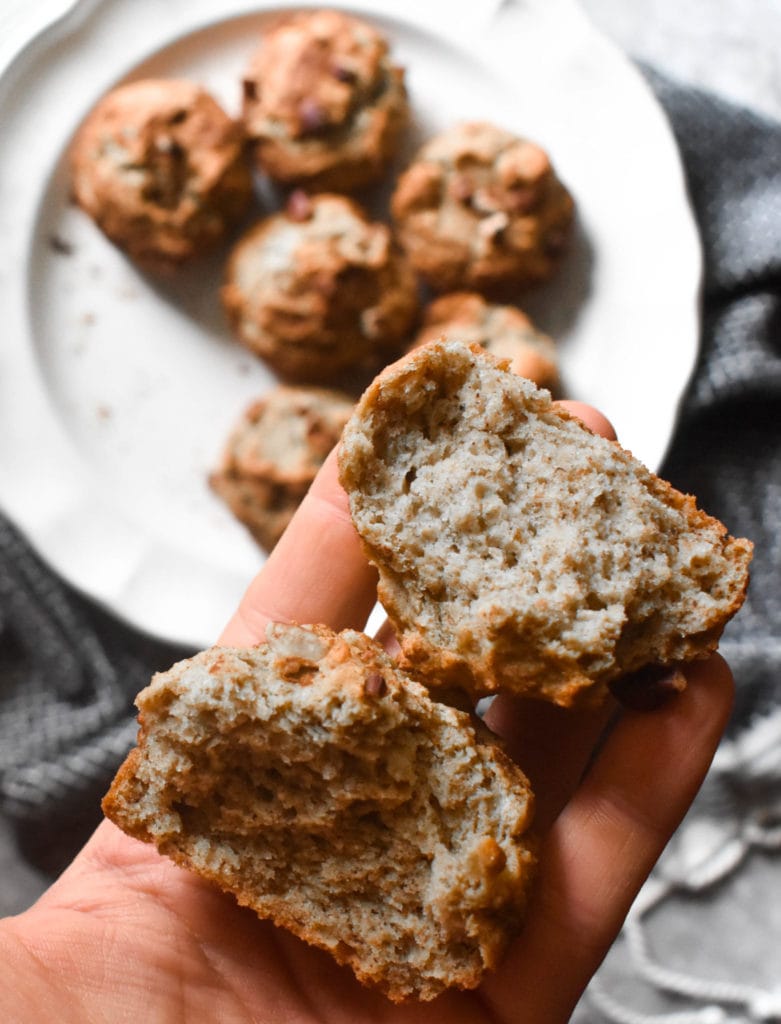 Looking for something more indulgent?
That is just fine!
These sugar-free gluten-free banana muffins serve as a good base recipes. They are simple, and made with healthy fats but they are not, by any means, sugary. Kevin likes his baked good quite sweet so often I make less-sweet treats and top them with something a little more indulgent for him.
Here are some ideas to make these sugar-free gluten-free banana muffins even sweeter:
Add chocolate chips to the muffins.
Top with melted butter and coconut sugar.
Add some maple syrup and warm in the microwave.
Make some whipped coconut cream and spread on the muffins.
📖 Recipe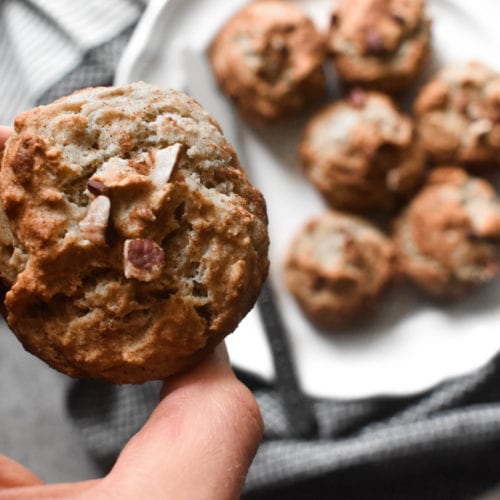 Sugar-Free Gluten-Free Banana Muffins
The soft and fluffy banana muffins are a simple treat with just the right amount of sweetness.
Instructions
Preheat the oven to 375 F. Grease a muffin tin with coconut oil.

Puree three of the bananas in a blender with the coconut milk. Mash the last banana in a large bowl with a fork. Combine the pureed bananas in the bowl. Add the remaining ingredients to the bowl and whisk together.

Spoon the batter into the muffin tin until the cups are about ⅔ full. Top with a sprinkle of cinnamon. Place in the oven and cook for 15 minutes. To remove from the tin, trace the edge of each cup with a butter knife and then turn the pan upside down and the muffins should pop right out.
Notes
If you choose to use coconut sugar ¼ cup should be adequate. If you want to use maple syrup, add ¼ cup of maple syrup and 1 tbsp of additional coconut oil and omit the coconut milk.
You can substitute almond milk, regular milk or low fat coconut milk, just add an additional tbsp of coconut oil or butter.
If you use coconut oil instead of butter adding natural butter flavor is a great way to get a buttery muffin while keeping the recipe dairy -free.
Nutrition