If honey and cornmeal don't go together than I don't know what does. These gluten free cornmeal pancakes are easy enough to whip up impromptu but wholesome and tasty enough to convince people you have been planning this breakfast for days. Pair with warm honey and butter for a classic flavoring, or use fresh berries, whipped coconut cream and homemade jam for something different.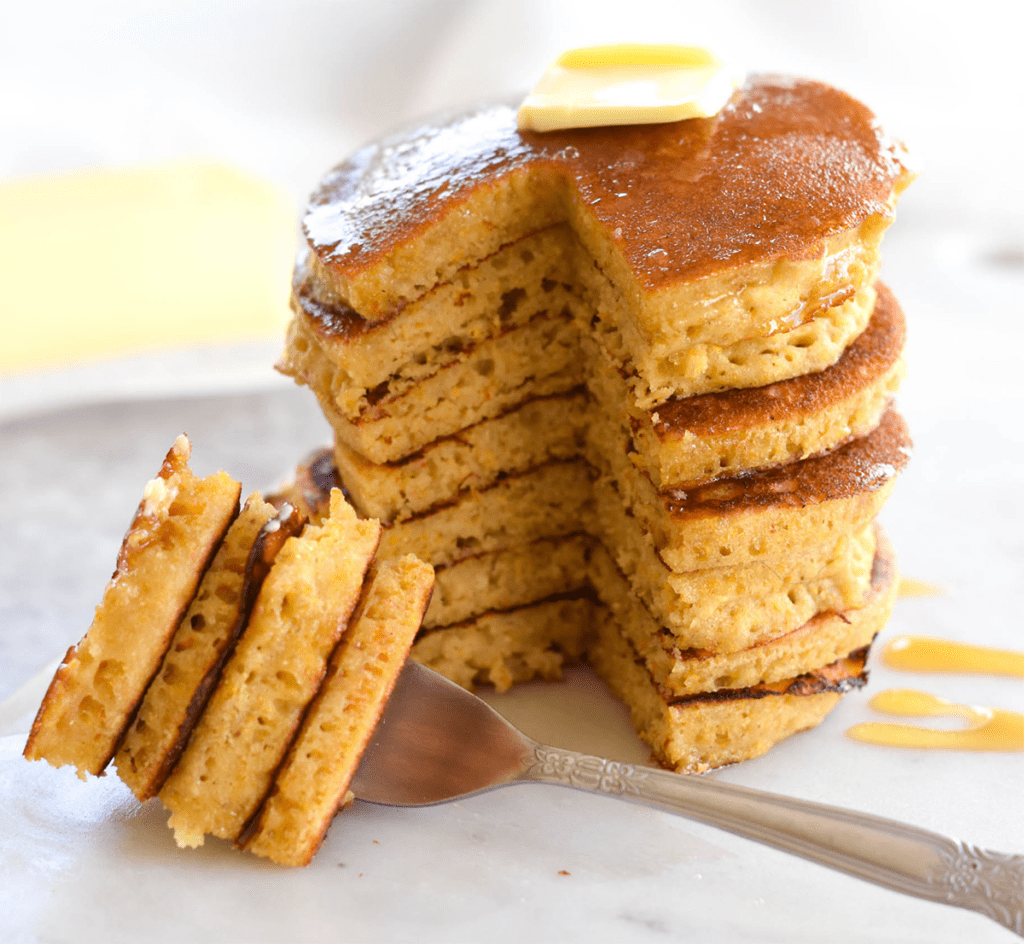 Jump to:
I generally eat a mostly paleo diet, but I do make some exceptions. Real cornbread is one of those exceptions I make. I love a piece of warm cornbread with honey and grass fed butter. It tastes like pure nostalgia.
These pancakes have a similar goodness to them. They have a light and crispy texture. Even though these cornmeal pancakes have a bit of honey in the recipe they can be made both savory or sweet.
When To Flip The Pancakes
The pancakes are ready to flip when you see small bubbles forming and pop. Once all the bubbles have popped the pancake should flip easily.
Ingredients and Substitutions
Cornmeal - I used fine cornmeal but really any cornmeal would work. The texture would just be slightly different.
Cassava Flour - This is important for the lightness in the pancakes. You could substitute tapioca starch. Corn starch may also work but I have not tested that.
Almond Milk - Cow's milk, coconut milk or any other nut milk would also work just fine.
Raw Honey - Regular honey could be substituted. I like raw honey because it has beneficial enzymes.
Avocado Oil - Any neutral flavored oil could be used, like melted coconut oil. Melted butter would also work in this recipe.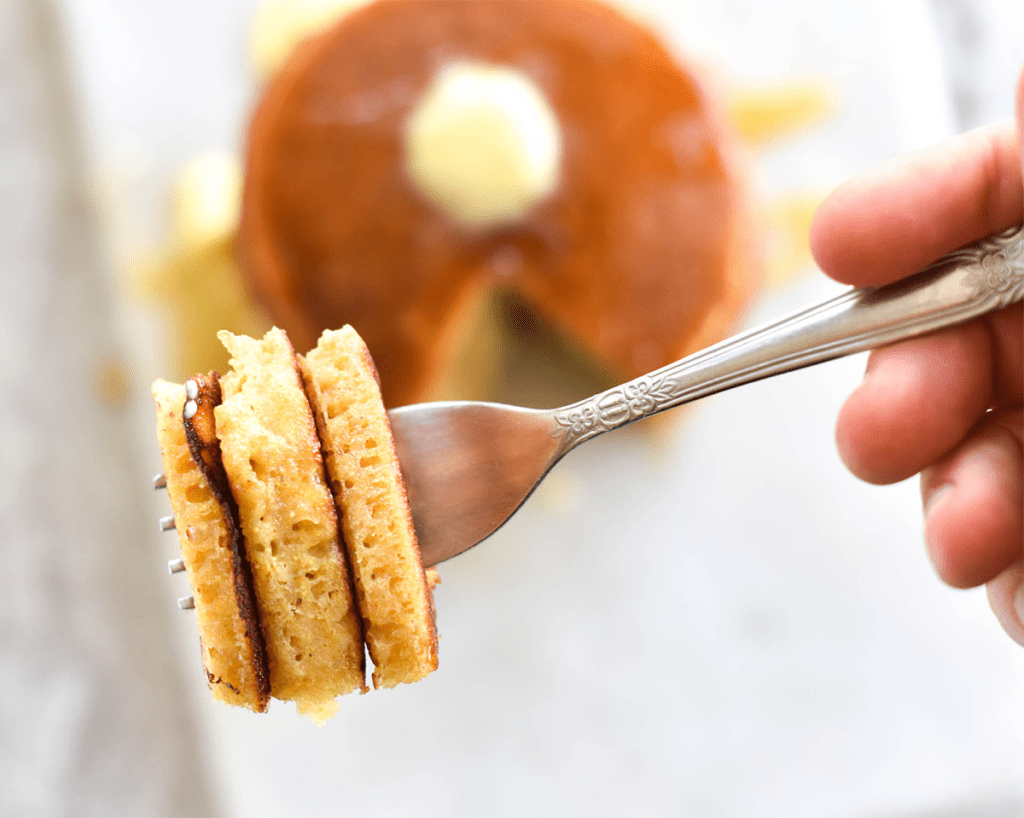 Recipe Notes
These pancakes are quite thin when poured. For best results keep them relatively small (no more than ¼ cup batter per pancake) and oil your pan before pouring. They will rise a little when cooking. The end result is a thin, fluffy pancake with a crispy outside.
If you want them to be a little thicker, you could use a silicone ring to pour them into. This is what I used for the photos. For the perfectionists out there it produces a perfect little pancake every time. I use these silicone rings for many purposes including making the perfect round egg for egg sandwiches. totally a worthwhile investment.
Since updating this recipe I have added the cassava flour. Before the pancakes were dense. I don't know if it was because I had not had a proper pancake in many years or what, but this version is much improved. The cassava flour makes these very light and fluffy. It also allows them to be gluten free without using a gluten free baking flour blend.
Raw honey tends to be more viscous than regular honey. You could soften it up before adding it by soaking the jar in a bowl of hot water.
Other Breakfast Recipes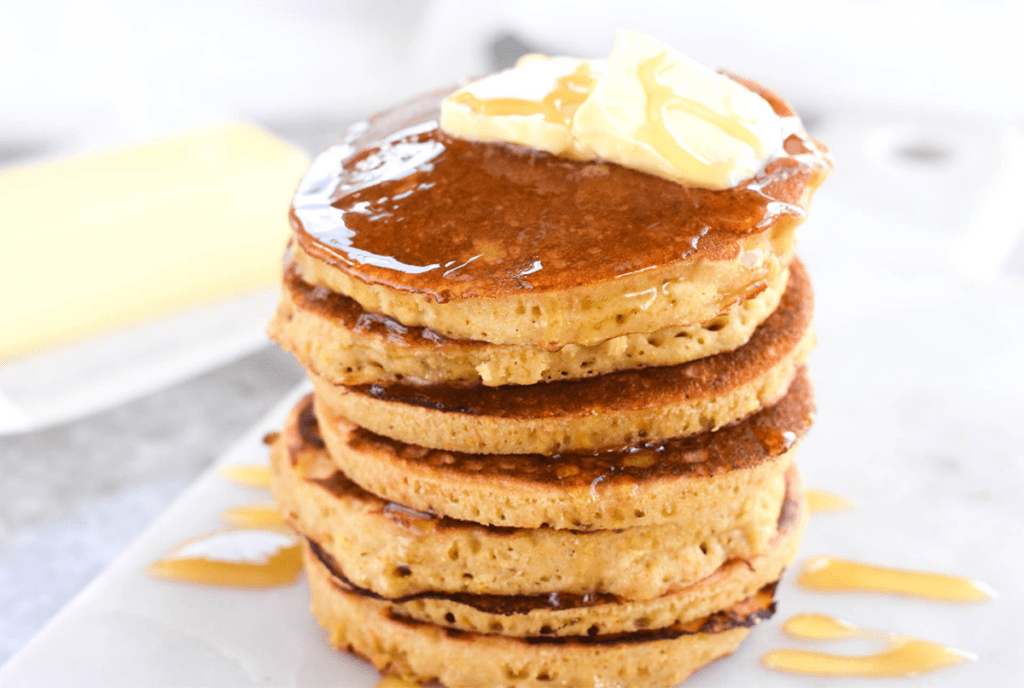 📖 Recipe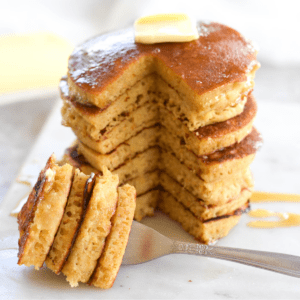 Gluten Free Cornmeal Pancakes
Instructions
Mix together all dry ingredients together in a bowl.

In a separate bowl whisk the egg. Add all the wet ingredients. Mix together and pour in with the dry ingredients. Stir until the mixture is mostly smooth. Some small lumps are fine.

Heat a frying pan on low-medium with a little bit of oil. Once pan has warmed, add about ¼ cup of batter.

Allow pancake cook. Flip the pancake once bubble develops and pop in the batter. Repeat until all batter is gone.

Serve hot with your favorite pancakes toppings.
Notes
Raw honey tends to be more viscous than regular honey. You could soften it up before adding it by soaking the jar in a bowl of warm water.
The batter is thin and the pancakes will rise a little while cooking. Limit the batter per pancake to ¼ cup or less for best results. If you want a thicker pancake you can use a silicone ring.
Nutrition
Serving:
1
Pancake
Calories:
97
kcal
Carbohydrates:
17
g
Protein:
2
g
Fat:
2
g
Saturated Fat:
1
g
Cholesterol:
20
mg
Sodium:
354
mg
Potassium:
58
mg
Fiber:
1
g
Sugar:
4
g
Vitamin A:
30
IU
Vitamin C:
1
mg
Calcium:
140
mg
Iron:
1
mg
Have you tried this recipe? If so, please leave a comment and a rating. I would love to hear from you!