WHOLE 30 SALAD
Avocado Mango Margarita Salad
I have cultivated a handful of fine recipes in the past few years. One of my signature favorites is a classic yet classy, ice cold margarita with a heavily salted rim. After much testing and experimentation, I have finally refined my recipe to be both bold and balanced. These margaritas have been known to knock a grown man on his ass in a matter of 20 minutes. They come with verbal warning, a solid cheers and a complimentary place to lay down if you have more than two.
On days like today I crave one of these strong margaritas. Days like today being a normal Tuesday in March. Texas is hot, give me a break. While my friends and family in Washington are likely still scraping their windshields and wearing parkas, I'm sitting here in shorts trying to figure out how I could possibly survive the summer in this state. The answer I have come up with: MARGARITAS. Of course. That must be why people in Texas drink so much, to forget about the heat and, possibly even the fact that I am now three inches taller due to the humidity and my wild hair. This sunscreen queen is not used to having a tan, let alone before spring even begins. It is going to take a lot of limes to get me through my first Texan summer, let me tell you.
Today I decided not to reach for the tequila, despite it being damn near 90 degrees outside. This is not because it's Tuesday (I could very easily deem it taco Tuesday and who doesn't serve tequila with tacos? It is just proper pairing.), but because I am well into a WHOLE 30. If you are unfamiliar with the WHOLE 30, it is essentially just an elimination diet but, unfortunately, one of the things that is eliminated is booze. This includes tequila despite it's numerous curative properties.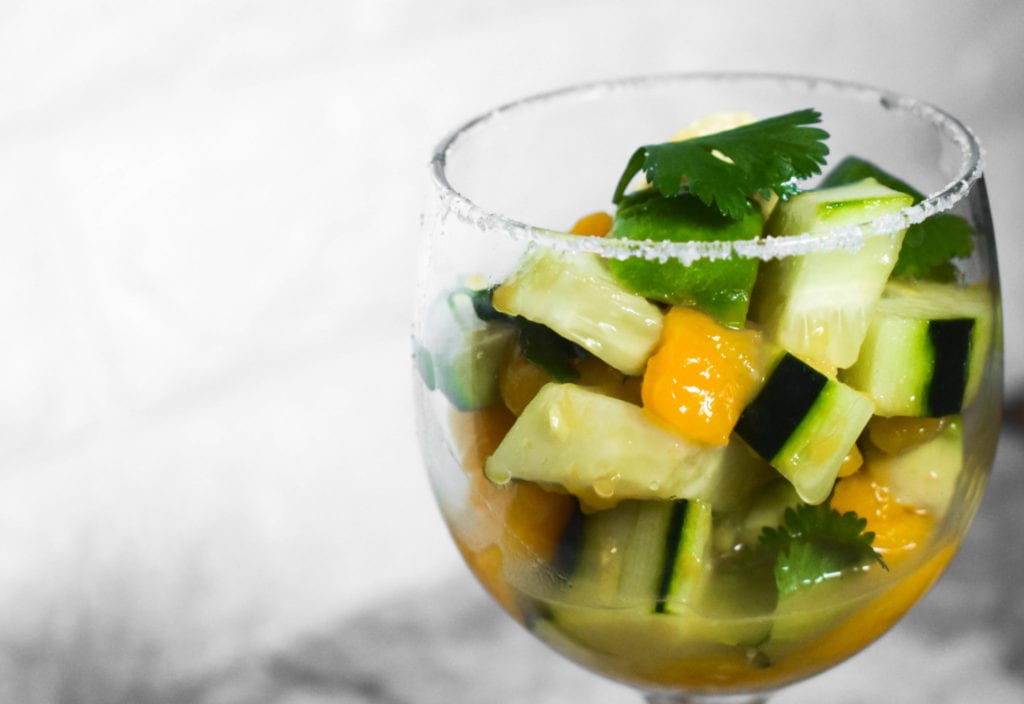 Craving a margarita but don't want your boss to smell tequila on your breath in the middle of the day?
I have always thought of myself as a problem solver.
Cue my WHOLE 30 salad recipe that is both nutritious, refreshing and oh so simple.
This Avocado Mango Margarita Salad has all the refreshing flavor of it's alcoholic namesake. In fact, I was half tempted to pour a little tequila over the top just to see how it would taste, but I refrained.  All the ingredients in this salad can easily be a margarita flavor on their own. Lime margarita, mango margarita, cucumber margarita, cilantro margarita... YES. Here in Austin they even have a blended avocado margarita. I have yet to try this creamy concoction but I come from the school of thought that tequila goes with everything, as do avocados.
If you are not a fan of cilantro, I suggest substituting basil which I think would be equally as delicious in this salad. Pair this recipe with a some BBQ'd chicken and dinner will be made in one dish. It can't get much easier than that.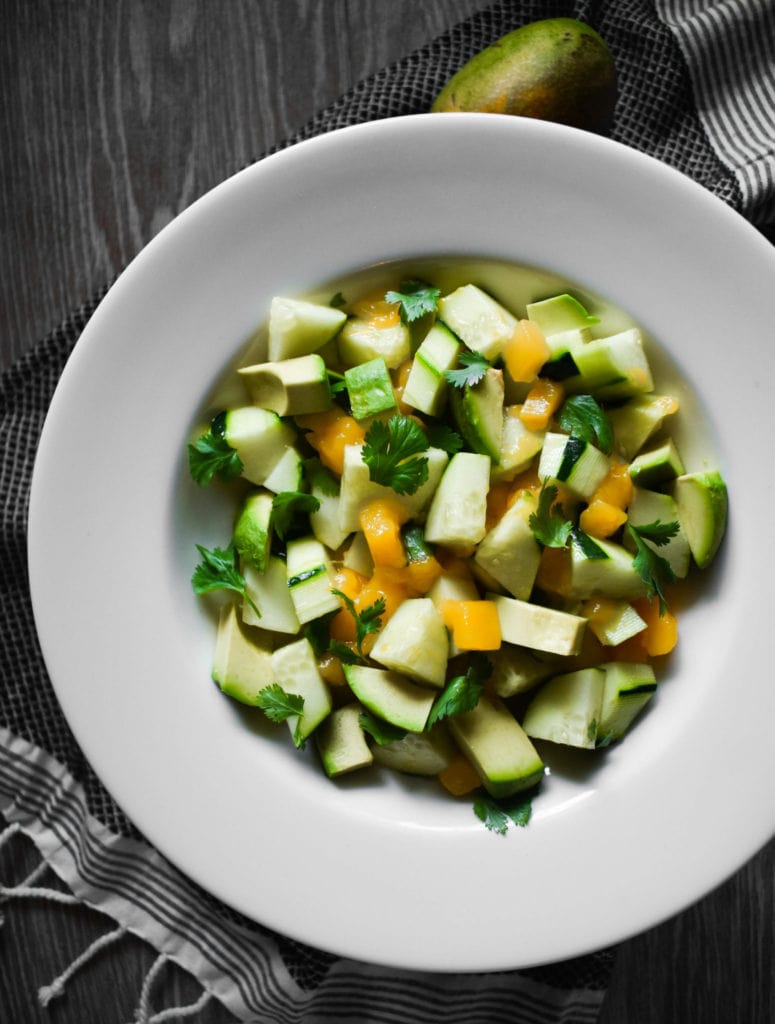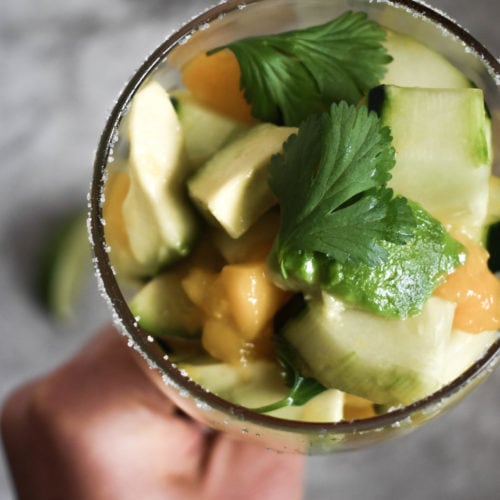 WHOLE30 Avocado Mango Margarita Salad
This nutritious and refreshing WHOLE30 Avocado Mango Margarita Salad is the perfect dish to serve along side tacos, grilled chicken or a cold margarita. Combine these simple ingredients in a bowl and impress your dinner guests without breaking a sweat.
Ingredients
1

lime

juiced

1/2

tbsp

avocado oil

1/2

tsp

salt

2

cucumbers

peeled

1

cup

diced mango

see notes

1

avocado

peeled and pitted

1/4

cup

cilantro or basil

chopped
Instructions
Juice the lime into a large bowl. Add avocado oil and salt. Whisk together with a fork.

Peel the cucumbers. Quarter the cucumbers lengthwise and then slice into about 1/4 inch pieces. Halve, peel and pit the avocado and then dice into medium sized pieces. Chop the basil or cilantro.

Combine all ingredients in the bowl with the lime juice and stir. Serve immediately or chill for later service.
Notes
You can use fresh, frozen or canned mango in this recipe. For Fresh: You will want to peel and cut around the pit and then dice into about 1/4 inch pieces. For Frozen: Mango should already be diced, just thaw and drain excess water. For Canned: Drain and rinse with cool water the diced mango.