This healing Instant Pot Carrot Ginger Soup is anti-inflammatory, loaded with nutrients and easy on the digestion. It is the perfect fall meal because it is warming and so simple. Whether your kids are starting school and you need a quick meal or you are just craving something easy, this recipe has it all.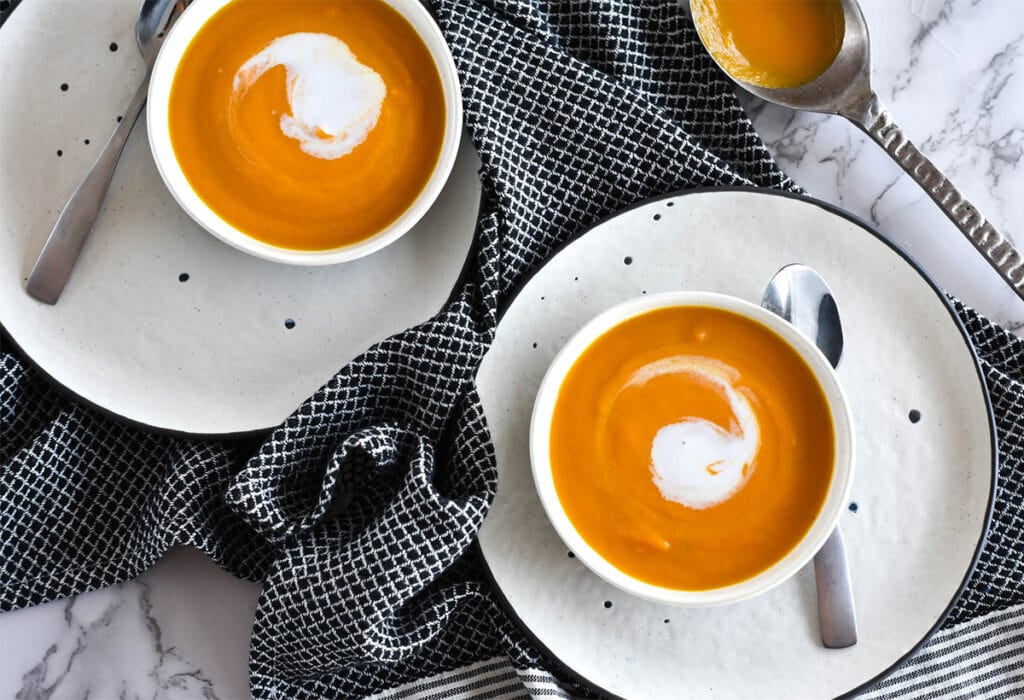 Jump to:
Supporting Your Immune Health
In Fall of 2020, we are approaching flu season with the COVID pandemic still lingering, which is a scary thought. During this time, anything you can do to support your health and immunity is a worthwhile investment.
Beside being down right delicious, the reason I love this carrot ginger soup so much is that it is the perfect food to support your immune system.
Anti-Inflammatory
This soup is an anti-inflammatory powerhouse. Enjoying foods that contain ginger, turmeric, garlic, black pepper, cayenne, cloves and many other spices can help ease inflammation. These ingredients can inhibit the production of the pro-inflammatory cytokines which can ease inflammation and support immunity.
Acute inflammation is generally beneficial. The inflammatory response acts as a barrier preventing germs from entering the body and attacking foreign invaders. This is the swelling, heat and redness you experience around a wound that indicates blood, white blood cells and nutrients are being delivered to the area to repair, and prevent the outside world from getting in.
Chronic inflammation is a little different. This type of inflammation doesn't always serve a purpose. Low grad levels of chronic systemic inflammation can weaken the immune system making you more susceptible to illness.
Anti-Microbial
Garlic and coconut are powerful anti-microbial agents. These ingredients are shown to inhibit the growth of unwanted bacteria or viruses that you might be hosting. In most cases, consumption of these foods don't harm good bacteria but can kill harmful bacteria, parasites and viruses.
Garlic has been shown to kill H. pylori, the bacteria that causes most peptic ulcers. Garlic has actually been demonstrated to be was 100 times more effective than two common antibiotics in killing Campylobacter bacterium, one of the most common bugs behind food poisoning (1). The prebiotics in garlic can feed good bacteria while killing off harmful pathogens.
Coconut is similar in the sense that it has antimicrobial, antiviral and antifungal properties. It's benefits stem from it's content of lauric and capric acid, which are two types of free fatty acids in coconut. Coconut oil is particularly effective against bacteria and viruses that are considered lipid-coated, having a layer of fat that encloses their DNA and other cellular components. It can disrupt the lipid layer of these pathogens without harming the host or the health promoting bacteria in the GI tract (2).
Nutrient Dense
The benefit of making soup, especially in the Instant Pot, is that you don't lose nutrients while cooking. Unfortunately, when cooking foods nutrients can be lost. Fat soluble vitamins can be lost in cooking oils, while water soluble vitamins can be leached during steaming, boiling or even microwaving.
The best way to preserve the micronutrients in the veggies that you are cooking is by eating the liquid they are cooked in. In this recipe, we cook the carrots in broth and do not strain it. We just blend it all together and get to enjoy the nutrient rich soup as an end product.
Digestion
Digestion can be taxing! We ask so much of our digestive organs. Every day they work to break down, digest, detoxify and absorb all the food we consume. One of the easiest things we can do to support our digestion is to eat well cooked foods like soup.
Additionally, I prefer to use bone broth in this soup because it contains gut healing ingredients like collagen and aminos acids like glycine, proline and glutamine. This can help support your health during flu season because so much of our immune system is actually in our GI tract!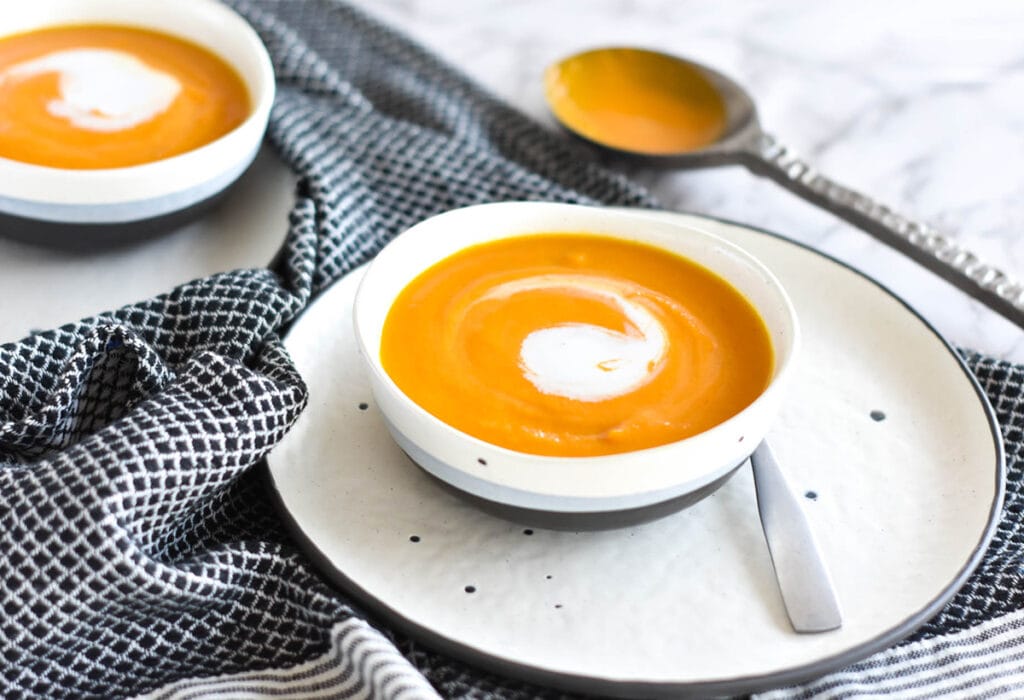 Can I Make This Soup Vegan?
Absolutely. The only non-vegan ingredient is the bone broth. A simple swap would be to use vegetable broth. All other ingredients are vegan-appropriate.
Is This Recipe Whole30 Friendly?
100%! This recipe is made with paleo ingredients and does not contain any vegetable oils, additives or added sweeteners. You can absolutely enjoy it while following the Whole30 program.
Can I Make This Recipe AIP Compliant?
If you are following the autoimmune protocol, this soup can be made complaint with just a couple adjustments. Most the ingredients in this soup are AIP-friendly.
You will just need to omit the cayenne pepper (nightshade) and garam marsala (berry/seed based spices). You could add a little cinnamon to give it a nice sweet and warm flavor.
Where Do I Find Garam Masala?
This spice mix can be found in most major grocery stores. If you live in a tiny rural town like I do, this may not be the case. You can purchase garam masala from Amazon. This is what I usually do.
Or, you can mix your own if you have all the right spices! Just combine 1 tbsp. cumin, 1 ½ tsp. coriander, 1 ½ tsp. cardamom, 1 ½ tsp. black pepper, 1 tsp. cinnamon, ½ tsp. ground cloves, ½ tsp. ground nutmeg (or mace if you have it).
Usually garam masala is toasted, but when you're in a pinch this spice mixture will provide a similar flavor for the recipe.
Equipment
This recipe does require some equipment. Here is what I suggest and any alternatives that might be available:
Instant Pot - I prefer an Instant Pot for this recipe because it makes the process so simple. That doesn't mean you will not be able to enjoy this carrot ginger soup without one. This recipe can be made on the stove top or in a slow cooker. I provided instructions for each below.
Blender - I use the Ninja Blender. It is affordable and versatile. People hate on this $100 blender but I have used it exclusively for the last 5 years and have no complaints. If you don't have a high powdered blender, you may be able to use an immersion blender.
You will also need common household items like a cutting board, a knife and a ladle.
Stove Top Instructions
I love the Instant Pot, but before I owned one I would make my carrot ginger soup on the stove.
You will want to start by adding a little oil to the bottom of the a stock pot. Add your chopped onions and allow them to cook down. Throw in your minced garlic and ginger and let it cook for several minutes until it becomes fragrant.
Pour the broth into the pot. Throw in your chopped carrots. Bring to a boil, then reduce to a low-medium heat. Cook for about 15 minutes or until you can pierce the carrots easily with a fork.
Add the remaining ingredients. Let the soup get to temperature. Then you can blend the soup as you would in the recipe below.
Slow Cooker Instructions
This is easy. You can follow the same instructions for the Instant Pot you will just need to adjust the cook time.
Cook on high for about 3 hours or on low for about 5-6 hours. Then follow the instructions for blending below.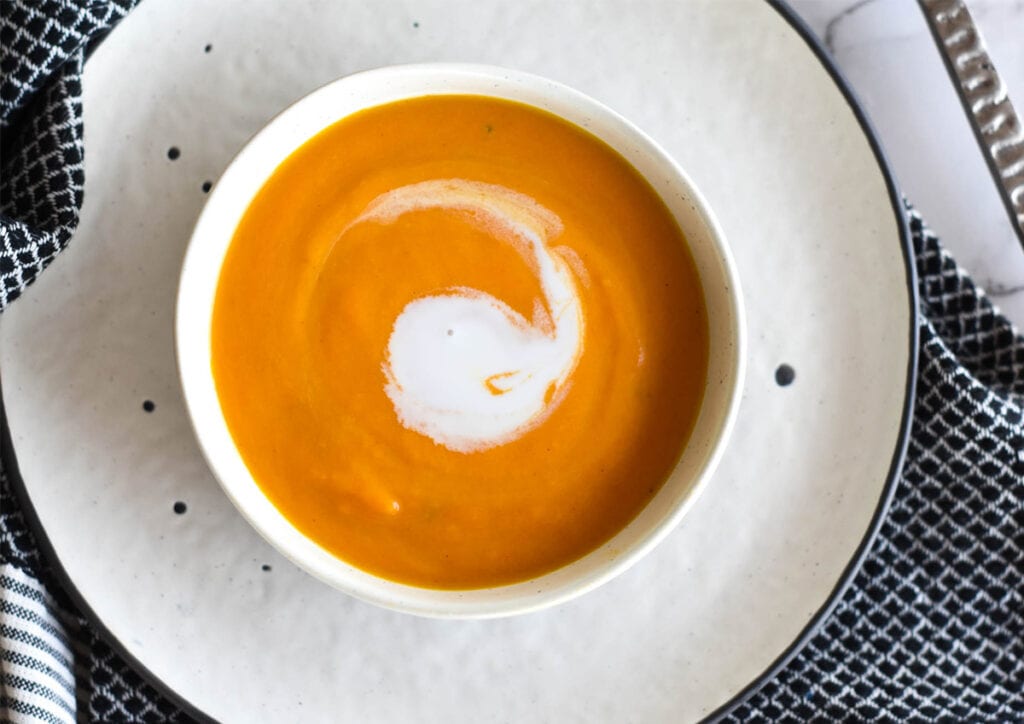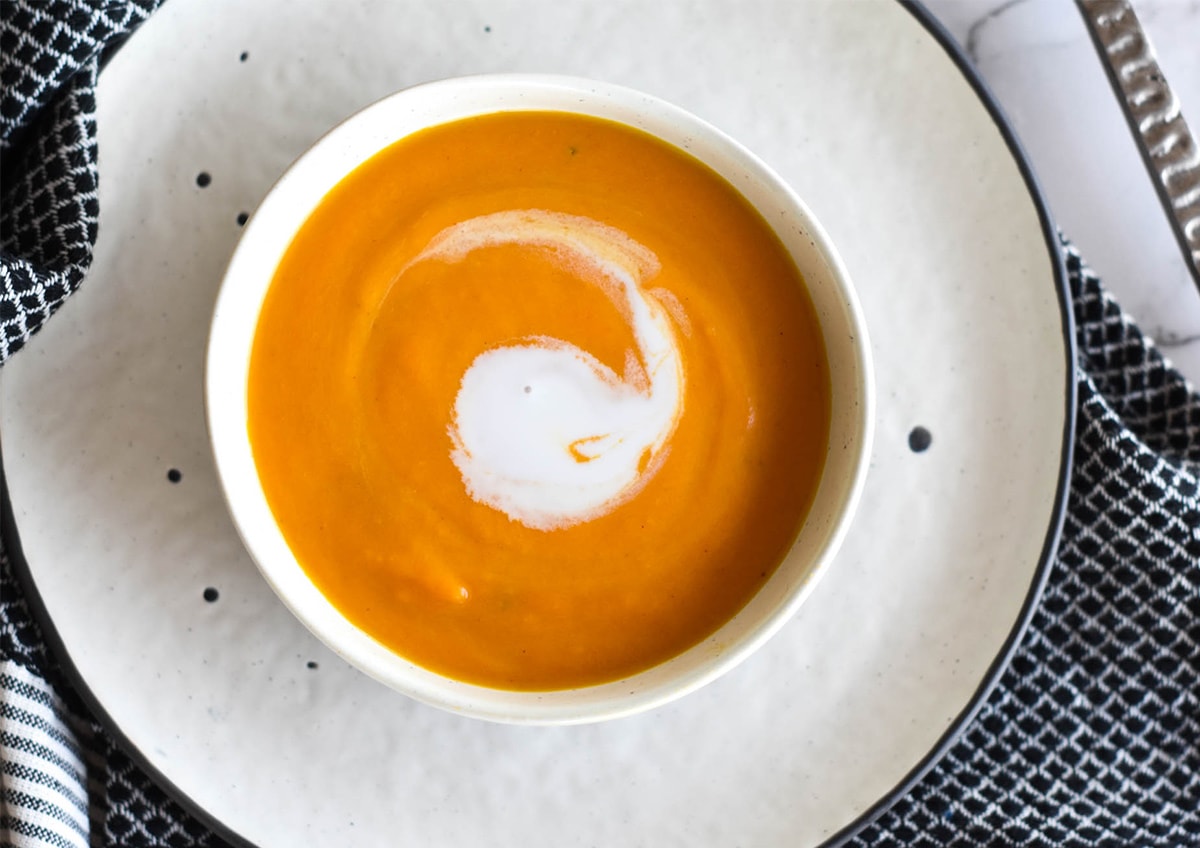 Recipe Tips
Because we are blending all ingredients, I don't worry too much about consistency with chopping my carrots or onions. I throw the peeled garlic cloves in to the Instant Pot whole and they get blended up nicely. This saves time and fuss.
If you don't have applesauce, you could peel and core a large apple and throw it into the Instant Pot for a similar flavor. I would choose a sweet tart apple, like a Honeycrisp. You could also add a cored ripe pear! The pear has a softer skin and would not need to be peeled if blending.
If you are sensitive to spice, you can omit the cayenne pepper.
Saving and Storing
This recipe will hold up well for at least 5 days in the fridge in an airtight container.
You can freeze this soup for a quick and convenient on-hand meal. Just pour the cooled soup into an airtight container and freeze. Use within 1 month for best taste and quality.
Related Recipes
Did you make this Instant Pot Carrot Ginger Soup? If so, please leave a rating and comment below. I would love to hear how it worked for you!
📖 Recipe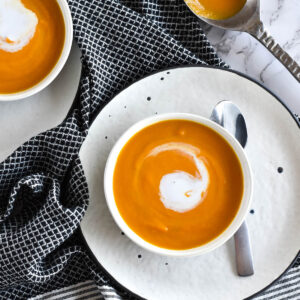 Carrot Ginger Soup
This nutrient dense and delicious carrot ginger soup is the perfect fall meal. This soup will warm you from the inside out. It is paleo and Whole30 friendly and can be made AIP complaint and vegan.
Equipment
Instant Pot

Blender

Knife

Cutting board

Ladle
Instructions
Begin by peeling and chopping the carrots. Remove the ends and cop into about 1 inch pieces.

Remove the outer skin from the onion and dice.

Peel the garlic and cut in half.

Add all ingredients to the Instant Pot. Set for 15 minutes on the "Soup/Broth" setting.

When timer goes off, release steam.

Carefully transfer the contents of the pot to a blender. Puree until smooth.
Notes
To adjust the spice level, omit the cayenne pepper.
Nutrition
Serving:
1
cup
Calories:
142
kcal
Carbohydrates:
12
g
Protein:
4
g
Fat:
10
g
Saturated Fat:
8
g
Sodium:
335
mg
Potassium:
360
mg
Fiber:
2
g
Sugar:
6
g
Vitamin A:
11908
IU
Vitamin C:
6
mg
Calcium:
36
mg
Iron:
2
mg