This paleo Tikka Masala Chicken Meatball recipe makes a great dinner or appetizer if you are entertaining. Serve with rice or cauliflower rice for my paleo friends to make it complete meal. Use the sauce as a dipping sauce for the appetizer or serve on top of the meatballs and rice for an outstanding meal.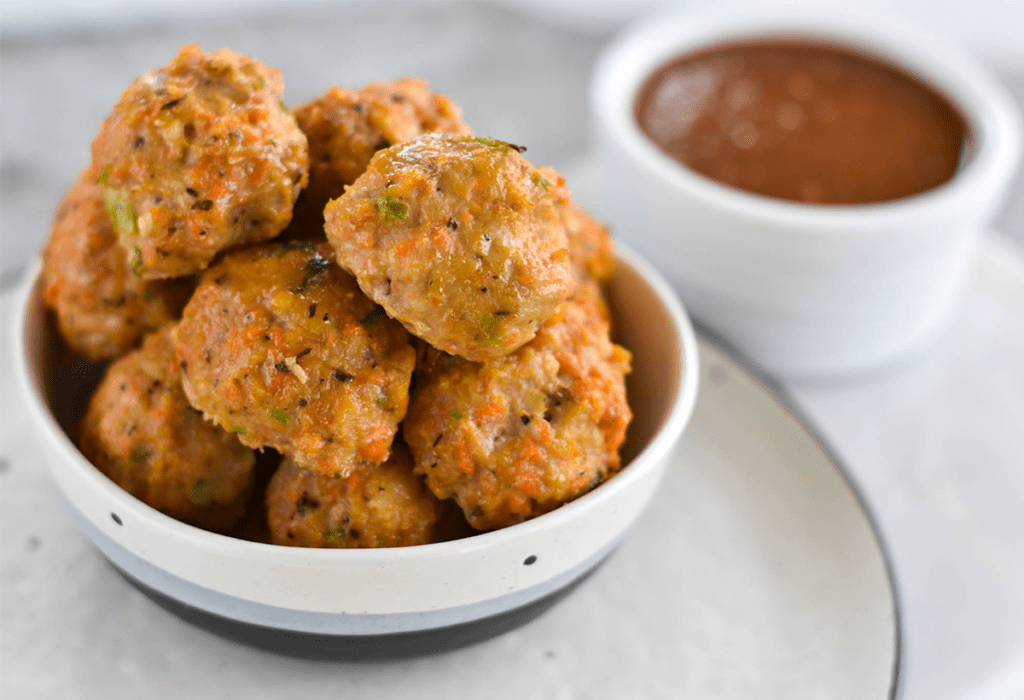 Jump to:
Meatballs, and I have a long standing history. It hasn't exactly been pretty. I have been a notoriously picky eater most my life.
I was fortunate enough that the only thing that felt like child abuse in my childhood was when my parents would make me eat foods I loathed. Specifically, meat in the shape of anything. Meat balls. Meat loaf. I wanted nothing to do with it.
Throughout my childhood, my mom would make these things she called porcupine meatballs. I still have nightmares about having meatballs forced upon me. If someone like me, with such an intense meatball aversion, could love a meatball recipe so much, there must be something to it.
What is Garam Masala?
Garam masala is an Indian spice blend. It is one of the more milder spice blends. Garam masala has a sweet and warm flavor and is used commonly in Indian dishes like curries and lentil dishes. Usually it is made by roasting whole spices and grinding them.
The most notable difference between garam masala and curry powder is that it does not contain turmeric. Garam masala is usually used as a finishing spice while curry powder is generally used earlier on in the cooking process.
You can find garam masala in the spice aisle in well stocked grocery stores. I usually purchase it from Amazon or Thrive Market or make it myself.
How To Make Garam Masala
I realize after moving to the middle of nowhere that not all stores carry Garam Masala. Here is an easy way to make it at home using a combination of various spices.
Time needed: 5 minutes.
How to Make Garam Masala
Combine the following spices in a bowl:

1 tbsp. cumin, 1 ½ tsp. coriander, 1 ½ tsp. cardamon, 1 ½ tsp. black pepper, 1 tsp. cinnamon, ½ tsp. ground cloves, ½ tsp. ground nutmeg (or mace if you have it)

Mix the spices well in the bowl and pour into an airtight container to store.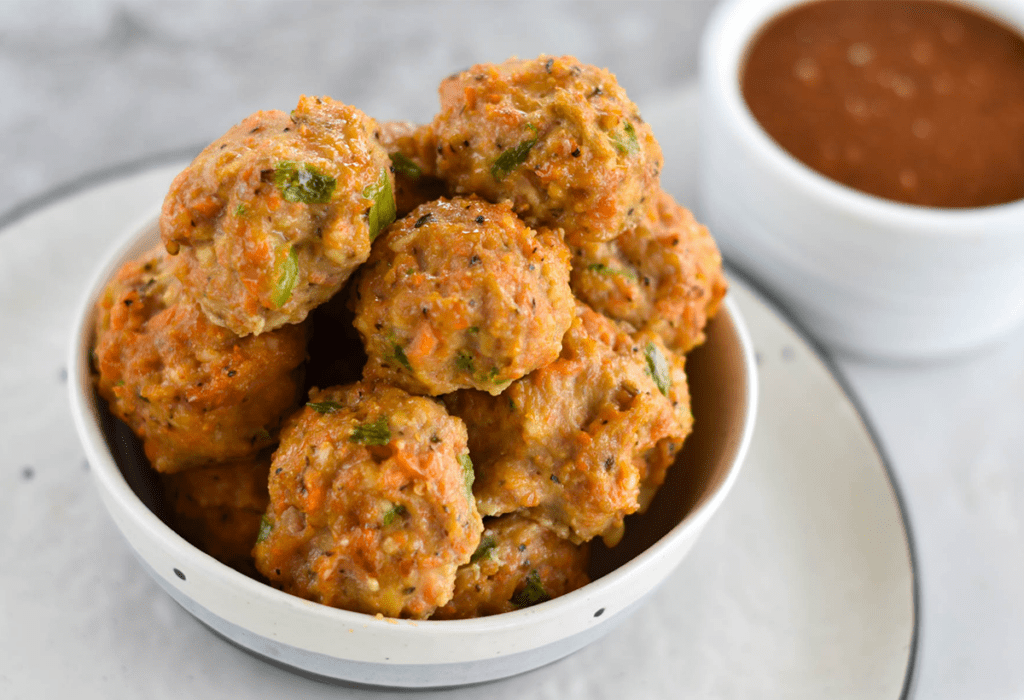 Recipe Tips
Use a food processor or blender to "grate" the carrots. This is a lot easier than using a grater. I also pulse the green onions in the blender to prevent any large chunks.
Use a tablespoon to scoop out uniform meatballs.
Use pre-mined garlic and pressed ginger to save on some chopping.
You can substitute soy sauce for coconut aminos. If you do this I would not add any salt.
Other Paleo Dinner Recipes
📖 Recipe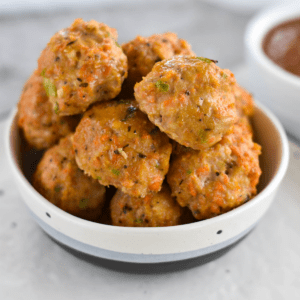 Tikka Masala Chicken Meatballs with Creamy Coconut Curry Dipping Sauce
This is a quick and healthy dish that you can make for dinner or as an appetizer to stray away from the normal boring options. The sweet and creamy dipping sauce balances the warm flavors of the garam masala.  
Equipment
Blender or food processor

Baking sheet

Parchment paper

Whisk

Sauce Pan

Cutting board
Instructions
Meatballs
Preheat the oven to 400 degrees.

Grate the carrots. The easiest way to do this is to chop them into chunks and throw it in a bullet blender or food processor for a couple seconds.

Chop the onions. I usually also pulse these several time sin the bullet blender after chopping to get smaller pieces.

Combine all meatball ingredients into a large bowl, and begin to mix with clean hands.

Begin forming the meatballs using about 1 heaped tbsp of the mixture for each meatball. Ground chicken is significantly less firm than ground beef, so the mixture will feel really soft. Place meatballs on baking sheet. lined with parchment paper.

Cook for 20-25 minutes. Meatballs are done when they start to brown, and internal temperature reaches 165 degrees.
Sauce
While meatballs are cooking, combine sauce ingredients in a small sauce pan over medium heat.

Whisk together until all ingredients are incorporated and smooth.

Stir continuously until sauce has warmed, about 5 minutes. Then reduce heat to a low simmer to keep warm until meatballs are ready or turn heat completely off.

Por directly on the meatballs when serving or serve as a dipping sauce.
Notes
Consider reducing the salt if you choose to use soy sauce rather than coconut aminos.
Buying minced ginger, and garlic can save you time.
Although, this recipe has 2 tbsp of chili paste, it is not inherently spicy. Add more if you want more of a kick. Sriracha can be substituted for chili paste. 
Nutrition
Serving:
7
Meatballs
Calories:
404
kcal
Carbohydrates:
28
g
Protein:
24
g
Fat:
23
g
Saturated Fat:
14
g
Cholesterol:
138
mg
Sodium:
850
mg
Potassium:
1044
mg
Fiber:
3
g
Sugar:
12
g
Vitamin A:
8014
IU
Vitamin C:
11
mg
Calcium:
58
mg
Iron:
4
mg
If you have tried this recipe, leave a comment and a rating! I'd love to hear from you!