Yep, you read that right. This Charcuterie Salad takes all of your favorite items from a charcuterie board and makes it in to an epic salad full of flavors and topped with the perfect fig dressing. You can even use up leftovers from a board to build this salad!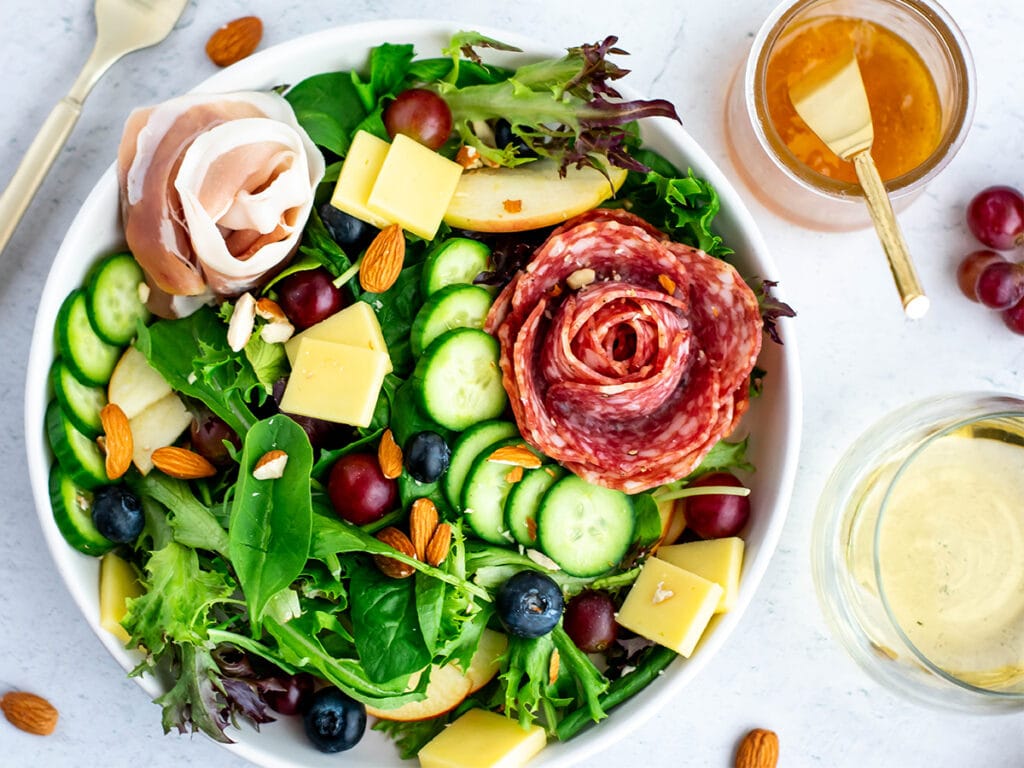 Jump to:
Who doesn't love charcuterie? The combination of sweet, salty and savory flavors make these popular boards a crowd pleaser. This salad combines all of that and turns it in to a healthy meal, nutrient dense meal in under 30 minutes!
Can I Make This Salad From A Leftover Charcuterie Board?
Absolutely! This is a great way to use up what you have in your fridge!
If you had a board out during a get-together make sure the ingredients are still safe to eat and of adequate quality. Sometimes if a charcuterie board sits on the counter too long it might not be best to keep the leftovers, but if it was properly stored this should not be an issue.
Another thing to consider is balance. If you only have almonds and salami leftover it might not make the best salad. The best charcuterie salad will have several items from each category listed below.
How To Make A Charcuterie Salad
The key to a perfect charcuterie salad is picking a variety of items in each category that compliment each other. You don't have to stick to what is on my list, select your favorite charcuterie items and throw them in. The more variety, the more fun and complex the flavors will be. Here are some ideas:
Salty
Sweet and salty is one of the best combinations! Adding salty elements to your salad help to balance and compliment the fruit and sweet dressing.
Salami
Prosciutto
Kalamata olives (pits removed)
Green olives (pits removed)
Pickles
Pickled onions
Cheeses (goat cheese, brie, cheddar, etc.)
Crunchy
Texture is an important component of every salad. Always include something that is crisp or crunchy to add the element of texture to your salad.
Crushed almonds
Pecans
Walnuts
Crushed crackers (gluten-free or grain-free if needed)
Fresh veggies like cucumbers, radishes or carrots
Sweet
Choose a combination of sweet and flavorful fresh fruit and/or dried fruit for your salad and don't be afraid to use more than one type. Simply wash the fruit you choose, remove any pits or stems and thinly slice or dice if needed. You want every ingredient to be ready to eat when added to the salad.
Apples
Peaches or nectarines
Grapes
Cherries
Blueberries
Blackberries
Raspberries
Figs (fresh or dried)
Dates
Dried tart cherries
Pomegranate seeds
Candied nuts
Base
The type of greens you use in your salad does not matter as much as selecting a type that is tender. Things like kale or collard greens are too tough for this recipe. Here are some that will work:
Arugula
Spring mix
Baby romaine
Once you have your ingredients picked out you want to make sure everything is ready to eat and prepared.
Once everything is prepared, simply dress the salad and then organize each ingredient neatly on top. Another, more simple option, is to chop and mix all the ingredients together. I would organize the ingredients if I was serving the salad to a group of people and the aesthetics mattered to me, but if I was preparing it for myself or my family I would just mix it all up since that is how it will be eaten.
If creating an organized salad in a larger portion that everyone will serve themselves from, make sure there are multiple sections of each ingredient so everyone can get a balanced salad.
How To Make The Fig Dressing
Simply combine the following ingredients in a small bowl and whisk together:
2 tbsp. fig preserves
1 tbsp. olive oil
2 tbsp. white balsamic vinegar
¼ tsp. black pepper
⅛ tsp. salt
1 tsp. minced garlic
You may want to double the recipe if prefer a more heavily dressed salad or have a lot of greens. If you like a lightly dressed salad, start by adding ½ the dressing and adjust as needed.
How To Make Salami Roses
Salami roses are attractive in the salad and are so easy to make. This is truly the life skill you didn't know you needed. Need a Valentine's gift for your significant other? Meat bouquets are loved by all.
Here's how to make a salami rose:
You will need sliced salami and a champagne flute, or a very narrow wine glass could also work. The diameter of the glass should be about 1.5 inches.
Fold slices of salami in half around the rim of the glass. Each slice should overlap the one previously laid.
Repeat this process until the hole in the center of the glass is no longer visible. Carefully flip the glass upside down on a hard surface and slide the rose off in one piece.
Can I Make This Recipe Gluten-Free?
Just like charcuterie, this salad could easily be gluten-free if you make sure to check the labels of the ingredients used.
If using things like salami or crackers, make sure select gluten-free options as these ingredients will sometimes contain gluten. Things like nuts, fruits, vegetables, cheeses and prosciutto should be gluten-free as is.
Related Recipes
Did you try this Charcuterie Salad? I would love to see your creations! Take a photo and tag me on Instagram or leave a photo comment on Pinterest.
Feel free to leave a comment and a rating below. Feedback is always appreciated! 😊
📖 Recipe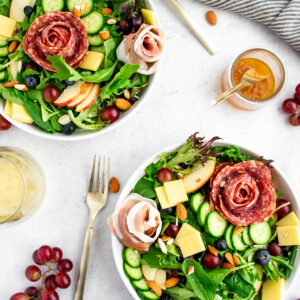 Charcuterie Salad
Yep, you read that right. This Charcuterie Salad takes all of your favorite items from a charcuterie board and makes it in to an epic salad full of flavors and topped with the perfect fig dressing. You can even use up leftovers from a board to build this salad!
Equipment
Salad bowl

Cutting board

Knife
Ingredients
Salad
4-6

cups

Spring mix

½

cup

Green olives

8

slices

Prosciutto

4

ounces

Salami

2

ounces

White cheddar

Or other cheeses

2

ounces

Roasted nuts

Walnuts, almonds or pecans will work great!

2

Mini cucumbers

1

cup

Grapes

1

Apple

Sliced

½

cup

Blueberries
Instructions
Dressing
Combine all ingredients for the dressing and whisk together until smooth and lump free. Set aside.
Salad
Keep in mind that these ingredients and quantities are just suggestions. Feel free to get creative and cater this salad to incorporate your favorite parts of a charcuterie board. You can make this salad using leftovers from a charcuterie board or buy the ingredients solely with the intention of making this salad.

Start by preparing the ingredients. Wash the produce, slice the cucumbers and apples thinly. If the nuts are whole, crush them in a resealable bag using a rolling pin. You can either chop the salami and prosciutto or make flowers like I did in the photos (I explain how to do this in the blog post). Slice the cheese in to small squares (you can also shred or shave the cheese if you prefer).

Dress the greens with the dressing in a large salad bowl. Top the greens with all the other ingredients, arrange them neatly in the salad bowl on top of the lettuce as you would when making a charcuterie board. Serve immediately.
Nutrition
Serving:
1
serving
Calories:
471
kcal
Carbohydrates:
28
g
Protein:
17
g
Fat:
34
g
Saturated Fat:
10
g
Polyunsaturated Fat:
5
g
Monounsaturated Fat:
16
g
Trans Fat:
1
g
Cholesterol:
48
mg
Sodium:
1247
mg
Potassium:
493
mg
Fiber:
4
g
Sugar:
17
g
Vitamin A:
729
IU
Vitamin C:
15
mg
Calcium:
148
mg
Iron:
2
mg