Burgers Can Be Healthy
Come on, friends. Just because you are elbows deep in your new healthy diet doesn't mean you can't dive head first into a delicious and tasty burger. Sustainable, healthy behaviors have to be catered to your individual wants and needs or you'll ditch them at the first waft of a juicy burger two tables away.
My weekly diet definitely includes a dressed up and hearty burger. Your's can to. Don't live in depravity.
I am going to share with you my supremely delicious and effortless Avocado Bacon Burger and Fries Lettuce Wrap. It is basically like a burger salad. Yes, really, a burger-freaking-salad. It is one of my favorite meals to make and it will make you forget about the bun. Who need a bun?

Is red meat okay to eat?
Short answer: Yes.
Long answer: Absolutely, yes. With red meat, especially fattier cuts, you want to choose grass-fed or source your beef from a cattle rancher you know and trust.
Red meat, even fatty red meat, can be both healthy and nutritious if the animals are fed their natural diet. Animals that are pasture-raised produce meat that has much high contents of omega-3 fatty acids, conjugated linoleic acids (think antioxidants), vitamins E and A.
Comparably, cattle that is fed corn, soybean or grain-based feeds produce meat that is less nutrient dense and higher in inflammatory omega-6 fatty acids.
Why does red meat get a bad rap?
Traditionally, health conscious people have steered clear from fatty cuts of meat. This is one of the biggest controversies in the nutrition world, but as nutrition as a science becomes more rigorous we are acquiring an abundance of reputable evidence that supports that saturated fat is not only a necessary part of the human diet, but that it does not pose the health implications we once believed.
This 2013 review paper does a nice job of summing up this topic. The author differentiates between a diet that contains a higher amount of saturated fat but is lower in polyunsaturated fatty acids (gross seed oils and grain-based fats), fructose, sucrose (table sugar) and an imbalance of omega-3 and omega-6 fatty acids, and a diet that is high in both saturated fats, polyunsaturated fatty acids, fructose, sucrose and omega-6 fatty acids (like the Standard American Diet). He shifts the blame for most of the diseases typically associated with saturated fats to well-known culprits like sugar, fructose, and inflammatory fats like omega-6's and polyunsaturated fatty acids. I whole-heartedly agreed with these findings.
Why are fatty meats are more important to buy organic and grass-fed?
The animal, just like humans, store toxins in their fat cells. Our livers are the busiest organs in are bodies, working around the clock to detoxify, produce bile, regulate blood clotting, resisting infection, assisting in fat metabolism, and processing hemoglobin. The liver is a workhorse. When the liver is diverted to other tasks, detoxifying is not at the top of it's priority. At this time toxins are stored in fat cells.
Many of you might avoid corn and soy because here in the US 88-93% of these crops are GMO. These two crops are genetically modified to be herbicide resistant, pesticide resistant or to emit Bacillus thuringiensis (Bt) toxins which serve the purpose of killing pests and predators. This means that toxins present on these crops which are typically used to feed livestock can be stored in the fat cells of the animals, which build up and are concentrated, and subsequently digested by the humans who eat their meat.
Additionally, the more conventionally raised animal fat you eat the more omega-6 fatty acids will be present in your diet which perpetuates the omega-3/omega-6 imbalance that causes inflammation and disease.
So, if you can afford it, it is a worthwhile investment to spend a couple extra dollars on grass-fed meat, especially ones with higher fat content.
With that said, conventionally raised beef is often higher quality than other types of meat because almost all cattle raised in the US spends some of its life on grass. Conventionally raised beef is also almost always more nutritious than vegetarian meat substitutes.

Let's make an Avocado Bacon Burger and Fries Lettuce Wrap!
The process is super simple. Step one is to preheat the oven. You will want to start by preparing the potatoes for the fries because they take the longest to cook. I like to rinse my potatoes with cold water. It helps them get nice and crispy in the oven. After rinsing the potatoes I shake them dry and then lightly coat with avocado oil, salt and pepper. Melted coconut oil would also work just fine for this purpose. I place the coated potatoes flat on a baking sheet, and bake for 10-15 minutes at 425 F. After about 6-7 minutes, I will flip the fries and return them to the oven for another 5 minutes.
For the ground beef, I simply heat a pan on the stove top at medium heat. I throw in the beef, and break it up as it cooks. I will then drain any excess grease from the pan (a paper towel to pat the grease from the meat might be a good idea depending on how much fat you like left on your beef and what type of beef you use). I like to add coconut aminos, garlic powder, salt and pepper to the meat to make them extra flavorful. From start to finish, this process takes about 8 minutes.
While the fries and meat are cooking, I cook the bacon and prepare the remaining ingredients.
All that is left is to assemble and enjoy! These wraps have all the flavor of an avocado bacon burger and are as nutrient dense as they come!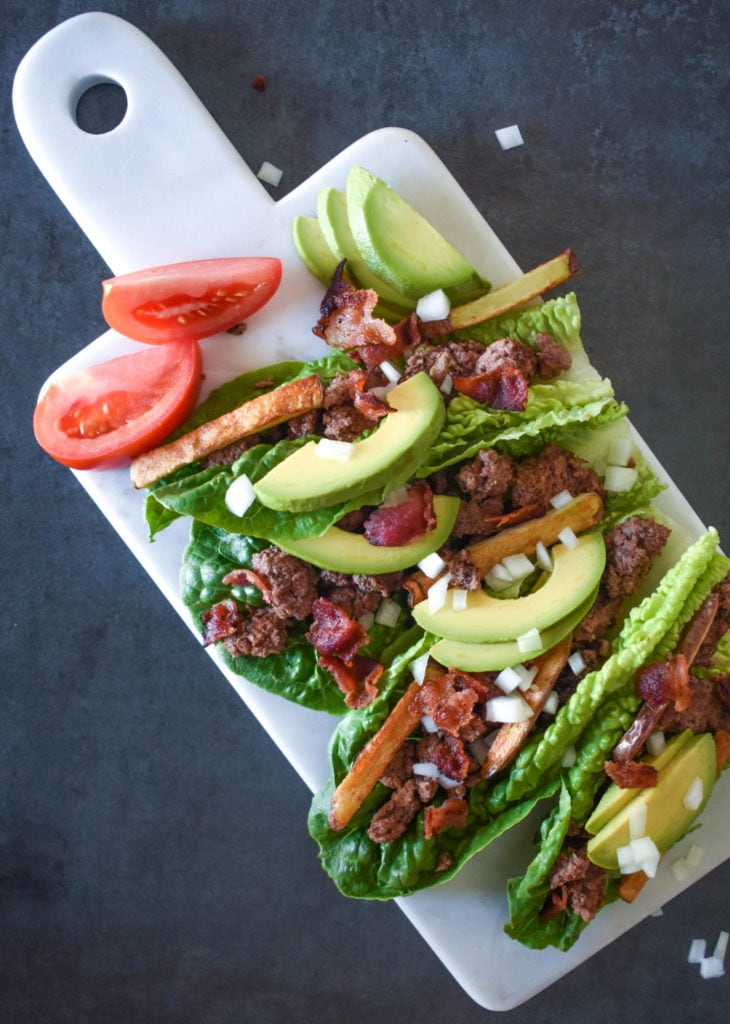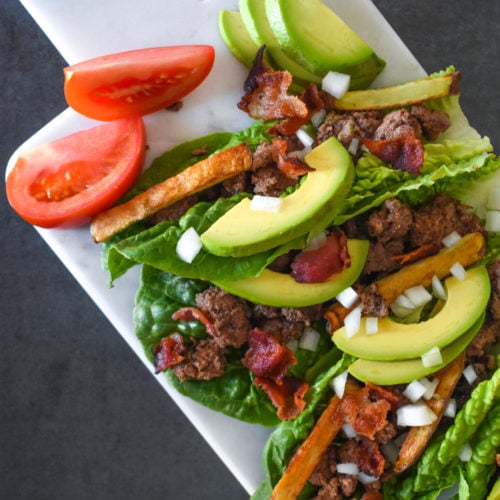 Avocado Bacon Burger & Fries Lettuce Wraps - Paleo, Whole30, Keto
All the nostalgic goodness of a burger and fries without the bun. This filling and flavorful Avocado Bacon "Burger & Fries" Lettuce Wrap recipe is the ultimate way to satisfy your craving for a juicy burger but in a fantastic and nutritious way.
Ingredients
Beef
1

pound

grass-fed beef

2

tbsp

coconut aminos

optional

1

tbsp

garlic powder

1

tbsp

black pepper

1-2

tsp

salt
Wraps
1-2

heads of romaine

washed and dried

1

avocado

ripe

4

slices of bacon

pan fried

1/4

yellow onion

diced finely
Fries
1

small

yukon gold or red potato

1-2

tbsp

avocado oil

salt and pepper

to taste
Optional Toppings
pickles

paleo ketchup

mustard

avocado mayo

tomato

diced
Instructions
Fries
Preheat the oven to 425 F.

Cut the potato in half, and then slice into thin fries. Rinse the potatoes in a colander under cool water and shake dry.

Toss potatoes in oil and generously season with salt and pepper. Place on a baking sheet, and cook for 10-15 minutes or until golden brown. Flip potatoes with a spatula halfway through the cooking time.
Beef
Heat a pan on the stove top to medium heat. Add the beef. Break apart into smaller pieces as it begins to brown.

Remove meat from the pan after it finishes cooking (about 6-8 minutes). Drain the grease and place meat in a large bowl. Add coconut aminos, garlic powder, salt and pepper. Mix well.
Toppings
Pan fry the bacon slices. Remove from the pan once the bacon has cooked. Pat the grease, allow to cool and then break into crumbles.

Dice the onions finely. Slice the avocado. If using tomato, dice the tomato.
Assembly
Prepare the romaine lettuce by chopping the end off from the head. Separate the large firm leaves, these will be the best to use for the wraps. Lay the leaves flat. Add any paleo ketchup, mustard or avocado oil mayo to the leaves now.

Fill leaves first with beef, and then fries. Top with bacon, avocado, onion and any additional toppings you'd like.
Notes
Keto friends, keep in mind that the more fries you add to your lettuce wraps the more carbs.  Using 2-3 small fries per wrap, half of the recipe will have about 6 grams of carbs. You could ditch the fries all together for 3 grams per 1/2 recipe (this estimate is using  sugar free bacon, and no ketchup or tomato).