Most people can unite on the fact that chicken nuggets are a true gift. This childhood finger food is hard to beat. With this 20 minute recipe, you can make these healthier Paleo Chicken Nuggets at home and feel pretty damn good about yourself while doing so.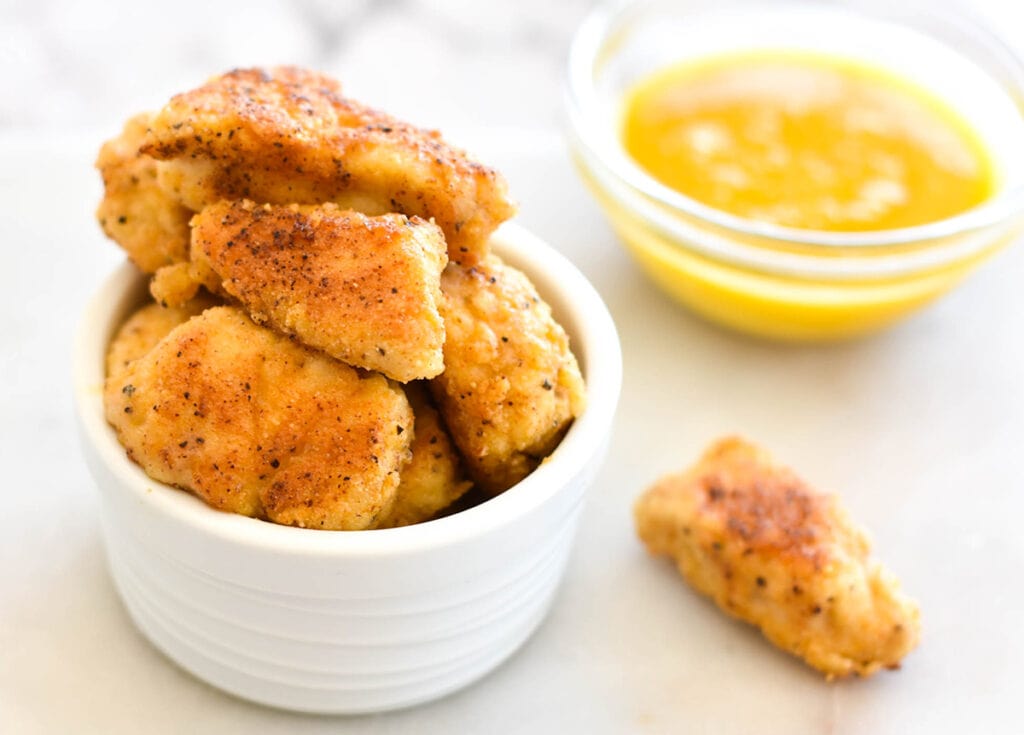 Jump to:
As a dietitian, I usually can't recommend fried and breaded foods with a clear conscious. Oil is not inherently bad, but restaurants almost exclusively to use vegetable and seed oils which are high in inflammatory omega-6 fatty acids. To boot, these oils are used for days in a row. The constant exposure to high heat makes them prone to oxidation.
I used to work at McDonald's. I have seen some things, folks.
With these little nugs, we cook them in avocado oil which has a higher smoke point and lots of healthy monounsaturated fats. That alone should make you feel a little better.
Instead of turning these chicken nuggets into a gluten bomb, we opt for grain free and gluten free breading. We will use cassava flour and almond flour for the perfect light and crispy combo.
Lastly, legit chicken breast is used in this recipe. That spongy mystery meat at your local drive thru can't hold a flame to these golden nuggets.
Making This Recipe A Meal
My favorite way to eat these nuggets is making a chicken nugget salad! I usually pair some mixed greens with some crunch veggies like carrots or cucumber, maybe some pieces of apple! I top it with the chicken nuggets and add my Paleo Maple Mustard Dressing. Amazing.
You could also go for a more classic pairing by roasting some sweet potato fries in the oven. This never disappoints. I also use my Maple Mustard Dressing as a dipping sauce in this scenario. I usually throw some broccoli rubbed with avocado oil and salt into the oven alongside the sweet potatoes. This adds some green to you meal and is barely any extra work.
Can I Bake These Nuggets?
Yes. I prefer frying them because it creates the perfect crispness, but baking is also an option.
To bake, preheat oven to 400 degrees F. Spray a wire rack on a baking sheet with oil. Make sure the wire rack has small enough grates so that the nuggets don't fall through (a mesh rack would work best). Place the coated nuggets on the rack. Spray the nuggets with cooking oil and cook for ten minutes. Remove from oven, flip the nuggets and cook for another 10 minutes. If you don't have a rack that would work, you could use a parchment paper lined baking sheet.
This is the cooking oil spray I would use.
Reheating In The Air Fryer
Although I like to cook these puppies in a pan because the breading stays on better, reheating in the air fryer is the way to go!
I have a smaller basket air fryer. I usually throw the cold nuggets into the basket and heat them for 8 minutes on 400 degrees F. Fool proof crispy nuggets every time!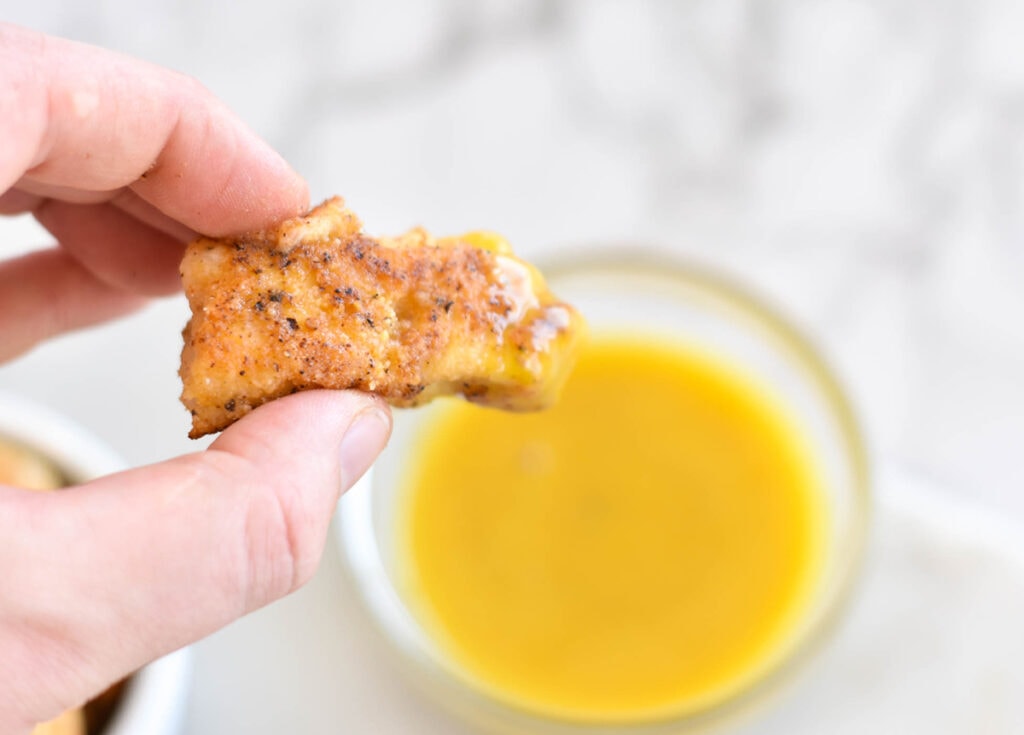 Where Can I Buy Avocado Oil?
Avocado oil is carried at most stores now! I live in the middle of nowhere and our Walmart has it, so I think there are good odds that you can find it in the baking section next to the olive oil at most U.S. grocery stores.
Amazon is always an option too. Or, you can buy directly from Chosen Foods or Primal Kitchen, but there are cheap options out there as well!
Substitutions
Cassava Flour - Tapioca starch is a good substitution if you don't have any cassava flour on hand. They are essentially the same. Cassava flour is a little less refine and a bit more grainy. You could probably use cornstarch (or cornflour for my friends in the UK), but this would make the recipe no longer paleo or Whole30 compliant. I have not tested this recipe using corn starch, but usually they work similarly.
Almond Flour - I do not recommend replacing this ingredient. You may want to replace it with coconut flour but I caution you against this. Coconut flour is much drier and will have a coconut-y flavor. It will not be a 1:1 replacement.
Avocado Oil - This is my preferred cooking oil. You could substitute this with any other high heat, neutral flavored cooking oil. I chose avocado oil for it's superior fatty acid profile and mild flavor.
Chicken Breast Tenderloins - This is always my go-to when I am making any recipe that requires small pieces of chicken. The chicken breast tenderloins are basically the same thing as chicken breast, they are just in really user friendly, trimmed pieces. You could certainly use full chicken breast and cut them yourself.
Other Paleo Chicken Recipes
Did you try these Paleo Chicken Nuggets? If so, please comment below and leave a rating. I would love to hear how you liked them!
📖 Recipe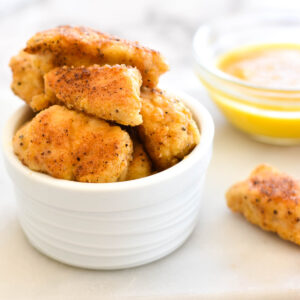 Paleo Chicken Nuggets
These healthier chicken nuggets are gluten free, Whole 30 compliant, paleo and 100% kid friendly.
Instructions
Slice the chicken breast tenderloin into about 1 inch pieces.

Combine all dry ingredients together in a bowl.

Begin coating the chicken pieces with the egg. Drip off any excess egg and then dredge in the flour mixture piece by piece. If you have extra flour mixture, sprinkle over coated chicken to ensure everything is well coated.

Heat oil in pan over medium heat.

Add as many pieces of chicken in the heated pan as will fit. Allow to cook until the chicken begins to brown. Flip the chicken as it browns. This will take about 5 minutes per side. Add more oil to the pan if needed.

Once cooked, remove the chicken from the pan and serve.
Video
Notes
The calorie calculations are done using 100% of flour mixture, which generally is not the case so actually calories will likely be lower.
Nutrition
Serving:
8
nuggets
Calories:
391
kcal
Carbohydrates:
14
g
Protein:
35
g
Fat:
21
g
Saturated Fat:
3
g
Cholesterol:
151
mg
Sodium:
392
mg
Potassium:
592
mg
Fiber:
1
g
Sugar:
1
g
Vitamin A:
219
IU
Vitamin C:
3
mg
Calcium:
44
mg
Iron:
2
mg