These simple Flourless Peanut Butter Cookies are a classic favorite. This recipe requires only 5 ingredients and is completely flourless, gluten-free and low carb.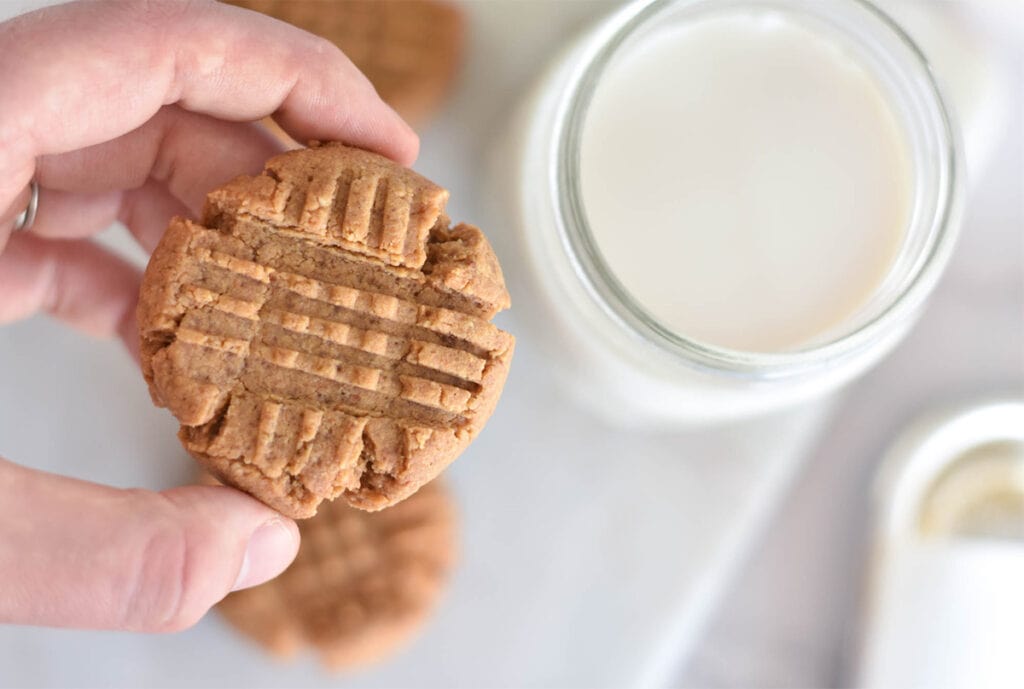 Jump to:
Peanut butter cookies are one of my dad's favorite treats. When we were little, my mom would bake peanut butter cookies at least every couple months. Saying they were staple in my house growing up was an understatement. And, ya'll know I LOVE peanut butter, so I had no complaints there.
This recipe has all the peanut buttery goodness, just without the sugar and flour. It is made from only a few simple ingredients: peanut butter, egg, low carb sweetener and a pinch of salt. It doesn't get much easier!
What Type Of Peanut Butter Should I Use?
It is important to use unsweetened peanut butter, especially if you are following a low carb diet. They also lend more of a peanut-y flavor. Usually any unsweetened peanut butter will be "natural" meaning it is free of hydrogrenated oils.
I like to use peanut butter that is just peanuts and salt. These are the brands I prefer:
One of these brands can likely be found at your local grocery store.
Best Low Carb Sweeteners To Use
The low carb sweetener you should use is largely based on preference as several sweeteners will work well in this recipe.
I used erythritol (¼ cup) with pure liquid stevia (1 tsp.). You could use all erythritol, but this is not my favorite because it has a significant cooling effect and that is all I notice when using exclusively erythritol. If you are one of the people who can't detect this, then using ⅓ cup should be about right.
I really like the taste of allulose in baked goods. It seems to react the most like sugar. If you like and tolerate allulose you can certainly use it in this recipe. It is slightly less sweet than erythritol so you will need to increase the amount used in this recipe. Before adding the egg, add sweetener to peanut butter and salt. Taste and adjust accordingly. I would start with ⅓ cup.
Another option that I like is Lakanto Powdered Monk Fruit Blend. For this sweetener you will also want to use around ¼ to ⅓ cup.
You can try any keto-friendly sweetener in this recipe, just be sure to add a little to the batter and taste it and then adjust to your personal preference. Do this before you add the egg to avoid risk of salmonella.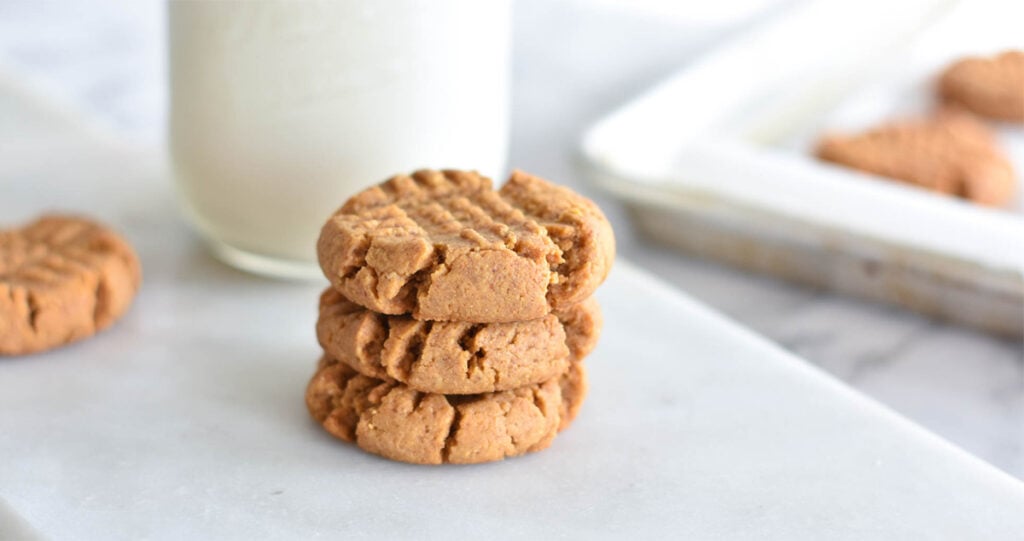 How To Make Keto Peanut Butter Cookies
This recipe is almost fool proof (I say almost because sometimes fools choose to test me 🤣). But, really, it is so hard to mess up!
First make sure the peanut butter is stirred up. The natural peanut butters tend to separate. Preheat your oven to 350 degrees F and line a baking sheet with parchment paper.
Add all ingredients to a bowl with the exception of the egg. Taste the batter and see if you want to adjust the sweetener or salt. Then add the egg and whisk until dough clumps start to form.
Using a cookie scoop or your hands, start scooping out the dough in even amounts. Roll the dough between cool hands until it is smooth and even. Place evenly spaced out on baking sheet.
Lightly press down on each cookie creating a crosshatch design using a fork. Once all cookies are flattened, place in the preheated oven.
Baked for 10-12 minutes, or until cookies are crispy on the outside but still soft in the middle. You will need to allow the cookies to cool completely before handling. I would allow 30 minutes for cooling.
That's it! Eat and enjoy!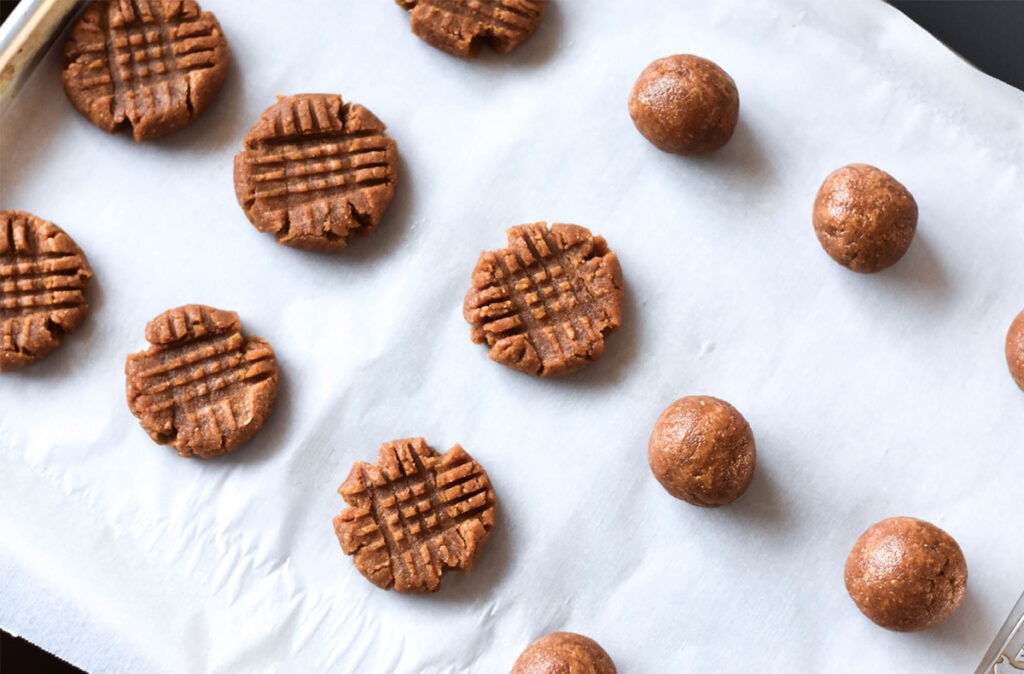 Storing Flourless Peanut Butter Cookies
These cookies will store well in an airtight container in the fridge for about a week. You can also freeze them. Allow them to cool fully and then transfer to a freezer bag or airtight container and store in the freezer for up to 1 month. I like to eat them frozen (I know, weird!) but you can thaw them in the fridge for a few hours before enjoying.
Recipe Tips
Add eggs last so you can taste the batter and adjust sweetness.
You can make this recipe sweeter or saltier depending on your tastes. If tend to find keto treats too sweet or not sweet enough, I would add the egg last. This gives you an opportunity to slowly add the sweetener or the salt before you commit, and then add more if you need it!
Allow cookies to cool before handling.
These cookies don't have flour, so you really do need to let them cool before you move them. Give them 20-30 minutes to avoid crumbling your precious peanut butter cookies.
Related Recipes
Did you try these Flourless Peanut Butter Cookies? I would love to see your creations! Take a photo and tag me on Instagram or leave a photo comment on Pinterest.
Feel free to leave a comment and a rating below. Feedback is always appreciated! 😊
📖 Recipe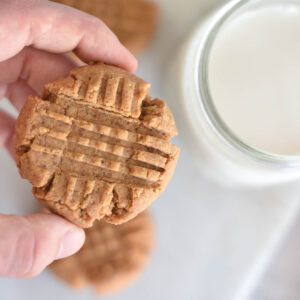 Flourless Peanut Butter Cookies (Keto, Gluten-Free)
The simple 5-ingredient, flourless keto peanut butter cookies make the perfect low carb treat and are quick to whip up anytime!
Equipment
Whisk

Mixing bowl

Spatula

Baking sheet

Parchment paper
Instructions
Preheat oven to 350 degrees F.

Mix all ingredients together in a mixing bowl using a whisk until a dough begins to form. If you want to taste the batter and adjust the sweetness or saltiness, then hold off on adding the egg until you have tasted and approved.

Scoop out 14 cookies using a cookie scoop on lined baking sheet. Carefully press down with fork in a crosshatch on each cookies.

Bake for 10-12 minutes. Once removed from the oven, allow to cool for 30 minutes before handling.
Notes
I like to use a combination of erythritol and stevia, because it minimizes the cooling effect of erythritol alone. You could use all stevia or all erythritol based on your preference. You may need to taste the dough and adjust accordingly (before adding egg).
Nutrition
Serving:
1
cookie
Calories:
113
kcal
Carbohydrates:
4
g
Protein:
5
g
Fat:
10
g
Saturated Fat:
2
g
Cholesterol:
12
mg
Sodium:
131
mg
Potassium:
124
mg
Fiber:
1
g
Sugar:
2
g
Vitamin A:
17
IU
Calcium:
10
mg
Iron:
1
mg