Whether you have officially made it to week 2 of your Whole30 or just happen to stumble across this Whole30 Dinner Meal Plan, you are in for a treat this week. We have lots of tasty and hearty dinner recipes and an organized grocery list to make eating healthy this week a breeze.
Jump to:
Download Week 2 Meal Plan and Grocery List
This pdf contains week 2 of this 30-day Whole30 meal plan. Each recipe on the pdf has a link that will take you to the recipe page with all the instructions. Additionally, you will find a handy grocery list with all the ingredients needed for dinner this week!
Note: You must be on desktop to download.
Day 1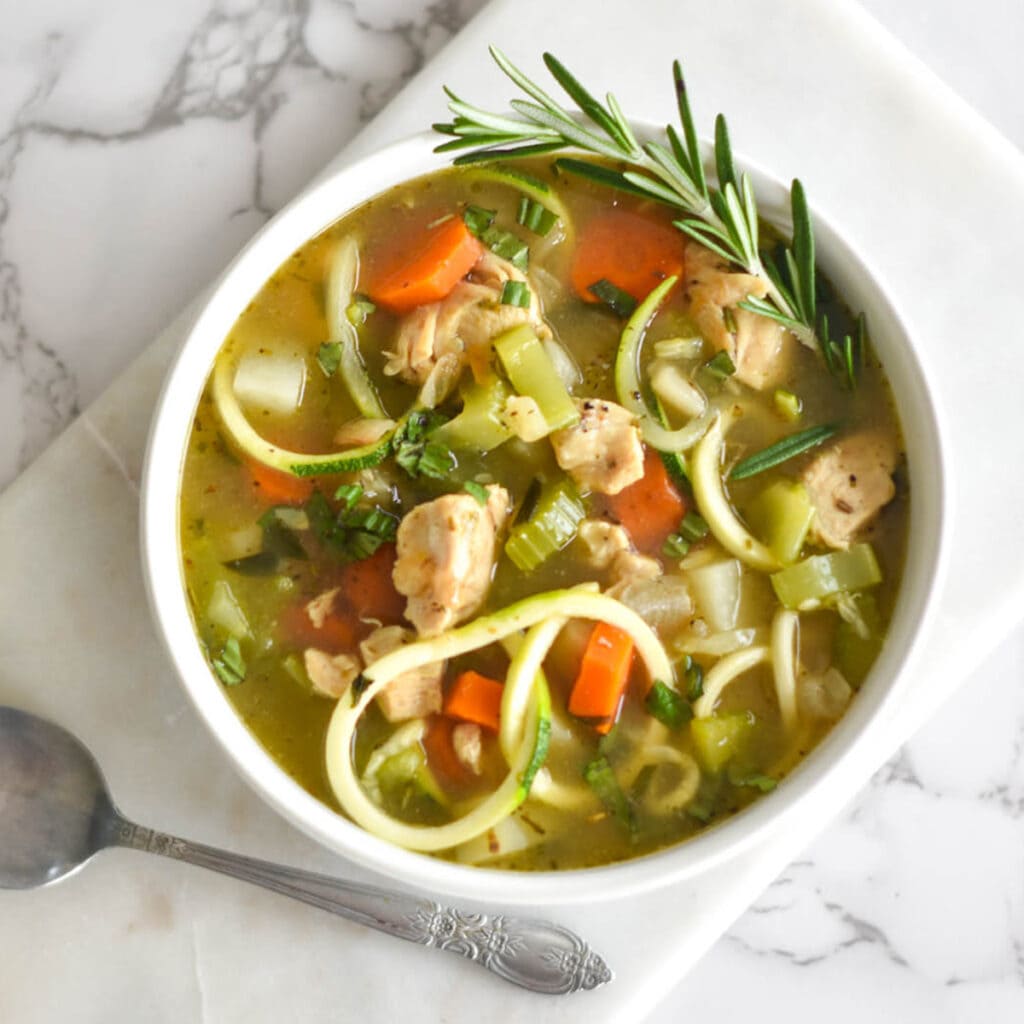 Servings: 8 cups
Cook Time: 40 minutes
This soul-soothing and flavorful Paleo Chicken "Noodle" Soup is rich in micronutrients and makes the perfecting warming meal. If you can't find chicken breast tenderloins for this recipe you can absolutely substitute regular chicken breasts.
Day 2
Servings: 4 people
Cook Time: 20 minutes
Egg Roll In A Bowl is a classic paleo favorite. This recipe from Laura at Cook At Home Mom is tasty, quick and can be made in one skillet making it the perfect weeknight meal!
Day 3
Servings: 4 people
Cook Time: 55 minutes
These chicken leg quarters from Erin at Food Doodles are simple and so tasty! Pair them with my no-mayo potato salad and you have a perfect meal! While the chicken cooks, you will have plenty of time to prepare the potato salad.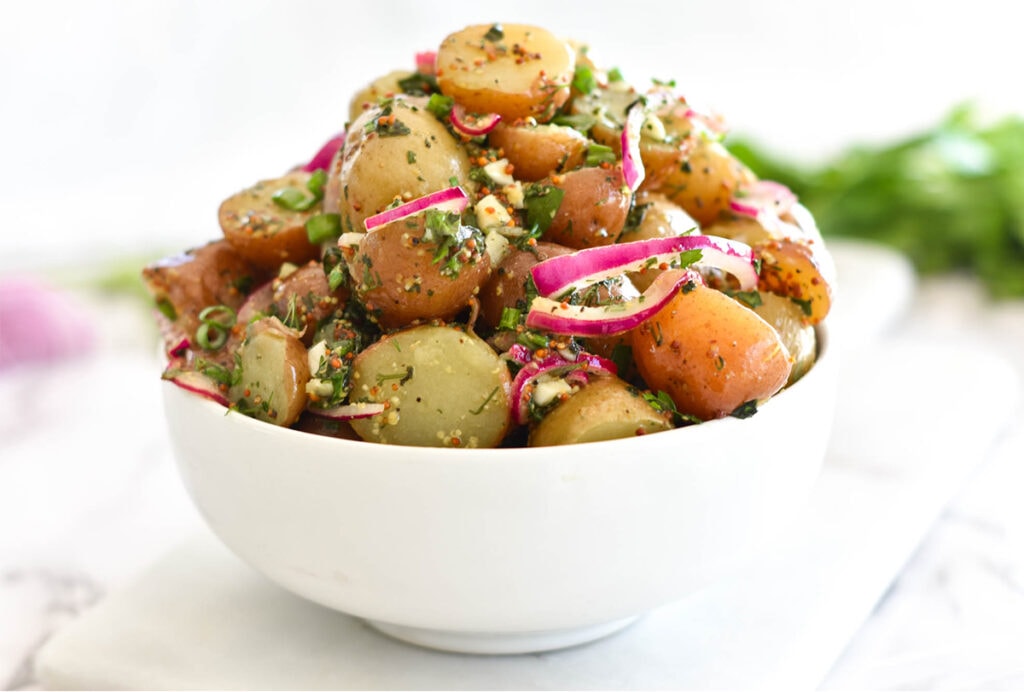 Day 4
Servings: 6 people
Cook Time: 1 hour 10 minutes
This pot roast recipe from Bintu at Recipes From A Pantry is tender, flavorful and the perfect one-pot meal. You can use fresh or frozen meat, making it a great recipe to have on hand when you forget to pull anything from the freezer.
Day 5
Italian Sausage
Servings: 4 people
Cook Time: 25 minutes
This tomato basil soup is one of my favorite recipes. Not only is it quick, but it is super flavorful and when topped with Italian sausage it makes the perfect meal. While the soup cooks, brown and break up the sausage in a frying pan. Once fully cooked, just add on top of the soup!
If you are having trouble finding Whole30-compliant sausage, this Italian sausage recipe is a simple solution.
Day 6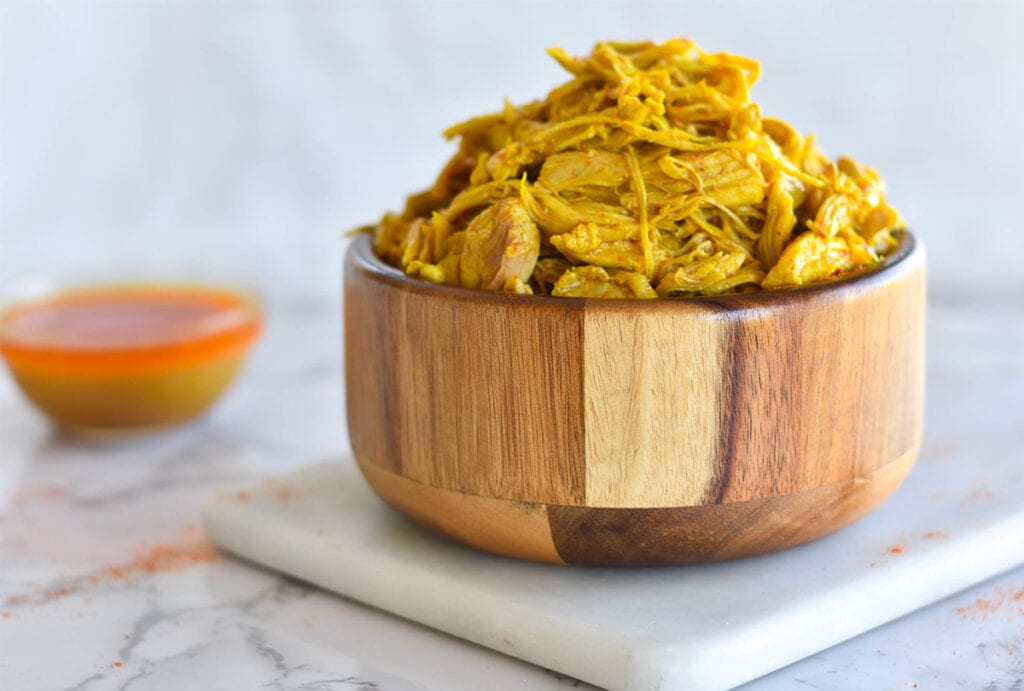 Instant Pot Tandoori Chicken Curry
Cauliflower Rice
Servings: 5 servings
Cook Time: 25 minutes
This Tandoori Chicken Curry may not be a traditional tandoori meal but it is a tasty, fool-proof 30-minute dinner and full of warm tandoori spices! While the chicken is cooking in the Instant Pot you can Sautee the cauliflower rice and have dinner ready before you know it. If you plan on serving 5 people this meal, you may need to get two packages of cauliflower rice.
Day 7
Chicken Bacon Ranch Spaghetti Squash
Servings: 4 people
Cook Time: 50 minutes
Another great recipe from Laura at Cook At Home Mom, these Chicken, Bacon & Ranch Stuffed Spaghetti Squash Boats are one of the most delicious dinners, not to mention unbelievably simple to make especially if you have leftover chicken on hand. If you are looking for a paleo ranch dressing to use in this recipe Primal Kitchen offers a Whole30-compliant option!
Other Whole30 Dinner Meal Plans
If you are completing a Whole30, be sure to check of the rest of these meal plans to make your experience so much easier! You will find 30 days of dinner recipes and pdf grocery lists that are downloadable and printable!
Are you using week 2 of this Whole30 Dinner Meal Plan? I would love to see what you are cooking! Take a photo and tag me on Instagram or leave a photo comment on Pinterest.