This tasty recipe yields the perfect Thai peanut chicken and rice bowls. No only is it a quick meal but it also makes the perfect meal prep! Packed with nutrition and paired with my favorite flavorful peanut sauce, this is one recipe that you won't get tired of.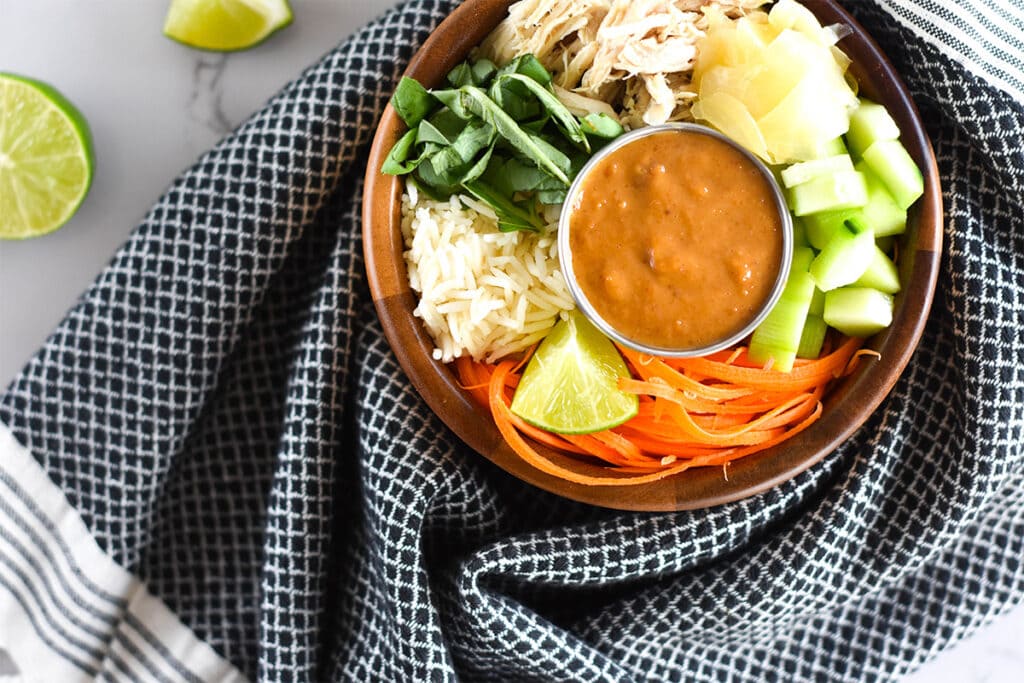 Jump to:
I am a big fan of bowls. Full of veggies and flavors, you can't really go wrong.
This beauty contains carbs, protein, fats and fiber all in one dish. Macronutrients, check. It is loaded with herbs and fresh veggies making it also rich in micronutrients. In this bowl you will get a hearty dose of beta carotene (vitamin A), potassium and vitamin C along with 7 grams of fiber and 33 grams of protein.
The nutrition information is calculated using a hearty 1 cup of rice. Most people won't need that much. To lower the carbohydrate and calorie count simply reduce the rice by half.
Making The Peanut Sauce
To make the peanut sauce, combine the following ingredients in a small mixing bowl and whisk together:
⅓ cup coconut milk
½ cup unsweetened peanut butter
1 tbsp. sriracha
2 tbsp. maple syrup
3 tbsp. coconut aminos
Juice of 1 lime
For best results, use a coconut milk that does not separate. I like the pourable Thai Kitchen brand and the coconut milk from Thrive Market. If your coconut milk separates, you may need to heat it in a pan in order to get all ingredients to incorporate.
A peanut butter that contains just peanuts and salt will produce the best, most peanut-y peanut sauce. If your peanut butter is a little too stiff, you can place the jar in a bowl of warm water for a minute or so until it softens.
I would not generally recommend substituting soy sauce in place of coconut aminos. The sauce will taste less sweet and more salty with soy sauce, although this is an option if you can't find coconut aminos. You can find coconut aminos on Thrive Market, Amazon and most grocery stores. Usually the most reasonably priced coconut aminos will be found at Trader Joe's.
Recipe Variations
This is a very simple recipe that can be adjusted to cater to what you have on hand and what flavors you prefer.
Vegetables
I use carrot and cucumber in this recipe, but you can add any mild flavored vegetable you would like. Things like cabbage, spinach, red bell peppers, avocado or zucchini will go well in this recipe. The best veggies for bowls are crunchy, not bitter and taste good raw.
Grains
I use basmati rice in this recipe because it is very neutral in flavor and adds a nice texture to the dish. I chose white rice because I tolerate it best, but if you prefer to do brown rice, go right ahead. You could also substitute quinoa, farro or any preferred grain. Consider the other flavors in the bowl before choosing a different grain.
For a grain-free option you could substitute roasted sweet potatoes. You could also skip the rice altogether or use cauliflower rice. While this will be very low carb and nutrient dense, it will not be quite as satisfying.
Protein
Shredded chicken is something I usually have on hand, so this is what I generally use when making these chicken and rice bowls. I use this Instant Pot Shredded Chicken recipe, but these bowls would also be a good way to use up leftover rotisserie chicken or grilled chicken!
Don't feel limited to chicken either. You could always sub tofu, tempeh or chickpeas for meatless options. Or, if you are just tired of chicken, flank steak or ground pork could be used as well.
Toppings
I love the combination of fresh basil, garlic, crushed peanuts and pickled ginger. It is the perfect combination of sweet and savory. But, feel free to add whatever toppings you would like to these bowls.
Here are a few ideas:
Crushed cashews
Hemp seeds
Avocado
Sesame seeds
Chili sauce
Green onions
Sprouts
Chili flakes
Fermented veggies
Recipe Tips
If using this Instant Pot Shredded Chicken recipe, prepare your rice and veggies while the chicken is cooking. Or, better yet, prepare the chicken ahead of time and store in the fridge or freezer!
Using packaged par-cooked rice will safe you time as it can usually be microwaved in under 2 minutes. You can also find par-cooked rice in the freezer section of most stores.
Using unsweetened peanut butter will yield the best results. I prefer the taste of peanut butter that contains just peanuts and salt.
Meal Prepping This Recipe
This Thai peanut chicken and rice bowl recipe makes the perfect meal prep! The key to meal prepping this recipe is to keep all ingredients separate to prevent the veggies and rice from getting soggy.
Using meal prep containers with a divider and/or condiment containers can be helpful. Store the peanut sauce, crushed peanuts and pickled in separate containers. The chicken and rice should be kept separate, but the veggies can be stored in the same container.
This meal can be eaten cold and does not require a microwave. Store in the fridge and consume within 4 days of preparing.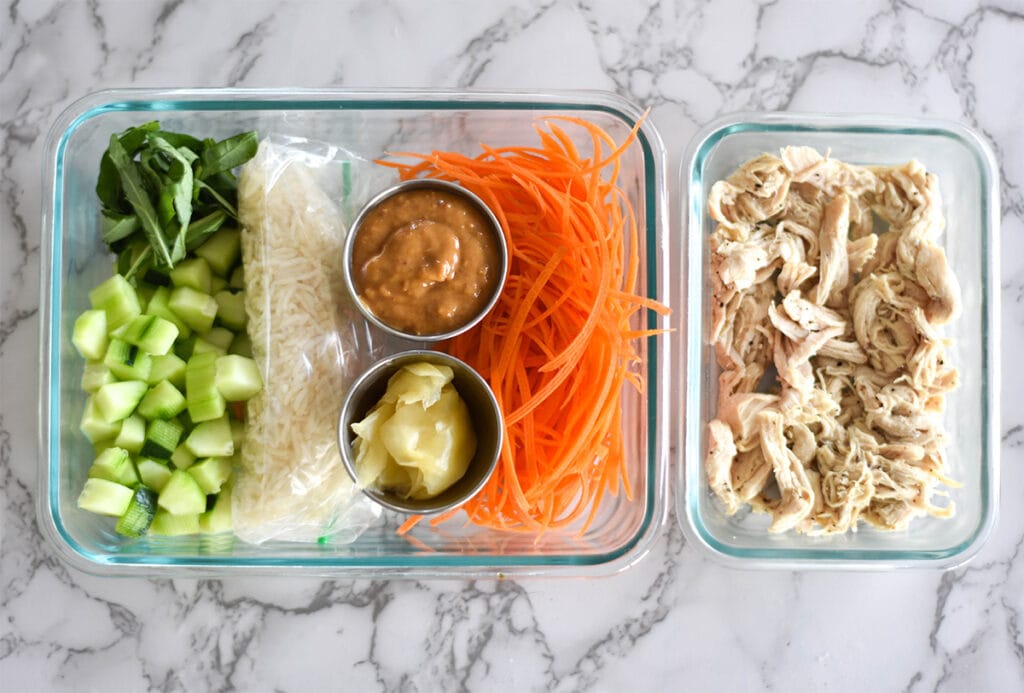 Related Recipes
Have you tried these Thai Peanut Chicken and Rice Bowls? If so, leave a comment and a rating below. I would love to hear from you!
📖 Recipe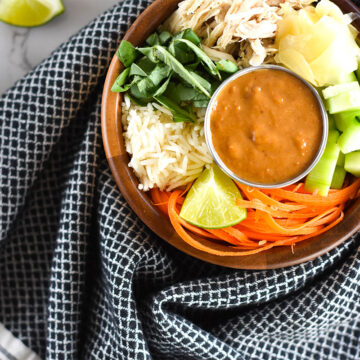 Thai Peanut Chicken and Rice Bowls
This simple and tasty Thai peanut chicken and rice bowl is a quick recipe that can be made ahead and used as a meal prep option or just whipped up as a quick and nutritious meal.
Equipment
Cutting board

Knife

Mixing bowl
Instructions
Peel the cucumber. Cut off the ends and slice in 4 pieces lengthwise. Slice down the inside of each piece to remove the seeds. Dice the cucumber into small pieces.

Take the basil leaves and roll the up. Thinly slice the leaves to create thin, shredded pieces.

Peel and mince the garlic.

Peel the carrots and shred. You could also use julienne carrots.

Combine cooked rice, shredded chicken, veggies, ginger, basil, and garlic. Top with peanut sauce and crushed peanuts.
Peanut Sauce
Combine all the ingredients for the sauce in a bowl. Juice the lime into the bowl. Whisk together. You will want to use a coconut milk that doesn't separate (the pourable Thai Kitchen that is just coconut and water works best).
Notes
If you can't find coconut milk that doesn't separate, you may need to heat the coconut milk in a sauce pan on low heat and stir so you can get the coconut cream and water to mix together.
Calories and carbs include 1 cup of a rice and ¼ of the peanut sauce per bowl. If you use less than that your calories and carbs will be lower.
Nutrition
Serving:
1
bowl
Calories:
671
kcal
Carbohydrates:
76
g
Protein:
33
g
Fat:
28
g
Saturated Fat:
8
g
Cholesterol:
48
mg
Sodium:
630
mg
Potassium:
1160
mg
Fiber:
7
g
Sugar:
15
g
Vitamin A:
10479
IU
Vitamin C:
18
mg
Calcium:
112
mg
Iron:
3
mg