These Whole30 Sloppy Joes satisfy that itch for classic comfort food. This recipe is paleo and Whole30 compliant making it healthier while still giving you all that rich and hearty goodness you remember from childhood.
Jump to:
Does anyone else remember the Manwich? Oh my gosh... the Manwich. If you're not old enough to remember, let me enlighten you. Manwich was (is?) a canned sloppy joe sauce that was created in the late 1960's. You would simply mix this sauce with ground meat and slap it on a bun. These sandwiches were the definition of sloppy.
That kind of thing doesn't have the same appeal today, at least not to me. This sloppy joe recipe sauce is made from real foods, mixed with veggies, ground beef and bacon for a healthier but still hearty -wich.
We skip the bun and top these on sweet potato rounds. This eliminates the processed carbs and adds fiber, beta carotene and potassium to the mix.
What Are Sloppy Joes?

Sloppy Joes originated in the U.S. during the early 20th century and have hung around ever since. This sandwich consists of ground beef, onion, tomato sauce or ketchup, Worcestershire sauce, and seasonings, and is traditionally served on a hamburger bun.
Sloppy Joes can be slightly sweet and tangy or more savory. Most commonly they are made with ground beef but pork is also be used in some recipes.
How To Make Paleo Sloppy Joes
To make the best Paleo Sloppy Joes you will need:
Ground Beef
Thick Cut Bacon
Red Bell Pepper
Green Bell Pepper
Yellow Onion
Coconut Sugar ( Or Date Paste for Whole30)
Red wine vinegar
In traditional sloppy joes Worcestershire sauce and ketchup are commonly used. Both of these ingredients contain processed sugars. For similar flavor we will be using coconut aminos and tomato paste with a bit of sweetener (coconut sugar or date paste).
The meat, veggies, herbs and spices used in sloppy joes are all paleo and Whole30 compliant, so the rest of the recipe will remain essentially the same with an emphasis on veggies and nutrient dense ingredients.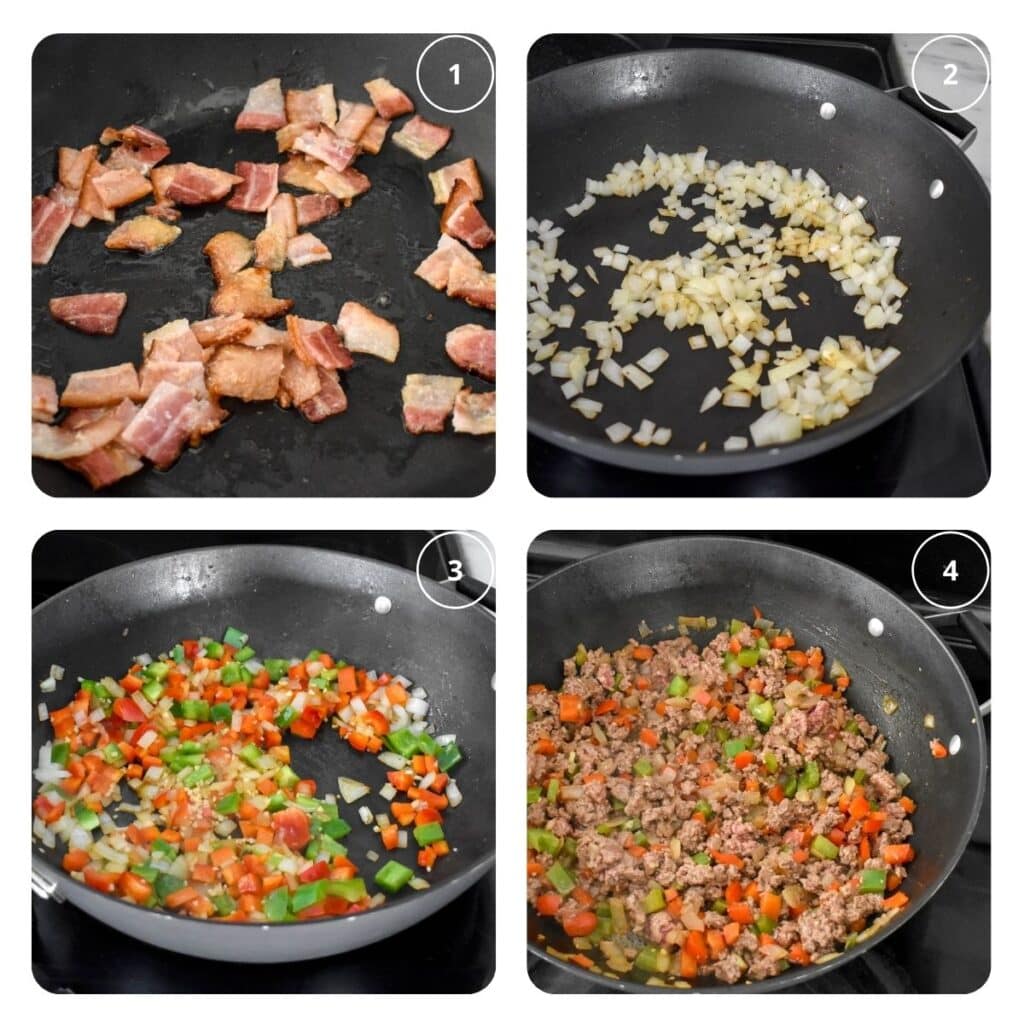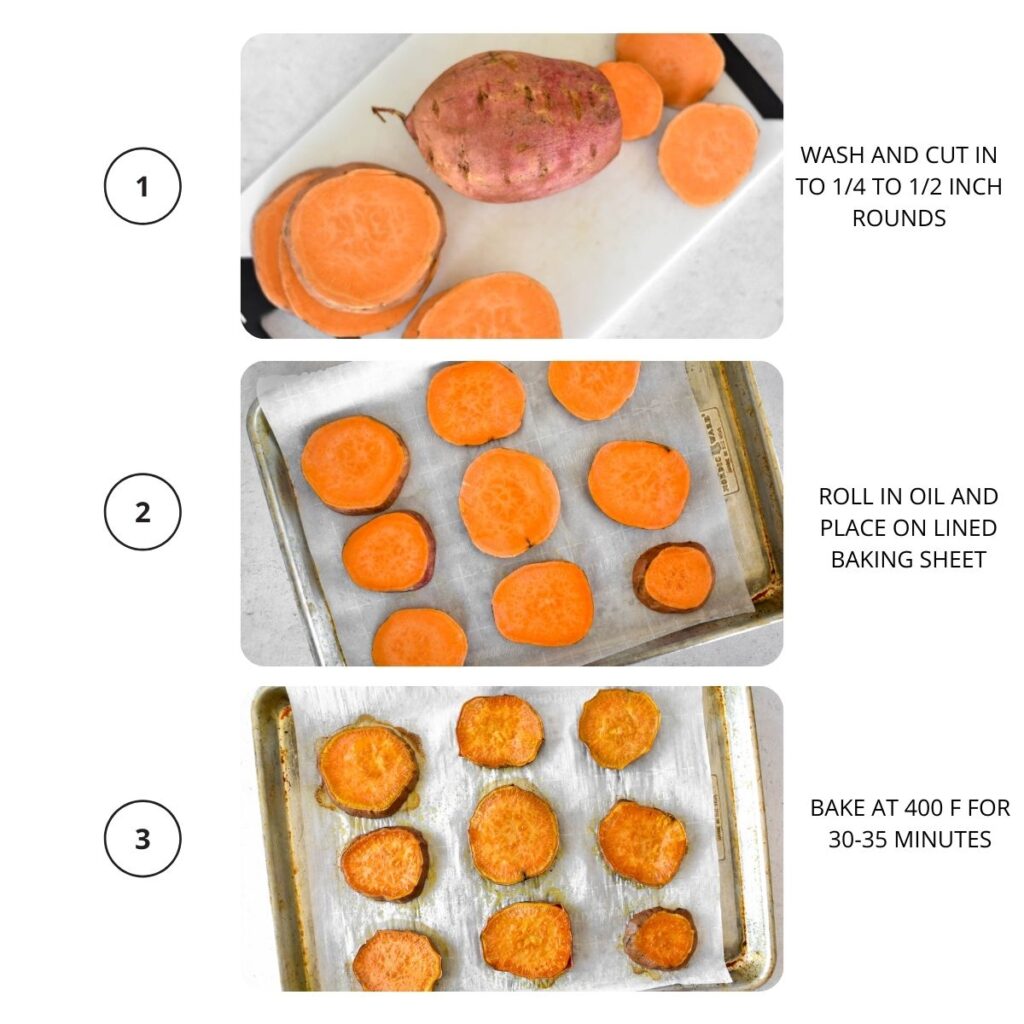 How To Make Date Paste
To make this recipe Whole30 complaint, you will either need to omit the coconut sugar or replace it with date paste.
While the recipe is great without the sweetener, some (including me) like their sloppy joes with a hint of sweetness to balance out the salty, smokey flavors. Date paste is super easy to make and a Whole30-compliant solution.
Making Date Paste For This Recipe
To make date paste, simply pick out some super soft and gooey medjool dates. Choosing dates with the pit still in them is usually the best option because the tend to be fresher.
Remove the pits from three of your dates and put them in a small shallow dish. Flatten the pitted dates out and cover them with three to four tablespoons of very hot water. Make sure your dish is small enough to allow the water to cover the dates fully.
Wait 10-20 minutes to allow dates to soften. Once dates are soft you can place them in a bullet blender along with most of the soaking liquid. Blend until smooth and set aside for the recipe. You will need about two tablespoons of paste.
Making Large Quantities of Date Paste
You can also make date paste in larger quantities and save it for other recipes. To make a larger quantity you can soak 1 lb of dates in about 1 cup of boiling water, making sure dates are pitted and covered completely. Soak for a minimum of 20 minutes. When blending you can add as much or as little of the soaking liquid needed to achieve your desired consistency. Soaking longer will help the dates soften more.
Storing Date Paste
Save extra date paste in the fridge for up to 4 weeks in an airtight container. You can also freeze date paste if you don't plan on using it within 4 weeks. Frozen date paste will maintain quality for 6 months when properly sealed and stored.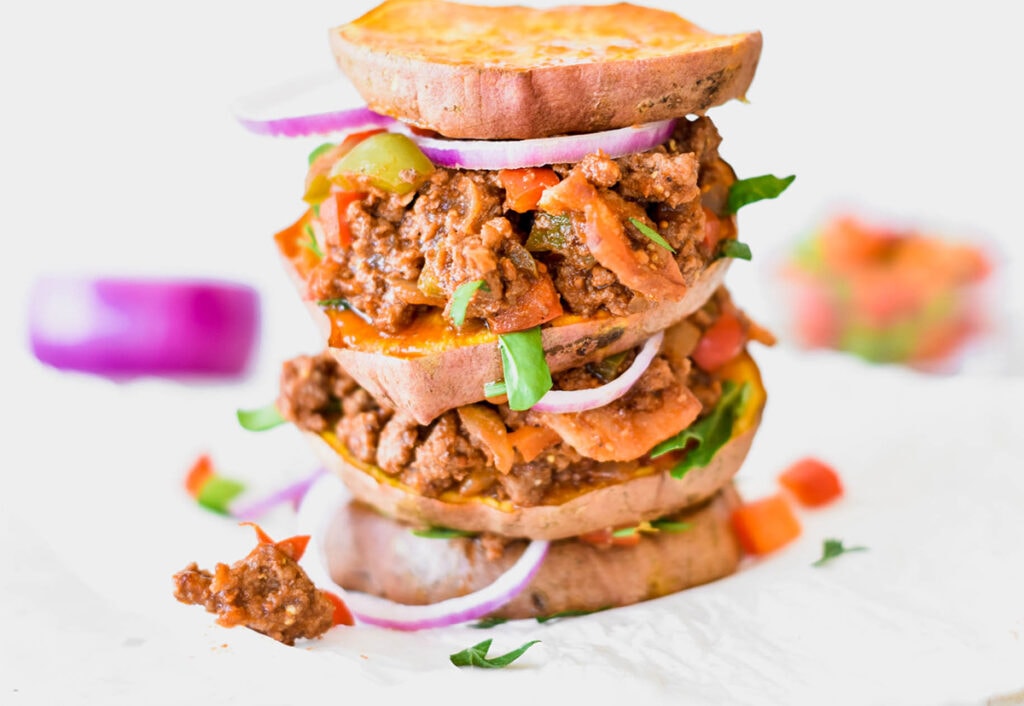 Serving Ideas
Skip the sweet potato rounds and enjoy in a bowl with diced sweet potato hash or roasted spaghetti squash.
Use sloppy joe mixture to throw on top of baked potatoes or baked sweet potatoes.
Enjoy sloppy joe mixture by itself or on lettuce leaves for a lower carb option.
Top sloppy joes with jalapenos, green onions, red onions or avocado.
Recipe Tips
Adjusting Sweetness
If you prefer a more savory sauce, you can skip the coconut sugar all together or start with 1 tbsp. of coconut sugar and adjust to your own taste preferences. Obviously, wait to taste and adjust until the beef is fully cooked and all other ingredients have been added.
Adding Extra Veggies
Sloppy joes can be a great way to use odds and ends of veggies you have sitting in your fridge. Things like carrots and celery can be good additions. Finely dice a couple ribs of celery or grate carrots and add to pan when adding the onion in this recipe.
Related Recipes
Did you try this Whole30 Sloppy Joes? I would love to see what you're cooking! Take a photo and tag me on Instagram or leave a photo comment on Pinterest.
Feel free to leave a comment and a rating below. Feedback is always appreciated! 😊
📖 Recipe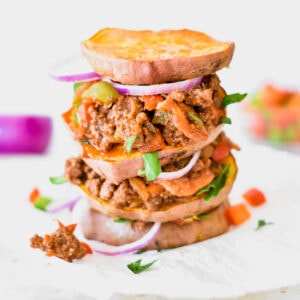 Whole30 Sloppy Joes
This Whole30 Sloppy Joe recipe is a healthier version of the hearty favorite.
Equipment
Knife

Cutting board

Frying pan
Instructions
Sweet Potato Rounds
Preheat the oven to 400 F.

Wash 1-2 large round sweet potatoes. You will only need 1 large sweet potato if you want to serve the sloppy joes open faced (this is how i would recommend serving them because they are easier to eat with a fork).

Leaving skin on, slice potatoes in ¼ to ½ inch rounds removing both ends.

Place round sin a bowl and roll lightly in avocado oil.

Line baking sheet with parchment paper. Place rounds evenly space on baking sheet and bake for 30-35 minutes or until easily pierceable with fork.
Sloppy Joes
Finely dice the peppers and onion.

Heat a sauce pan over medium heat. Dice bacon and add to pan. Stir and cook until bacon is cooked. Remove from pan and place in a dish with paper towels to collect the grease. Set aside.

Drain the fat from the pan saving 1 tbsp of fat to cook the veggies with.

With the tbsp of fat in the pan used to cook the bacon, add onion. Allow the onion to cook on medium heat until it becomes translucent. Once the onion is translucent add the bell peppers. Let them cook and soften for several minutes before adding the garlic to the pan.

Once the garlic has cooked for about a minute and becomes fragrant, add the beef to the pan. Break up the beef as it begins to brown, mixing it into the vegetable mixture.

Once beef is mostly cooked, add the broth to deglaze the pan.

Add in the remaining ingredients, stir and simmer while the liquid evaporates.

Once beef has fully cooked and liquid has mostly evaporate, add back in the bacon and stir.

Serve on top of sweet potato rounds.
Notes
To make date paste for Whole30 Sloppy Joes - Remove pit from 3 soft and fresh medjool dates and soak for 10-20 minutes in 3-4 tbsp. of very hot water. Make sure dates are fully covered with the water. Once dates have softened, add dates and soaking liquid to blender and puree until smooth. Use two tbsp. of this date paste in the recipe above in place of coconut sugar. The date paste is less sweet than the coconut sugar.
Nutrition
Serving:
0.25
recipe
Calories:
444
kcal
Carbohydrates:
25
g
Protein:
23
g
Fat:
28
g
Saturated Fat:
10
g
Trans Fat:
1
g
Cholesterol:
81
mg
Sodium:
617
mg
Potassium:
836
mg
Fiber:
4
g
Sugar:
10
g
Vitamin A:
10256
IU
Vitamin C:
83
mg
Calcium:
59
mg
Iron:
4
mg