This paleo sweet potato bun is an excellent grain-free alternative to the traditional burger bun. Unlike the classic lettuce wrap, you don't have to worry about biting into the napkin you have wrapped around your lettuce to control dripping. These buns beautifully hold everything together acting as the bookends to your burger.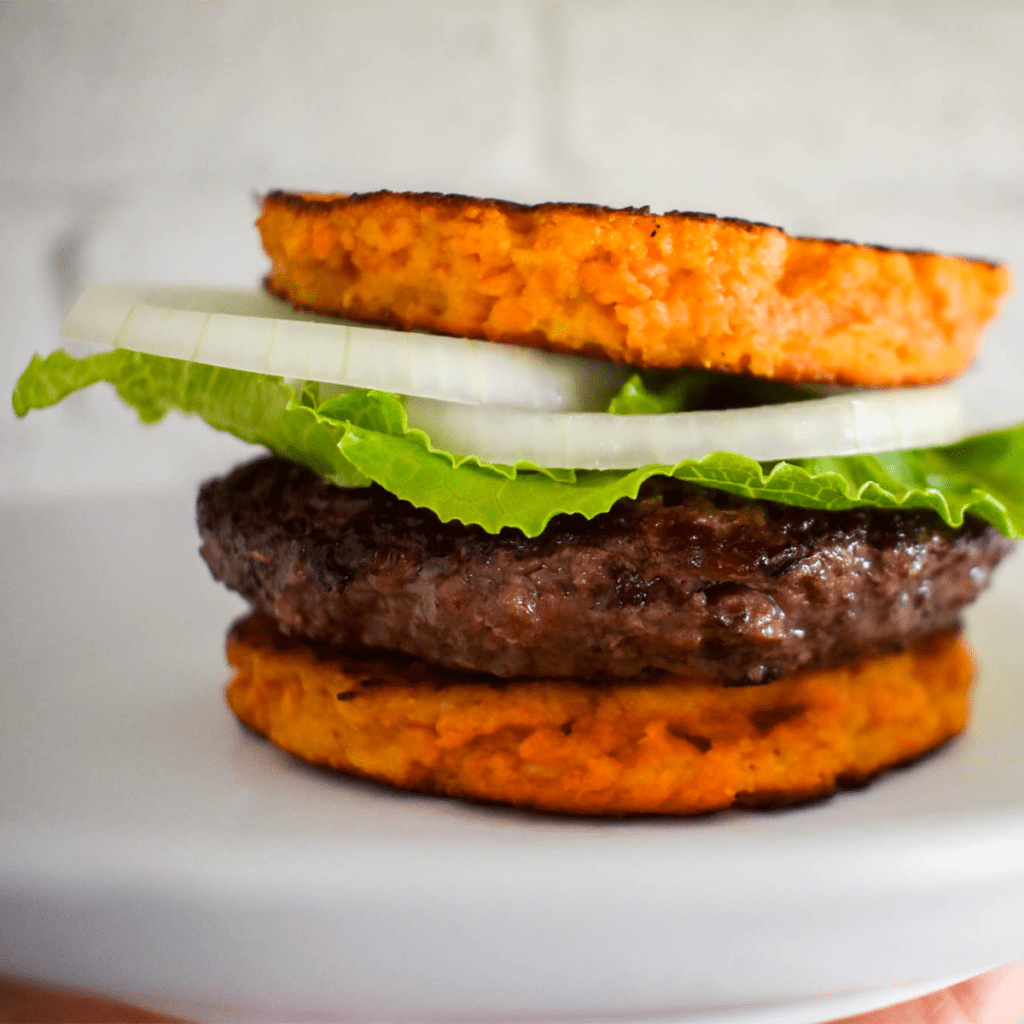 Jump to:
Sweet potatoes are, in fact, the anti-bread. They offer sweet, carb-y goodness with more nutrient density and less inflammatory properties than the processed grain options on the market.
The beauty of this recipe is that it is made of simple, real food ingredients. This paleo sweet potato bun is made from 4 simple ingredients + spices. It is easy to feel good about and hard to mess up.
For another fun paleo bun alternative check out my Avocado Bacon Burger and Fries Lettuce Wraps.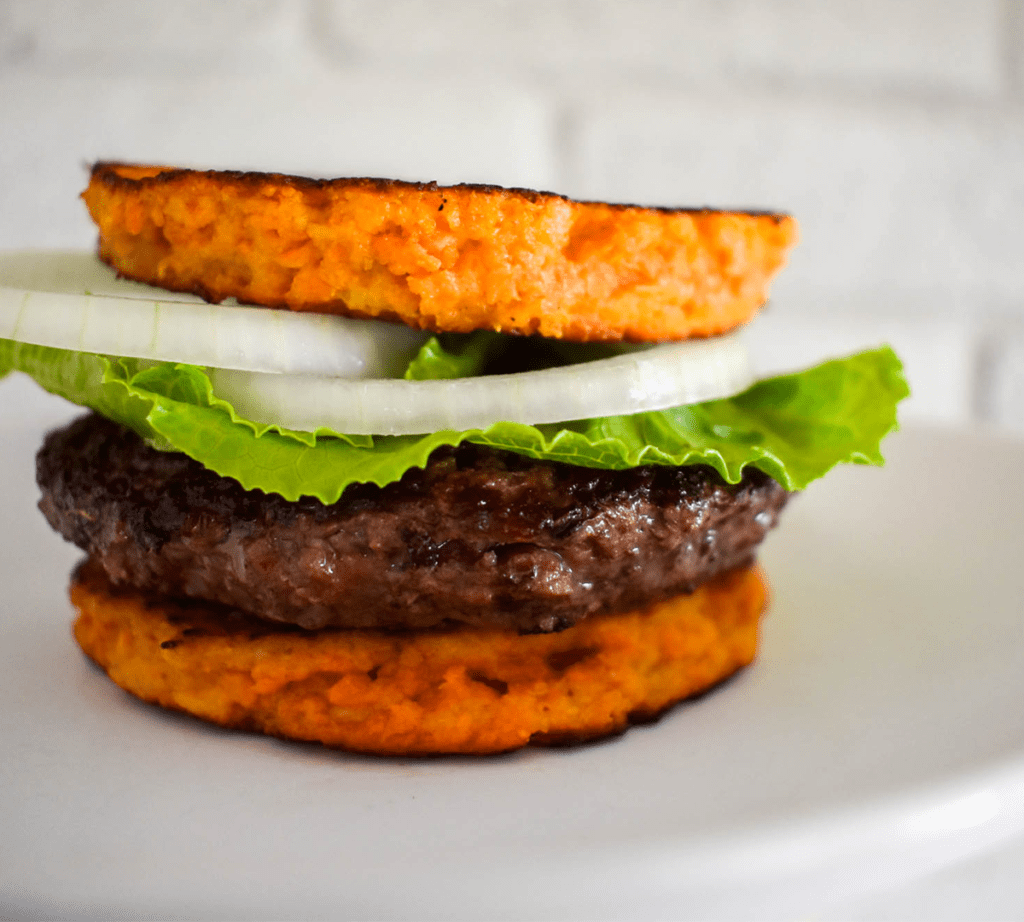 I am what I would call a reformed vegetarian. Before I became a vegetarian I was an incredibly picky eater. I had a particular aversion to beef. When I was younger I wouldn't touch a burger with a ten foot stick.
After my 5-year animal protein hiatus, I slowly started to reintroduce different types of meat into my diet. It started with fish, and subsequently chicken. Beef was something I was in no hurry to try.
In 2017, I had a proper burger for the first time in my life. If was grass-fed and grilled to perfection. To my dismay, it was pretty damn amazing. I have been a big proponent of burgers ever since.
Normally, I eat burgers and sandwiches wrapped in lettuce or deconstructed on a bed of greens. I love a good lettuce wrapped burger, but those suckers are difficult to eat neatly.
This sweet potato bun was created as an effort to offer a grain-free alternative the traditional burger bun, providing the bookends to your burger and holding everything together. Cue the rainbows and butterflies.
What Will This Bun Taste Like?
Now, when you bite this sweet potato bun, don't expect it to taste like it's the fluffy, airy, sugar-y, simple carbohydrate counterpart you might be used to. This alternative is made from whole food ingredients. It is not highly processed. This is a dense bun made of sweet potatoes. If you understand that, then you will be set up for some sensory pleasure.
Expect it to taste like sweet potatoes, because it is, in fact, sweet potatoes. Being comprised of a few simple, nutrient dense ingredients, this bun is incredibly filling and adds an extra dose of healthy fat and protein from the eggs.
And, who doesn't love sweet potatoes!

Equipment
What You Will Need
4 mason jar lids
Food processor or blender
Frying pan
Spatula
Wax paper
The Process
The actual process of making these buns is fairly simple. Here's how we will do it:
Prepare the sweet potatoes by peeling and chopping, then throwing into a food processor or blender to grate into small pieces. Pulse several times until the sweet potato is shredded.
Transfer the shredded sweet potato to a microwave safe bowl and microwave for 2-4 minutes (depending on your microwave).
Remove the sweet potato and place between a clean towel and begin to wring any excess moisture out.
Add the cooked sweet potato to the other ingredients in a bowl and mix together with a fork.
Heat oil in a frying pan.
Grease the mason jar lids with coconut oil.
Begin packing the mason jar lids with the potato mixture and then place in the pan.
Leave the ring on for about a minute and then remove. It may be hot!
Allow the sweet potato buns to cook on each side, about 3 minutes.
Serve and enjoy!
Tips For This Recipe
Make sure to cook the sweet potato until they soften in the microwave.
Get as much moisture out in the towel when wringing the sweet potatoes. This will allow it to form a firmer patty.
Season with any seasoning that might compliment your meal! Salt and pepper is always good, but be creative!
Other Great Sweet Potato Recipes
📖 Recipe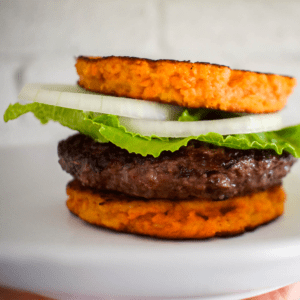 Sweet Potato Buns
These grain-free alternatives to hamburger buns are a great way to make your meal more nutrient dense and filling. These are gluten free, paleo friendly and made from whole foods.
Equipment
Mason jar lids, 4

Food processor or blender

Frying pan
Instructions
Begin by peeling the sweet potatoes and chopping the sweet potato in to chunks.

Add sweet potato to blender or food processor and pulse until the potato is shredded.

Transfer shredded sweet potato to microwave safe bowl and microwave for 2-4 minutes, or until it softens. Time will vary based on type of microwave.

Lay out a clean dish towel folded in half. Transfer the sweet potato to the towel. Begin to roll the towel and squeeze out any excess water.

In a separate bowl, whisk the egg, almond flour and spices together.

Add the sweet potato to the mixture and stir until everything has been combined.

Grease the mason jar lids with coconut oil. Heat the remaining coconut oil in a frying pan on medium heat. Make sure there is enough oil in the pan to prevent the buns from sticking and keep an eye on the bottoms because the sugar from the sweet potatoes can burn easily.

Lay the mason jar lids upside down. Begin filling them with the mixture, packing it down as much as possible. Divide the mixture evenly among the 4 jar lids.

Place the mason jar lids filled with the mixture sweet potato side down in the frying pan.

Allow to cook for about a minute with the mason jar lids then carefully remove the rings and tops.

The sweet potato should start to brown after about 3 minutes. Be careful not to burn them. Once they start to brown, flip and cook the other side.

Remove once fully cooked and serve immediately.
Notes
Get creative with the spices. These buns can compliment any dish you might be preparing.
Be sure to let the shredded potato cook through in the microwave. This will help minimize the cook time in the pan and help prevent burning.
Wring out as much moisture as you can to help the buns bind together.
Nutrition
Calories:
273
kcal
Carbohydrates:
32
g
Protein:
9
g
Fat:
13
g
Saturated Fat:
7
g
Cholesterol:
164
mg
Sodium:
145
mg
Potassium:
566
mg
Fiber:
5
g
Sugar:
7
g
Vitamin A:
21518
IU
Vitamin C:
4
mg
Calcium:
77
mg
Iron:
2
mg
Did you make this recipe? If so, please leave a rating and a comment below! I would love to hear from you!