These Gluten-Free Pumpkin Chocolate Chip Cookies can hold their own with the best choc chip cookies out there. They are soft, sweet and oh-so-tasty with the perfect amount of pumpkin flavor and spice to give you all the Fall feels. This recipe is gluten-free and can be made vegan with modifications.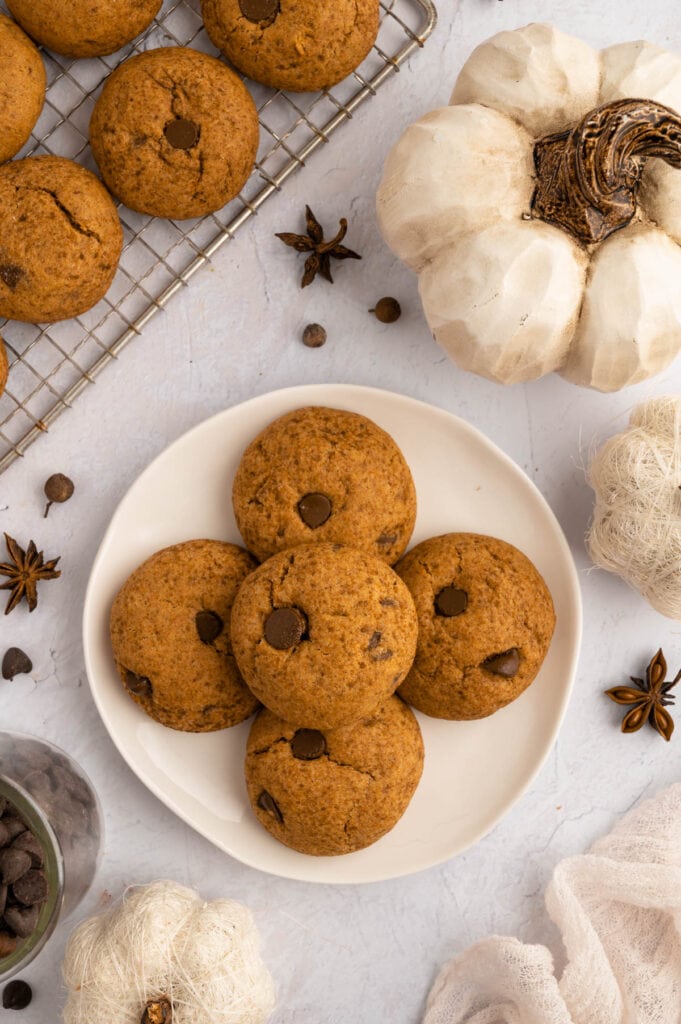 Jump to:
I consider myself the queen of all things pumpkin. I don't do pumpkin seasonally. Pumpkin makes year-round appearances in my meals, both sweet and savory. This pumpkin chocolate chip cookie recipe is one of my absolute favorites.
In this recipe I use coconut sugar for the perfect caramel-ly flavor to send this recipe over the top. It is the most satisfying compliment to the warm spices and rich pumpkin flavor.
These cookies are made in a relatively small batch (16-18 cookies), which is perfect for my small family, but if you are baking for a crowd this recipe is easily doubled (or tripled!).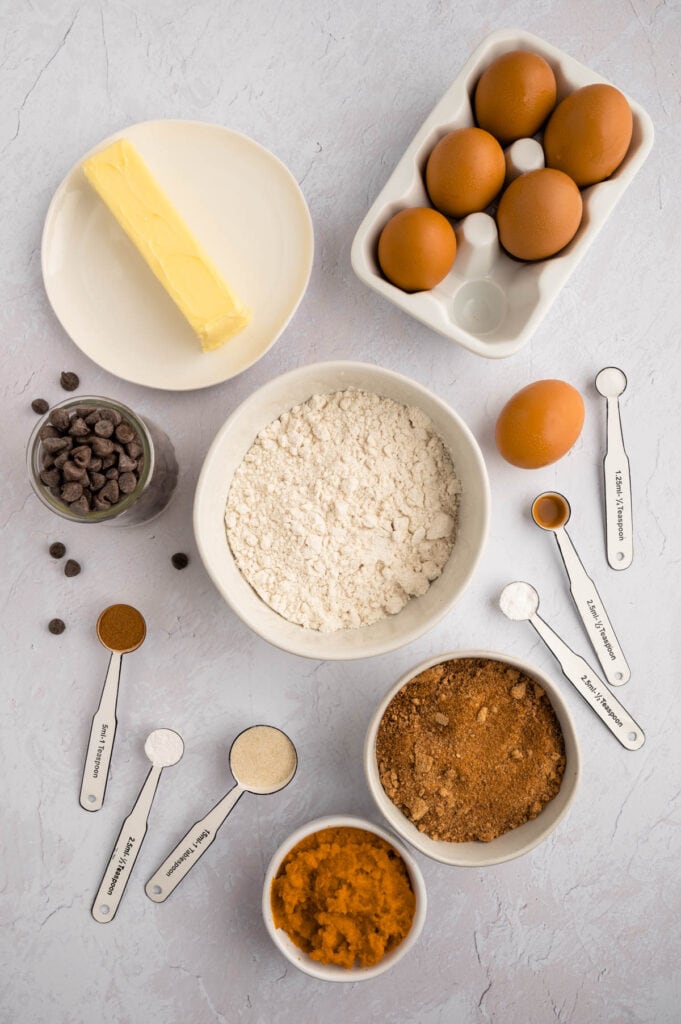 How To Make Gluten-Free Pumpkin Chocolate Chip Cookies
For full instructions scroll down to the recipe card, but here is the rundown on how to make THE BEST gluten-free pumpkin chocolate chip cookies:
Prepare
Mix
Start with a large mixing bowl. Cream the softened butter and coconut sugar until smooth and fluffy using a handheld electric mixer. Add in the egg yolk, vanilla, and pumpkin puree and beat together until smooth.
In a separate bowl, combine dry ingredients and stir together. Add dry ingredients to the bowl with the pumpkin puree. Mix together until there are no streaks. Then fold in the chocolate chips.
In a small bowl, combine 1 tbsp. coconut sugar, 1 tbsp. of granulated sugar and ¼ tsp of pumpkin pie spice. Set this aside.
Roll
Scoop the dough using a 1-ounce cookie scoop and roll the dough between your hands. Roll each ball of dough in the sugar mixture and then roll between hands until it is an even shape. Place on the lined baking sheet about 2 inches apart.
Bake
Place the baking sheet in the center rack of the oven and bake for about 12-15 minutes or until the cookies rise and begin to look crispy on the outside.
Remove from the oven and allow to cool on the baking sheet for about 5 minutes, then transfer to a wire cooling rack.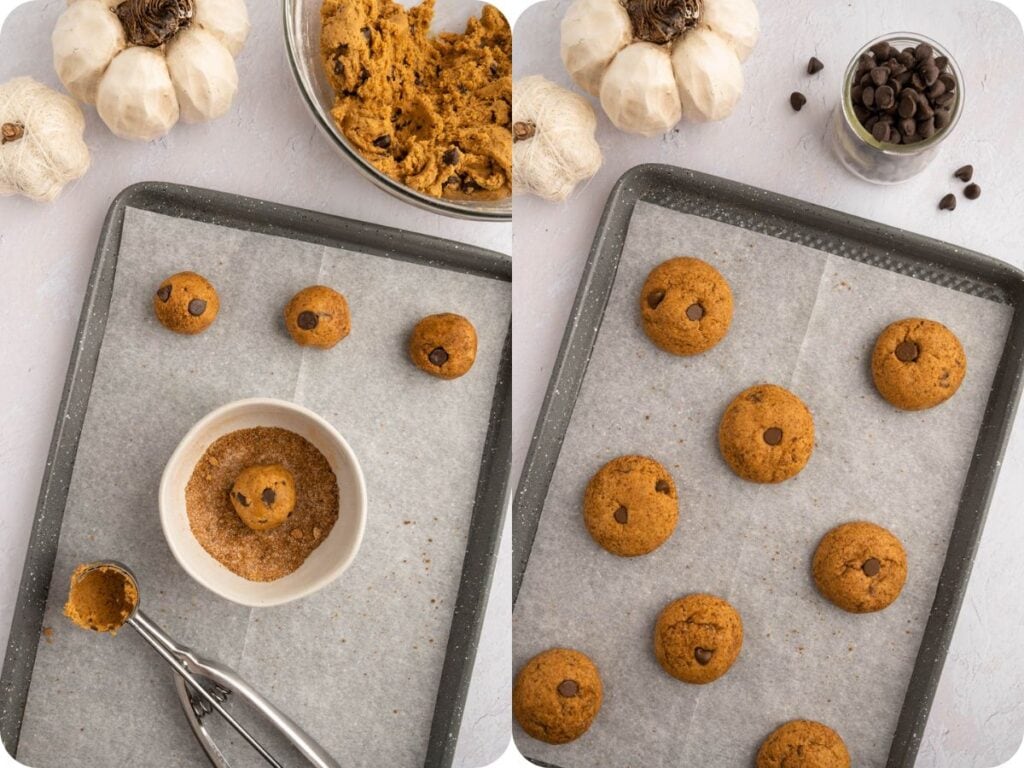 Storage
Store these cookies in an airtight container once they have fully cooled. They will store on the counter for about 3 days before they start getting overly soft. In the fridge they will last for about 1 week. Store cookies in a freezer zipper bag for 1-2 months.
What type of gluten-free flour should I use?
Generally, for gluten-free baking 'all-purpose gluten-free 1:1 baking flour' works the best because it measures comparably to regular flour (however, I don't always trust the 1:1 ratio in all recipes).
For this recipe I tested both King Arthur Gluten-Free Measure-to-Measure Flour and Bob's Red Mill Gluten-Free 1:1 All-Purpose Flour. Weights between these two flours varied slightly. I used 200 g of the King Arthur brand for this final recipe. Using loose and level scoops will typically yield good results.
Other 1:1 gluten-free all-purpose flours will likely work in this recipe. They may change the texture and/or baking time slightly because they all contain a different combination of GF flours.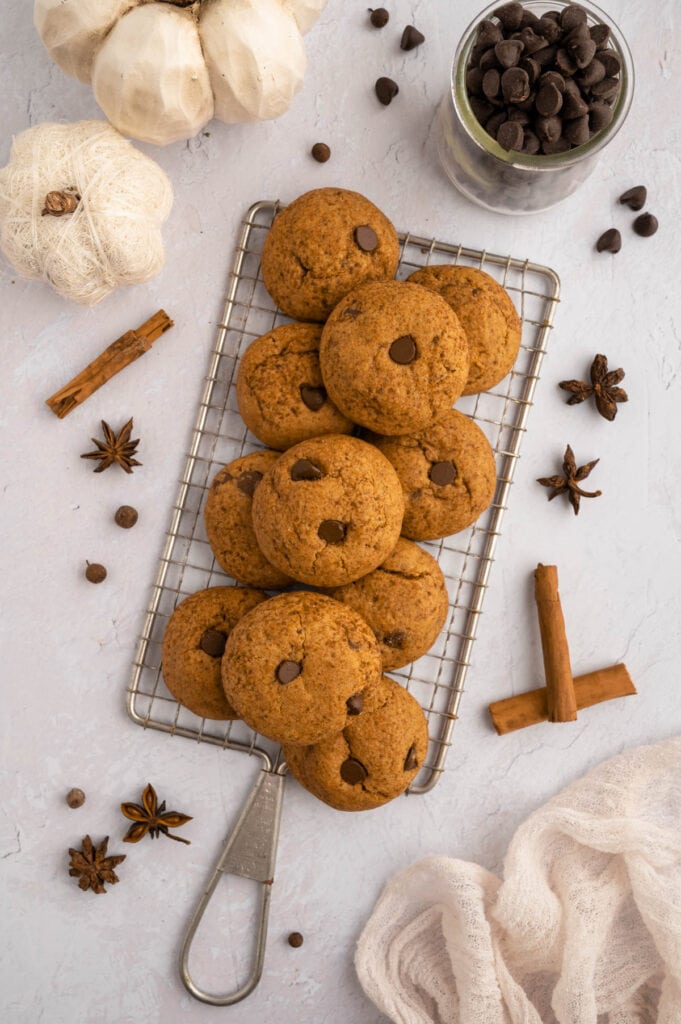 Can I make these cookies vegan?
I tested this recipe using vegan modifications and they cookies turned out great. They didn't spread out quite as much and the 'flax egg' that I used gave them a bit of a nutty flavor, but they were still delicious!
My substitutions were softened coconut oil (not melted) in place of butter and a flax egg in place of the egg yolk. To make the flax egg I mixed stir 1 tbsp. ground flax seed with 2 tbsp. hot water and let it sit for about 5 minutes before adding it to the dough.
Don't have pumpkin pie spice? Do this!
If you have a full spice cupboard but are missing pumpkin pie spice simply combine 1 tsp. of ground cinnamon, ¼ tsp. of ground nutmeg, ⅛ tsp. of ground cloves, and ¼ tsp. of ground ginger and mix them together in a small bowl.
Measure out ½ tsp. of the mixture for this recipe and store any leftovers in an airtight container in the cupboard.
Can I use fresh pumpkin puree instead of canned?
I recommend using canned puree in this recipe because it tends to be more consistent (and convenient!). However, if you have fresh pumpkin puree you are dying to use up it will likely work. Homemade pumpkin puree has great flavor but tends to be more watery than store-bought canned puree. Just drain any excess moisture off before measuring it to prevent the cookies from becoming overly soft from the additional moisture.
Can I use regular flour in this recipe?
If you don't need to follow a gluten-free diet, you should be able to substitute regular all-purpose flour at a 1:1 ratio in place of the GF flour. Please note that I did not test this. If you try it, let me know how it works in the comments below!
What can I use instead of coconut sugar?
Coconut sugar has a rich, toffee-like flavor which makes it perfect for pumpkin treats. If you don't normally keep coconut sugar on hand dark brown sugar will make an appropriate substitution. Granulated maple sugar is another tasty option. The weights of this substitutions will not measure the same as coconut sugar so be sure to use a volume-based measurement.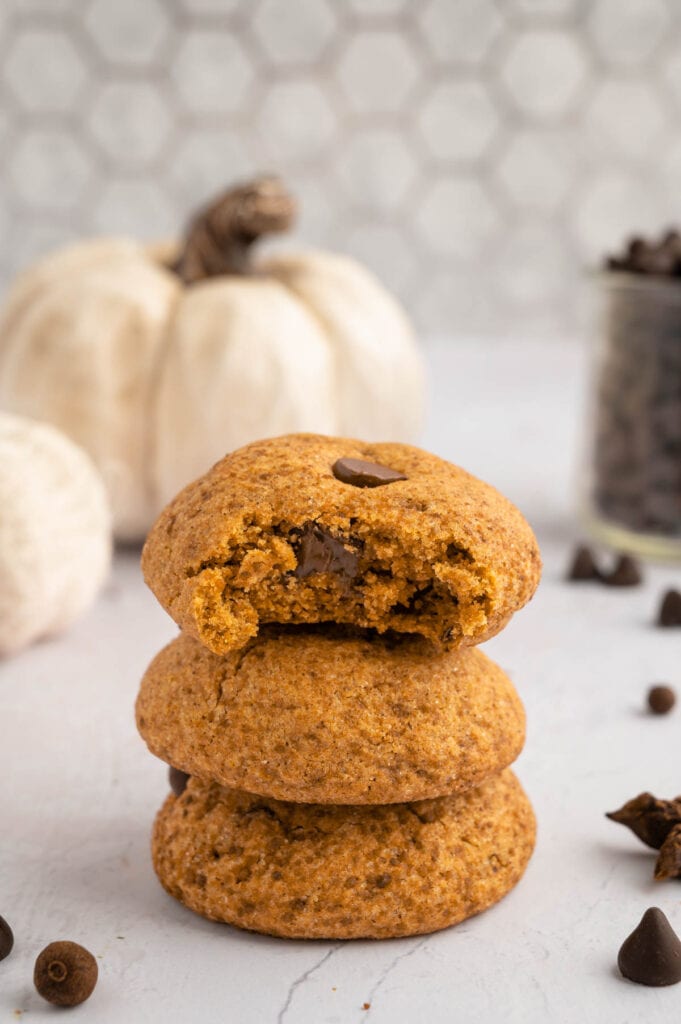 Recipe Tips
Make sure to use softened butter, not melted. Melted butter may cause the cookies to spread and morph in to one delicious but ugly giant cookie.
If substituting coconut oil or another vegan alternative to butter, I would also recommend softening, not melting.
If you do not have a handheld electric mixer a stand mixer can be used. A whisk and a strong bicep could also work but I would only suggest this if you have no other option.
I was baking at 5000 ft elevation. If you are quite a bit lower or higher in elevation you may need to bake for a shorter or longer time. However, the bake time will still likely fall within the 12-15 minute range. For me 13 minutes was perfect.
If you're dough is very soft after mixing, you can chill it for 15 minutes or so to make it easier to form into balls.
Double check to make sure you have 100% pure pumpkin puree and not pumpkin pie filling which is pre-sweetened.
Try These Other Unique Gluten-Free Pumpkin Recipes
Did you try these Gluten-Free Pumpkin Chocolate Chip Cookies? I would love to see your creations! Take a photo and tag me on Instagram or leave a photo comment on Pinterest.
Feel free to leave a comment and a rating below. Feedback is always appreciated! 😊
📖 Recipe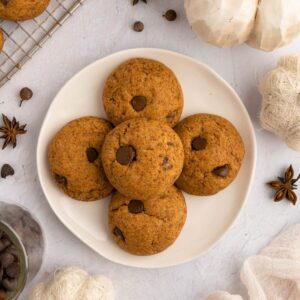 Gluten-Free Pumpkin Chocolate Chip Cookies
These sweet, soft, gluten-free pumpkin chocolate chip cookies make the perfect treat for fall! They are sweetened with coconut sugar, have just the right amount of spice, and are loaded with gooey chocolate chips.
Equipment
2 Baking sheets

Parchment paper

Handheld electric mixer

Large mixing bowl

Small bowl

Rubber Spatula

Wire cooling rack

Spatula
Instructions
Preheat the oven to 350 F. Line a large baking sheet (or two if you have multiple) with parchment paper and set aside.

Using the handheld electric mixer, cream the softened butter with ¾ cup of coconut sugar in a large mixing bowl for about 30 seconds or until it looks fluffy and uniform in color.

Add in the vanilla, egg yolk, and pumpkin puree. Mix together until everything is incorporated.

In a separate bowl combine the remaining dry ingredients (gluten-free flour, salt, baking soda, baking powder and pumpkin pie spice) and mix together.

Pour the dry ingredients into the wet ingredients and mix using the mixer until there are no lumps or streaks. Avoid overmixing.

Fold the chocolate chips into the dough using a rubber spatula.

If your dough is extremely soft, you can chill it for 15-30 minutes. However, this is not a necessary step.

Combine 1 tbsp. of coconut sugar, 1 tbsp. granulated sugar and ¼ tsp of pumpkin pie spice in a small bowl and stir together. Set aside.

Begin scooping out the dough using a 1-ounce cookie scoop and rolling it between your hands. Place the ball of cookie dough in the bowl of sugar and roll it until the outside is covered. Roll it in your hands to get a nice even shape and then place it on the lined cookie sheet. Repeat for all the cookies. This recipe will yeild 16-18 cookies.

Leave about 2 inches between cookies when placing them on the baking sheet. The cookies will spread out slightly while baking but not too much. You should be able to fit about 9 cookies on a large baking sheet. Bake in batches if needed.

Place the baking sheet on the middle rack of the oven and bake for 12-14 minutes or until the cookies rise and start to look crispy around the edges.

Allow cookies to cool for several minutes on the pan and then use a spatula to transfer them to a wire cooling rack.

Store extra cookies in an airtight container once fully cooled.
Notes
I was at about 5000 ft elevation and 13 minutes of baking seemed to be the sweet spot for me, you may need a little less or more time based on elevation.
Nutrition
Serving:
1
cookie
Calories:
133
kcal
Carbohydrates:
18
g
Protein:
1
g
Fat:
7
g
Saturated Fat:
4
g
Polyunsaturated Fat:
1
g
Monounsaturated Fat:
2
g
Trans Fat:
1
g
Cholesterol:
24
mg
Sodium:
130
mg
Potassium:
9
mg
Fiber:
1
g
Sugar:
6
g
Vitamin A:
561
IU
Vitamin C:
1
mg
Calcium:
18
mg
Iron:
1
mg