This simple Slow Cooker Keto Barbacoa is a flavorful, spicy and versatile. Just load it in the slow cooker in the afternoon, and when dinner rolls around you will have an awesome protein source to add to tacos, salads or bowls ready when you are.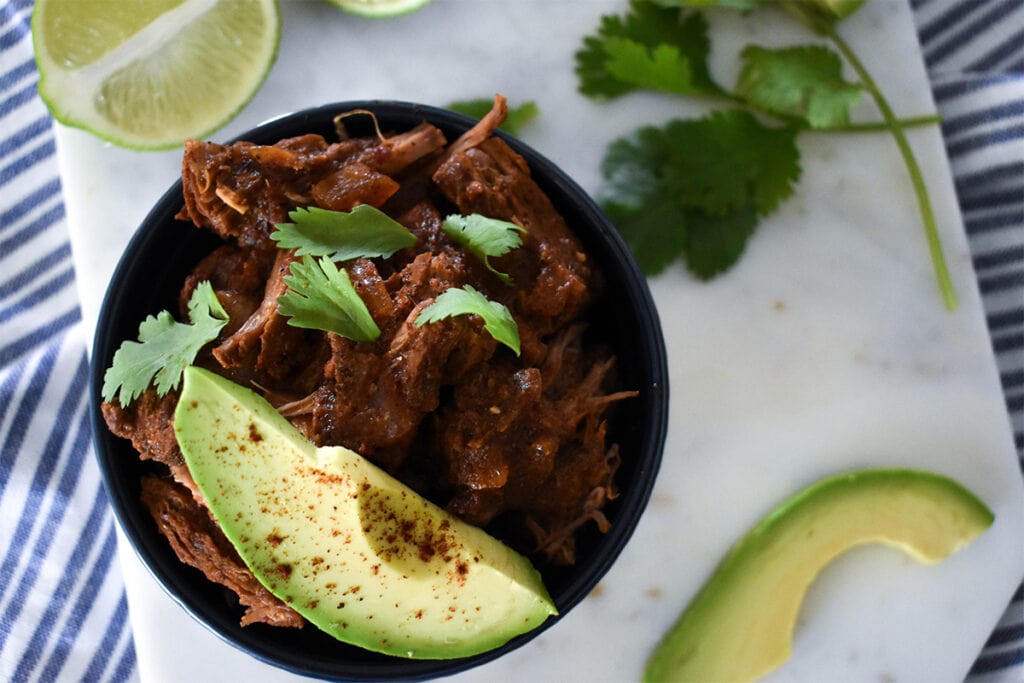 Jump to:
Our recent move to the deep south has spurred so much cooking inspiration for me. Am mastering southern or tex-mex cuisine? Certainly not. Don't make me laugh. Or piss off any abuelitas. I may not be a master but I have tried my hand at some tasty varieties of Mexican and Southern inspired dishes and have been pleased with the new flavors that are being introduced into our kitchen.
Born and raised in Washington my cooking exposure has been fairly shelled. I may not be rooting for the Dallas Cowboys, or driving a lifted truck quite yet but I have been introduced to an abundance of unique cultural experiences. The cactus forests had novelty at first but, in all truth, I could use more trees and fewer tarantulas.
My first taste of barbacoa was at Five Points Local. Five Points is one of the only joints in San Antonio that offers paleo dishes. Both Kevin and I were super impressed with their offerings. He told me that it was one of the best meals he's had as a dining out experience, and that it tasted just like something I would cook at home.
This yielded my desire to try my hand at making barbacoa. I played around with this recipe for several weeks and have finally produced something that is both keto and paleo-friendly, all while being super easy and totally delicious.
Where Can I Find Adobo Without Sugar
I have yet to find a store-bought brand of chipotle with adobo sauce that is both free of added sugars and does not contain vegetable oil. To make keto barbacoa use this brand or another sugar-free option. Here is one that does not contain vegetable oils.
If you're looking for a strict paleo barbacoa, you'll want to swap out the canned chipotle in adobo for a homemade version. As I mentioned above, canned version usually contains a small amount of sugar and/or vegetable oil.
If you can tolerate a little sugar or vegetable oils than a canned variety will work fine.
What Type Of Meat is Used For Barbacoa
Traditionally, barbacoa can be made from goat, sheep or beef. It is usually made from the head of the animal, but can be made from various cuts of meat.
Where we live, on the border of Texas and Mexico, barbacoa is most commonly made from beef cheeks. Beef cheeks are incredibly tender and have a high fat content.
In this recipe I opt for chuck roast because it is one of the only grass-fed cuts of meat we can find at our local stores that is suitable for this kind of dish. The chuck roast is a quite a bit leaner than beef cheek, but when cooked in the slow cooker is tender and delicious.
Benefits Of Using A Slow-Cooker
Until recently I have been hesitant to use my slow-cooker. I have never had many good experiences with Crockpot meals as a child. This fact had kind of soured me against using the slow-cooker.
Where we live, our grass-fed meat selection is limited. In order to minimize our food costs I like to use roasts and other "less desirable" cuts of meat in the slow-cooker or Instant Pot.
The beauty of the slow-cooker is that you can buy those cheaper grass-fed roasts, and still manage to make a tender and tasty meal.
And, everyone by now knows the fantastic time saving benefit of throwing your meal in the Crockpot in the morning or afternoon and retrieving it in the evening to feed your hungry family. It is a truly beautiful thing.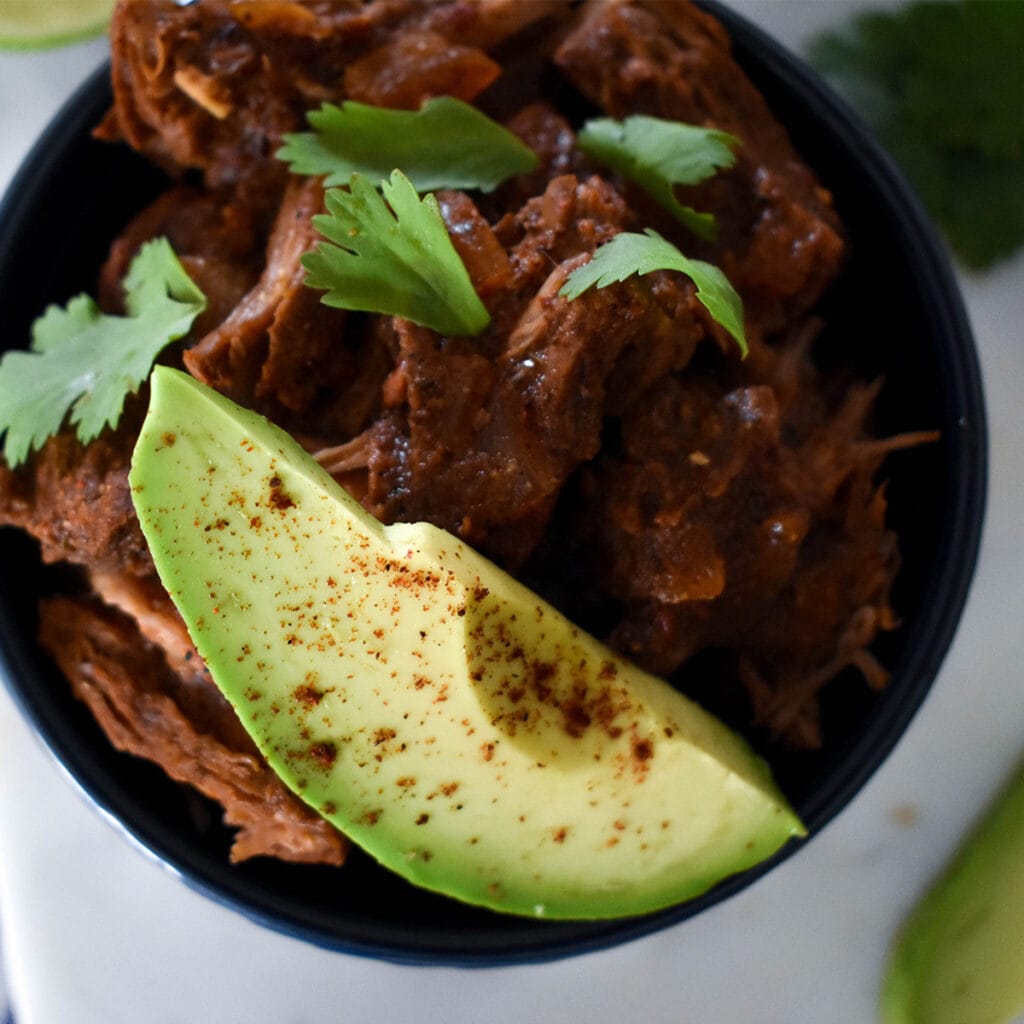 How To Make This Barbacoa A Meal
Bowls
I love to make barbacoa bowls using roasted sweet potatoes, roasted broccoli, spinach, avocado, cilantro and top it with a hearty portion of barbacoa. It makes a simple a nutritious meal. You could also add in rice or cauliflower rice.
Tacos
Who doesn't love a good taco? You can use jicama tortillas if you want to keep the recipe low carb and grain-free or cassava flour tortillas for another paleo-friendly option. Load the tacos up with shredded barbacoa, avocado, cilantro, lettuce and diced onion.
Salads
You can make a Chipotle style salad using this barbacoa. Pile up some shredded romaine lettuce and top with barbacoa, guacamole, onions, tomatoes, sour cream and/or cheese, or any other favorite taco topping.
Nutritional High Fives for this Keto Barbacoa
Low Carb - For all of you looking for tasty lower carb options, this recipe takes the cake. By using a sugar-free version of chipotle in adobo you can cut the carbs even further. But with the canned chipotle you will still be able to keep the net carb count at 2 g per 6-oz serving.
Cheaper Grass-fed Meat - What does that mean for consumers? A high quality, nutrient dense protein option for less. Grass-fed meat is far superior to conventionally raised meats. Cows that are grass finished have a more natural omega-3 to omega-6 ratio. Grass-fed beef has nearly 50% more omega-3 fatty acids and less overall fat compared to conventionally raised beef making it anti-inflammatory. You also find higher levels of antioxidants, luetin and vitamin A.
High Protein - A 6-oz portion of barbacoa packs 34 grams of protein making this an easy go-to and filling meal. High protein meals like this can yield recovery after tough workouts and support muscle growth and maintenance.
CLA. Conjugated linoleic acid is one of the few types of polyunsaturated fatty acids that actually taut health benefits. These fatty acids are rare in nature but are found in ruminants, and are specifically high in grass-fed meat and grass-fed dairy products. Their benefits are still being studied but they seem to several have anti-obesity mechanisms, and to be effective in promoting healthy blood pressure, as well as lowering risk of developing conditions like type 2 diabetes and heart disease.
Can This Recipe Be Made In The Instant Pot?
Yep! Can't everything be made in the Instant Pot?
Simply follow the instructions below. Once all ingredients are added to the Instant Pot crock, set to timer for 45 minutes using the "meat" setting. After 45 minutes, do a quick steam release. Shred the meat as directed below.
Storing This recipe
Store the meat for 4-5 days in the fridge in an airtight container.
You can also freeze the meat for 1-2 months for a simple meal prep solution. Just thaw and reheat when you're ready to use it.
Related Recipes
Did you try this Slow Cooker Keto Barbacoa? I would love to see your creations! Take a photo and tag me on Instagram or leave a photo comment on Pinterest.
Feel free to leave a comment and a rating below. Feedback is always appreciated! 😊
📖 Recipe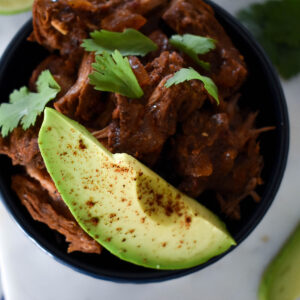 Slow-cooker Paleo Keto Barbacoa
This spicy and flavorful slow cooker barbacoa recipe can be made paleo and keto friendly.
Equipment
Slow cooker

Bullet blender
Instructions
Begin by trimming the meat. Remove as much visible fat as you would like and any connective tissue from the roast. Then cut into about 1 inch squares.

Combine broth, peppers with sauce, ACV, lime juice and spices in a bullet or blender and pulse until everything is incorporated. 

Dice onion. Add onion and meat to slow-cooker. Pour chipotle sauce over meat. Cook for 4-6 hours on high or 6-8 hours on low. 

Once meat is tender and cooked through, use two forks to pull and separate meat. When the meat is cooked thoroughly, it should be fairly easy to shred.

Serve immediately or keep warm in the Crockpot for several hours. You can serve the meat with or without the chipotle sauce. The sauce is very spicy so I usually keep only about ⅓ of it with the meat when storing.
Notes
Those requiring a strict paleo version of the recipe will want to make their own chipotles in adobo. You can find a fairly simple recipe here. Some canned varieties can be relatively low carb but most contain some sugar so consider that when meal planning, and read the label.
Nutrition
Serving:
6
oz
Calories:
324
kcal
Carbohydrates:
3
g
Protein:
34
g
Fat:
20
g
Saturated Fat:
9
g
Cholesterol:
117
mg
Sodium:
586
mg
Potassium:
619
mg
Fiber:
1
g
Sugar:
1
g
Vitamin A:
32
IU
Vitamin C:
3
mg
Calcium:
42
mg
Iron:
4
mg