Slow Cooker Paleo Keto Barbacoa
Our recent move to the deep south has spurred so much cooking inspiration for me. Am mastering southern or tex-mex cuisine? Certainly not. Don't make me laugh. Or piss off any abuelitas. I may not be a master but I have tried my hand at some tasty varieties of Mexican and Southern inspired dishes and have been pleased with the new flavors that are being introduced into our kitchen. Born and raised in Washington my cooking exposure has been fairly shelled, similar to my rather shelled existence. I may not be rooting for the Dallas Cowboys, or driving a lifted truck quite yet but I have been introduced to an abundance of unique cultural experiences, some of which I actually like. Have you ever cracked a cascarone on someone's head? Or, enjoyed a really fantastic fish taco (The Cove is a must if you come to San Antonio!)? Definitely something everyone should experience. The cactus forests had novelty at first but, in all truth, I could use more trees and fewer tarantulas.
My first taste of barbacoa was at 5 Points Local, which is one of the only joints in San Antonio that offer paleo dishes. Both Kevin and I were super impressed with their offerings. He told me that it was one of the best meals he's had as a dining out experience, and that it tasted just like something I would cook at home. This yielded my desire to try my hand at making barbacoa. I played around with this recipe for several weeks and have finally produced something that is both keto and paleo-friendly, all while being super easy and ultimately enjoyable. If you're looking for a strict paleo barbacoa, you'll want to swap out the canned chipotle in adobo for a homemade version because the canned chipotle often has added sugar. If you have can bear a dash of added sugarbut are low on time the canned version will do just fine.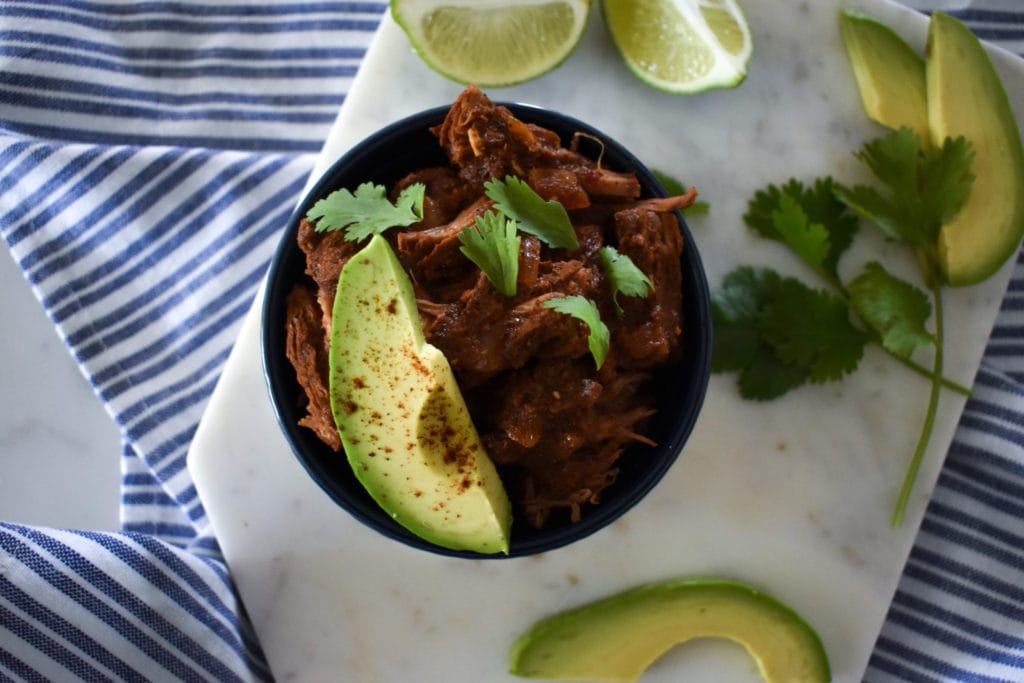 Beauty of the Slow-Cooker
Until recently I have been hesitant to use my slow-cooker. I have never had many good experiences with Crockpot meals as a child. This fact had kind of soured me against using the slow-cooker. When we moved to from San Antonio to a smaller town, my options for grass-fed meat became fairly limited. I switched to eating more lamb and bison because that seemed to fare better nutritionally than conventionally raised beef and was more commonly available in my local stores than grass-fed meat options. Fortunately, we have many ranchers who practice sustainable grazing techniques in our area which means our options haven't run dry. Looking at the price per pound for grass fed beef, the cost for steaks certainly adds up to feed both Kevin and myself throughout the week. In order to add more variety and minimize our food costs I decided to practice cooking roasts and other less desirable cuts of meat in the slow-cooker.
The beauty of the slow-cooker is that you can buy those cheaper grass-fed roasts, and still manage to make a tender and tasty meal. And, everyone by now knows the fantastic time saving benefit of throwing your meal in the Crockpot in the morning or afternoon and retrieving it in the evening to feed your hungry family. It is a truly beautiful thing.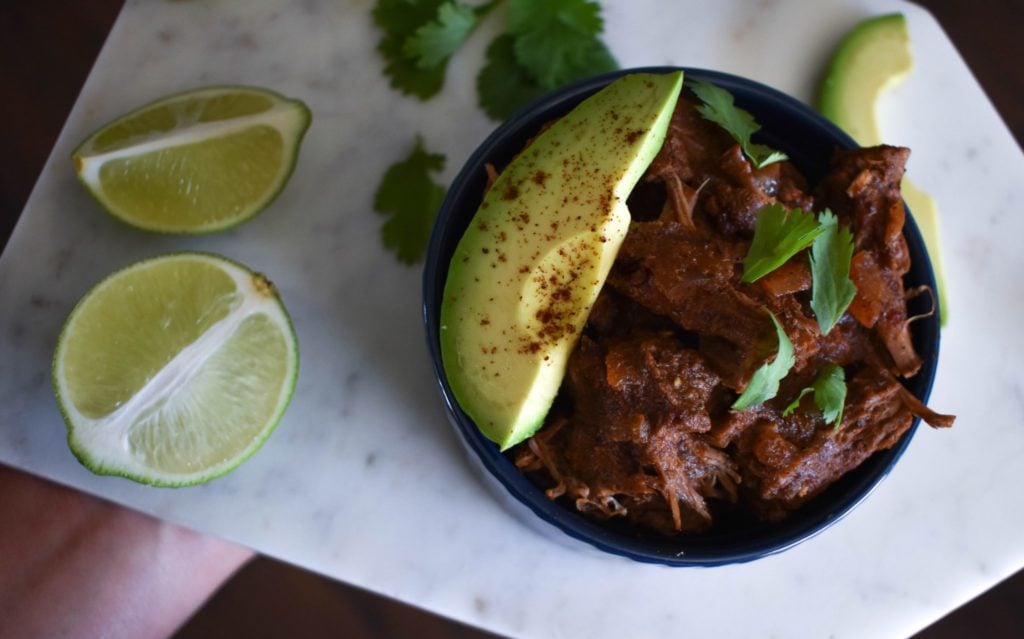 Spicing Up Your Weekly Meal Prep
By cooking a large pot of this SLOW COOKER PALEO KETO BARBACOA you are setting yourself up for surefire success during the week. This recipe kicks some serious ass when compared to baked chicken breasts or other foolish meal prep choices. Easy does not have to be flavorless. Kick up your meal prep game a notch by adding barbacoa bowls or babacoa tacos to your menu. One 3 pound roast can yeild 6 8-oz servings of meat (as long as the fat that required trimming was minimal). Six meals for 10 minutes of prep time is a win in my book.
Nutritional High Fives for this Keto Barbacoa
LOW CARB. For all of you looking for tasty lower carb options, this recipe takes the cake. By substituting a homemade version of chipotles in adobo you can cut the carbs even further. But with the canned chipotle you will still be able to keep the net carb count at 3-4 g per 8-oz serving.
GRASS-FED MEAT ON THE CHEAP. What does that mean for consumers? A high quality, nutrient dense protein option for less. Grass-fed meat is far superior to conventionally raised meats. Cows that are grass finished have a more natural omega-3 to omega-6 ratio. Grass-fed beef has nearly 50% more omega-3 fatty acids and less overall fat compared to conventionally raised beef making it anti-inflammatory. You also find higher levels of antioxidents, luetin and vitamin A.
HIGH PROTEIN. An 8-oz portion of barbacoa packs 50 grams of protein making this an easy go-to and filling meal. High protein meals like this can yield recovery after tough workouts and support muscle growth and maintenance.
CLA. Conjugated linoleic acid is one of the few types of polyunsaturated fatty acids that actually taut health benefits. These fatty acids are rare in nature but are found in ruminants, and are specifically high in grass-fed meat and grass-fed dairy products. Their benefits are still being studied but they seem to several have anti-obesity mechanisms, and to be effective in promoting healthy blood pressure, as well as lowering risk of developing conditions like type 2 diabetes and heart disease.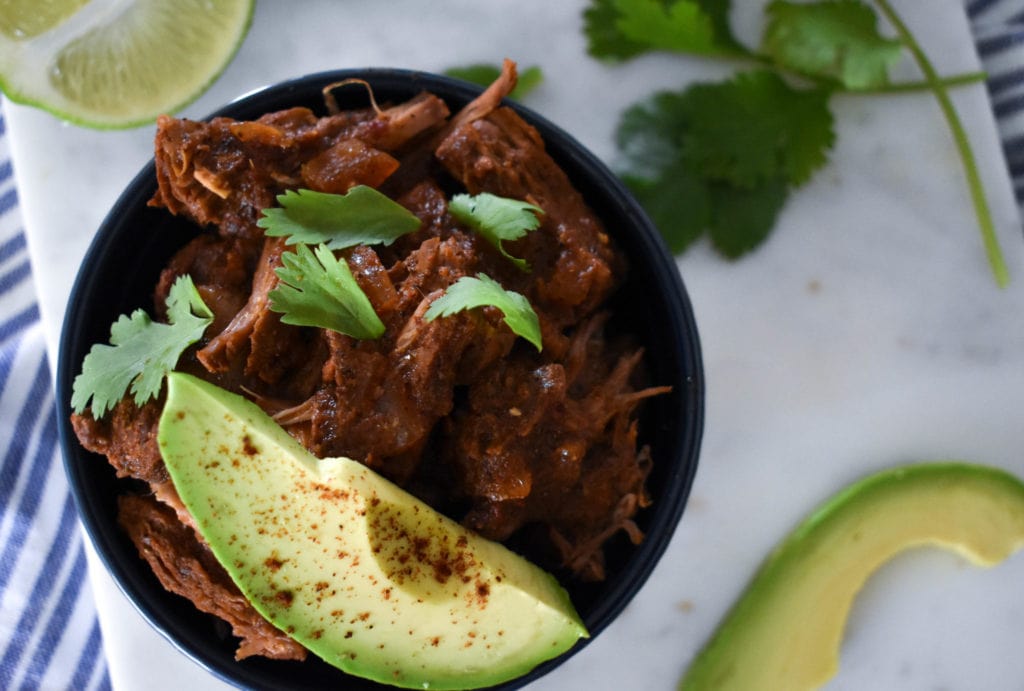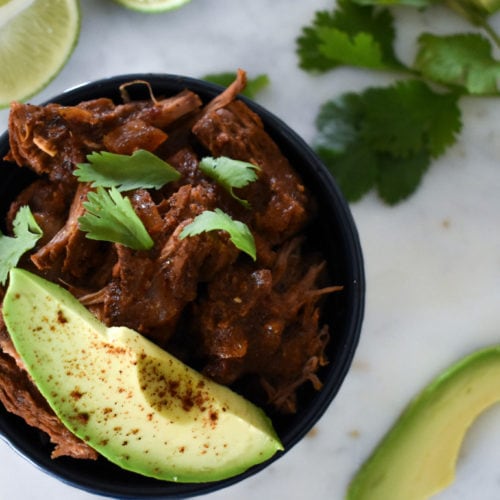 Slow-cooker Paleo Keto Barbacoa
Ingredients
3

lbs

grass-fed chuck roast

1

small

yellow onion

2/3

cup

beef bone broth

2

tbsp

apple cider vinegar

1

lime

juiced

1

7-oz. can

chipotle peppers in adobo

see notes

1

tbsp

minced garlic

1

tbsp

oregano

1

tbsp

garlic powder

1

tbsp

cumin

1/2

tbsp

black pepper

1/2

tbsp

salt

or to taste
Instructions
Begin by trimming the meat. Remove as much visible fat as you would like and any connective tissue from the roast. Then cut into about 1 inch squares.

Combine broth, peppers, ACV, lime juice and spices in a bullet or blender and pulse until everything is incorporated.

Dice onion. Add onion and meat to slow-cooker. Pour chipotle sauce over meat. Cook for 4-6 hours on low or 6-8 hours on high.

Once meat is tender and cooked through, use two forks to pull and separate meat.

Serve immediately or keep warm in the Crockpot for several hours. You can serve the meat with or without the chipotle sauce. The sauce is very spicy so I usually keep only about 1/3 of it with the meat.
Notes
Those requiring a strict paleo version of the recipe will want to make their own chipotles in adobo. You can find a fairly simple recipe here. Some canned varieties can be relatively low carb but most contain some sugar so consider that when meal planning, and read the label.