These Paleo Key Lime Pie Energy Balls are the ultimate sweet and healthy treat. With collagen protein, healthy fat and simple ingredients, these energy bites are a great afternoon pick-me-up or late night snack. This recipe is gluten-free, paleo-friendly and refined sugar-free.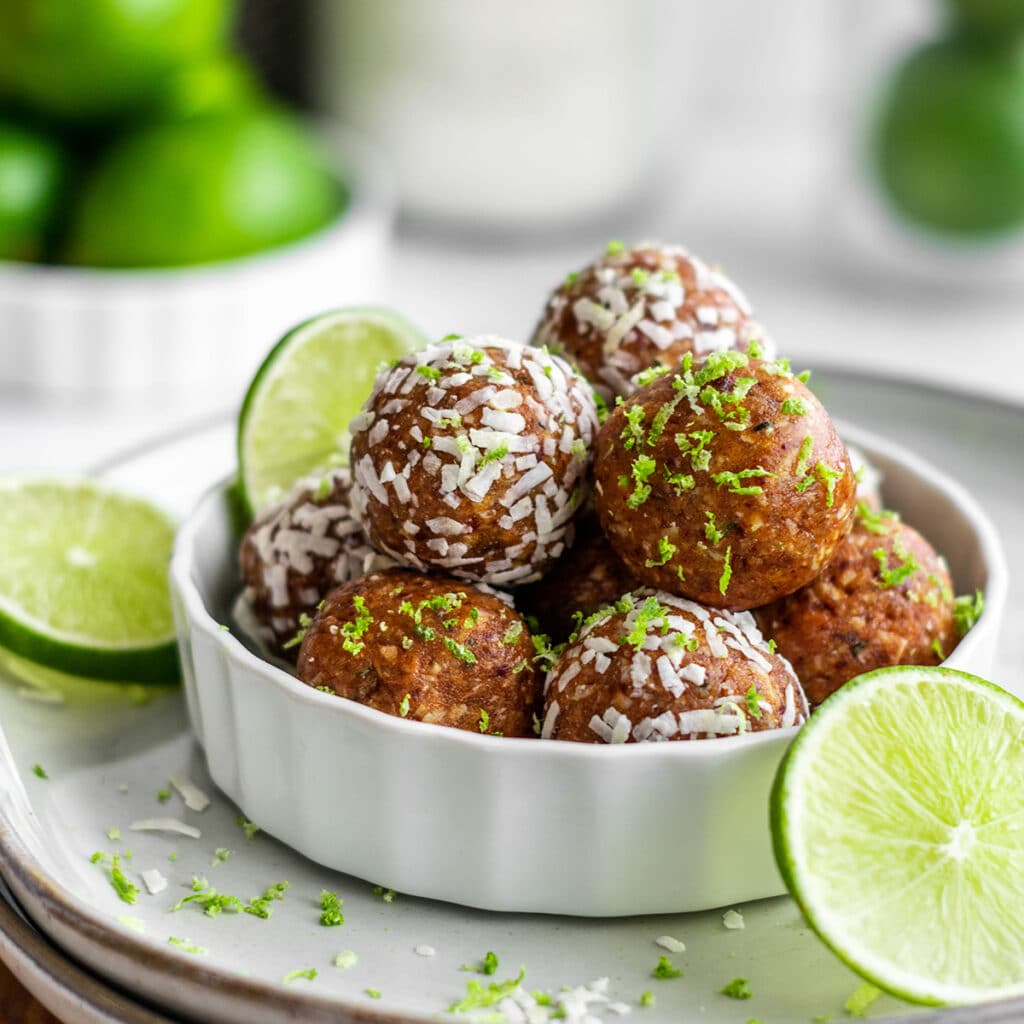 Jump to:
If you know me, you know I love to have healthy protein treats around the house constantly. I feel so much better about making my own protein treats rather than relying on store-bought protein bars. Protein bars tend to contain strange ingredients or things that can be problematic if consumed regularly, like ridiculous amounts of added fiber or artificial sweeteners.
Making these key lime pie energy balls is a great solution. No need to rely on overly processed alternatives when these treats are super tasty, satisfying and can be made in under 10 minutes!
Difference Between Key Limes and Regular Limes
The most noticeable difference between key limes and regular limes is obviously the size. Key limes are significantly smaller. Another notable difference is that key limes contain seeds.
When it comes to flavor, they are similar, however key limes tend to be a tangy-sweet where regular limes are more tangy-bitter. Additionally, key limes are thought to more aromatic.
Key limes are most commonly grown in the Caribbean, parts of Africa and America (like the Florida Keys). Regular limes are generally grown in certain regions of Asian.
When it comes to availability, key limes are much harder to find. For this reason, I recommend using regular limes in this recipe for sake of ease. Either would work fine, however, there will be almost no detectable difference between the two in this recipe.
Where Can I Find Collagen Protein Powder?
Collagen protein is becoming very widely available. Most large grocery stores and health food stores carry collagen. I recommend looking for a grass-fed source of collagen. You can purchase grass-fed collagen online (affiliate link below) if you don't have a store that carries it nearby. Also, if you happen to shop at Costco, you can buy Vital Farms Collagen for a very reasonable price!
Ingredient Notes
Medjool Dates - I usually find the best medjool dates from Costco! Joolies are also generally pretty good. Choose whole, unpitted dates to use in this recipe.
Collagen Protein - Select an unflavored, preferably grass-fed collagen protein powder.
Shredded Coconut - The shredded coconut must be unsweetened. You could also use unsweetened coconut flakes because everything will be processed in the food processor.
Lime Juice - Fresh lime juice will always taste best.
Vanilla Extract - Avoid imitation vanilla, look for pure vanilla extract.
Coconut Flour - Coconut flour is really drying. If you need to substitute this ingredient for whatever reason you may need to adjust the amount used to get the right consistency.
Hemp Seeds - Hemps seeds are used to add additional protein and some texture. You could use ground nuts or a different type of seed as well, just avoid anything overpowering like peanuts.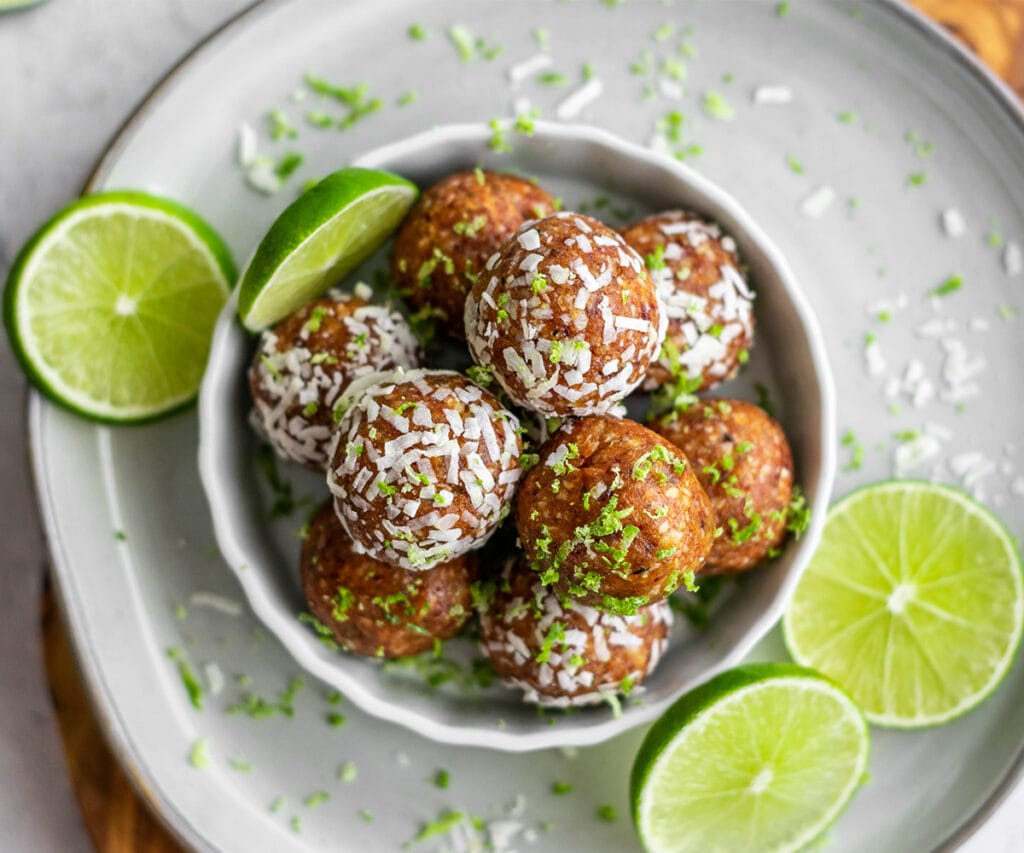 Storing Protein Balls
These paleo energy balls can be stored in an airtight container in the fridge for about 2 weeks. They will be safe to eat for longer but because they are made from real food ingredients they might not maintain quality much past 2 weeks.
You can also freeze them to have a healthy snack on hand at all times! Store them in a resealable freezer bag or an airtight container in the freezer for 1 month. Use parchment paper to sperate them so they don't stick together.
To thaw, remove from the freezer and let the protein treat sit at room temp for 10-15 minutes. Do not microwave!
Recipe Tips
Pick the freshest medjool dates! If your dates are a little dry, you could always soak them in a bit of warm water before processing, but gooey-fresh medjool dates will be perfect in this recipe. The types with pits are always freshest, simply remove the pits before adding the dates to the food processor. If soaking, drain liquid before using.
Cool the dough before rolling. If your dough is really sticky, you can pop it in the freezer for 10 minutes to make it easier to roll in to balls.
Related Recipes
Did you try these Paleo Key Lime Pie Energy Balls? I would love to see your creations! Take a photo and tag me on Instagram or leave a photo comment on Pinterest.
Feel free to leave a comment and a rating below. Feedback is always appreciated! 😊
📖 Recipe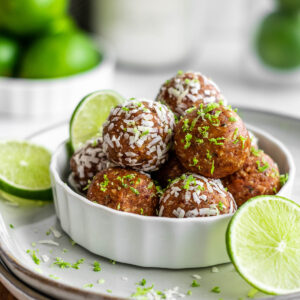 Key Lime Pie Energy Balls
These gluten-free and paleo key lime pie energy balls are the perfect snack. They have collagen protein, simple and nutrient dense ingredients and are SO easy to make.
Equipment
Food processor

Rubber Spatula
Instructions
Remove the pits from the dates and any pieces of stem that might still be attached.

Add all ingredients to a high powdered food processor. Process ingredients for about a minute or until a sticky dough begins to form. If your dates are not very fresh they may need to be soaked beforehand or a tiny bit of water can be added when processing. Fresh, gooey dates will not need this.

Divide the dough in 12 even chunks and roll between palms to form balls. You can roll the finished balls in more shredded coconut or lime zest if desired.

Store in an airtight container in the fridge for up to 2 weeks.
Nutrition
Serving:
1
ball
Calories:
140
kcal
Carbohydrates:
18
g
Protein:
11
g
Fat:
4
g
Saturated Fat:
3
g
Polyunsaturated Fat:
1
g
Monounsaturated Fat:
1
g
Sodium:
35
mg
Potassium:
167
mg
Fiber:
3
g
Sugar:
14
g
Vitamin A:
45
IU
Vitamin C:
2
mg
Calcium:
18
mg
Iron:
1
mg