Are you looking for new ways to mix up your morning oats? These Pear Overnight Oats are the perfect simple and flavorful recipe for fall. They are gluten-free, have additional protein and will keep you full until lunch making them the ultimate breakfast win.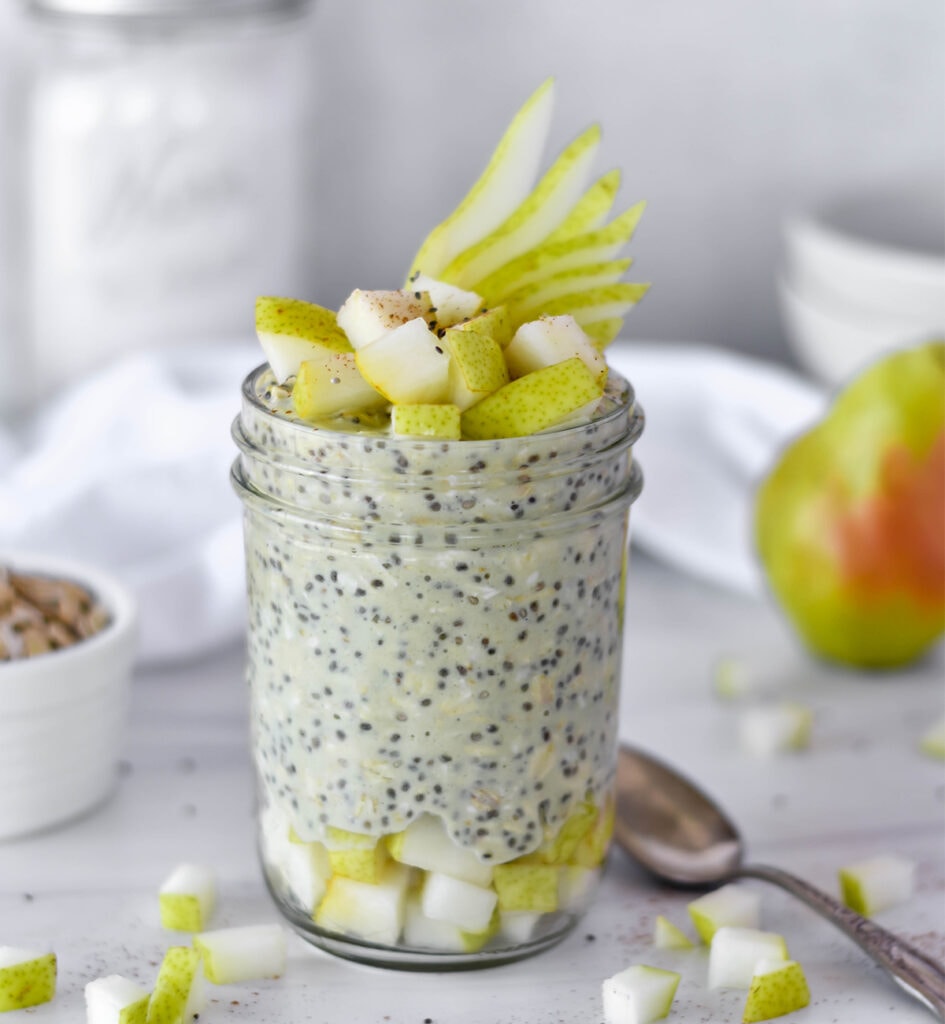 Jump to:
Pears are the often overlooked star of Fall produce. Apples get all the glory! A perfectly ripe pear is something to treasure. They are a little more finicky than apples, but when you nail your produce pick they are so, so good!
This pear overnight oats recipe is simple and classic. It has a pinch of cinnamon, a little vanilla and some sweet, ripe pears, and really, that is all it needs!
In this recipe we add extra protein powder, chia seeds and coconut to make these oats a balanced breakfast. This means they are less likely to spike your blood sugar or make you starving an hour later. These oats have a more appropriate fat:carb:protein ratio than most overnight oat recipes so they will stick to your ribs and help support stable energy throughout the day.
Why Soak Oats?
Even if eating warm, overnight oats can be a great way to improve digestibility of this grain! Simply by soaking the oats you initiate the breakdown process.
By soaking grains overnight in a liquid you make them a little more gentle on the digestive tact. It also helps to neutralize some of the phytic acid, a component in grains that blocks nutrient absorption. By neutralizing some of this acid more of the minerals get absorbed!
So, whether you like your oats cold or warm making overnight oats can be beneficial. If you are a warm oat lover, simple heat your overnight oats on the stove top or in the microwave after they have properly soaked.
What Type Of Pears Should I Use?
Any and all! The best pear to use would be the ripest and most perfect pear in your grocery store. I used a Bartlett but an Anjou, Bosc, Comice or Concord would also work!
How To Pick A Ripe Pear
Now we are getting down to the nitty gritty. This is the true reason most people avoid pears, they are hard to select. No one likes a mealy pear!
When looking for a pear to eat right away you want to start by gently applying pressure to the neck, where the stem is located. If it yields, that means its ripe. The texture should be fairly firm and consistent but with a little give. More give around the stem should be expected.
Pears with light bruising is usually fine because they have such a thin, delicate skin. If you do happen to select a hard, unripe pear you can let it ripen on the counter at room temperature.
Asian pears, unlike other pears, are actually ripe when they are hard.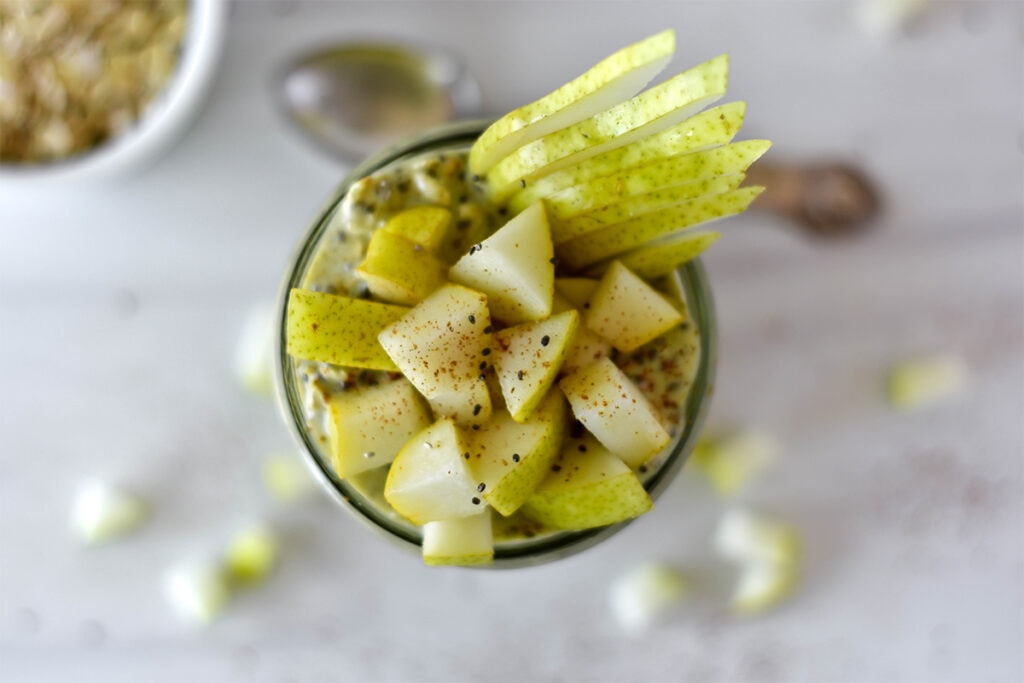 Ingredient Notes
Oats - I use gluten-free old fashioned oats in this recipe. If you are not gluten-free you can select regular old fashioned oats. Avoid steel cut and instant oats in overnight oats recipes unless otherwise directed.
Almond Milk - Unsweetened almond milk is what I selected for the soaking liquid. Sweetened almond milk would work fine (just adjust the amount of sweetener used!). Regular milk would work, so would other milk alternatives! I would not recommend using canned coconut milk because the fat will solidify in the fridge.
Salt - Salt is one of those ingredients in oatmeal and overnight oats that you don't really think about but is SO important for flavor. I use ½ tsp, but that might be a touch too salty for you so adjust to your own tastes.
Protein Powder - Use your favorite protein powder and one that works within the limitations of your diet. If you are vegan, avoid whey or collagen protein. The sweeter tasting the protein powder you use is the less maple syrup you will need to sweeten.
Coconut - If you are allergic to coconut or just don't like it you can skip it or mix in some ground nuts or a little almond butter to add some fat and help those carbs digest more slowly.
Maple Syrup - You can sweeten these oats with whatever you like. Honey or stevia would be good options in place of maple syrup.
Recipe Tips
Depending how far ahead of time you make your oats, you may want to cut the pear right before serving so that it doesn't brown too much. If you are just making it the night before this won't really be a concern.
If you like more liquidy oats, you can add more almond milk (or preferred milk/milk alternative) at the beginning (when you mix all the ingredients together) or after they have already soaked.
Related Recipes
Did you try this Pear Overnight Oats recipe? I would love to see your creations! Take a photo and tag me on Instagram or leave a photo comment on Pinterest.
Feel free to leave a comment and a rating below. Feedback is always appreciated! 😊
📖 Recipe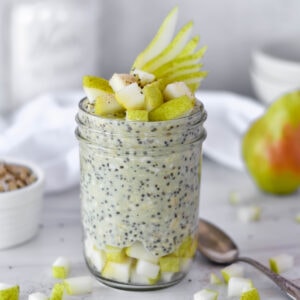 Pear Overnight Oats
This creamy and fruit-filled overnight oats recipe is the perfect make-ahead morning pick me up.
Equipment
Jar or airtight container with a lid

Knife

Cutting board
Instructions
Combine all ingredients except the pair in a large mason jar or an airtight container with a lid. Seal the container, shake vigorously for 30 seconds or so, until everything is incorporated.

Dice pear. Divide and place at the bottom of two smaller containers or jars with lids. Top with the oat mixture and seal.

Place the sealed container in the fridge for at least 45 minutes or ideally overnight.

Remove from fridge, stir and enjoy!
Nutrition
Serving:
0.5
recipe
Calories:
468
kcal
Carbohydrates:
52
g
Protein:
33
g
Fat:
16
g
Saturated Fat:
6
g
Trans Fat:
1
g
Cholesterol:
47
mg
Potassium:
429
mg
Fiber:
13
g
Sugar:
12
g
Vitamin A:
104
IU
Vitamin C:
4
mg
Calcium:
501
mg
Iron:
5
mg