Something few people can argue with, pizza is the ultimate equalizer. Almost everyone enjoys a good slice of pizza. This Sweet Potato Pizza Bake is a healthier, grain free option that will give you another excuse to eat pizza.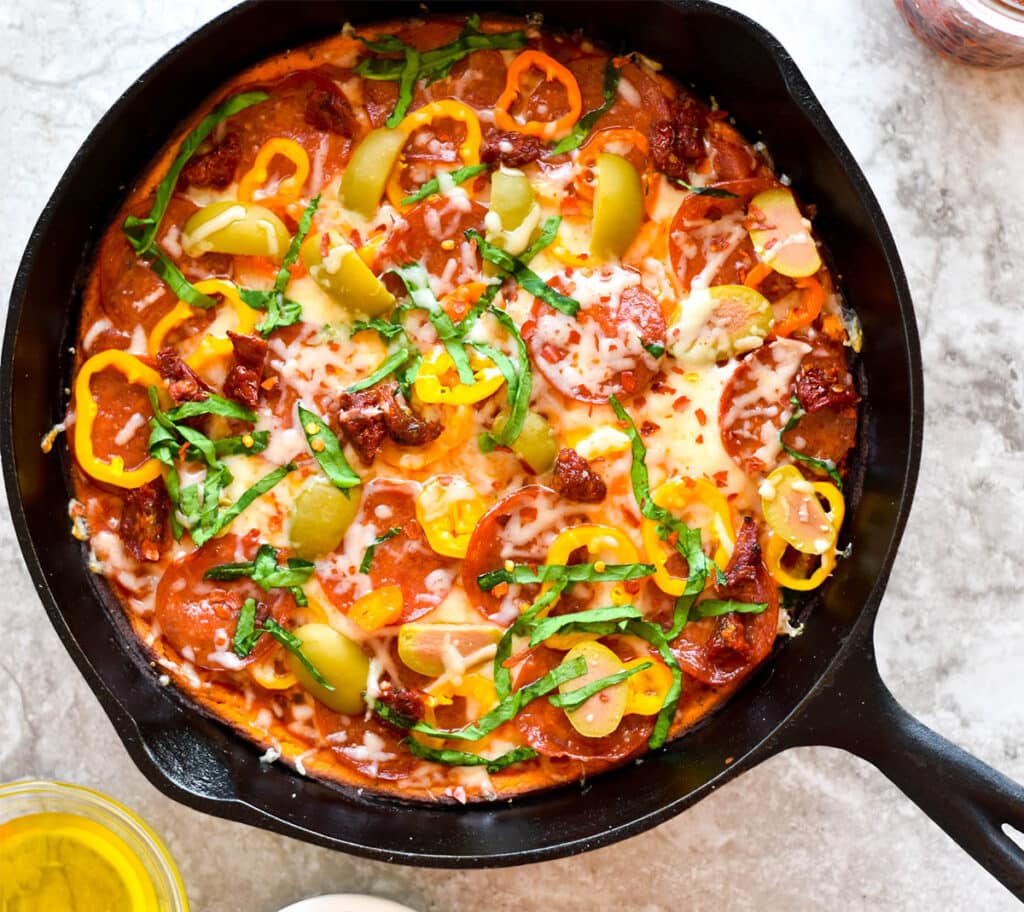 Jump to:
Now personally, pizza and I have a love-hate relationship. I went for years (nearly 10??) without touching a piece of pizza This was because I knew, deeply and painfully, how many calories (gasp) were in it. And, how much guilt would be associated with each greasy wonderful slice.
With that being said, I am going to marry a man who might possibly love pizza more than he loves me. And, that is totally okay. Priorities.
I realized several years ago that I was going to have to make peace with pizza in order to find some middle ground in our household. Even after removing the morality I associated with eating pizza, I still craved creating a healthier pizza-like meal that could be eaten more regularly.
During the early days of our dating history, Kevin and I tried a handful of veggie pizza crust recipes (i.e. zucchini crust, cauliflower, sweet potato crust). We found them delicious but incredibly finicky. This grain-free sweet potato pizza bake solves that problem. It is simple, stress free and so tasty!
What To Expect With This Recipe
This sweet potato pizza bake is easy in the sense that it requires minimal effort and cooking skill, but you still need to microwave the sweet potatoes, and then the sweet potato mixture needs to cook for another 30 minutes. So this recipe is somewhat time consuming.
It is also important to note that this dish is more of a casserole and will be eaten with a fork not fingers. Although it has all the flavor of pizza, it will require a spatula to scoop and serve.
To Make A Traditional Pizza Crust
I like making the pizza bake because it is a little easier. But, if you are a die hard pizza zealot and want a thinner crust dont write this reciupe off just yet.
This sweet potato "dough" can be spread on a sheet pan. Oil the sheet pan using coconut oil or cooking spread. Spread the dough with a spatula and cook for 20-25 minutes. This will produce a decent pizza crust!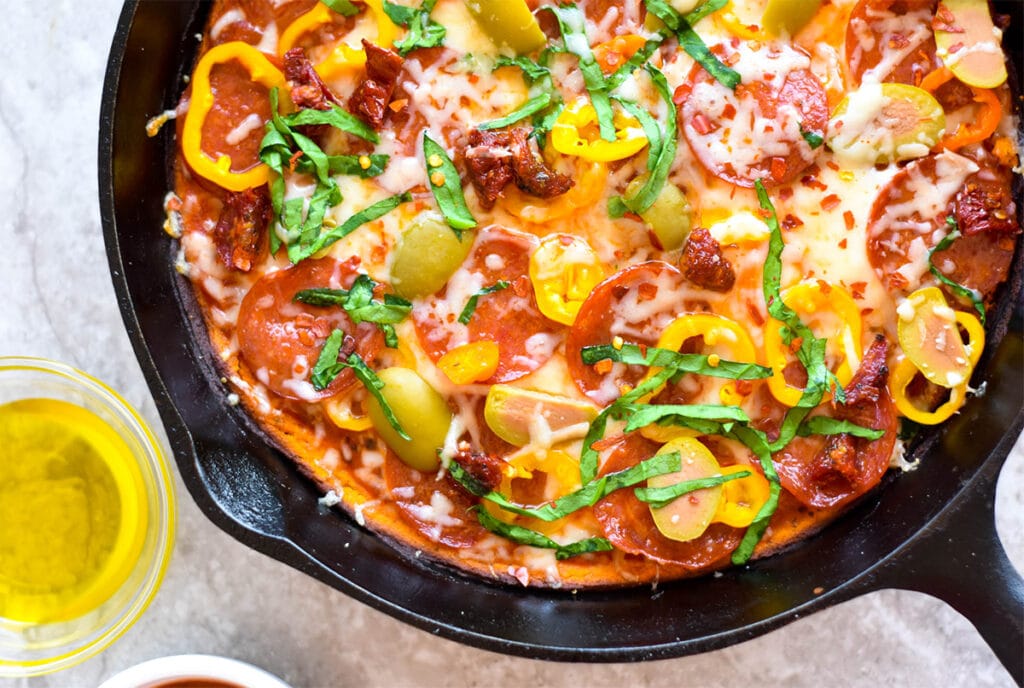 Meal Prepping
The beauty of this recipe is that it is the perfect make-ahead recipe for a weeknight dinner. You can make the sweet potato dough base ahead of time and store in the fridge until your ready to cook. Just top with toppings and bake.
This dish also reheats really well. You also actually can cook it fully, refrigerate in a dish with a lid for a few days. Just reheat at 400 degrees F for about 20 minutes and it tastes as good as it does when it was first made.
What Makes This Recipe Healthier
Grain-Free. Grains can be loaded with inflammatory omega-6 oils, cause irritation and inflammation to the lining of the gut, and, due to the presence of phytates, can actually cause the elimination of important nutrients, vitamins and minerals from the body!
No seed oils! Many frozen pizza contain vegetable and seed oils. These oils (i.e. soybean oil) are high in omega-6 fatty acids and can promote inflammation. Because omega-6 oils are very easy to get in the standard American diet, and we need much less than we generally consume, it is best to avoid foods that have elevated levels of omega-6's (grains and oils made from grains/seeds).
Toppings of your choice. Whatever your nutrition priorities are, your pizza can reflect that. I like to add artichokes, basil, green olives, bacon and sausage. You can opt for grass fed meats and cheese which is generally not something you can find when eating out. I usually use Rao's Pizza Sauce because they don't add vegetable oils or funky ingredients.
Can This Pizza Be Paleo?
Absolutely! Just substitute the cheese for a paleo friendly cashew based cheese or more of your favorite toppings. Chopped bacon works well to add some richness!
Related Recipes
📖 Recipe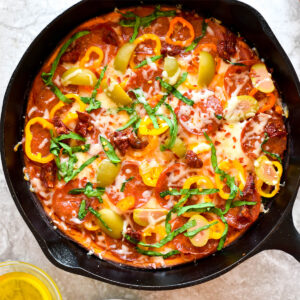 Sweet Potato Pizza Bake
This is a super healthy and incredibly simple alternative to everyone's favorite... pizza.
Ingredients
Toppings
1

cup

mozzarella parmesan cheese mix

omit if paleo

½

cup

pizza sauce

toppings of choice
Instructions
Begin by puncturing the sweet potatoes with a fork or knife. Microwave on a plate until soft. You will likely want to flip the potato a few times to allow even cooking. Depending on your microwave and size of your potatoes this could take 5-10 minutes per sweet potato. It usually works best when the potatoes are microwaved separately.

Remove the sweet potatoes from the microwave and allow to cool a little. Once cool enough to touch, begin peeling the skin off.

Add potatoes to a large blender, along with egg, almond flour, apple cider vinegar and spices. Blend fully, scraping sides, until mixture becomes smooth. You can also mix with a whisk in a bowl if you don't have a blender but it comes out smoother in a blender.

Drizzle a cast iron skillet or casserole dish with a small bit of oil. Spread sweet potato mixture evenly using a spatula. **See notes if you want a more traditional pizza crust.

Place in preheated oven for about 25-30 minutes. Once cooked, you should be able to pierce with a fork and it will come out clean.

Chop any toppings while the sweet potato mixture is cooking.

Spread on sauce and add toppings/cheese. Broil for 5 minutes.

Remove, serve and rejoice!
Notes
You can prepare the sweet potato dough base ahead of time to make a quick weeknight meal.
If you're paleo, you'll need to omit the cheese but using chopped bacon is a good way to add some richness or a cashew based cheese.
**If you want to make a more traditional pizza, the sweet potato mixture can be spread on an oiled sheet pan and baked for 20-25 minutes!
Nutrition
Serving:
1
piece
Calories:
267
kcal
Carbohydrates:
22
g
Protein:
11
g
Fat:
17
g
Saturated Fat:
4
g
Cholesterol:
42
mg
Sodium:
374
mg
Potassium:
355
mg
Fiber:
5
g
Sugar:
5
g
Vitamin A:
10942
IU
Vitamin C:
3
mg
Calcium:
172
mg
Iron:
2
mg