This Whole30 Italian Sausage is free of additives, added sugar and full of flavor. This simple recipe can be made in 15 minutes and added to all sorts of dishes. Perfect staple for those following a Whole30 or paleo diet!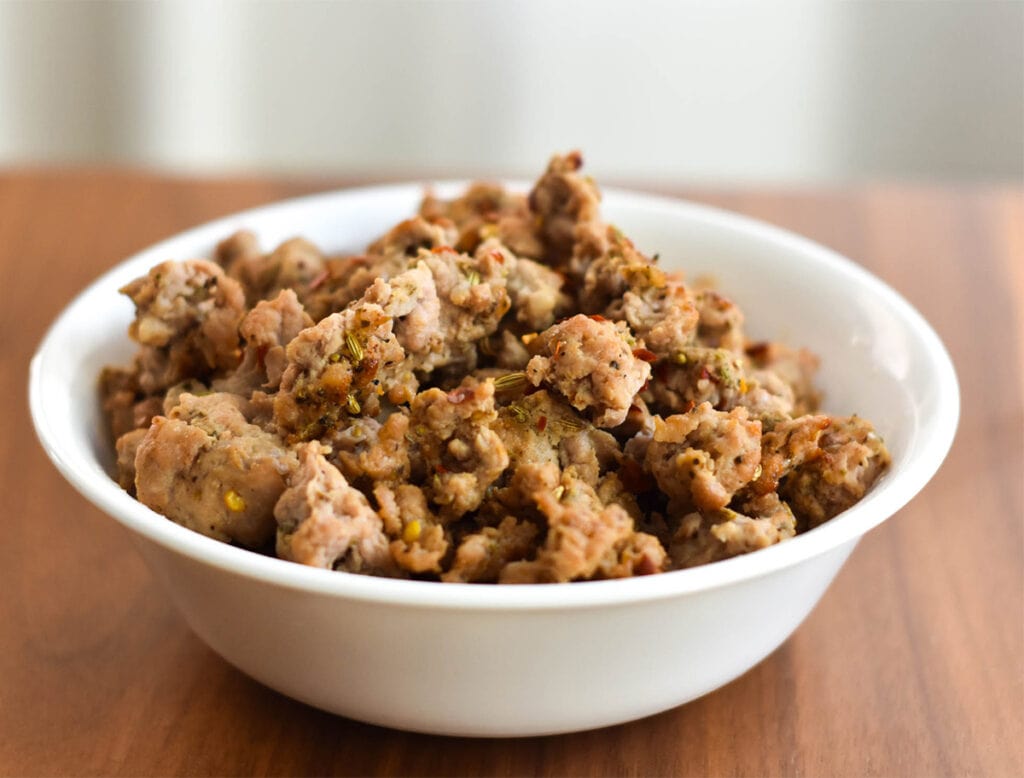 Jump to:
This sausage recipe is savory and just a hint of spice. It is the perfect thing to add to soups, pair with zucchini pasta and tomato sauce or add to bowls with roasted veggies, sweet potato and avocado.
Sausage is my favorite. I really adore the taste of fennel. And, if you know me, you know using ground meat is my go to for lazy day meals. If I had known making sausage at home was so easy, I would have been on this years ago.
When I met my husband, I was introduced to hunting. While I don't hunt myself, I have seen him process meat. It was then that I realized sausage is literally just ground meat, fat and spices, and so easy to make yourself. Who knew? Not me, obviously.
Is Sausage Healthy?
Although somewhat controversial, it is commonly believed that processed meats like sausage, bacon and lunchmeat are contributors to diseases like cancer and heart disease.
While there are some problems with conventionally processed meats, there is nothing wrong with homemade sausage. By making sausage at home you are controlling the ingredients. It is essentially just ground pork with herbs and spices and fits very well into a whole foods diet.
The Problem With Store Bought Sausage
Store bought sausage can be fine as an occasional addition to your diet, but if you are following a Whole30 or have sensitivities to certain additives it may be best to prepare your sausage at home.
Conventional sausage can contain ingredients like sugar, corn syrup, nitrates, preservatives, caramel coloring, and/or monosodium glutamate. While occasional accidental exposure to these funky ingredients probably won't harm you, avoiding these for the most part may be in your best interest.
When making sausage at home is so easy, there is really no reason not to!
Where Can I Buy Whole30 Compliant Sausage?
Stores are actually starting to carry more Whole30 approved brands you just have to hunt for them sometimes. Be sure to read labels closely or look for the "Whole30 Approved" seal.
The following brands carry Whole30 friendly meat options: Applegate Farms, 365 Whole Foods Brand, Teton Waters, Pedersons, and Wellshire.
You can also order Whole30 compliant sausage and/or high quality heritage pork from US Wellness Meats, Butcher Box and White Oak Pastures.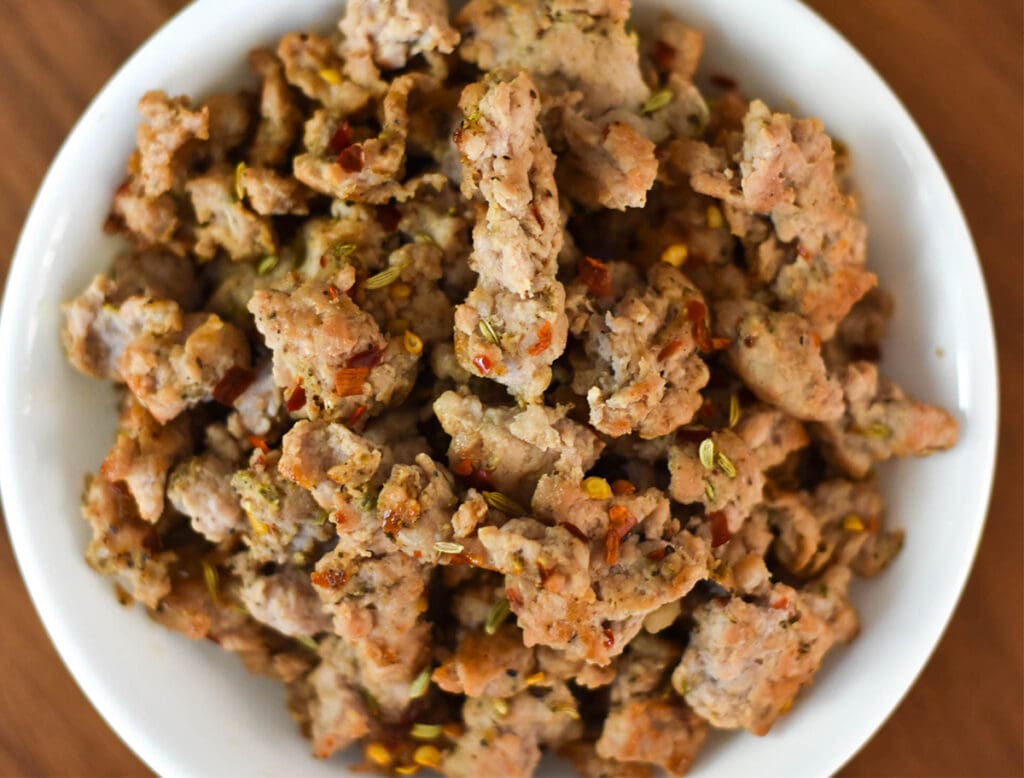 Making Fresh Ground Pork
Although packaged ground pork will work just fine in this recipe, I really love the taste of fresh ground pork. You can make ground pork from a variety of cuts but I like to use a fatty pork shoulder.
The fat content is important to help to the pork maintain it's flavor. Usually you want at least 30% fat content. If you have a decent amount of fat in your ground pork, you may be able to skip the added bacon fat in this recipe.
To make ground pork you will need a meat grinder. I use the meat grinder attachment for my Kitchenaid mixer.
How To Make Ground Pork
Cut the pork shoulder into 1 ½ inch cubes.

I find it is helpful to do this when the meat is partly frozen still because it grinds a little easier. Be sure to have a properly sharpened knife. Cut against the grain for easier slicing.

Add the meat to the meat grinder.

Feed the meat slowly through to top of the meat grinder in small batches. Make sure you have a large bowl placed at the end of the meat grinder to catch your pork.

Season the pork.

Season the pork for sausage following the instructions below.

Store any excess pork in the fridge or freezer.

Store in an airtight container for 1-2 days in the fridge or 4-5 months in the freezer. Always look at the use or freezer by date on the pork shoulder before starting.
Meal Ideas
Throw on top of some tomato soup
Use with veggie pasta and a rich sauce
Make bowls using roasted veggies, sweet potato, Whole30 Italian Sausage and avocado
Add to a salad with shredded romaine, artichokes, sundried tomatoes, olives, walnuts and olive oil
Related Recipes
Did you try this Whole30 Italian Sausage recipe? I would love to see what you add it to! Take a photo and tag me on Instagram or leave a photo comment on Pinterest.
Feel free to leave a comment and a rating below. Feedback is always appreciated! 😊
📖 Recipe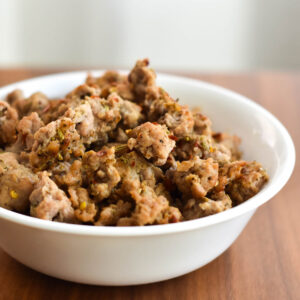 Whole30 Italian Sausage
This Whole30 friendly Italian sausage is the perfect nitrate, additive and sugar free meat for almost any recipe.
Equipment
Frying pan

Spatula

Mixing bowl
Instructions
Combine all ingredients in a mixing bowl. Mix together with clean hands.

For patties: Form 2 ounce patties. Cook patties in frying pan over medium heat until browned on both sides. About 3-4 minutes per side.

For crumbled sausage: Fry all the sausage in a pan over medium heat. Breaking up clumps with spatula until all sausage has browned.

Store raw sausage in the fridge for up to 2 days or in the freezer for 4 months.
Nutrition
Serving:
2
ounces
Calories:
172
kcal
Carbohydrates:
1
g
Protein:
10
g
Fat:
14
g
Saturated Fat:
5
g
Cholesterol:
42
mg
Sodium:
225
mg
Potassium:
171
mg
Fiber:
1
g
Sugar:
1
g
Vitamin A:
74
IU
Vitamin C:
1
mg
Calcium:
19
mg
Iron:
1
mg