What is better on a cold evening than a warming bowl of chili? This Whole30 Sweet Potato Chili is so good you won't even miss the beans. With satisfying sweet potatoes, jalapeño, and grass-fed ground beef this healthy and hearty recipe will be enjoyed by the entire family.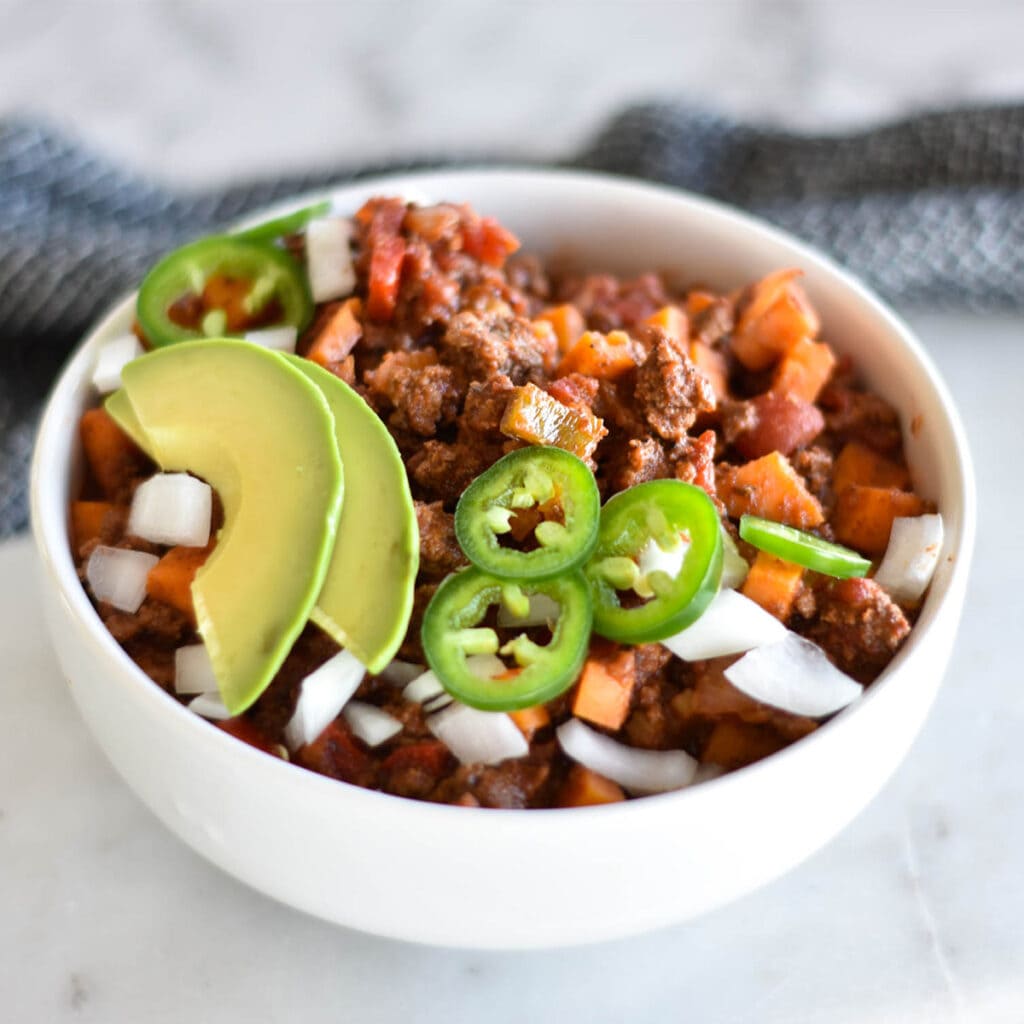 Jump to:
I love chili. It is one of those ultimate comfort foods. Chili and cornbread is low key one of my favorite meals, and one I don't eat nearly enough.
Following a paleo diet doesn't mean you can never have chili again. This recipe uses sweet potato to replace the complex carbs found in beans, supplying that classic profile that will stick to your ribs.
This Whole30 sweet potato chili is an easy meal, perfect to enjoy after a long day of skiing or playing in the snow! The kind of meal that warms you up from the inside out.
No Beans?
Can chili be made without beans? Uh, yes!
While traditional chili recipes include pinto beans, legumes are not complaint when following a paleo diet. I had my doubts that chili would still be chili without the beans, but this recipe is just as satisfying and enjoyable without the GI upset that some people get from legumes.
This recipe includes celery, jalapeno, sweet potatoes and bell pepper to keep it healthy, flavorful and paleo and Whole30 compliant!
Why Are Beans Not Allowed On Paleo?
Some people tolerate beans very well, while others do not. Whether to consume legumes should be evaluated on a individual basis. Consider how you tolerate them and the possible reasons they should be avoided.
Below are the potentially problematic components in beans and why beans are not recommended on a paleo diet.
Phytic Acid
Like grains, legumes contain a component called phytic acid. Phytic acid binds to nutrients in the food preventing those nutrients from being fully absorbed. While this doesn't mean it will steal nutrients from other foods you eat, it does make a serving of legumes less nutritious than a "Nutrition Facts" panel may lead you to believe.
Phytic acid alone does not make this food "non-paleo". Many foods contain phytates, like nuts and seeds, which are allowed on the paleo diet. In fact, nuts generally contain more phytic acid than beans.
Beans become more problematic when they replace foods like meat and eggs which are more nutrient dense, as they generally do in a vegetarian diet. The phytates in beans are fairly benign if consumption is moderate, but they can contribute to nutrient deficiencies if they make up the bulk of calorie consumption.
FODMAPS
Beans are cosnidered FODMAPS, meaning that they contain galacto-oligosaccharides which is a certain type of fiber. This fiber type can cause unpleasant digestive problems for some people, especially people who already have IBS or other digestive issues.
This isn't a reason to avoid these foods entirely, but a reducing or eliminating FODMAPS for a period of time may help identify FODMAP intolerance and help to resolve some GI issues.
It is important to note, FODMAPS should not be avoided indefinitely. A reintroduction phase is necessary in order to prevent ongoing issues. If you follow a low FODMAP diet for extended periods of time you risk pruning too much of the bacteria that help digest these carbohydrates perpetuating FODMAP intolerance when they are inevitably reintroduced.
Lectins
Lectins are a potentially toxic component found in many foods including grains and legumes. In the wrong context, this component can cause intestinal damage leading to issues like intestinal permeability and even autoimmune illness.
Soaking, sprouting, cooking and fermenting can help to reduce the lectin content in both beans and grains which improves tolerance in most people.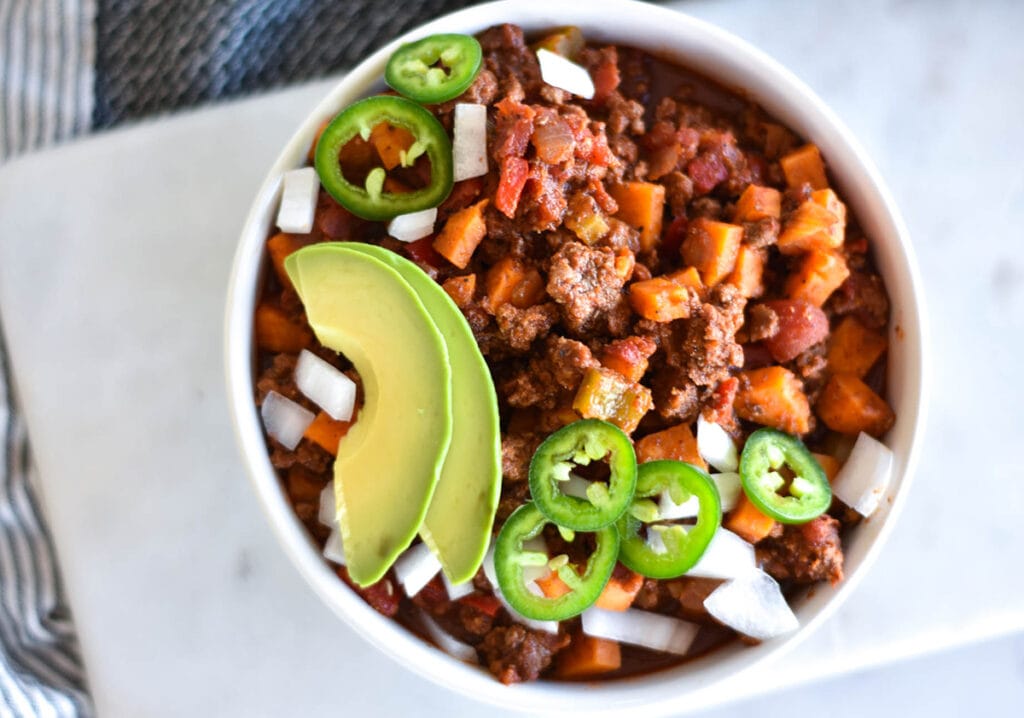 Can This Recipe Be Made In The Instant Pot?
Absolutely! To make your Whole30 Sweet Potato Chili in the Instant Pot, follow these simple steps:
Set an Instant Pot to sauté and add the avocado oil. Add the onion and begin to sauté.
Once the onion is translucent, add the beef. Cook, breaking apart and browning the meat, until the beef is no longer pink.
Add the remaining ingredients. Stir well. Cover, seal, and set to cook on high pressure for 10 minutes.
Allow natural release of steam for another 5 minutes then quick release any remaining steam. If the chili seems too thick, you can stir in additional broth. Taste and adjust seasonings if needed. Serve with any desired topping and enjoy!
Toppings For This Paleo Chili
Avocado
Sliced jalapeno
Cashew "cheese"
Onions
Crumbled bacon
Cilantro
How to Store and Reheat This Chili
To Store. Store leftovers in an airtight container in the refrigerator for 5 days.
To Reheat. Warm this chili in the microwave until warmed through. You can also heat over medium heat on the stove top for about 5-7 minutes, stirring frequently.
To Freeze. Place chili in an airtight freezer-safe storage container once chili has fully cooled. Store in freezer for up to 3 months. Let thaw overnight in the refrigerator before reheating.
Related Recipes
Did you try this Whole30 Sweet Potato Chili recipe? I would love to see your creations! Take a photo and tag me on Instagram or leave a photo comment on Pinterest.
Feel free to leave a comment and a rating below. Feedback is always appreciated! 😊
📖 Recipe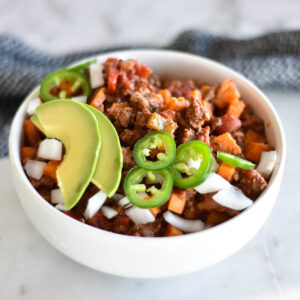 Whole30 Sweet Potato Chili
A chili so tasty you won't miss the beans. This Whole30 Sweet Potato Chili is hearty and satisfying.
Equipment
Stock Pot

Knife

Cutting board

Veggie peeler
Instructions
In a large stock pot, heat over medium heat and add ground beef. Break apart and cook until beef has browned. Remove beef from pan and set aside.

In same pot, add 1 tbsp. avocado oil and begin to heat over medium heat. Dice onion and celery and add to pot. Begin to sauté until onion until it becomes translucent and soft. Lower the heat slight and add garlic. Cook for several more minutes until garlic becomes fragrant.

Peel and dice sweet potatoes. Add broth, canned tomatoes and sweet potatoes to the pot. Cover with lid and allow to simmer over low heat until sweet potatoes have softened, about 15-20 minutes.

Remove stem and seeds from bell pepper and jalapeno. Add to pot.

Add remaining ingredients to pot. Stir well and allow to simmer on low heat without lid for at least 30 minutes for flavors to develop.

Top with any desired toppings and serve.
Nutrition
Serving:
1
cup
Calories:
298
kcal
Carbohydrates:
20
g
Protein:
17
g
Fat:
17
g
Saturated Fat:
6
g
Cholesterol:
54
mg
Sodium:
760
mg
Potassium:
623
mg
Fiber:
4
g
Sugar:
6
g
Vitamin A:
6942
IU
Vitamin C:
21
mg
Calcium:
80
mg
Iron:
4
mg