Anyone else obsessed with Mediterranean flavors? Give me salty olives and feta all day, every day. These Low Carb Greek Chicken Bowls combine all the best fresh and savory flavors together for the ultimate nutrient-dense and incredibly satisfying meal.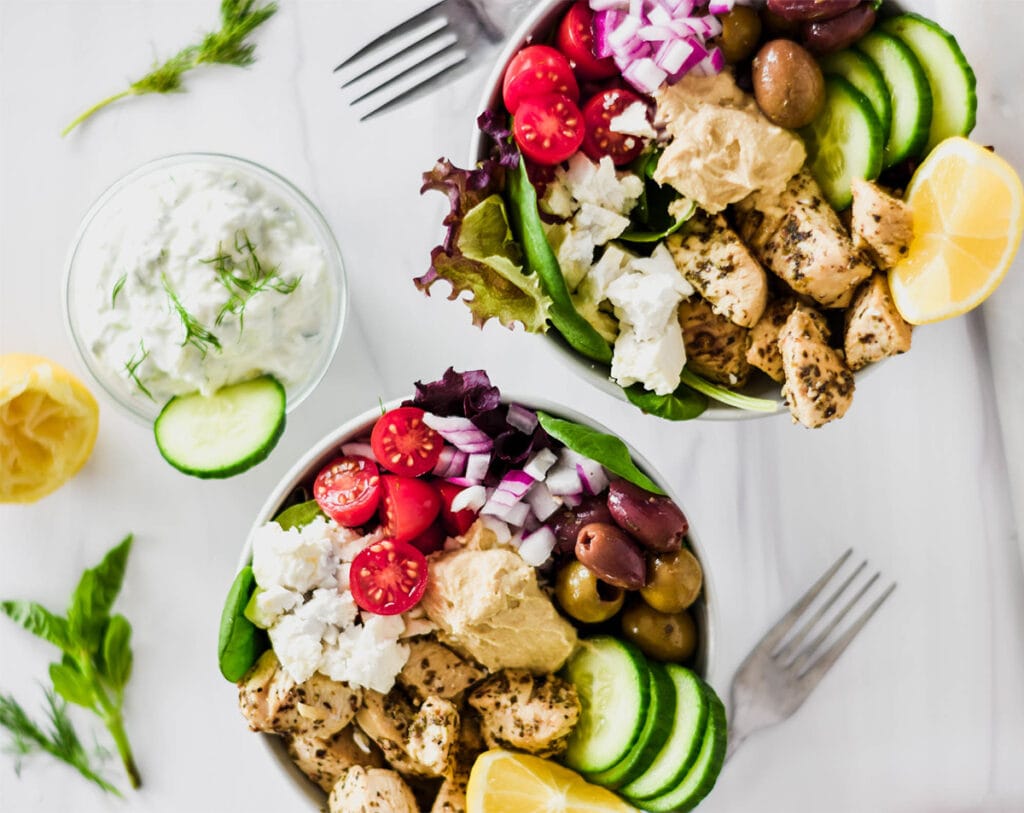 Jump to:
These Greek Chicken Bowls make eating healthy a breeze because they are so dang flavorful. Why eat the stale donuts that have been sitting in the break room since before the last time the Kuerig was cleaned when you have a lunch like this in the fridge?
I love the variety of nutrients you get with these bowls. The colorful ingredients speak for themselves. This recipe is high in protein, fiber and healthy fats making it incredibly blood sugar stabilizing and satiating FTW.
Meal Prepping Greek Chicken Bowls
Oh my gosh, what an tasty meal prep this recipe makes! No more boring lunches.
In order to meal prep these bowls you will need two small containers for the tzatziki sauce and the hummus, one medium container for the veggies and a slightly smaller container for the chicken for each serving.
If you plan on eating the chicken cold, you can just pack it along with the veggies to save some space. You could also put it in a plastic bag if combining the chicken and veggies weirds you out. My personal preference is to keep everything separate so nothing loses its crunch.
Using meal prep containers can be helpful or one large container that can fit your veggies along with both your condiment containers (for the tzatziki and hummus) so you aren't juggling Tupperware like a bad circus act. I am a big advocate of using glass containers for anything you have to microwave, but you could eat this meal cold so you can get away with plastic here.
Here is how I packed everything: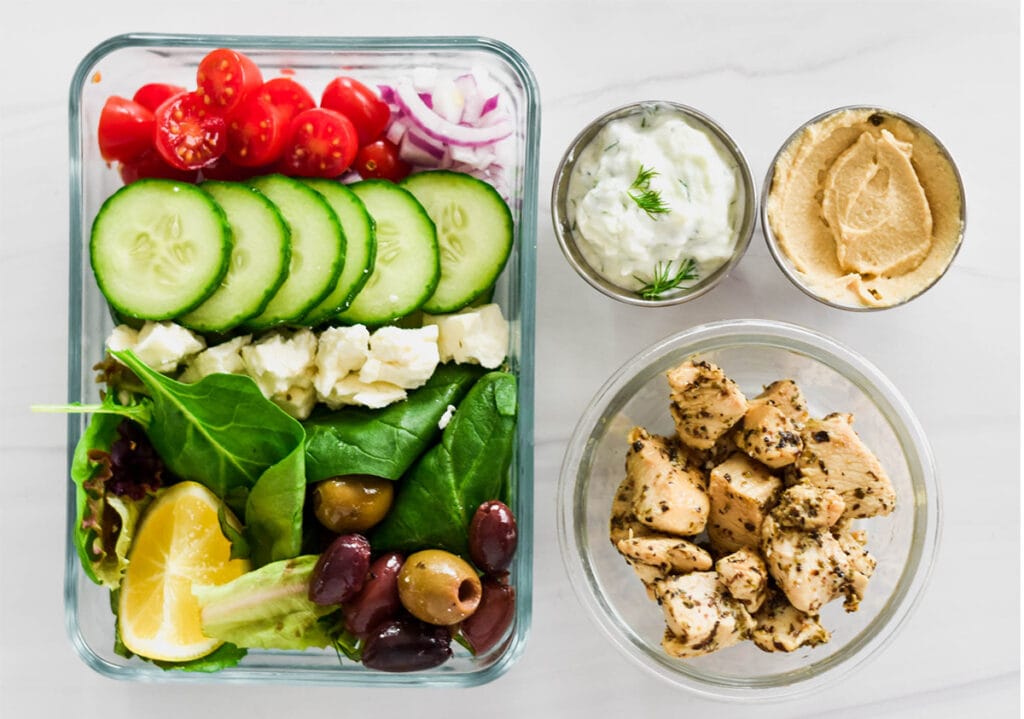 Are These Low Carb Greek Chicken Bowls Appropriate for Keto?
These Greek Chicken Bowls are low carb but I would not consider them keto. Each bowl has about 16 grams of net carbs which is perfect for a low carb diet but might kick some people out of ketosis.
To make this recipe more keto-friendly just omit the hummus. You can toss in some more olives or a little extra feta. The meal will still be phenomenal.
Making The Tzatziki Sauce
Tzatiki sauce is super simple to make and adds a lot of flavor to all sorts of dishes.
Here is what you will need:
2 tbsp. of grated cucumber
1 clove of garlic, minced
6 ounces plain Greek yogurt (about 1 small container)
½ tbsp. fresh dill, finely chopped
1 tbsp. EVOO
½ tsp. red wine vinegar
¼ tsp. salt
Start by grating the cucumber on a cheese grater. You will want about 2 tbsp. of grated cucumber before the moisture has been removed. Take the grated pulp and place between 3-4 folded paper towels and squeeze. Do this a few times until the cucumber pulp is fairy dry.
Mince the garlic and combine in a bowl with all other ingredients including the cucumber. Mix together and there you have it! Tzatziki makes a great sauce for gyros, bowls, salmon, you name it.
Picking Out A Store Bought Hummus
You may be wondering why I chose to use store bought hummus in this recipe. Truth is, I have never had any luck making hummus at home. If you have a killer hummus recipe feel free to use it (and send it my way!). Otherwise, just pick out your favorite hummus from the store and carry on.
When choosing a hummus, always flip that container around and check out the ingredients. Opt for a hummus that is made with olive oil whenever possible. This not only contributes to the flavor but also helps you avoid soybean or other vegetable oils. Other good options would be avocado oil or high oleic sunflower oil, but olive oil should be first tier.
Ingredients that should be in your hummus: Olive oil, chickpeas (garbanzo beans), tahini, salt, garlic.
Be weary of too many additional ingredients.
Recipe Tips
Marinate The Chicken
I used to be the type of person who would skip the marinade to save time. Don't be that person. Take the extra 30-minutes to marinate the chicken and you will not regret it.
Load The Bowls
Don't let me tell you how much feta or cucumber you can have in your bowl. Who am I?
This recipe will indicate how much of each ingredient I think you will need for four bowls, but you could just prep the ingredients and let each person eating serve themselves. If you want extra of any ingredient, do it up!
Remove Moisture From The Grated Cucumber
By squeezing the grated cucumber between several paper towels until most the moisture is removed you will prevent your tzatziki sauce from separating. This would be easy to skip, don't be lazy.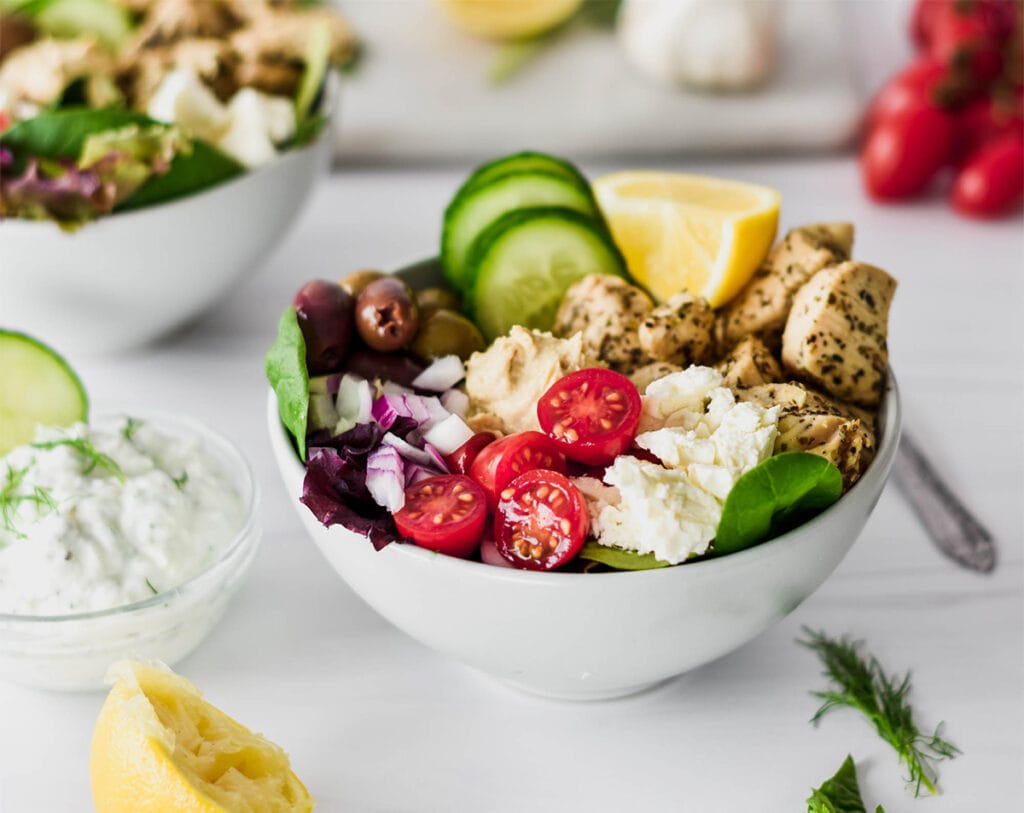 Related Recipes
Did you try these Low Carb Greek Chicken Bowls? I would love to see your creations! Take a photo and tag me on Instagram or leave a photo comment on Pinterest.
Feel free to leave a comment and a rating below. Feedback is always appreciated! 😊
📖 Recipe
Low Carb Greek Chicken Bowls
These super flavorful and nutrient-packed Greek Chicken Bowls are low in carb, gluten free and super satisfying. They also make a great meal prep!
Equipment
Knife

Cutting board

Frying pan

Bowl
Ingredients
Bowls
4

cups

Spring mix or baby greens

1

cup

Hummus (omit for keto)

Store bought

4

ounces

Feta

1

cup

Cherry tomatoes

Halved

½

Red onion

Diced

1

Seedless cucumber

Diced

½

cup

Greek olives

½

cup

Fresh basil

Shredded

Additional extra virgin olive oil, red wine vinegar, salt and pepper

For serving
Instructions
Garlic Chicken
Diced the chicken breast in to 1 inch cubes.

Mince garlic and juice ½ of the lemon.

In a gallon Ziploc bag, combine all ingredients for garlic chicken marinade. Add diced chicken to bag and seal. Shake until chicken is evenly covered and place in the refrigerator for 30-60 minutes. Will chicken marinates, prepare the rest of the recipe.

Once chicken has marinated, heat a large frying pan over medium heat. Remove chicken from the marinade and add to the pan. Allow chicken to cook on all sides until it is no longer pink in the middle, about 8-10 minutes. Remove from heat and set aside.
Tzatziki Sauce
Grate ¼ cucumber using a cheese grater. You should have about 2 tbsp. of grated cucumber before squeezing the moisture out. Place the grated cucumber between several folded paper towels and squeeze out excess moisture, you may need to do this more than once.

Finely chop dill. Peel and mince garlic.

Add cucumber to a small mixing bowl along with remaining ingredients for sauce. Mix well and set aside.
Bowls
Peel and dice ¼ of a red onion. Halve the cherry tomatoes. Dice 1 large cucumber (you can also use the remaining cucumber from the tzatziki). Shred the basil.

Fill a bowl with greens, add the veggies, olives, hummus, feta and chicken. Top with tzatziki sauce and drizzle any additional EVOO, red wine vinegar, salt or pepper you may want.
Nutrition
Calories:
512
kcal
Carbohydrates:
22
g
Protein:
38
g
Fat:
32
g
Saturated Fat:
8
g
Trans Fat:
1
g
Cholesterol:
99
mg
Sodium:
1625
mg
Potassium:
979
mg
Fiber:
6
g
Sugar:
6
g
Vitamin A:
1145
IU
Vitamin C:
31
mg
Calcium:
255
mg
Iron:
4
mg