This Keto Cinnamon Coffee Cake is so good it could fool even the avid carb eaters. The cake is soft and moist, and the crumb topping is full of sweet crumbly goodness. Drizzled with an icing, this low carb coffee cake is a dream.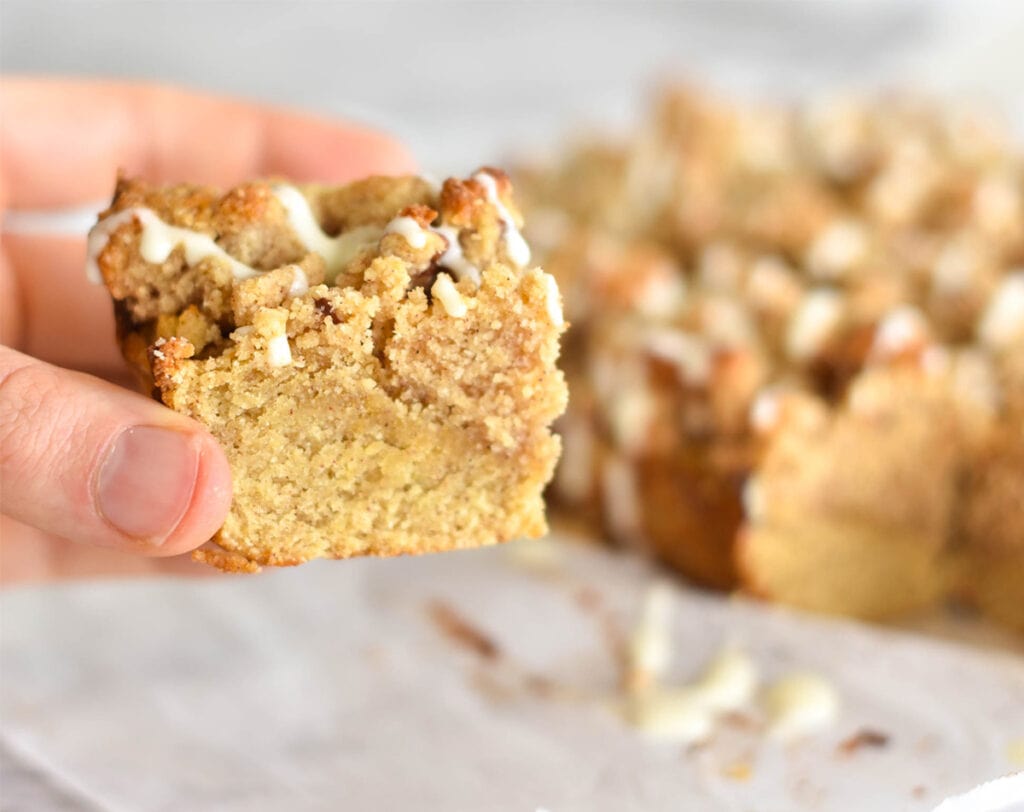 Jump to:
What is better than the rich, cinnamon-y piece of coffee cake? Well, a low carb one, of course! This recipe is one of my current favorite dessert recipes!
I am a die-hard coffee cake fan. Coffee cake has been my favorite since I was little. I love warm spices and a good crumb topping. It truly makes for the best dessert.
Nutrition Info
This keto cinnamon coffee cake is more nutrient dense than most comparable treats, but I would still classify it as a dessert. Because it high in fat it can be calorically dense if eaten in large portions.
The great thing is that it is very low in carbohydrate with only 3 grams of net carbs per serving. The low carb count and healthy fats can help to stabilize blood sugars.
Additionally, it has a whopping 8 grams of protein per serving. While you may not want to sit an eat the whole dish (who am I kidding, you will certainly want to), this treat will help keep you full, curb cravings and support your nutrition goals.
Recipe Variations
Instant Espresso
Right now this is a kid friendly coffee cake, AKA there is no coffee in the cake itself. If you love the taste of coffee feel free to add a little instant espresso! Coffee makes almost all good things better. I would recommend adding only about 2 tsp. to the crumb topping so that it is not overpowering.
More Spice
I am a spice lover, but I made this recipe to be suitable for all pallets. If you are like me, feel free to add more cinnamon, some nutmeg or cardamom to the crumb topping and/or cake. If adding to the cake, add the spices before you add the eggs so you can taste the batter and adjust the spice content as needed.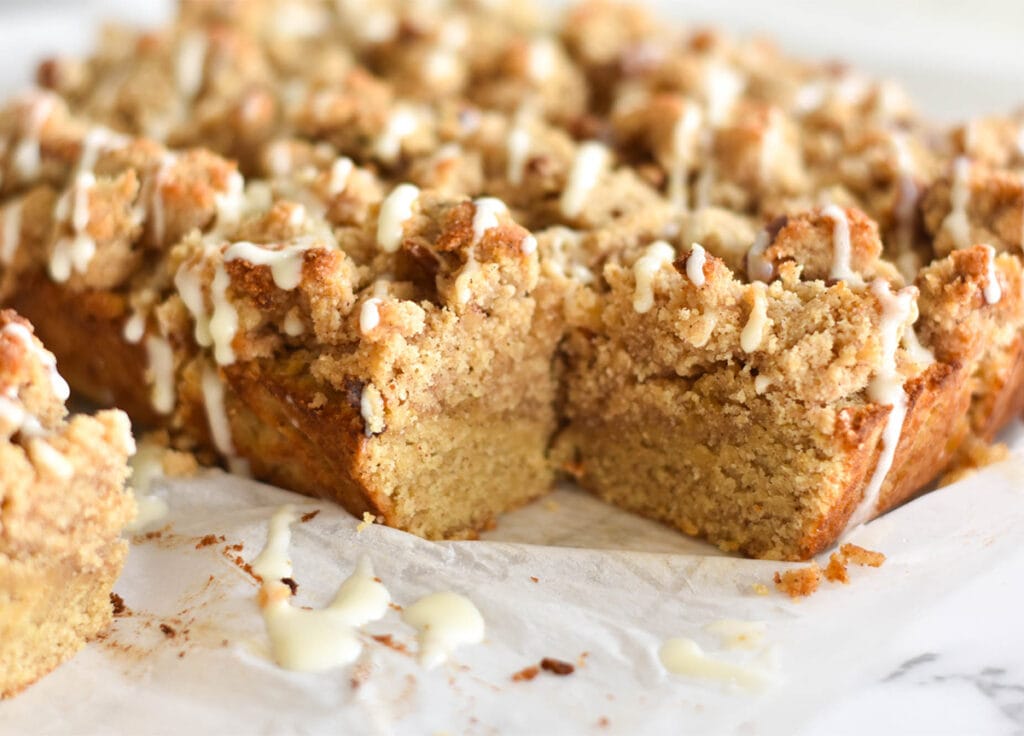 Equipment Needed
You only need some simple baking utensils and equipment for this recipe. I do use a stand mixer. Although, I have also made this recipe with just a whisk and bowl, so it is not a deal breaker if you don't have one or just don't want to haul yours out.
Ingredients and Possible Substitutions
Almond Flour - I do not recommend substituting this ingredient.
Coconut Flour - Coconut flour plays an important role in balancing the moisture, I would not recommend substituting this ingredient.
Eggs - If you don't have eggs or have an allergy to eggs you could substitute 1 tbsp. of flax meal + 2.5 tbsp. of water for each egg. Mix the water and the flax meal in a bowl and allow to thicken before adding into the batter. You could also make "gelatin eggs". To do this, combine ¼ cup of water with 1 tbsp. of gelatin for each egg. Place the water in a small saucepan and bring to a boil. Stir in gelatin using a whisk. Let sit for 5 minutes, then stir and add to baking ingredients.
Butter - I prefer butter in this recipe, it just tastes better, but if you would rather use coconut oil the recipe will turn out similarly.
Applesauce - A different fruit puree may work comparably but I have not tested this.
Granulated Erythritol - You can substitute your preferred low carb or regular sweetener. Adjust sweetness to taste. Using a granulated sweetener would be the easiest swap.
Golden Granulated Erythritol - Golden erythritol is supposed to be comparable in flavor to brown sugar. In this recipe you could use all golden or all regular granulated erythritol if that is what you have on hand instead of using both. It would be similar to using all brown sugar or all white sugar in a recipe.
Lakanto Powdered Monk Fruit Sweetener - You do need a powdered sweetener for this but any brand will work fine.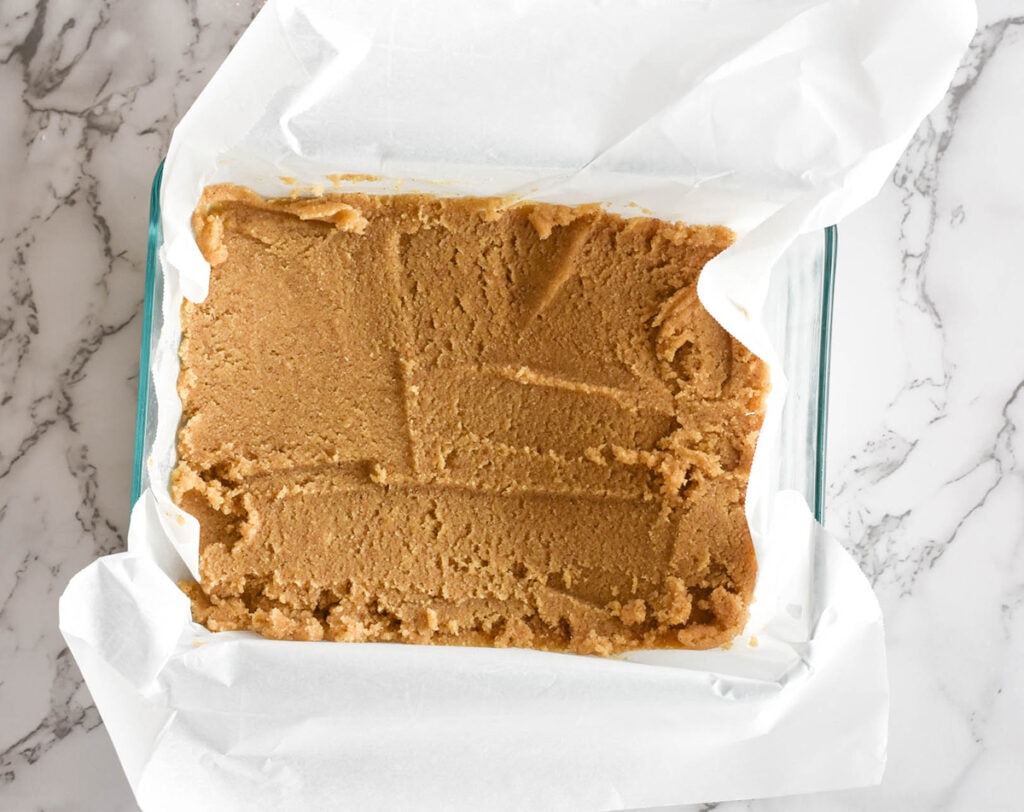 Recipe Tips
When adding the crumb topping, grab pieces with your hand and crumble it across the top of the cake. Press down lightly to help the crumb adhere to the cake.
The cake needs to cool complete before cutting. You can set it in the fridge for 10-15 minutes to accelerate this process.
To drizzle the icing on the cake, make the icing while the cake is cooking. Transfer to a Ziploc bag and place in the fridge. Once the cake has cooled, cut the corner off of the icing bag and squeeze. Drizzle across the top of the crumb cake.
Store the cake in the fridge in an airtight container for 4-5 days.
Related Recipes
Did you try this Keto Cinnamon Coffee Cake? I would love to see your creations! Take a photo and tag me on Instagram or leave a photo comment on Pinterest.
Feel free to leave a comment and a rating below. Feedback is always appreciated! 😊
📖 Recipe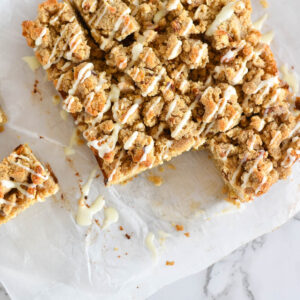 Keto Cinnamon Coffee Cake
Literally the best cinnamon coffee cake out there! This tasty, low carb treat is good enough to fool even the most avid carb eaters.
Equipment
Mixing bowl

Whisk

8 x 6 baking dish

Spatula
Instructions
Preheat the oven to 350 degrees F.

Combine all ingredients for the cake in the bowl of a stand mixer and mix on medium speed for 30 seconds. Scrape the sides with a spatula and make sure everything is incorporated into the batter. Alternately, you can also just whisk ingredients together in a mixing bowl.

Line an 8x6 baking dish with parchment paper. Using a spatula, spread batter evenly into baking dish.

Place cake in the oven and allow to cook for 15 minutes.

While cake is baking, combine ingredients for crumb topping in the bowl of the stand mixer. Mix until everything is incorporated and it starts to form clumps. Again, you could alternately just use a whisk and mixing bowl to combine ingredients depending on preference.

Remove cake from the oven and add the crumb topping. You won't want to spread it evenly, just dollop and crumble pieces on to the top to get a classic crumb cake look. Lightly press down on the crumb to help it adhere to the cake.

Place the cake bake in the oven for another 15 minutes or until the crumb browns.

Whisk together the ingredients for the icing in a small bowl.

Remove from the oven and allow to cool in the fridge. Once cake has entirely cooled and set properly, drizzle with icing immediately before serving. Slice and serve.

Store in the fridge for 4-5 days in an airtight container.
Nutrition
Serving:
1
slice
Calories:
210
kcal
Carbohydrates:
7
g
Protein:
8
g
Fat:
18
g
Saturated Fat:
7
g
Cholesterol:
46
mg
Sodium:
241
mg
Potassium:
8
mg
Fiber:
4
g
Sugar:
1
g
Vitamin A:
323
IU
Calcium:
73
mg
Iron:
1
mg